The Weekly Gut Check - Vol. 134
Triage in the Aftermath of Week One
9/11/08



The "Gut Feeling" is often synonymous with a sense of desperation resulting from a lack of preparation. The Gut Check is a huge proponent of studying the numbers, but there's a point where one can place too much emphasis on the wrong information. This can result in the undervaluing or overlooking a player's potential. Therefore, The Weekly Gut Check is devoted to examining the frame of reference behind certain number-driven guidelines that fantasy football owners use to make decisions.

Although The Weekly Gut Check doesn't claim to be psychic, he does believe that he can dispel certain numbers biases and help you make the best choices for your team. We'll keep a running tally of The Weekly Gut Check's insights. This way you can gauge his views as something to seriously consider, or at least seriously consider running the opposite way as fast as you can!


---
Way too much happened during the first week (and the resulting aftermath) not to discuss. Let's start with a bit of triage in the fantasy emergency room. I have a few thoughts and then we'll handle the rest Q&A style from my overflowing fantasy e-mail sack.

My Matt Cassel Strategy

You really want to take a chance on an unproven quarterback like Cassel? Tom Brady, Kurt Warner, Marc Bulger, Brett Favre, and even Johnny Unitas (the Steelers cut him) were unlikely starters the preseason before they took over their respective jobs and they did well, right? This is true. Itís also true that each of these players actually started for their college football teams. Even if Matt Cassel is more like Scott Mitchell than Tom Brady, that wonít be a bad thing for most fantasy owners looking for a quarterback. Just donít count on Cassel as a long-term solution.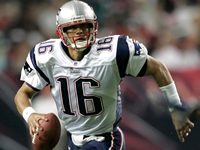 Don't count on Cassel as a long-term solution for your fantasy QB.
The problem I have with taking my chances on Cassel as a starter have as much to do with the Patriots organization as Cassel not seeing a college football field as a starter. New England is the CIA of NFL teams Ė everything they do is clandestine. Chris Simms and Tim Rattay come to New England to work out the day after Brady goes down and Chris Mortensen reports that general manager Scott Pioli tells them the situation has changed and sends them packing. How it changed, we donít know. Did they finish their film evaluation of Cassel just as the two journeymen quarterbacks entered the facility and saw enough to determine they already had their guy on the roster? Could be. Did they call Daunte Culpepper or another signal caller and give him the word to get ready if Cassel doesnít look over the course of the next two to three games? Could be. We just wonít know until Pioli retires and writes a memoir twenty years from now.
Then there is the genius of Bill Belicheck. While is brand of genius may not come with an endearing personality in front of the cameras, heís great at making strategic adjustments. Just two years ago, the Patriots were a balanced offense that won with guys like J.R. Redman, Antowain Smith, Patrick Pass, Deion Branch, David Givens, and Bethel Johnson. Brady deserves credit, but so do Belicheck and his coaching staff. They arguably have a better corps of runners and itís a no-brainer the receivers are miles ahead of their predecessors. Itís quite possible the Patriots abandon their high-flying ways. I believe theyíll continue running their current offense for as long as Cassel shows heís capable, but if there is a team that is likely to make a radical change in philosophy on a dime, itís New England.
If you had Brady, you likely picked him in round one. Itís also likely you waited very late to pick a second quarterback, which means there wonít be many appealing waiver wire options available to you right now. You may not have a lot of depth to package and trade for an unquestioned, fantasy starter. Here are the best bargains youíll have a chance to obtain via trade:
Jake Delhomme: He has a running game, solid offensive line, and enough at receiver to hold down the fort until Steve Smith comes back. He didnít have a great game statistically in week one, so you have a shot to get him at a reasonable price. Roll the dice, because I believe Carolina will be a playoff team. The running game will only improve and this will give Delhomme time to pick apart the opposition.
Philip Rivers: He has the weapons and I have mentioned all summer that Ladainian Tomlinson (while still excellent) has shown his first chinks in the armor. Rivers may never be a great quarterback, but take advantage of his less than glamorous image among fantasy owners. Heíll keep your team steady throughout the year.
Eli Manning: Thereís still some bias against Manning. If you get someone who isnít enamored with Manning, give him a reason to give him to you. He may not be a superstar, but he has improved enough that heíll have a few outings that will leave you with the impression that your trade partner gave you the wrong Manning.
Vince Young and Kerry Collins
Collins will boost the value of the two Justins (McCariens and Gage) because he is a more accurate downfield thrower. Paired with a physical ground game and a defense that beat up the Jaguars, Collins should be a quick fix if you believe Cassel wonít be the answer in New England for the rest of the season. As for Young, Iím waiting to see why his mom is doing his talking for him. This could be a classic case of a parent being emotionally over protective and unintentionally making her child look worse. It could also be what football fans fear. Personally, I was glad they picked Young over Leinart, but it was still a consolation for me when they opted against Cutler. This story about Vince Young is still developing and until I hear Young, Fisher, or a Tennessee Titan corroborate, Iím not overreacting. Terry Bradshaw, John Elway, and Steve Young hat rough beginnings to their careers and they eventually thrived. Youngís mechanics are worse, but you donít make a Pro Bowl as a rookie unless you have skills. He needs to ignore the media and keep working.
Marques Colston and Drew Brees
Donít worry about Brees. Heís like McNabb and Manning if the offensive line remains healthy, heíll pick you apart with nobodies as his receivers. Patten, Shockey, Bush, Moore, Henderson, Copper, and Meachem will keep Brees an effective fantasy starter. Colston should be in excellent shape when he returns. His conditioning routine shouldnít be hampered by his injury.
E-mail Questions (some of these were paraphrased or summarized to be more efficient for your eyes)
Q: Hi Matt,

Uh-oh. Looks like I didn't escape the injury bug with my team. Colston is a big loss. All the Saints receivers are available on the waiver wire (Patten, Meachem, Henderson). Which, of any of those guys might you take in his place...or would you go a different direction and take another WR off the wire from another team. Thanks for your help.

Picked up Gage last week. Here is my team right now.

QB: Jon Kitna
RBs: A Peterson, R Bush, C Perry (R), D Williams (R), E James (R)
WRs: A Johnson, C Johnson, M Colston, J Gage (R), Reg. Williams (R)
TE: L.J. Smith
K: Brown
DEF/ST: Giants

So, Iím not sure if I should drop Reggie Williams for Patten. That is what I am debating. Or maybe try trading E. James or D. Williams for a TJ Hous- type receiver. So I guess it comes down to this. If you can only keep 2 of 3 out of the Gage, Williams, Patten group, who gets dropped?

I know you like Meachem from your article, but I didn't want to assume you would take him first without checking first.

-Jon
A: Jon, I like Patten out of the trio of Saints receivers. He has the best rapport with Brees. Plus he has developed into a smart receiver in a Derrick Mason sort of way: quicker than fast, good hands, and continues working when the play breaks down. Heís the most likely to replace Colston for the short term. You could try a trade, but your receivers are decent enough to initially consider riding out a quarter to half the fantasy season with what you get off the waiver wire. Iíd make some offers with the RBs you mentioned, but only if you land a player who is a big step up from Gage and Williams. With Kerry Collins starting for the next 2-4 weeks, Gage should become a bigger factor, which is why I wouldnít be too urgent to make a deal just yet.
Q: My Team: QBs Jay Cutler, David Garrard, T. Edwards RBs M. Lynch, M. Barber, R. Grant, M. Forte, A. Bradshaw WRs S. Holmes, J. Cotchery, J. Galloway, Bryant Johnson, J. Gage, Kevin Walter TEs Antonio Gates, Owen Daniels, Z. Miller DEFs Minnesota, Green Bay

Rules: 6 pts for touchdowns, 1pt per 10 yards except TE gets 3 pts for over 10 yards. I get 10 bonus points for over 100 rushing and receiving, and 300 yards passing. I get 5 bonus pts for 10 receptions.

Lineup: 1 QB, 2 RB, 2 or 3 WR, 0 or 1 TE, DEF, K

Situation: I can trade Grant and Holmes for Maroney or Julius Jones and my choice of Randy Moss, Braylon Edwards, or Plax

Thanks, Omari.
A: Omari, Make the trade if you believe that Moss will remain a consistent player with an unproven QB. It's a gamble because Matt Cassel didnít start a football game since high school. At least Tom Brady played extensively at Michigan. Cassel was rumored to be a Norm Chow favorite when it came down to developing a QB after Carson Palmer left campus, but Peter Carroll gave Matt Leinart the nod. Odds are against Cassel from being the same kind of player as Brady. In fact odds are against Cassel playing as well as a say, Kerry Collins will as Vince Youngís sub. And we know Collins is not on the same plane as Brady.
Santonio Holmes will be a fine player this year and you have great depth at your RB position, which you might need with Barber's punishing style. Mossí skills are unquestioned, but the QB situation is iffy. I would recommend you go to the box score of last week's game and see how many targets, completions, yards, and scores Moss had with Cassel. It might give you a bit of a clue of what to do. At the same time, itís a decent deal for a player with Mossí potential. Since you have Forte as a viable third RB, itís worth the risk. I would probably do it after weighing all of thisÖalthough by no means is it a lock.
Q: Hi Matt - what do you think of this trade offered to me?

I give up Kevin.Smith and Brandon Marshall and I get Chris Perry and Larry Fitzgerald. Right now I'm starting Brees, ADP, Edge, K.Smith (flex), Edwards, Marshall, V.Davis, Tennesseeís defense, and Matt Pater.

My bench has Stewart, Norwood, Hightower, Rodgers, Burleson, Mason, McMichael, and the Ravens defense

The presence of Rudi kind of puts a damper on Smith's upside...just how much is the question. What do you think of Smith's value relative to Perry and Fitzgerald relative to Marshall? Is there much chance Cinci picks up another RB to bolster the Perry/Watson combo, thereby hurting Perry's appeal?

If I did make the trade, would you play Perry or Stewart at flex?

Thanks a lot!

John

A: John, Marshall and Edwards should suit you just fine but the chance to get Fitzgerald paired with Edwards and use Jonathan Stewart as your flex player is probably worth the deal. Stewart averaged a gaudy 5.3 yards per carry last week against a decent Chargers run defense. Perry will make a decent back up, but the deal really isnít for Perry Ė itís for Fitzgerald. What you have to ask yourself is whether you believe Fitzgerald is that much of an upgrade to Marshall. With the way Cutler played Monday night with receivers fantasy owners either didnít want (Jackson) or barely heard of (Eddie Royal), it appears to be a tougher decision than one might initially think. Personally, Iíd rather have Fitzgerald because heís decent with or without Warner in the lineup. Will Marshall be as good with Patrick Ramsey? I donít think so. Iíd make the deal and consider Stewart as the flex until Cincinnati figures out its offensive line woes.
I still like Kevin Smith and did not sour on him after the Atlanta debacle. While he only averaged three yards per carry, he didnít look bad in the game. The problem is Detroitís defense was so atrocious that they had to abandon their game plan and I believe this will often be the case for the first half of the season. On the other hand, I was bullish on the Panthers in the preseason and believe Stewart and Williams will be the NFC equivalent of the 2006-2007 tandem of Fred Taylor-Maurice Jones Drew. Iíd make the deal.
Q: Hey Matt,

I grew up a 5- minute walk through the woods to "Schaeffer Stadium" and my dad was a Pats season ticket holder. Basically, I'm a lifelong Pats fan, and in my 4th season playing Fantasy, I made a bold, out-of-character decision and took Brady with the 5th overall pick.

It's obviously been a painful few days, but I'm trying to regroup and circle the wagons, and would love some insight into my situation.

I drafted Eli as my backup, and I have the 1st pick on the Waiver Wire this week, so I can get Cassel. I'm just not sure if he's the right choice. I watched him all pre-season and he was horrible. He was clearly outplayed by Matt Gutierrez, who ended up on the practice squad. I'm hearing some local rumors that Gutierrez will be activated this week. He did play well against KC, and is surrounded by lots of playmakers in the passing game - Moss, Welker, Gaffney, Watson, Maroney, Faulk...I think the Pats will run the ball a lot more and ask Cassel to try to manage the game a little more, but when you have Randy Moss, you've got to get him the ball somehow....I'm torn, and I feel like my Pats Fandom may be interfering with sound judgment.

Here are some other available QBs in my league. I have my pick of any of them...what are your thoughts?

Chad Pennington - The guy is accurate, and he has a few weapons...but he's in a new offense and is injury prone.

Trent Edwards - The Bills looked great against a pretty strong Seattle D. After reading your article, I can see you're a fan of his.

Jeff Garcia - I've owned him as a backup in the past, and like his scrappiness, I just worry about his durability.

Tarvaris Jackson - The Vikings look talented, and I know he threw that pick, but he could be a reality dud and a fantasy stud...no? Wishful thinking?

Jason Campbell - The Skins looked rough. I'm a Cooley owner in another league, so I watched every second of this one. Sidenote: I've known Campbell's backup Todd Collins since I was 7 years old, and played football with him at Walpole High School. He also grew up about a mile from Gillette. I was hoping the Pats would try to sign him in the offseason, but the Skins gave him a pretty big payday to stay after his relief duty last year.

Joe Flacco - I haven't been a big fan of the Ravens offense the last few years from a Fantasy perspective, but he looked pretty solid. Fluke?

Matt Ryan - Obviously, the 62 yd TD on the first play skews the stats a bit, but with that rushing attack as the primary focus, he could have some productive weeks.

I'd appreciate any thoughts if you have time. Considering that Eli is my backup and I have the #1 WW pick this week...I guess it could be worse.

- Mike
A: Eli looked good Michael, but of the QBs listed I'd either take Edwards or Cassel. Edwards can flat-out play, but he lacks the weapons that the Pats have. At least you know the Bills won't replace Edwards this year. Cassel will likely play the year, but he might be a stopgap until they find someone better. Hard do say with the tight-lipped Pats. The safe play is Edwards. The roller coaster is Jackson because he can run. I'd go Eli and Trent, but that's just me. Good job getting Manning as your back up even with Brady.
Could be worse, you could have been a Browns fan in the 80s…