The Weekly Gut Check - Vol. 117
2008 Rookie Scouting Portfolio Preview
12/17/07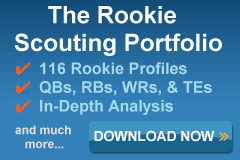 The "Gut Feeling" is often synonymous with a sense of desperation resulting from a lack of preparation. The Gut Check is a huge proponent of studying the numbers, but there's a point where one can place too much emphasis on the wrong information. This can result in the undervaluing or overlooking a player's potential. Therefore, The Weekly Gut Check is devoted to examining the frame of reference behind certain number-driven guidelines that fantasy football owners use to make decisions.

Although The Weekly Gut Check doesn't claim to be psychic, he does believe that he can dispel certain numbers biases and help you make the best choices for your team. We'll keep a running tally of The Weekly Gut Check's insights. This way you can gauge his views as something to seriously consider, or at least seriously consider running the opposite way as fast as you can!


---
With the regular season winding down for most fantasy owners, I'm taking the opportunity to let you know that the 2008 Rookie Scouting Portfolio is now available for a special pre-order discount of $9.95 from now through April 1st. The feedback in 2007 was excellent for this publication, now entering its third year, and those who purchased it early will tell you that getting this 400-page publication at half-price is a steal.

The 2006 and 2007 RSPs are also still available for purchase—for details on how to order these previous publications, e-mail me.

About The Rookie Scouting Portfolio

The Rookie Scouting Portfolio is an intensive game film study of over 100 rookie prospects at the offensive skill positions (QB, RB, WR, and TE). The intent is to provide the fantasy owner and draftnik information that goes beyond the general, one- and two-paragraph summaries of player strengths and weaknesses. The 2008 Rookie Scouting Portfolio delivers play-by-play examples to illustrate the why a player receives a certain grade.

In mid-September, Bill Parcells stated on ESPN Monday Night Countdown that NFL personnel evaluators tend to overanalyze the components of a great player and ignore the overall package because they feel the need to cover themselves. With huge sums of money tied to contracts that will be offered to top prospects, these evaluators tend to over-emphasize measurements and reputation of college programs so they don't take risks that could get them fired. This is the underlying reason why a former GM such as Tex Schramm would make a comment on NFL.com about RB Brian Westbrook when he was drafted that, if he were an inch or two taller and 10 pounds heavier, he'd be a top ten pick.

In contrast, The Rookie Scouting Portfolio is carefully constructed so the player's potential is not lost in the minutiae of details that can allow measurements or specific techniques to overshadow football talent. It's about the game film getting more emphasis than the combine. Thus far, the analysis has been on target, projecting good things from players many NFL personnel evaluators under-valued. Just ask fantasy owners who read these nuggets (and more) prior to the 2006 and 2007 drafts:

Maurice Jones Drew's ability to be a viable inside runner at the NFL level


Undrafted free agent Mike Bell possessing the skills to perform like an NFL starter


Vince Young is a better passer than most media analysts said and had more potential to succeed than Matt Leinart.

Joseph Addai would be a great fit for the Colts offense.


Greg Jennings was a better than advertised receiver who could make a quick impact.


Undrafted receiver Sam Hurd, the best blocker at his position in recent memory and signed immediately by the Cowboys, would stick with a team and see the field as a contributor sooner than expected.


WR Brandon Marshall projected as a future starter.


TE Jeff King scored as a future starting quality player despite much lower grades from other draft analysts.


Andre Hall is a fundamentally good inside runner with all-around skills that could make him a surprisingly effective NFL player—he graded out better than fellow surprise Bronco, Mike Bell, but not as high as the guy ahead of him on the depth chart, un-drafted rookie out of Texas, Selvin Young.


While most everyone else touted Brady Quinn and Jamarcus Russell, the RSP said John Beck and Trent Edwards were the best two QBs who were most ready to play in the NFL.


THESE WERE ALL ASSESSMENTS MADE PRIOR TO THE NFL DRAFT AND SOLELY FROM FILM STUDY!!!



The emphasis of game film to evaluate a player is based on the philosophy shared by some of the NFL's best personnel men in the history of the game such as Joe Thomas and Ron Wolf. Commissioner Pete Rozelle recommended Thomas to the Minnesota Vikings in the 1960's as their first personnel manager. Thomas went against the grain, and built a team around scrambling QB Fran Tarkenton, a player who didn't have ideal measurements but possessed far greater qualities that could only be seen on the field.

Former Packer's GM, Ron Wolf credits Thomas as someone from whom he learned valuable lessons about the art of personnel decisions. Wolf was the driving force behind the Packers acquiring Brett Favre. The choice of Favre was one of the cornerstones of the Green Bay franchise when they became Super Bowl Champion. Wolf was convinced Favre was a special player, not because what he saw from Favre at the combine, but film study of the future Hall of Famer's junior season at Southern Mississippi.

Each player's game performance is scored on a position-specific checklist containing all the necessary fundamentals that answer the key questions about a prospect's potential to develop into an NFL starter, and fantasy asset:


Does the player demonstrate consistently sound techniques and decisions in game-day situations?

Does the film provide examples that support or differ from the combine results?

Does the player translate his physical skills to the football field?

What is the player's comfort level with physical contact?
All positional checklists are scored on a 100-point scale and commentary accompanies each checklist to support the reasons behind the scores. The overall grade is my opinion of each player's current skill set and is a basis for my view of a prospect's overall potential to perform in the NFL. Fantasy owners can also look at these scores and determine where they can find value players in their drafts.I:


| | |
| --- | --- |
| Range | Overall Assessment |
| 90-100 | This is a rookie with the talent to contribute at a high level for an NFL team as early as his first year. Since rookies are rarely top tier fantasy starters, this overall number states more to a rookie's dynasty potential to become an elite fantasy contributor in the years to come. Although it is unlikely a player with this overall score will amass this level of production on a consistent basis to become a must start in his first year, a rookie with this score will have the best opportunity in the right situation. |
| 80-89 | This rookie should eventually contribute at a high level for an NFL team early in his career. The upper range of this score probably means the player may need 1-2 years of on-field experience, but will eventually develop into a solid, if not excellent NFL player. He will be a solid fantasy starter usually taken in the top 3-5 rounds of a re-draft league. A player in the lower range of this score has a chance to accomplish the same level of productivity but may have a clearly defined weak area. He could contribute now, but he'll have liabilities an NFL defense will be able to exploit within a game or two. Most struggling starters who may produce decent numbers but make repeated mistakes that cost their team are playing at this level. These are players best used as a situational starters or reserves. If he doesn't make progress with these skills earlier in his career, he'll most likely remain a situational player or backup. |
| 70-79 | A rookie with NFL talent, but falls under one of three categories: he is new to the position, he lacked great coaching because his skill sets detract from his physical talent, or he has decent--if not a high level of skills--but he doesn't have the elite physical talent. Players in the upper half of this range often become starters, and sometimes stars, but the rate of progress is slower than their peers. A player in the lower half is more likely to be career back up with the ability to be productive in spot situations. These aren't players a fantasy owner will want to draft in traditional leagues, but have nice value as mid-to-late round picks in dynasty leagues with deeper rosters. Even if not drafted to a fantasy roster in their first year, a savvy owner will be aware of these players and pick up them up on the waiver wire at the opportune time. |
| 60-69 | These prospects generally have more than one deficiency in their game. The media labels these guys as "projects," if they have the physical talent. Another likelihood is the player may have excelled in college but played in a system that contributed to his success more than his individual skills. These players are long shots to develop into a quality NFL, and fantasy starter. You will likely see this player on multiple NFL rosters or vying for playing time in other professional leagues (AFL, CFL, or NFL-Europe) early in his career. A fantasy owner in a deep, dynasty league may want to keep an eye on these players for a few years, but they aren't likely worth a pick unless the league has 40+ players and 16+ teams. |
| 0-59 | A player with this low of a score has major deficiencies in his game and probably lacks the physical talent relative to the average NFL player. With time, opportunity, and coaching this player has a chance to develop into a backup, but the likelihood of this player growing into a productive starter in the NFL or fantasy leagues is too low for someone to seriously consider until that player proves everyone wrong. |
And this film study has worked quite well for me as a fantasy owner in dynasty leagues. In both my dynasty leagues I have assembled league-leading squads in points scored and/or win-loss record with players I observed with this type of film study. Although I did not publish an RSP prior to 2005, I used the same philosophy to evaluate players I acquired to build these teams.

Sample Checklists and Profiles

QB Chad Henne, Michigan—Several talent evaluators have placed Henne fairly high on their list of pro quarterback prospects, but his performance on film does not warrant the praise. See why here.

RB Albert Young, Iowa—Young is a tough runner on a frequently overmatched college squad. He won't likely be a star at the next level, but he could be a surprisingly effective contributor and will be worth monitoring his progress early in his career.