The Weekly Gut Check - Vol. 105
The 2007 Preseason All-Gut Check Team
9/6/07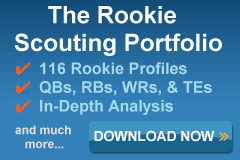 The "Gut Feeling" is often synonymous with a sense of desperation resulting from a lack of preparation. The Gut Check is a huge proponent of studying the numbers, but there's a point where one can place too much emphasis on the wrong information. This can result in the undervaluing or overlooking a player's potential. Therefore, The Weekly Gut Check is devoted to examining the frame of reference behind certain number-driven guidelines that fantasy football owners use to make decisions.

Although The Weekly Gut Check doesn't claim to be psychic, he does believe that he can dispel certain numbers biases and help you make the best choices for your team. We'll keep a running tally of The Weekly Gut Check's insights. This way you can gauge his views as something to seriously consider, or at least seriously consider running the opposite way as fast as you can!

---
Now that most drafts are over, I'm ready to unveil my collection of late-round/waiver wire gems for 2007. My 2006 squad had some nice players who made a strong contribution to many a fantasy roster:


2006 All-Gut Check Team
Pos
1st Team
Finish
Comments
2nd Team
Finish
Comments
QB
Steve McNair
18th
A year early on this one.
Jon Kitna
3rd
Mike Mart+Roy Williams = Production
RB
Wali Lundy
39th
Productive plug-in
DeAngelo Williams
38th
East Coast Wali Lundy
RB
Fred Taylor
21st
Productive even with MJD
Marion Barber III
19th
A redzone machine and great value in '06
WR
Antonio Bryant
51st
No NFL gig this year
Greg Jennings
53rd
On fire the 1st 8 gms, but tailed off
WR
Michael Clayton
79th
Another down year
Isaac Bruce
22nd
Future HOFer still good enough…
WR
Mark Clayton
25th
Quality #3
Terry Glenn
20th
Solid #2 despite age, TO, and injury tag
TE
Ben Watson
12th
Decent but not great.
Dallas Clark
17th
Opportunities not matching talent.
Pos
1st Team
Finish
Comments
2nd Team
Finish
Comments
DE
Trevor Pryce
14th
12.5 sacks, topped 100 fpts
Darren Howard
63rd
Only 5 sacks…disappointing year.
DT
Mike Patterson
50th
12th for DTs
Anthony McFarland
106th
Colts run defense…need I say more?
LB
Thomas Davis
57th
Decent bye week reserve
Kevin Burnett
96th
Didn't start for Dallas
LB
Will Witherspoon
15th
Excellent #2 LB
Ernie Sims
41st
Solid depth with excellent moments
CB
Will Allen
91st
Huge miss.
Fabian Washington
99th
Better in NFL than fantasy football.
S
Madieu Williams
27th
Bye week plug-in
Michael Huff
100th
Decent rookie year, not good fantasy yr.

Jon Kitna was an elite fantasy starter with 68.75% of his performances worthy of a #1 starter. If I played it right, Lundy, Taylor, and Barber III could have kept me competitive despite the facet all three were no higher than 8th round selections in most leagues. Jennings was a top-10 receiver for the first third of the season and Mark Clayton ended the year very strong. In between Bruce and Glenn were solid starting options. Defensively, I hit on Pryce and Witherspoon and to a lesser extent, Patterson, Williams and Sims.

So who are this year's late round picks that I believe have the chance to far out-play their draft status? One is a third-year wide receiver no one is talking about, a 7th round rookie runner, and as strange as it seems, a few Tennessee Titans defenders:

2007 All-Gut Check Team
Pos
1st Team
2nd Team
QB
Matt Schuab
Alex Smith
RB
LenDale White
LaMont Jordan
RB
Vernand Morency
Najeh Davenport
WR
Santonio Holmes
David Boston
WR
Kevin Curtis
Roydell Williams
WR
Mark Clayton
Wes Welker
TE
Daniel Graham
Eric Johnson
Pos
1st Team
2nd Team
DE
Tamba Hali
Antwan Odom
DT
Warren Sapp
Travis Johnson
LB
A.J. Hawk
Chad Greenway
LB
Patrick Willis
Karlos Dansby
CB
Walt Harris
Nick Harper
S
Sean Considine
D. Whitner
Quarterbacks
Matt Schaub, Texans: Have I or haven't I been saying for the last 2-3 years that Falcons fans would be clamoring for Schaub to be their starter and he'd be a better fit than Vick? I know, cheap shot on my hometown but it has come to fruition in a most unfortunate way—both players are no longer starting for Atlanta. Fortunately for Schaub he gets a true chance to excel as the man in Houston.
Doubters say Schaub is an unproven player who doesn't have any better of a chance to excel than David Carr because of the Texans offensive line. A recent ESPN The Magazine article detailed the coaching staff's open criticism with Carr and profiled the 1st overall pick's chances of making a fresh start in Carolina. Although I think Carr has a chance to revive his career and become the player Houston hoped, I believe the former first overall pick became conditioned to hesitate and doubt in the pocket. When a quarterback does this, he is lost.
Enter Matt Schaub; known as a smart, pocket passer at UVA and then as a surprisingly mobile backup with promise in Atlanta, the Texans new starter is a handpicked match for head coach Gary Kubiak's offensive scheme. Until he proves otherwise, you have to view Schaub as a less reckless Jake Plummer and for fantasy owners that's not a bad prospect. Remember that Plummer had a stretch of seasons where he was regularly drafted as a second string fantasy QB who wound up performing as a starter. I expect Schaub to have his ups and downs, but Houston will still be playing from behind quite a bit. Tim Rattay seemed like he was always involved in a shootout as the Niners starter a few years ago and I think Schaub could wind up with that dubious honor for the Texans. Expect some huge weeks for Schaub as the Texans continue their development as a team on the rise.
Alex Smith, 49ers: I have the feeling Smith is a seriously underestimated player. No one really believed Smith was that good at Utah to warrant a first round pick. His "legendary" pre-draft workout that prompted comparisons to Troy Aikman seemed like overblown hype and his slow ascent as a starting QB in the NFL hasn't helped. But note I used the word ascent because Alex Smith has progressed. He is an accurate passer with good timing and mobility. His 58.5 percentage completion rate was a solid figure in his first full year as a starter. Although he threw 15 interceptions, 9 of them came in 4 games and he had 3 multiple touchdown passing games against Seattle, Oakland, and San Diego—the last two being high-pressure units.
Smith has had several positive moments despite the fact he lacked consistent playmakers in the passing game. Enter a healthy Vernon Davis and (hopefully healthy) Darrell Jackson, along with an improving offensive line, and Smith and the Niners look like a team that could challenge for a wild card this year if everything comes together. I don't see Smith cracking the top 5 QBs in fantasy football, but sneaking into the top 12 is a pretty strong possibility. As a quarterback you can draft after round 12, I find that a good deal.
Running Backs
LenDale White, Titans: As a Titans fan I want to like Lendale White, but most who read my columns know that I think White has been complacent with his ability even while at USC. Fortunately, White appears he's taking football a bit more seriously. I think four people have lit a fire under his ass: Travis Henry, Jeff Fisher, Chris Brown, and Vince Young.
If it weren't for Travis Henry, White probably would have figured the starting job in Tennessee would be his as a rookie. The veteran runner showed by example that you have to have the right attitude to be an NFL starter. There is a very small difference between a starter and a street free agent except for how one translates that desire into hours of work and preparation. I think Henry served as a wake up call for White that he wasn't going to waltz into Tennessee and be the man—because if there's a runner in the NFL who carries the ball as if it were a chip on his shoulder it's Henry.
When Henry left, Fisher didn't hand the job over to his fellow alumnus. He made it clear that Lendale White had to earn the opportunity. Coach Fisher and the Titans brass drafted another runner with more physical ability than White (although I believe not nearly the same amount of skill as a runner of the football) and re-signed a proven performer in Chris Brown before declaring an open competition for the spot in training camp. The Titans knew White wasn't in optimum shape prior to mini-camp and Fisher made it abundantly clear that it was shape up or ship out for the second-year runner.
Chris Brown may not be considered a quality starter, but that's because he hasn't been able to finish enough ball games after running wild through defenses in the fist half of contests. Brown is an explosive runner who can turn a small hole into a huge gain. If he could stay healthy, Travis Henry and Lendale White wouldn't have been off-season acquisitions for the Titans in recent years. Brown also knows this is likely his last chance to be the featured back for an NFL team. If he can't win the job outright, he'll be at best a journeyman starter for an injured featured back or 5-7 carries, change of pace back for the rest of his career (think a post-Seattle Chris Warren).
The guy I think that is really putting the flaming thumbtack to White is his starting quarterback. If you haven't noticed, Vince Young is a leader and isn't afraid to get into the face of his teammates. Young and White were excited to be teammates. I know it's speculation, but if you watched Vince Young's preseason touchdown run versus the Packers in the 3rd quarter you noticed Lendale White delivering a crushing block to free the perimeter for his quarterback. At USC, White was often a very complacent blocker despite his ideal size to chip a defensive end or take on an outside linebacker. One play doesn't mean everything, but it is also representative of the little things White is now doing that he didn't in recent years: playing through minor injuries, practicing hard, and getting into shape. Although White may not be the official, every down back, he does get the first crack on the field in the RBBC rotation with Brown. He's also a better redzone/short yardage runner and receiver than Brown so in many respects, it's White's job to lose.

Although the Titans aren't regarded as a strong offensive unit, you need to remember they didn't go 8-8 on account of their defense. Despite the fact Vince Young did wonders with his legs, he actually does have a quality offensive line—Travis Henry did have a 1300-yard season. If you compare the Titans RB-QB situation to the recent incarnations of the Falcons with Vick and Dunn, you didn't see any 1300-yard seasons out of their RB. Sure the Falcons had a vaunted o-line coach in Alex Gibbs, but the quality of line play in Tennessee is an underrated aspect of the Titans game. If the defense can continue to make strides, the Titans could actually have more opportunities to stick with the run and that means good things for White. If you took the chance on White, I think you'll be glad you did.
Vernand Morency, Packers: Let's make this clear from the beginning. Vernand Morency gives the Packers the best chance to win at the running back position. Brandon Jackson could become a fine situational back, but he lacks the explosiveness of Morency. DeShawn Wynn is not an answer, either. Unless the Packers trade for a runner or add a back like Wali Lundy—who as of this writing is a free agent.
I honestly believe Morency could be one of the bigger surprises this season because of the Packers improved offensive line and up and coming defense. Tatum Bell was a star at Oklahoma State, but I thought Morency was the better all around back with an enough game breaking skills to be an impact runner. Bell is getting his second chance in with what I would call a 5-week audition as a starter. I think Morency has the skills to hold his own in Green Bay and I doubt Jackson or Wynn will distinguish himself or herself, either. Brett Favre just might not have to work as hard once Morency gets back into football shape.
LaMont Jordan, Raiders: I'm beginning to think I suffer from some bizarre kind of eternal optimism regarding the Oakland Raiders organization, but there's something about Lane Kiffin that makes me think Oakland could be one of the more improved teams in the NFL this year. I think last year was disaster largely due to the fact the coaching staff did not instill discipline or trust with their players.
The Oakland defense should give the Raiders every chance to establish the run and as rough as Culpepper looked last year, I think he's an upgrade to Aaron Brooks. Think about the fact Brooks was surrounded by a fair amount of talent in New Orleans and the year after he's gone—the Saints are almost NFC Champions despite the fact they didn't have LeCharles Bently, Donte Stallworth, and (for much of the season) Joe Horn. That's at least a partial damning of Brooks as a quarterback and leader, although Sean Payton is known as an offensive coach in a way Jim Haslett wasn't.
As with Chris Brown, this may be Jordan's last chance to be a featured back in the NFL. The window is closing fast due to age, underperformance, and the presence of Dominic Rhodes this year as a second-half stopgap and potentially Michael Bush in 2008. If Jordan wants to maintain his opportunity to remain the runner in Oakland he'll need to have a big '07. There are a lot of ifs regarding Oakland's offense, but Jordan has talent both as a game breaking runner and receiver and I believe the offensive line can only get better. As my buddy Joe mentioned in his Steppin' Up/Steppin' Down article, Jordan was hurt much of last year and he has looked much better in the '07 preseason. At the round owners have been able to draft Jordan, this is an obvious deal that could be a steal.
Najeh Davenport, Steelers: Willie Parker had 337 attempts, 1494 yards, and 13 rushing scores as a 2006 follow up to his 1200-yard 2005. Even for a Parker-skeptic like me, that's something you can't ignore. Here are some other stats you can't ignore:
In 10 seasons there have been 53, 1400-yard seasons—a little over 5 per year.

13 of the 53 came from backs that rushed for this mark at least twice.

10 of the 13 achieved this feat in consecutive years and only 2 (Holmes and Alexander) did it for 3 consecutive seasons.

22 of the 53 seasons (41%) were considered "consecutive seasons" of reaching this mark.
What this tells me is at best Parker has a 41% chance of repeating as a 1400-yard rusher. I don't like those odds, especially with Mike Tomlin appearing not as enamored with Parker as one may believe. The re-signing of Najeh Davenport is a behind the scenes reason here. I know Green Bay has a thin RB situation and one of the reasons involved them cutting Davenport. Honestly, I believe that had more to do with his injury history and existing salary than talent. Davenport was good enough to cut into the carries of two other Miami backs that he shared the backfield with in the Butch Davis era: Edgerrin James and Clinton Portis. During his first few seasons with Green Bay, the Packers were excited about Davenport as the heir apparent for the starting job.
Now in his second year with Pittsburgh, Davenport has had a good camp and shown a propensity for scoring from the goal line. I believe the combination of Parker's knee trouble, lack of preseason time, 59% chance Parker does not reach the production he earned in 2006, could mean a nice opportunity for Davenport. I've been picking Davenport in just about every league possible. In auction leagues, he's an easy $1 pick and in re-drafts, a guy you can get after round 12.
Wide Receivers
Santonio Holmes, Steelers: The second-year receiver is a popular breakout candidate this year. In my mind, he is the most likely to make the greatest leap of any receiver because he has the all-around game, solid quarterback, rushing attack, and experienced receiver on the other side. He has continued his stellar play from the second half of 2006 into the 2007 preseason and I think a mid-round selection of Holmes will be the equivalent of picking a #1 WR at the price of a #3-#4 fantasy receiver.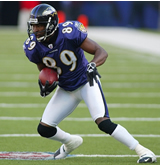 Mark Clayton, Ravens: Clayton gets the nod for the same reasons as Holmes. The only question mark is whether Derrick Mason has enough left to keep defenses honest or Demetrius Williams is ready for prime time. I think the continuity between Clayton, Mason, Heap, and McNair will pay more dividends in '07. In hindsight, I think I would have taken this approach to my draft and felt good about my team:
Rounds 1-3, Running backs.

Round 4, Antonio Gates, another RB, or a highly regarded WR

Rounds 5-7, Holmes, Clayton, and Curtis.
It might be risky, but I'd be okay with these guys as my starting three pass catchers. I honestly wish I thought of it earlier. I would have tried it out in one of my 9 drafts this year—yes, 9 drafts—way too many for me.
Kevin Curtis, Eagles: Two years ago, Curtis looked like he could make Isaac Bruce expendable. Think about that fact for a moment. We're talking Isaac Bruce, one of the all-time great receivers in this game who still runs a deep in—one of the most difficult routes in the passing game—better than anyone in football. Curtis is one of those players any football fan has to love: tough as nails over the middle, much faster than people give him credit, and plays hard regardless of the fact he couldn't crack the Rams lineup. Seriously who could crack the Rams lineup of Bruce and Holt? Terrell Owens? He may be a better athlete and more productive in the West Coast offense, but he isn't as consistent a route runner or pass catcher. Anquan Boldin? No. Larry Fitzgerald? No. All three would be redzone options or slot receivers. Maybe Marvin Harrison. Seriously, I'll argue with anyone that you can't name more than 3 NFL receivers and have a strong argument that they could come into the Rams offense in the past 3-4 years and bumped either Holt or Bruce from the line up. You may disagree, but you can't disagree that must mean Curtis is a great addition for the Eagles and your fantasy team as long as McNabb is on the field.
David Boston, Buccaneers: I know, I know, I'm a sucker for redemption stories. David Boston is the classic tale of an all-world talent who fell from grace and is now trying to reclaim some hint of what he could have attained: kind of sounds like a football version of The Natural, except for the fact this title would be highly satirical if this receiver with biceps the size of Superstar Billy Graham were the leading man.
The thing is, I'm willing to pay the price of admission for a potential happy ending for the meager price of a very late round draft pick or waiver wire selection. Boston hasn't earned the starting job, but he's played well enough to be in the hunt to win it with his in-season play. I don't know why this isn't obvious to everyone else that Boston is a shoe-in to take this job and run with it by October. Boston played with a mad scrambler on an overmatched team in Arizona. This should help him understand the mentality of his current signal caller. Unlike Maurice Stovall, Boston has the experience being the primary target required to face NFL cornerbacks playing press and bracketed coverage.
I think Tampa has a chance to be within +/- 2 wins from .500 this year because of Garcia and an improved offensive line. Boston should establish a solid rapport with the veteran QB without the pressure of being the primary guy, thanks to Joey Galloway. Yes, grabbing Boston at the tail end of a draft is a total Hail Mary, but why not?
Wes Welker, Patriots: He's not flashy like Stallworth or Moss, but he's not a hamstring waiting be pulled, either. You can tell Tom Brady has got to be loving his pairing with the former Dolphin because he's the Kevin Curtis of the AFC—smart, tough, and good after the catch. Moreover, Welker has displayed the knack to be where he is supposed on with his routes—can you say the new and improved, Troy Brown of the 2000s? That's my logic and I'm thinking its very possible Welker could become a solid, #3 fantasy receiver.
Roydell Williams, Titans: The two names everyone mentions when daring to select a Titans receiver in their fantasy drafts: Brandon Jones and Eric Moulds. Jones is the no-brainer because he is the returning leading receiver and has proven to be a solid option as an intermediate and redzone threat. Moulds at times looked like the best receiver in camp, but what do you expect from a polished veteran with pro bowl seasons under his belt? But arguably the most talented receiver might be the former Tulane star that has shown a good rapport with Vince Young all over the field. Williams has excellent concentration and body control in traffic and with deep routes. He reminds me a bit of Brandon Lloyd, but better across the middle. If you saw him in the preseason you know why I'm making the comparison.
Moulds may be the guy you want to draft in the late rounds, but Williams is the receiver you'll want to be poised to grab off the waiver wire as the season gets under way. He's a player that keeps finding his way into the game over the last few years and invariably comes up with a big play whether it was a long pass from McNair or a 3rd down conversion between defenders from Young. This is one of those rare picks that truly qualify as a sleeper.
Tight Ends
Daniel Graham, Broncos: The former first round pick of the Patriots was known as an excellent receiver when playing in Boulder, but his hands became inconsistent in the pros. After the catch, Graham is a beast to tackle and has the speed to be a Tony Gonzalez-like intermediate threat. Now back in the Rocky Mountain area, Graham has won the starting job over last year's first day pick Tony Scheffler. Coach Shanahan seems truly excited about what Graham can do for the offense. With Javon Walker as the only proven receiving threat on the outside, it is possible Graham could develop into the #2 option in the Broncos passing game. It's a tall order, but the price of acquiring him is so cheap, why not take a shot? I nabbed in an auction knowing I could get him for an easy buck and spend money elsewhere. If I'm wrong, I can scour the waiver wire.
Eric Johnson, Saints: Mark Campbell was the starter for the Saints, but his knee issues have opened the door for the best pass-catching tight end on the squad to start week one. The former 49er was a quality starter at one point in his career. Now paired with Drew Brees and healthy enough to start, Johnson has a really strong opportunity to be highly productive in this Saints offense—especially in the redzone. In 2004 Johnson actually compiled 825 yards on 82 receptions. With a young corps of receivers, Johnson could be the perfect complement and security blanket over the middle. I think Johnson is a bona fide waiver wire special.
Defensive End
Tamba Hali, Chiefs: Did you notice how good Hali was last year? With Jared Allen paired on the other side, these two Chiefs could remind you of Osi Umenyiora and Michael Strahan at times. Hali has a very good speed-strength combo and he's only going to get better. The addition of Donnie Edwards to a strong linebacker corps will make it even more difficult for offenses to key on either DE because KC can send Edwards or 3rd-year talent, Derrick Johnson off the edge. Despite the rookie totals that made him a respectable, rookie starter at the DE spot, he's not yet a name brand talent. Make that lack of name recognition a positive for your squad. And if you're bemoaning the fact I took a high-producing guy, then I'll throw out another name—Justin Tuck of the Giants. The former Notre Dame linebacker had a terrific preseason while Strahan was taking his veteran-style vacation from training camp. It seems a training camp vacation often precipitates a mid-season respite at the training table, so keep tabs on Tuck.
Antwan Odom, Titans: Here's another player who has stepped up his game during the preseason. This guy had games where he was an absolute force at Alabama and the Titans hoped his physical skills would translate quickly to the NFL. Well, Odom looks like he is finally taking his tremendous quickness and strength and using it with proper technique on the field. Odom, Haynesworth, Stark, and Vanden Bosch have the ability to be one of the better front fours in the AFC. These are young linemen about to hit their stride. Vanden Bosch has enough skill for people to take Odom too lightly. He's an extremely cheap addition who could have a break out year.
Defensive Tackle
Warren Sapp, Raiders: Did you realize Warren Sapp was one of the highest scoring defensive tackles over the last 6 weeks of the 2006 season? Could Sapp experience resurgence in 2007? The veteran lost 50 pounds in the off-season! That alone tells me the answer could be yes. This is an fast-rising defense and I think Sapp is in for a swan song of a year because the Bay Area pantry is stocked with enough goodies to help Sapp become a disruptive force.
Travis Johnson, Texans: The second-year vet from FSU had nice moments before getting hurt in '06. With DeMeco Ryans and Mario Williams playing like vets, I think Johnson will be one of the better DTs available if you specifically have to draft this position in your league.

Linebacker
A.J. Hawk, Packers: This is a no-brainer, folks. We all know the guy is good, but the reason here's here is the fact he'll produce like a top tier LB at a second or third-tier price. Hawk will be all over the field and if he is not the captain of this defense, he will be soon. If you picked Hawk as your second or third 'backer sit back, relax, and enjoy a good season in your IDP league.
Patrick Willis, 49ers: I'm a fan of DeAngelo Williams, Carolina's feature back in waiting, and it was a game I studied of Williams for the 2006 Rookie Scouting Portfolio that introduced me to the whirling dervish from Ole Miss we will soon know as defensive rookie of the year candidate, Patrick Willis. My friend Bill, an excellent fantasy football owner in his own right, made a good point to me this week about SEC defenses after we watched Georgia's "mediocre" defensive unit shut down Oklahoma State's heralded offense that was on the only college unit to average 200 yards on the ground and in the air. He said all decent SEC defenders can run sideline to sideline all day long and a unit like OSU was not prepared for this fact when they faced an SEC unit. Patrick Willis was All-SEC, which in my mind means he can run sideline to sideline with nearly anyone in the pros, kind of like Ray Lewis did in his best years. Willis should be the part of a lot of tackles this fall and could have a rookie year similar to Jonathan Vilma a few years ago.
Cornerback
Walt Harris, 49ers: Harris was a fantasy stud last year and I see no reason why he can't be again—now starting opposite Nate Clements, Harris will get picked on more than ever. I think San Francisco's offense will be good enough to force some shootouts, which will give the 49ers secondary even more chance to defend the pass, especially with Patrick Willis stuffing the run in the backfield.
Nick Harper, Titans: When it comes to getting a cheap, but productive corner back year after year, I love me some Nick Harper. He's just good enough to have the 3-4 big games during the year for a fantasy owner, but he's not an elite cover corner, which means offenses aren't afraid to go after him. This makes Harper a consistent producer. Tennessee's secondary has been struggling and Harper should play the same role with the Titans as he had with the Colts. That means a draft day bargain for you.
Safety
Sean Considine, Eagles: Although he got the job due to turnover, Considine is a heady player who should make his mark nicely. He's already displayed good timing with the blitz this preseason against offensive starters, and he's a solid tackler. He's a good late-round addition if you need a safety…and I do for one of my teams (hopefully he's available).
Donte Whitner, Bills: Whitner was a fine player at Ohio State and its been mentioned this week he will be an important cog in defending both the run and pass. I see an Adrian Wilson/Troy Polamalu type of role for this young player. He's getting some media love as a breakout player and I agree with the talking heads on this one.
Thankfully the season is underway. My best advice for this week is to start every Colt and Saint you have on your roster!