The Weekly Gut Check - Vol. 115
Mid-Season Musings
11/15/07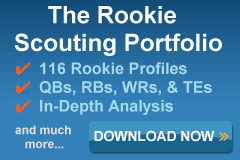 The "Gut Feeling" is often synonymous with a sense of desperation resulting from a lack of preparation. The Gut Check is a huge proponent of studying the numbers, but there's a point where one can place too much emphasis on the wrong information. This can result in the undervaluing or overlooking a player's potential. Therefore, The Weekly Gut Check is devoted to examining the frame of reference behind certain number-driven guidelines that fantasy football owners use to make decisions.

Although The Weekly Gut Check doesn't claim to be psychic, he does believe that he can dispel certain numbers biases and help you make the best choices for your team. We'll keep a running tally of The Weekly Gut Check's insights. This way you can gauge his views as something to seriously consider, or at least seriously consider running the opposite way as fast as you can!


---
Feeling Good About these Summer-Early Season Predictions
My Top Five RBs By Crank Score Projection:

In order, my top five backs were Tomlinson, Gore, Westbrook, Addai, and Bush. So far, the top five backs by crank score in a 2 RB offense with a minimum of 4 games played are Westbrook, Brown, Addai, Bush, and Tomlinson. Although my order wasn't exact, hitting 4 out of the 5 isn't bad at all. Too bad my first pick in several leagues was Frank Gore…



That LJ and Steven Jackson Would Not Play the Entire Season:

If you followed the Crank Score and had a top five pick, you at least averted disaster by avoiding these two wear-and-tear risks. Jackson could have a nice stretch run, but the fact he already has disc issues in his back is not a good sign.



7 out of 12 QBs in My Top 12 are True to Projected:

I ranked Favre too low (16th); missed my chance to try out for Mind Freak (didn't rank Derek Anderson); disrespected Matt Hasselbeck (15th); picked the wrong Cardinal QB; and had McNabb (understandable) and Pennington (not so understandable) projected as capable and consistent starters. Overall, not bad—especially with that Steeler QB….



Ben Roethlisberger Would Have a Strong Season:

Only Tom Brady has more elite games (55%) than Roethlisberger (33%). Big Ben also has three games with at least 4 touchdowns.



Players I Told You to Acquire When People Where Leaping Off The Bandwagon:

Drew Brees, Reggie Bush, LaDainian Tomlinson, and Larry Fitzgerald were four of the five players I told you at the end of September to remain patient with their play despite most folks panicking.


"I'd take Dwayne Bowe as my second receiver off the board in a rookie draft. In fact, I already have." On Monday I already shared my take on Selvin Young as early as May, Edwards already played pretty well for a rookie, and Jon Beck is about to get his chance. So it makes sense to mention Bowe.

The Corollary—Wishing I Didn't Have To Be Reminded Of These Calls
My Wide Receiver Crank Score Projections:

I only projected 5 of the top 12 receivers correctly at this point and though my top 36 is a much higher number, accurately predicting the elite players is what makes a big difference. I'm failing in this category thus far in 2007.



Frank Gore:

I'm not wrong about his skills, but I couldn't have been worse with my prediction that Alex Smith would take the next step because of the offensive line and Darrell Jackson. Smith, the Niners line, and Jackson have been horrible and Gore has produced at about half the rate of his potential.



Daunte Culpepper's great season in Oakland…

Lasted for one week versus Miami and he was more like a fullback than a quarterback. I still think Culpepper has a chance to be a decent player in the league again, but he may have a stay or two elsewhere before he finds the right situation.



Did I say trade Adrian Peterson in late September?

If you did it, I'd like to say I'm not sure whether to apologize (due to his games against the Bears and Chargers) or tell you to be happy you got a player that is still healthy. Honestly, I think it's better to apologize—296 yards and 3 scores is just a bit too difficult to get over…
Kinda-Sorta

From The Mail Bag…

I just wanted you to know that I am not going to be able to sleep tonight thanks to you:



Nagging feelings about player movement:

Marion Barber will be a Bear or Seahawk. It would be awe-inspiring to see McNabb and Barber sign with the Bears, but I doubt Chicago could land both players. The Bears need Barber more, but Seattle would be the best fit for his skills. If Barber becomes a Seahawk and that team stays relatively intact, Barber could make Seattle a co-favorite in the NFC in 2008. Personally, Dallas would be nuts to get rid of Barber over Julius Jones. Romo may be the main event in Dallas, but Barber is the guts of that team.

I am from the Seattle area and a die-hard Seahawks fan. I also drafted Barber three years ago in my dynasty league, and his development has led him to become my favorite non-Seahawk in the league. So much so that I have become a closet Cowboys fan even though that is against every fiber of my being. Seriously, wetting my pants just thinking about the possibility of him in Blue and Green….

Mike Olson
Puyallup,WA
Mike, thanks for your e-mail. Just know that the chances the Cowboys are this stupid to let Barber go instead of Jones are about as great as Ricky Williams or Priest Holmes having a last hurrah down the stretch of this season…okay, maybe not as great.

The Gut Check's Mid-Year, League Report Card

My auction league performances have been disappointing, although I still have a shot, albeit slim, to contend in two of them. I simply hitched my wagon to two disappointing players and stuck with them a bit too long. On the other hand, my dynasty league moves in the past 2-3 years are paying dividends. This has not been anywhere close to my best year, but I have some teams getting hot—just not sure if it's too late.

| | |
| --- | --- |
| League | Ironman 3 Dynasty League |
| Record | 7-3…14-team dynasty league. 2-time champ, Mike MacGregor dropped out—he knew my team was climbing fast… |
| Lineup Efficiency | 85% |
| Panned Out | Fitzgerald, Westbrook, Dockett, 5 LBs in the top 16 in scoring at their position, and a strong secondary. |
| Simply Panned | My QBs—McNair, Leftwich, Garrard, Gray, and Edwards |
| Key Injuries | Garrard, Leftwich, B. Jacobs |
| Key Additions | Drafting Selvin Young, Patrick Willis, and Dwayne Bowe. Free Agency: Priest Holmes and Ricky Williams |
| Comments | I am actually the points leader in this league and have a league-best 95-35 all-play record, but somehow 3rd in power ranking. Still, this is a playoff league, so I'm in good shape so far. |
| | |
| --- | --- |
| League | Fantasy Auctioneer Experts Invitational |
| Record | 3-6-1, 9th out of 12 |
| Lineup Efficiency | 70% , 4th out of 12 |
| Panned Out | L. Fitzgerald, R.Bush, Steelers Defense |
| Simply Panned | F. Gore, C. Chambers, V. Davis |
| Key Injuries | D. Garrard |
| Key Additions | D. Ward, R. Bironas |
| Comments | My 2-year run as champ is likely over. Even my pal, and 2-year runner up, Pianowski is bumming this year. Slow starts and 2 losses by a combined 7 points has me looking for a miracle to make the post season. |
| | |
| --- | --- |
| League | SG Auction League II |
| Record | 4-6, 8th out of 12 |
| Lineup Efficiency | 75%, 1st out of 12 (big deal, I'm 4-6) |
| Panned Out | R. Bush, L. Fitzgerald, R. Bironas, Roy Williams |
| Simply Panned | F. Gore, Jay Cutler |
| Key Injuries | None |
| Key Additions | Kurt Warner |
| Comments | This team still has a shot in a tight division race, but Roy Williams, Kurt Warner, Larry Fitzgerald, and Reggie Bush need to go on a points-spree. |
| | |
| --- | --- |
| League | Local League (Athens Atlanta Fantasy League) |
| Record | 4-6…11th out of 12, but 8 teams are 5-5, so still in the thick of it. |
| Lineup Efficiency | NA |
| Panned Out | B. Favre, E. James, S. Holmes, Steelers Defense |
| Simply Panned | F. Gore, Roy Williams (to my expectations), Chris Chambers, and Vernon Davis. |
| Key Injuries | Vernon Davis |
| Key Additions | Hoping Mark Clayton down the stretch. |
| Comments | I think there are three players on several of my teams that have put my season in jeopardy—Gore, Roy Williams, and Vernon Davis. I aggressively went after these three and am struggling as a result. |
| | |
| --- | --- |
| League | East Coast Dynasty League |
| Record | 6-4…12-teams, second in division, first place overall in power ranking used to determine champ. |
| Lineup Efficiency | NA |
| Panned Out | B. Westbrook, B. Favre, R. Moss, P. Willis, O. Umenyiora, M. Jones-Drew, |
| Simply Panned | No one really. |
| Key Injuries | L. Maroney and Z. Thomas |
| Key Additions | Drafting P. Willis and T. Edwards |
| Comments | I'm only 35 points ahead in the points total for this league, but if I can continue to stay ahead I have a good shot of winning this league that has always been competitive |
| | |
| --- | --- |
| League | SOFA Auction League |
| Record | 5-5 after a slow start. |
| Lineup Efficiency | 92.6%, Best out of 12 teams. |
| Panned Out | Fitzgerald, Bush, Jones-Drew, Ward, and Packers Def. |
| Simply Panned | Vince Young and Darrell Jackson |
| Key Injuries | Young and Garrard |
| Key Additions | D. Ward and I. Hilliard |
| Comments | I'm the reigning champ, but 2 games behind a playoff spot with two weeks left. My team has been peaking, but needs to sustain the high scoring to make the post season |
| | |
| --- | --- |
| League | GOIDPANKAL |
| Record | 5-5 and on a 3-game winning streak |
| Lineup Efficiency | NA |
| Panned Out | Favre, Westbrook, Bush, and my LBs |
| Simply Panned | Lee Evans for half the season (of course), Vernon Davis, and my previous DLs who I cut. |
| Key Injuries | Vernon Davis |
| Key Additions | Greg Olsen, Shaun Rogers, Cortland Finnegan, Nick Harper, Tommie Harris, and Kelvin Hayden |
| Comments | I need to win out and one of three teams to have a collapse. I like my squad as a contender, but my slow start could do me in… |