The Weekly Gut Check - Vol. 107
Get It? Got It? Good!
9/20/07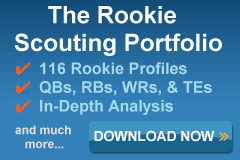 The "Gut Feeling" is often synonymous with a sense of desperation resulting from a lack of preparation. The Gut Check is a huge proponent of studying the numbers, but there's a point where one can place too much emphasis on the wrong information. This can result in the undervaluing or overlooking a player's potential. Therefore, The Weekly Gut Check is devoted to examining the frame of reference behind certain number-driven guidelines that fantasy football owners use to make decisions.

Although The Weekly Gut Check doesn't claim to be psychic, he does believe that he can dispel certain numbers biases and help you make the best choices for your team. We'll keep a running tally of The Weekly Gut Check's insights. This way you can gauge his views as something to seriously consider, or at least seriously consider running the opposite way as fast as you can!


---
Want some meaningful stats? So do I, but wait until October. A statistical trend minimally consists of three scheduled measurements and I'm not going to sell you on the merits of Derek Anderson. Instead here's some observations that I hope will help you when it's time to make some personnel decisions. Get it? Got it? Good.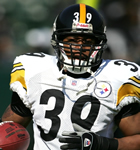 The Highest Producing Runners Have A Strong Offensive Line And/Or Play For An Offense With Balance Between Run And Pass
(AKA-Why LJ And Action Jackson Can Make You A Dumbass This Year)

Will Shields, Willie Roaf, Orlando Pace, and Alan Faneca. They are the reasons you know Larry Johnson, Steven Jackson, and Willie Parker. Get It? It doesn't hurt when you have quarterbacks who make smart decisions like Trent Green, Marc Bulger, and Ben Roethlisberger. Two out of the three signal callers were Mike Martz pupils, which we'll talk more about later, and those backs in the Martz-Al Saunders system can catch the football.
When you remove Shields, Roaf, and Pace from the equation and their replacements will be the first among a list of unfamiliar names filling these spots until these franchises find a suitable replacement, you're witnessing a noticeable decline in fantasy production from the ground game. Why? Opposing teams know they can load the box to stop the run and force KC and St. Louis to try to beat them with a vulnerable pass protection or lack of experienced skill players on the outside. Got It?
So what are you options? Trade LJ and Steven Jackson for a back like Willie Parker—yes, the same Willie Parker who continues to leave me looking like a complete dumbass for doubting him. I just have to remind myself that as much as LJ or Steven Jackson would perform like Jim Brown (LJ) and Ricky Williams (Jackson) if paired with the Steelers offense, they aren't in Pittsburgh. Take the guy in Pittsburgh (and if you can get Davenport as well, all the better). Good, you're welcome…
Mike Martz Coached Qbs Are Fantasy Studs
AKA—Norv Tuner Coached Qbs Are Fantasy Duds

I love how the media treats Norv Turner like Yoda and Mike Martz like Doc Brown from Back to The Future, because it's true. From strictly a football standpoint, Norv Turner is recognized for creating balanced offenses that emphasize a strong running game with a featured back lulling defenses into a place where the passing game can go right over their heads for a the long score or pick them apart with precision passes 15 yards downfield. But the aerial attack is the complementary weapon—just ask Emmitt Smith, Stephen Davis, Ricky Williams, Frank Gore, and now LT. Get it?
Better yet ask Troy Aikman, Brad Johnson, Jay Fiedler, and Alex Smith. Any of these quarterbacks lead your fantasy teams to glory in the past without a two backs like Emmitt Smith, Stephen Davis, Ricky Williams, or Frank Gore in your starting lineup? Got it?
So don't be surprised if you characterize a difficult fantasy season in '07 with the explanation of your symptoms as being high on Philip Rivers. The actual condition is being high on Norv Turner. If you want to have a good trip, Mike Martz is your supplier: Kurt Warner, Marc Bulger, and John Kitna have been far better for your fantasy squad. You have to love Martz if you have your QB on his squad, because he'll throw the ball in down and distance situations that make football play by play analysts go into Turrette-like convulsions. I just look at it as doubling my pleasure: a passing score for my fantasy QB and Troy Aikman revealing some long-harbored envy. Good for me!
Joey Harrington Is A Receiver-Killer
AKA—Trent Green Is Saving Chris Chambers' Career



Joey Harrington has played with Roy Williams and Chris Chambers and neither had great seasons with the former first round draft pick. Williams' best year came with Jon Kitna and Chambers was a stud-in-training with, of all quarterbacks, Jay Fiedler under center. Once Harrington hit town, Chambers had one of the most disappointing follow-ups to a great season for a receiver in recent memory. Joe Horn isn't any more over the hill than Isaac Bruce, Derrick Mason, Amani Toomer, or until recently, Rod Smith. But Horn has Joey Piano under center and they aren't playing in the same key. Get it what I'm saying?
Trent Green on the other hand extended Eddie Kennison's career, which could very well be a bigger accomplishment than making the pro bowl. Kennison has played for St. Louis, Chicago, and Denver (where he retired to get out of town) and by far his best stretch of play has been with Green in KC. Chris Chambers is Eddie Kennison with good hands. You got me?
While Green is a temporary option in Miami until rookie John Beck has a year or two to get acclimated to the pros, the journeyman QB is already making Chambers a viable fantasy receiver early in 2007. I anticipate Chambers having some big days as the season wears on—and that's definitely good.
David Garrard Ain't Bad, But His Receivers Ain't Good
AKA—Six From Garrard, Half Dozen From Leftwich

David Garrard is the 14th-ranked fantasy producer at the quarterback position right now. About the same spot you'd commonly find Byron Leftwich during his seasons as Jacksonville's starter. Get me?
Little has changed in Jacksonville. The running game is solid, if not at times spectacular. The defense is big, bad, and often overworked. Two receivers are on their way to becoming spectacular flops and the other two are journeyman. None of them seem to stay in the rotation long enough to have a feel for their quarterback. Got me?
Jack Del Rio is gone after this year. He force the team to part ways with a first round draft pick/potential franchise player who they didn't protect, didn't give good receivers, and switched coordinators more times than Morten Andersen has gone in and out of retirement. I was initially a fan of Del Rio, but this offense severely underachieved—Matt Jones and Reggie Williams epitomize what I'm saying here. If David Garrard were really that much better than Leftwich, they would have dumped the Marshall signal caller 2 years ago. The problem is that's a lie—Leftwich has had moments of excellence despite the fact his receivers didn't run good routes or catch the football. True, Leftwich was a statue in the pocket and his wind up reminded you of Dontrelle Willis more than Dan Marino, but he was tough and demonstrated the ability to lead his team in the 4th quarter.
Funny enough, when Del Rio is gone and the Jags hire a new coach, it's quite probable Jacksonville will be drafting in the top 10 and their first selection will be Brian Brohm or Matt Ryan. Not good for David Garrard, but a good chance to build around Maurice Jones Drew amd Mike Walker.
Get'em Now-Give'em Up
Here's my take on five players owners are ready to dump, but shouldn't and five who are off to a good start, but have owners overly confident. Sharpen those negotiation skills and you could wind up in a better situation, if I'm right about these guys.
Acquire
Drew Brees: At this stage of the season, Brees has stats on par with a low-end fantasy backup and he's scaring the bejeezus out of fantasy owners who likely selected this field general somewhere in the first five to six rounds of their drafts. Ten points against the Colts was woefully uninspiring, and eighteen against the Bucs was only moderately better (FFToday Default scoring). But if you give Brees at this stage of the season, you're throwing in the towel on your season unless you got a steal of a deal for a quarterback on par with him.
Despite his slow start, Brees completed 68% of his passes against the Colts and 59% against the Bucs. Speaking of the Tampa game, Brees had nearly the same number of attempts and completions but netted 70 additional yards in the air. This means the offensive line gave him a bit more time to throw down field and Brees took advantage. It's worth noting in 2006 Brees was hardly off to a great fantasy start in two out of his first three games—and neither Cleveland nor Atlanta were defenses most would have told you to bench the Saints QB due to a difficult match up. In addition, Brees' last two full starts in the regular season for '06 were his worst games of the year, scoring no more than 10 points in each.
Just remind yourself that even the better quarterbacks in fantasy football can have bad stretches. This is a team with the same offensive firepower as last year. They looked like they were ready to set the fantasy world on fire in the preseason, but tune-ups against the Bengals can make a team look and feel deceived about their in-season readiness. If you want Brees at a cheaper price, I'd suggest talking about the poor play of the offensive line and the fact Vince Young and Matt Hasselbeck—two QBs supposedly inferior to Brees as fantasy producers—had bigger days against Indy and Tampa, respectively. Use the whole "opposing teams are stopping the run to make them throw" routine and see if the owner bites. It shouldn't take much for panicky owner to give up Brees, but in most cases you will have to give up a decent player or two because even now you won't steal him away. Brees should be worth the price.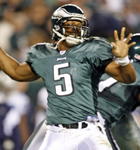 Donovan McNabb: The Eagles receivers haven't been able to catch the football or get decent separation. That's the main problem. I do think McNabb has shown some rust with his timing and is letting go of the ball a little late, but this should improve. May I remind you the Eagles played two of the better defenses in the NFC in the first two weeks? The Giants and Cowboys are much easier against the pass and McNabb has four weeks worth of match ups for fantasy owners to enjoy.
Although McNabb failed to reach pay dirt with any of his passes, his completion percentage against the 'Skins was up to 60% (from 45% against the Pack) and his yardage totals were much better as well. Plus there's the minor media tizzy about McNabb's comments about the African American experience as an NFL quarterback. If you compete with an owner who reminds you of John Tuturro's character in Do The Right Thing when it comes to African American athletes then take advantage of his ignorance—serves him right anyhow the way I see it—and give up a bit to get McNabb.
Of course there are a few good reasons why you might not want to do this, too. He's still recovering from the ACL tear and a chance of a setback is possible. Nor does McNabb have a good track record of finishing a season. Thus far Kevin Curtis and Reggie Brown are looking more like Todd Pinkston and James Thrash than T.O. and Donte Stallworth. McNabb is a higher risk than Brees, but you should also be able to get him cheaper for all these reasons, if you can convince yourself he's worth the risk.
LaDainian Tomlinson: Beside the fact he normally averages less than 4 yards a tote during the first two games of any season he's played thus far, he's faced the Bears in Chicago and the Patriots after the media goaded them into proving a point. Tomlinson will come around soon. Unless you have the skills of Clive Owen in Spike Lee's heist film from two years ago, you aren't likely to get Tomlinson very cheap. If you own him now, you know you are pricing higher than his current market value based on two weeks of performance. So hold onto Tomlinson and let him get warmed up, otherwise you're going to feel sick to your stomach when he's running wild by the end of September.
Reggie Bush: Admittedly, Bush is scaring me right now. He's dancing in the backfield in the pros more than he ever did as a Trojan. Hell, at one point in the Indy game, Sean Payton benched Bush and threw the ball to Aaron Stecker to have the journeyman show the all-purpose back what it means to take the yardage available to him with more decisive runs. Despite the fact Bush has looked more like the early stages of his rookie season, don't give up on him too early. He's too smart of a football player not to come around soon. Every talking head on radio and tv seems to be begging for more carries for McAllister, but the problems begin with the offensive line. Bush has already shown is the type of player capable of stringing together excellent weeks. I wouldn't pass up on that probability, because the Saints should get back on track in a big way.
Larry Fitzgerald: Late Night Larry was basically ignored versus the 49ers, so his respectable 87-yard effort against Seattle doesn't really show up in his 2-game totals in comparison to huge games from Moss, Smith, or Chad Johnson. But the way I view it, the Niners have a strong secondary and Matt Leinart got off to a poor start. Here's another productive player who will get his soon. Don't make any foolish moves to give him up.
Put On The Trading Block
Jake Delhomme: The Carolina Panther looks like he's reviving his career, but if you believe his touchdown to interception ratio of 6:1 is going to stay that way, you're the guy that is likely to give up Drew Brees or McNabb for a package of guys that includes Delhomme. Houston's secondary is still horrible and we know St. Louis has long had problems in the defensive backfield. Play up the fact that Delhomme looks like last year was an aberration and get rid of him before he goes sour. He should be decent against the Falcons this week, but I'd say you have a 2-3 week expiration date on his stellar play, at best.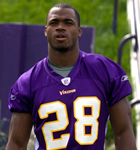 Adrian Peterson (MIN): I hate to act like Merrill Hoge does with Vince Young. In fact I'm not, because I love Peterson's potential. But this year, we're already hearing about his inability to protect the passer and lack of patience as a runner inside just after week two. Peterson did have decent totals in week two, but he didn't set the world on fire either. A lot of owners currently perceive AD as a high-end #2 RB in a starting lineup. Personally, I see him as a low-end #2, at best. He has yet to face Green Bay or Chicago's tough defensive fronts and his best game came against the Falcon's weak front seven. May take could backfire of Kelly Holcomb plays like he's shown he's capable in spurts, because he'll force defenses to play more honest against the pass. But there is a reason Holcomb has been a career back up and I'm not expecting a Rich Gannon-like renaissance from the former Colt, Brown, Bill, and Eagle. I have a tough time believe Chester Taylor will remain permanently on the bench after he heals soon.
Ahman Green: The Texans are much improved and Ahman Green has been posting solid totals. I'd play up the fact that Schaub has opened up the run with his ability to go downfield (although the passing attack stretches the field more laterally than vertically in Kubiak's version of the west coast offense) and Green gets to face the weak AFC South defenses of Indy and Tennessee (although neither look too weak at this point, you may find an owner who buys it). If you are thinking "I want to play in your league if owners fall for this," then you're in a normal, competitive situation and the other ploy I'd recommend is that the Texans defense has improved and this should keep the offense in games long enough to continue running the football. This probably won't work either, considering their opponents included KC to start the year. So unless the owner is desperate, I think you're stuck with Green and hopefully he's a luxury pick as a #3 RB-flex/bye-week option.
Braylon Edwards: He only plays the Bengals one more time…enough said. He's a good prospect, but the QB carousel is far from over in Cleveland. Ditch him quick.
Derrick Ward: His expiration date is likely sometime late next month. If you need to shore up your WRs, QB, or need a quality TE act now when Ward's value is highest. Otherwise, you'll get the "Ward only has two weeks of use left, he's not worth what you're asking" response.