The Weekly Gut Check - Vol. 109
Fantasy Gem or Fool's Gold?
10/4/07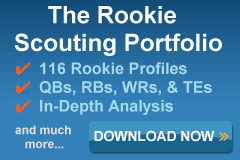 The "Gut Feeling" is often synonymous with a sense of desperation resulting from a lack of preparation. The Gut Check is a huge proponent of studying the numbers, but there's a point where one can place too much emphasis on the wrong information. This can result in the undervaluing or overlooking a player's potential. Therefore, The Weekly Gut Check is devoted to examining the frame of reference behind certain number-driven guidelines that fantasy football owners use to make decisions.

Although The Weekly Gut Check doesn't claim to be psychic, he does believe that he can dispel certain numbers biases and help you make the best choices for your team. We'll keep a running tally of The Weekly Gut Check's insights. This way you can gauge his views as something to seriously consider, or at least seriously consider running the opposite way as fast as you can!


---
This year's candidate for 2007 Fantasy Gem or Fool's Gold is Ricky Williams. It's common knowledge Williams is applying for reinstatement this month and there are several factors that a fantasy owner must weigh before pulling the trigger on a player with tantalizing skills, but a terrifying track record for flaking out. And pulling the trigger now is a must if you want to have a chance to reap a potentially high reward. Here are various arguments from for and against acquiring Ricky off your waiver wire from fantasy owners and friends I know and trust to give me good advice.

Pro—Look At His Production

Duey is a numbers guy. If you ask him why he married his wife he doesn't tell you he fell in love with her; he gives you all the pertinent stats that made sense for him to do it. If you saw how he treated his better half, you know he never told her what he said to me. Otherwise, Duey would be single and just an entry-level employee in his father-in-law's firm.

Yep, Duey is an unromantic, Machiavellian schemer. Although this makes him a bastard of a husband, it does make him pretty tough competition as a fantasy owner because he'll have no qualms about staying away from a guy like Steven Jackson despite all the media love if the numbers point in that direction. So it was surprising to me that Duey thought taking a flier on Williams is worthwhile idea.

The reason is his production

Ricky Williams
Team
Year
G
Rush Att
Rush Yds
Rush Tds
Rec Yd
Rec Td
FF Pts
FP/G
NO
1999
12
253
884
2
172
0
117.6
9.8
NO
2000
10
248
1000
8
409
1
194.9
19.49
NO
2001
16
313
1245
6
511
1
217.6
13.6
MIA
2002
16
383
1853
16
363
1
323.6
20.23
MIA
2003
16
392
1372
9
351
1
232.3
14.52
MIA
2005
12
168
743
6
93
0
119.6
9.97
Duey isn't looking at Wiliams' salad days, but his 2005 season where he split time with Ronnie Brown. Williams' 9.97 fantasy point per game average would make him the 21st-ranked runner after Week 4 in 2007. The argument is that Williams averaged 10 points per game splitting time with a top-five draft pick after a year away from the game and not in football shape in the early going.
Furthermore if Williams comes back this year, he would technically have not been away for a full season, because he did play enough football in Toronto to not have experienced as much as a layoff as he did between 2003 and 2005. So from Duey's perspective, if Ricky splits time with a runner who is even as talented as Ronnie Brown, the Grass Valley alum has a good odds of being a valid, #2 fantasy runner down the stretch of the roto-season.
Con—Once A Flake, Always A Flake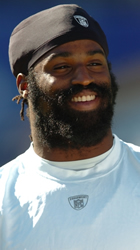 Zook is a once bitten, twice shy kind of owner. He's that dude who made the really bad choice if marrying a woman who not only cheated on him, but also successfully turned everything around on him, cleaned out his bank account, and won custody of the kids despite he was the more active parent. Yep, Zook is the one living in the basement of one of your pal's homes, slowly bringing this guy's wife to a nervous breakdown, if not a half-step from filing for divorce herself, as he shares his unsolicited commentary to anyone who will sit still long enough to listen.
As annoying as Zook is, he's not telling you anything that's off the wall because he's the idealist who has been turned inside out from life opening a can of whoop ass on him. Zook is the voice of experience, experiences you never want to see first hand, but it's compelling to listen to horrific accidents.
Listen Waldman don't do one of those idiotic columns where you tout some $2 million talent-two cent head case because you think he's changed his ways. You're worse than a social worker that falls for an addict's worn out song and dance routine. Ricky Williams will never come close to being the same back again, much less be a productive player in the NFL. Not because he doesn't have the skills, but his heart has never been into it. He never fit in with his teammates and the attention of being a pro athlete freaked him out. What do you make of a guy who poses for ESPN in a freaking wedding dress with Propecia-Viagra-Vitalis—err, you know who I'm talking about—but then can't face the media without his helmet and visor glued to his head? He's the same guy with consecutive 1300-yard seasons and then flees the reservation and initially makes it some esoterically inspired journey of the soul until we all learn he flunked a drug test. Did I tell you my ex-wife flunked a drug test? Slut…
Zook has a point. Williams fooled Ditka, Dave Wannestedt, and even one of the more upstanding sports agents around, Leigh Steinberg. The Jerry McGuire-inspiring agent has said things to the media that Williams either refuted through words or actions. But the person Ricky has screwed more than anyone is himself. How do you believe a guy Williams won't change up at last-second in 2007? He's struggled with his demons for the entire span of his pro career, cost himself millions, and lost two years of what could have been a stellar career. Now he's 30 and coming off a lackluster season for a Canadian team whose leading rusher is Robert Edwards. Yes, the same UGA star who wrecked a nerve when he dislocated his knee at a Pro Bowl Beach Football Tournament for ESPN and was never the same, although I believe the NFL just shied away from him after he won Comeback Player of the Year and looked good to me.
See social worker, you can't even help but defend the downtrodden Robert Edwards as a victim of the system.
Alright, alright, alright! Williams is in the twilight of his career and probably desperate to make some of that pro football coin he squandered with bad contracts, breach of contract, or whatever kind of term you use for a guy who "retires," then gets suspended. Not the profile of a reliable person. He makes Randy Moss and Terrell Owens look sensible in some respects.
Pro—Extenuating Circumstances
Mook is manager and he's the king of reclamation projects that work out. He's a mix of George Allen and Al Davis. I asked him what he thought about Ricky's prospects and told him what the other guys said. Mook said he'd take a chance on Williams because of the extenuating circumstances behind the image.
Look, Williams was considered the guy who could do no wrong at Texas. He hit it off with everyone. He won the hearts of everyone from Doak Walker to Jim Brown. He inspired Mike Ditka to give up an entire draft. He was such a chronic people-pleaser to an extreme that he did all those crazy things to look how people wanted him to look. The wedding dress to shock people, which was probably a ploy ESPN suggested that most players would have turned down and it backfired on him. It probably would have been funny and acceptable to the public if Ditka wore the dress, but Ricky seems like the kind of guy who would say okay to something he wasn't too sure about if it meant making other people happy. He accepted that nutso contract Master P's group negotiated because he wanted to look like he was great enough to reach the incentives and win people over who think athletes are guaranteed too much money. When he went to Miami, he had a much publicized website and tried to get people to like him for his honesty about football and life, but his desire to give people what he thought they wanted cost him. He looked like a flake that couldn't keep the straight and narrow.

Somewhere a long the way, Ricky rebelled against all of this stuff. He went from one extreme of caring about everything people said to the other where he left everyone high and dry. The kid had enough. He put himself in a corner and felt all this pressure that was unbearable. Nothing in life was fun because he over committed himself in so many ways that the pressure brought to bear was unbelievable. Think about the pressure a franchise quarterback has when he's a #1 pick—look at Tim Couch and David Carr. There are frequently so many who never make it due to the pressure. Now imagine being the #1 pick because the coach traded away an entire draft for you? Talk about pressure to succeed.

But the pressure was there because he truly had something that excited coaches. Norv Turner said Williams was one of the smartest x and o's football players he's coached. Turner may not be much of a head coach, but he's a helluva technician. He's the great second in command who doesn't have to keep people in line, but hole up in the war room and create the strategy He's recognizes talent when he sees it.

Jim Brown is honest to a fault. When O.J. Simpson was still the American Darling, Brown labeled Simpson a phony. Brown tried to help Maurice Clarett. Some people misunderstood that Brown was enabling Clarett, but the all-time great was trying to counsel him to do the right things. Clearly Clarett didn't listen, but people still like to twist it around that Brown was a bad influence somehow. The point is that liked Ricky Wiliams and saw something special in the kid.

Leigh Steinberg is telling the public that Williams is in the best shape of his life an in a very good place emotionally. Considering how Williams burned him the first time he said this, its worth noting Steinberg hasn't backed away on it. As an agent he still has to be concerned with his image, but he's still aggressively telling the world that Ricky is ready. This tells me Ricky has his head on straight for the first time in a while.

He flaked out in the past, but Williams was a young kid under tremendous pressure and coping with a psychological disorder that often takes years for someone away from the spotlight to get under control. The guy is 30, more mature, and still in his athletic prime. He has about two years of tread left and he's well rested. And have you heard anything about him since he left for Canada to play football? That's a good thing in terms of him not calling attention to himself. Considering the circumstances, he's definitely worth a flier. He could walk into a town like Green Bay and join Brett Favre on a last-ditch effort for a Super Bowl Championship. Why not take the chance? Nothing ventured, nothing gained.
If Williams can find his way to a team like Green Bay where he won't be too much of a spectacle because Brett Favre is the franchise, the runner has a great chance of succeeding for a half a season and possibly a playoff run. None of the Green Bay backs inspire great confidence. Williams, based on what Mook said about Turner's comments, has the brains to pick up the offense. Remember being smart has nothing to do with being wise. Williams just hasn't been wise. If he's wised up, he could become a true fantasy story.
As for my thoughts on Williams, you heard them a month ago…and if you knew I picked him up in several leagues last week you probably know my view.