The Weekly Gut Check - Vol. 119
Dear Arthur,
12/13/07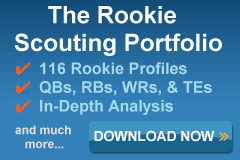 The "Gut Feeling" is often synonymous with a sense of desperation resulting from a lack of preparation. The Gut Check is a huge proponent of studying the numbers, but there's a point where one can place too much emphasis on the wrong information. This can result in the undervaluing or overlooking a player's potential. Therefore, The Weekly Gut Check is devoted to examining the frame of reference behind certain number-driven guidelines that fantasy football owners use to make decisions.

Although The Weekly Gut Check doesn't claim to be psychic, he does believe that he can dispel certain numbers biases and help you make the best choices for your team. We'll keep a running tally of The Weekly Gut Check's insights. This way you can gauge his views as something to seriously consider, or at least seriously consider running the opposite way as fast as you can!


---
Dear Arthur,

Out of respect, I'd call you Mr. Blank, but you're so telegenic, you make it easy for people to want to call you Arthur. I'd almost like to call you Uncle Arthur—and I have an Aunt whose last name was Blank, so it's not much of a stretch—but I digress. I'm not much of a Falcons fan, but I'm a fan of you as an owner. See, my favorite teams had owners like Art Modell and Bud Adams, so I appreciate your desire to build a winner and moneymaker in Atlanta.

Because you seem like such a nice guy, there's a part of me that would like to offer you my condolences for your recent losses to your organization. But I think you're better off despite the embarrassment. Although your team appears in a shambles to Petrino apologist, Skip Bayless—a complete attention whore of a journalist—who believes the Falcons will only be worse next year and the team quit on the coach first. Of course this is despite the fact that four of the Falcons' ten losses were by a margin of, at most, seven points. Not that you should care what mullet-coifed, Bayless has to say.

You actually have a fresh start to make this team great. You're a man of vision. Your fans may not think so right now, but I know you know I'm right. Allow me to remind you how fortunate you are today.

Let's begin with Michael Vick. Your regime didn't draft Vick. It was the Smith family, otherwise known in these parts as Dumb (Rankin) and Dumber (Taylor), who led an inept organization with the chance to draft the best back of this generation in LaDainian Tomlinson and the perfect complement and leader in Drew Brees. Instead, the Smith family gave them up for a pot-smoking, herpes-carrying, manchild with a knack for creating great humor at his expense. Need I remind you of the alias 'Ron Mexico,' or that secret compartment in a water bottle? A water bottle!?

But to your credit, you still did your best to make the best of the situation. You brought in Warrick Dunn as a positive influence; you had Steve Young counsel him on the art of quarterbacking; and you personally took an interest in him. You surrounded him with a great environment and Vick chose to do interviews where he appeared stoned out of his gourd.

Even as Vick made incredible plays that temporarily sedated our growing contempt as fans. Although some of us are still completely drugged by his highlight reel, the 'Free Vick' protest is nothing but a form of withdrawal pains. They don't care about Vick the man; they want him back on the field for selfish reasons. You on the other hand, truly wanted the best for Vick and it doesn't take much to see it. I know that sounds naïve to some, because of the money you invested in him, but what other coach pushes his player in a wheel chair on the sideline after sustaining a serious injury? But that's the way a leader treats major investments when it comes to human capital. Instead of working hard to become a student of the game, he never tried to tap that greatest asset between his ears. Instead, he used it to dance around trouble: he lied to you, lied to the feds, and lied to state and local officials. But as with his athletic ability, his mental elusiveness was exciting, but not ultimately effective over the long haul. You know Vick never had to see the walls of a prison if he told the truth.

Still, you're better off without him and you know it. You won't have to deal with the animal rights protesters who would have hounded your organization when he returned from a one-year suspension and resumed his role as undisciplined passer who would have continued to think he did just enough to outsmart everyone; just enough to win, but not enough to win it all.

Vick's absence gave you the NFL-equivalent of a mulligan. You got a chance to see your team's strengths and weaknesses in a traditional, pro-style offense. You learned that without Vick, your Falcons could no longer run the football at will. You saw just how poor they were at protecting the passer—although Bryon Leftwich inflated those stats with a wind up longer than a politician stumping for votes. Defensively, you can't stop anyone on the ground or in the air.

But you learned a few good things. Roddy White just might have learned how to run a route or two and hang onto the football. Linebacker, Michael Boley, is using his speed and instincts to become a promising outside stopper. You learned that a drop back passer with leadership skills and a big arm is nothing without mobility and a quick release. At the other extreme, you learned that a one-time, big-time prospect without leadership skills is nothing but a journeyman.

Although your GM ultimately hired the wrong coach, let's not forget that Rich McKay gave Tony Dungy a chance in Tampa. All Dungy did was set the table for Jon Gruden. Petrino, an autocrat who treated his pro players like fifteen year-olds, schooled you and McKay. Sporting the visage of a coach with short man syndrome, his players rebelled against him and he remained defiant because in hindsight, he was looking for the backdoor all along. Petrino is stuck at Arkansas and he better dominate for a few years. Otherwise, no big-time program will touch him after the negative press.

Still, the point was Petrino sucked. He released Allen Rossum in the preseason, one of the better kick return specialists in the NFL, for Adam Jennings. The reason? Rossum wasn't as good of a nickel back? Nickel back? Are you kidding me? The Falcons don't face the Seahawks, Colts, Rams, and Patriots twice a year. Without Vick, didn't Petrino think he might need to rely on good staring field position more than ever? Rossum isn't setting the world on fire with the Steelers, but only eight other players have more returns of 20+ yards on punts (and only five others had more opportunities). Despite being on a new team with a different approach, he's still outperforming Jennings. Cutting Grady Jackson may have been more publicized, but Allen Rossum was the earliest sign that Petrino lacked NFL smarts as a head coach.

Your (fortunately) former coach's decision making only went downhill from there. Inserting the slow-footed Leftwich in the 4th QTR of a tight game, despite having less than a week with your team, and facing a Titans defensive front, which knew Leftwich's cadence so well that Albert Haynesworth pulled a Mean Joe Greene-like, leap over the line to foil the play. This never would have happened against another QB, but Leftwich was ill prepared, and Haynesworth knew it. Meanwhile, the best signal caller on the team was a player Petrino coached at Louisville.

Petrino isn't a true leader. Leaders face challenges head-on, they don't run from them. ESPN's anchor crew was crazy to say Petrino knows how to deal with chaos. If he were so good at dealing with chaos, the Falcons would have been a better team. If he wants to call pigs rather than coach at the highest level, be glad you let him go. I'm sure Robert Kraft and his collection of Lombardi Trophies is ecstatic Pete Carroll ran off to USC where he could play big man on campus.

You have some excellent choices available. Some might need convincing, the others could be something special. Regardless, if you give them the opportunity and stay out of their way, your choice will build a team that fills the stands and contends for a title. Consider these suggestions a late Chanukah present from me to you. If you don't want to look at it this way, at least consider this a belated, "all we want for Chanukah list" from your customers. You and Bernie Marcus built a team that responded to customers, I'm taking the opportunity to share your customers' perspective. First and foremost, go back to a coach with a defensive background. You got the wrong one in Jim Mora, Jr. Offense may fill seats, but defense wins championships, gets you Monday Night and Sunday Night appearances for the next 2-3 years, real sponsorship opportunities, and sold out games for the long haul. If you have to go offense, get a guy who played and/or coached the offensive line because they understood the value of defense and made sure they didn't neglect that side of the ball:

Vince Lombardi—you know, the guy they named that trophy after?


John Madden—the anti-Lombardi in personality, but his teams were eerily similar to Marty Ball on both sides of the line of scrimmage.


Chuck Noll—Cleveland Browns offensive lineman had a pretty good defense, don't you think?


Still, I'm more in favor of a defensive guy. The list may not be as prestigious, but there's a lot of quality:

Tom Landry—Prior to epitomizing the Cowboy's mystique, he was the defensive coordinator for the Giants when Lombardi was the OC.


Bud Grant—He led the Eagles in sacks for a season as a defensive end before switching to WR and compiling the second highest yardage total in the NFL the next. The Vikings had a great defense under him.


Bill Parcells—He was a linebacker who became a defensive coordinator for the Giants. He never had a big-name QB or franchise RB, but LT was enough of an LB to sell out the Meadowlands and bring home a couple of Lombardi Trophies.


Bill Belicheck—the figurative son of Parcells


Tony Dungy—Does Tampa Two sound familiar?


Jeff Fisher—He's got the most tenure of any coach in the NFL and his teams play a respectable brand of football in a small market that has few attendance problems. Fisher learned under Buddy Ryan and prior to that, played in the same defensive backfield as Ronnie Lott. Did you watch his team make Shawn Merriman whine? The Titans may have lost that game, but they are still a team no one takes lightly.


Jack Del Rio—His teams have underachieved, but he had the guts to part ways with Byron Leftwich and go with what turned out to be the better QB. You have to give him credit for a gutsy decision.


Dick Jauron—Buffalo is in the playoff hunt with a very young team and a rookie QB. True he's in a weak division—New England aside—but the NFC West might be worse. Jauron was a DB and defensive coach.

Do you see my point? I hope so. Here are the coaches I think you should consider. Some are obvious, but all will get you the results you seek:



Bill Cowher

—He's your high-ticket item. He's a former linebacker and defensive coach for the Browns who was a class act for the Steelers. He led Pittsburgh to two Super Bowls and was a perennial contender. He's won with grind it out running game, a high-flying aerial attack, and the 90s precursor to Michael Vick. The one constant has been defense. Cowher doesn't need a big market team. The Steelers are a historic franchise, but they are small potatoes compared to the Giants or Dallas. NC State isn't nearly as far from Atlanta as Pittsburgh, so he can see his daughter with little trouble. He's still a young coach and he knows how a class organization operates from year to year. Everyone likes to think that Atlanta fans want high-flying antics. Atlanta fans want a winner. Maybe you weren't paying attention, but Jamal Anderson running over New England Patriot defenders in Foxboro wasn't that long ago. Whether Cowher wants Jake Long, Glen Dorsey, or Darren McFadden, as his headlining draft pick, rest assured, you are in good hands. The real question is whether you can sell Cowher on taking the job.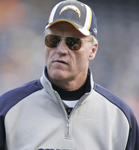 Marty Schottenheimer

—The Browns of the 80s, the Chiefs of the 90s, and the Chargers of this decade could run the ball and play defense, thanks to Marty Ball. The former linebacker and defensive coach is an old-time SEC ball coach. He'll fit right in with Deep South football. No, he's never won the big one, but he'll make a contender out of crap quicker than most coaches. Give him a cooperative GM and one or two plays to go his way in a conference title game, and you'll get to a Super Bowl. After A.J. Smith and Alex Spanos ran his QB—and eventually Marty himself—out of town, he'll be leery, but he'll like the makings of this team: Brooking, Boley, Hall, and Anderson are a solid defensive core with potential. He's not a sexy pick, because his offenses are prehistoric, but look at the Chargers and Norv Turner coaching circles around himself until he realized it wasn't broken. Good leaders know how to put the ego away, prove to us you know this and hire Schottenheimer.



Mike Singletary

—Rumor has it that you wanted the former Bears great and Niners current defensive coordinator, but McKay wanted Petrino. All I know is that Ray Lewis swore by him in Baltimore and the Niners seem to feel he's the glue that's holding this team together during this tough season. The San Fran passing defense is ranked 16th and the run defense near the bottom—but they only allow 3.8 yards per carry. The problem is their offense is so bad the defense is on the field too often for playing from behind. Singletary 's the perfect bridge between the old school player and new generation. He would also be the minority hire for a town that has an image as a Mecca for minorities in business. You're PR savvy and though his skin color has nothing to do with him being a good or bad coach, the fact you're breaking new ground in Atlanta in this respect only helps a bit, too. The players won't view Singletary as a retread and grew up with his on-field exploits, so they'll work their butt off for him. He's the smartest pick of the group, although unproven as a coach.



Jim Schwartz

—The Titans defensive coach has built a pretty strong unit that has rocketed up to 6th in yardage allowed overall despite the loss of Pac Man Jones. Forget the "what is Albert Haynes-worth," comments for a moment. This team has gone from one of the worst to a respectable unit in short order. Schwartz has been operating with basically nothing while the Titans were cap strapped for the last 3-4 seasons. He's probably a few years away from getting serious consideration, but you might as well interview him. You might be surprised what he has to offer.



Bob Sanders

—The Packers defensive coordinator has a top 10 defensive in almost every category and top give in most passing-oriented defensive categories—err, maybe that has to do with secondary coach Kurt Schottenheimer, who you'd likely get if you hire his older brother—never mind.

Good luck with your decision and thanks for your time and consideration.

Best,
Matt