The Weekly Gut Check - Vol. 111
QB and RB Consistency Score Ranking Splits
10/18/07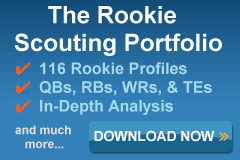 The "Gut Feeling" is often synonymous with a sense of desperation resulting from a lack of preparation. The Gut Check is a huge proponent of studying the numbers, but there's a point where one can place too much emphasis on the wrong information. This can result in the undervaluing or overlooking a player's potential. Therefore, The Weekly Gut Check is devoted to examining the frame of reference behind certain number-driven guidelines that fantasy football owners use to make decisions.

Although The Weekly Gut Check doesn't claim to be psychic, he does believe that he can dispel certain numbers biases and help you make the best choices for your team. We'll keep a running tally of The Weekly Gut Check's insights. This way you can gauge his views as something to seriously consider, or at least seriously consider running the opposite way as fast as you can!


---
At this point of the fantasy season, owners of squads with 3-3 or 2-4 records face serious personnel decisions regarding players who are under-performing to projection. There are cases where these disappointing totals have to do with the owner forecasting an unrealistic season for their draft pick. But let's talk about the cases where the projections seemed reasonable, but the player hasn't performed up to par due to a temporary obstacle such as an early season injury or difficult schedule. Although we pretty much know which teams are really good (New England, Dallas, Indianapolis, and Pittsburgh) and really bad (Cincinnati, Saint Louis, Miami, and Atlanta), there are teams every year that start poorly and play much better football as the year progresses. Some candidates for his year are San Diego, New Orleans, Philadelphia, and Baltimore. Conversely, Detroit, Cleveland, Houston, and Tennessee are teams off to better than anticipated starts but in the back of our minds we may expect them to see a drop off in performance.

As this change happens with teams, so it goes with players. This means fantasy performance through week 6 may look like the fate of one's season is etched in stone, but it is not the case. Anecdotal evidence suggests between week 6 and the end of the season that there are a significant number of players (Second Half Wonders) who far out perform their early production: Maurice Jones-Drew, Shaun Alexander, and Joseph Addai were all examples of runners who turned it up a notch. This week I will give you a historical stats perspective of the shift in rankings between week 6 and the end of the season for running backs and quarterbacks. The rankings will be based Crank Score rather than fantasy points per game, because I think it makes more sense to look for the players who are consistently playing better each week (Jones-Drew from 2006) and not just having two huge games, then going quiet (Chad Johnson from 2006).


Movement of Top 20 RBs by Crank Score At Season's End Vs. Week 6

RB Movement
RB
2006
2005
2004
2003
2002
1
0
-1
2
2
0
2
1
27
2
-1
1
3
6
6
4
4
23
4
-2
-3
75
1
3
5
1
-2
-3
-3
-1
6
-1
-1
11
8
-1
7
1
-1
-6
2
13
8
18
9
73
3
-2
9
1
11
3
17
-7
10
-6
9
-5
-6
0
11
10
-1
2
-3
-3
12
-1
-5
20
-6
2
13
1
75
-3
15
4
14
2
-10
12
6
-3
15
0
12
32
14
4
16
-9
-5
12
-3
0
17
-3
-2
-6
-7
2
18
75
-2
2
-3
3
19
9
-6
-10
21
5
20
-3
-8
-14
2
9
Avg
(+)
25%
35%
30%
30%
15%
28%
(-)
10%
15%
20%
15%
5%
13%
This chart shows the amount of movement up or down the running back rankings between week 6 and the end of the season. The spots highlighted in green show an improvement of at least 30% and the red highlight demonstrates a decrease of at least the same amount. Over a five-year period, 28% of the top-20 Crank Score RBs at the end of the season consist of players who experienced a significant upturn in production between weeks six and the end of the year. In contrast, 13% of the backs will experience a significant drop off in productivity. With these figures, one could reasonably project that there will be five runners who go on a tear and two runners who take a significant nosedive in 2007.
How do we know who these runners will be? One way to make a reasonable guess is to examine the individual players who experienced this significant movement in production to see if we can accurate profile their situation, then determine which of this year's group of backs fit these profiles.
The first clear, profile category for backs has to do with injury. The following backs in the past five years, demonstrated a huge upturn in production because they either came back from injury or replaced an injured starter:
2006: Shaun Alexander and Ladell Betts
2005: Larry Johnson, Clinton Portis, Samkon Gado, and Mike Anderson
2004: Larry Johnson and Julius Jones
2003: Marshall Faulk, Moe Williams, and Domanick Williams

Thatís quite a list of players. In 2007, there are a few runners who could experience an upswing in production due to injury. The Buccaneers new acquisition, Michael Bennett, has a very good chance of performing like a 2nd half stud because he will get a chance to start for the first time in a few years. Bennett has the speed and receiving skills to do a decent poor manís imitation of the Charlie Garner role in Jon Grudenís offense. Dominic Rhodes might get a chance to give fantasy owners a boost if Lamont Jordanís back troubles continue to flare. Rhodes has the skills to force Jordan into a supporting role if the current Oakland starter isnít fully healthy. Both Rhodes and Bennett are hot waiver wire commodities at this time. Although much more speculative in nature, Larry Johnsonís 400-carry season in 2006 continues to make him a candidate ripe for injury in 2007. If this occurs, the current depth chart has Louisville rookie, Kolby Smith and the inimitable, Priest Holmes. One of these two backs could turn your season around if LJ doesnít last the year.
There are also backs returning from early season woes that could turn it up a notch. Brandon Jacobs is probably the most likely candidate here. His week one knee sprain sidelined him for a month and with the Giants offense clicking, Jacobs could be in for a nice stretch run as long as he can remain healthy. Derrick Ward should continue to effectively spell Jacobs, but there is no question that New York expects the former Auburn and Southern Illinois alumnus to take the bulk of the carries. Steven Jackson could be this yearís version of Shaun Alexander, because once his groin tear heals, he could post some big games down the stretch. The problem with this theory is how long do you have to wait on Jackson and the Rams offensive line is a significant step down from the Seahawkís unit.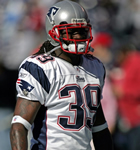 If I were a betting man, Laurence Maroney is the guy Iíd hitch my second half wagon to; the Pats starter should be back from his injury this week and with Sammy Morris out for a month, Maroney is in a situation where heíll only have to share time with Kevin Faulk. The second-year back rehabbed his shoulder during the off-season and New England was very careful not to expose Maroney to additional risks of re-injuring it. The time off actually gave the backís shoulder additional time to heal. With opposing defenses completely occupied with the spectacular aerial attack, look for Maroney to see 7-man fronts on a regular basis, which should mean some big games for the former Golden Gopher.
Maurice Jones-Drew and Reggie Bush also fit into this category. Bush is two weeks into his full-time role as the Saints featured back, and last week was a significant improvement in production. If he can continue to effectively replace Deuce McAllister, fantasy owners will see a big improvement in his stats. He hasnít been a scoring machine, but I think as the Saints right the ship, Bush is due for some huge fantasy weeks. His former cross-town rival, Jones-Drew, lit it up last week after Fred Taylor re-aggravated a minor injury. Donít be surprised if the Jags lean on the second-year runner a bit more than they have because Jones-Drew has been too dynamic to keep off the field. Heís the best big-play threat they have.
Another category is rookie production. Let's list the rookies between 2002-2006 who were given the opportunity to perform as starters around the fantasy season mid-point:
2006: Maurice Jones-Drew and Joseph Addai
2005: Samkon Gado (remember he was a rookie, too)
2004: Julius Jones
2003: Domanick Williams
2002: Clinton Portis
Adrian Peterson and Marshawn Lynch are already starting (or in Petersonís case, producing at a high level) for their squads. Is there a rookie runner who could be primed to handle a greater share of the workload? The answer most likely lies a mile above sea level. Selvin Young, will likely get the chance to replace Travis Henry and heís done enough so far to earn the opportunity. Young is one of those underachieving college backs who went to a big-time program and injury/competition kept him from really showing his stuff. Coach Shannahan and the Broncos are intimately familiar with this story (Terrell Davis) and Young has an opportunity to make the most of Henryís misfortune.
On a side note, if you follow college football then Georgia runner, Kregg Lumpkin is a player I would remember. He and Reggie Bush were the most sought-after RB prospects of their prep class. My UGA sourceówho works as a trainer for the teamótells me that the Jets rookie Danny Ware was the most physically talented of the recent UGA backs, Thomas Brown had the biggest heart, and Kregg Lumpkin was the most all-around skilled at the position. He said Brown had the best vision and hit the hole the hardest. If Lumpkin can stay healthy as a pro, he will be a pleasant surprise for some teamís fan base.

Moving on to quarterbacks, itís important to note that over a five-year period 42% of the top-10 Crank Score QBs changed from week 6 to the end of the year.

QB Movement
QB
2006
2005
2004
2003
2002
1
1
1
0
2
0
2
-1
4
0
-1
14
3
1
4
2
1
3
4
8
2
-1
9
4
5
1
12
16
1
-2
6
68
69
3
10
-4
7
-2
15
0
68
-3
8
1
8
2
-3
6
9
6
2
7
18
0
10
21
2
-3
2
-3
11
9
7
8
10
38
12
2
-3
5
-3
-1
13
-1
7
4
9
-1
14
-6
25
61
40
4
15
-5
0
5
32
-7
16
7
-13
8
3
-6
17
58
-3
28
6
1
18
-15
-13
26
32
16
19
6
4
3
-5
55
20
-6
-14
-6
-5
56
Avg
(+)
40%
35%
35%
50%
30%
38%
(-)
10%
15%
5%
0%
10%
8%
As with the RB chart, this chart shows the amount of movement up or down the quarterback rankings between week 6 and the end of the season. The spots highlighted in green show an improvement of at least 30% and the red highlight demonstrates a decrease of at least the same amount. Over a five-year period, 38% of the top-20 Crank Score QBs at the end of the season consist of players who experienced a significant upturn in production between weeks six and the end of the year. In contrast, 8% of the quarterbacks will experience a significant drop off in productivity. With these figures, one could reasonably project that there will be nearly eight QBs who go on a tear and nearly two passers who take a significant nosedive in 2007.
In contrast to RBs, there is generally a smaller gap in production between QBs in rankings, so I believe it is far more likely a runner will help your team at this stage than acquiring a QB. Of course, if your starting QB isn't ranked in the top 12-15, then you've got a problem to address.
Let's see if the QBs fall into similar profile categories as runners. And as is the case with backs, injury is a factor. The following quarterbacks in the past five years, demonstrated a huge upturn in production because they either came back from injury or replaced an injured starter:
2006: Carson Palmer and Ben Roethlisberger
2005:
2004: Billy Volek and Tim Rattay
2003: Chad Pennington and Josh McCown
2002: Jeff Blake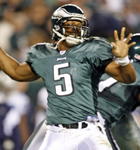 Donovan McNabb is the clear-cut, candidate to up his production in the second half of the 2007 fantasy season after coming off an injury. McNabb has had a couple of strong outings, but hasnít been the elite Crank Scorer as he was in previous seasons. I expect this to change as he and his receiving corps continue to get on the same page. Iíve pretty much learned that you never count out McNabb if heís healthy enough to suit up. Since this is the case, you shouldnít either.
Marc Bulger is coming off and injury that forced him to miss a couple of weeks. In his place, the Rams had the displeasure of starting my vision of Brett Favre gone wild, Gus Frerotte. The journeyman probably has more ďmy friend went to Hawaii and Iíll I got was this t-shirt,Ē gifts from opposing defensive backs than any active QB in the NFL. Although the Rams offense has looked horrible, look for St. Louis to make enough adjustments that Bulger becomes a worthwhile starter down the stretch (as long as Holt, Bennett, and McMichael are healthy).
Kurt Warner and David Carr are replacing injured quarterbacks, then got hurt as well. Both may return this week. I was much higher on Warner before he went down. Now Iím worried that heíll try to rush throws as he did during his injured thumb days at the end of his stint in St. Louis and second gig with New York. Fortunately, this is his non-throwing arm, so wouldnít drop him too fast unless thereís a better QB on your waiver wire. Carr definitely isnít that QB, but stranger things have happened.
Rookie performers seldom do enough to warrant mentioning. The two recent exceptions were Cutler and Roethilsberger (Young just missed the top 20, but you should add him in there based on his huge jump). The best three candidates to become viable rookie starters this year are Trent Edwards, John Beck, and JaMarcus Russell. Dick Jauron has already named Edwards the starter this week despite the fact that if J.P. Losman is healthy enough to give it a shot. As Edwards gains more confidence, and the Bills coaching staff more confidence him Edwards, look for them to open up the offense. Lee Evans should become a beneficiary if it happens. Neither Beck nor Russell are slated to start, but Cleo Lemon does not inspire me to think of Derek Anderson so I think Beck should see time as the Dolphins go down the tubes. Beck is a natural leader and a very smart signal caller, but with the loss of Chris Chambers, Ted Ginn, Jr. will have to look amazing for Beck to have any shot of producing as a rookie. I donít think itís likely. Raiders sources have supposedly been wowed by Russell in practice, but when was the last time anything about the team in Oakland has wowed anyone? Granted, they are playing better, but last I saw, Russellís footwork was so bad in college that heíd look like Johnny Unitas one play, Ryan Leaf the next. Heíll need more time.
One category unique to quarterbacks is the signal caller who replaces an ineffective starter. Derek Anderson did this last year (and most notably this year) as did Joey Harrington. But neither were worthwhile starters. In fact, there were no significant players who qualified as good stretch players who got the opportunity due to this situation. Anderson seems to be the lone example. This could mean Anderson is for real just from the fact that his profile is so unique in the past five years. If for some reason owners in your league are still slow to come around on this kid, you should snatch him up.
There are examples of quarterbacks who had slow starts and strong finishes. Jake Delhomme, Michael Vick, Aaron Brooks, Trent Green, Drew Brees, Matt Hasselbeck, Jon Kitna, and Tom Brady are all examples of player who overcame rough startsósometimes in multiple seasons. With this in mind, Iíd recommend you stick with Drew Brees. The Saints quarterback has performed too well in recent seasons to believe his production will continue to fall off the face of the earth.
Next week, I'll provide results for receivers and tight ends.