The Weekly Gut Check - Vol. 106
Bold Predictions
9/13/07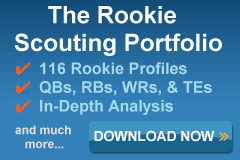 The "Gut Feeling" is often synonymous with a sense of desperation resulting from a lack of preparation. The Gut Check is a huge proponent of studying the numbers, but there's a point where one can place too much emphasis on the wrong information. This can result in the undervaluing or overlooking a player's potential. Therefore, The Weekly Gut Check is devoted to examining the frame of reference behind certain number-driven guidelines that fantasy football owners use to make decisions.

Although The Weekly Gut Check doesn't claim to be psychic, he does believe that he can dispel certain numbers biases and help you make the best choices for your team. We'll keep a running tally of The Weekly Gut Check's insights. This way you can gauge his views as something to seriously consider, or at least seriously consider running the opposite way as fast as you can!


---
The season may be underway, but I still want to give D.J. Nestrick material for his series, Analyzing the Experts. I promise I won't have any Chris Brown will have over 150 yards over the Jaguars predictions—despite writing this last week, I took that one out, just wasn't fair (although I did think Randy Moss and Bill Belicheck were sandbagging…and after the debacle with the surveillance of the Jets sideline, any training room subterfuge and espionage seems even more plausible).

If anything, week one probably gives me more false hope than an advantage. These are bold predictions—not LT is going to have another good season fare—stuff that has no true statistical or performance backing to happen, but totally gut level feelings. Since I spend so much time on stats and analysis, I need a chance to check under the hood and take a reading of my intuition.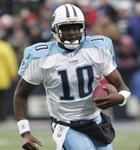 Vince Young Will Be Immune To The Madden Curse: I'm one of the more stats-oriented fantasy writers in the industry, but honestly…I believe in the Madden Curse. Seriously. One time a player goes down the year he's on the cover, it's an event. Twice? A coincidence. Three times, it's the beginning of a trend. But every time with the exception of Eddie George (a Titan), who has a down year is a curse. Maybe not of the magnitude of Babe Ruth and the Red Sox, but it's building steam. And by the way, if there's a figure in football that has Ruthian popularity, appetites, and peculiarity, it's John Madden. Coinkydink? Not in my book. Conspiracy? Notice Brett Favre is Madden's fave, but has never graced the cover. Favre hasn't missed a game in his career. That's fishy.
I think Vince Young is immune to the Madden curse because he's a quarterbacking impossibility to football talking heads. Mel Kiper wasn't as high on him as the other prospects. Ron Jaworski liked Kellen Clemens best and critiqued Young's throwing motion. Note to Jaws: You're a great analyst and I love your work, but the whole "Vince Young throws like a guy who is 5-11 when he's 6-5" doesn't matter if you're fleet-footed and can created lanes—i.e Drew Brees. It only matters when you have concrete feet and Lawrence Taylor victimizes you more than any other QB in his career. So much so, I bet you still have flashbacks—your explanation for Young had to be one of those LT-motivated critiques. Everyone has their blindside Jaws—LT had yours and I think you realized this and backed off on Young, once the guy started producing. You were reasonable.
Unfortunately, Merrill Hoge, a former rough and tumble fullback during Pittsburgh's lean years who lambastes Vince Young repeatedly and mercilessly any chance he gets on ESPN, is clueless. I so enjoy the fact that Hoge is so dead set against Young as a worthwhile talent, not only because Young has become my favorite active Titan, but I was once a Browns fan and I will always have hate for a Steeler who played anytime before the real Browns moved away in the mid-90s. In fact, do you want to see Hoge eat a Roethlisberger-sized foot sandwich? Judging by this You Tube vid, Hoge and the other talking heads were famished.
By the way, I rated Young 2nd to Cutler in the 2006 Rookie Scouting Portfolio and said he displayed good pocket skills and accuracy despite an unorthodox release and footwork, because he was at least consistent with his mechanics—despite the fact they weren't conventional in technique. And that's really the core issue of analysis. Truly analytical people often don't see the forest through the trees—they are so focused on small techniques they can lose site of a great final product if the sum of its parts don't make conventional sense.
The Titans have a better than average offensive line, an improving defense, and a quarterback who is a year older, more developed, and wiser. Personally, I believe Young has been told he can't do things his way over and over and eventually he shows people his way is the best way. The kid is a leader, smart, and tough as nails. He'll make some boneheaded mistakes, but he'll learn. Mack Brown learned this at Texas. I think Norm Chow and Jeff Fisher had enough sense to realize this when they said last summer they wouldn't mess with his throwing motion. Sounds crazy when respected QB Gurus often adjust throwing motions all the time with great results. Where would Chris Palmer be today without the work he did with Tim Couch and David Carr? I rest my case. Look for Young to have a decent sophomore effort statistically and lead the Titans to a winning record, push the Texans for a potential wildcard spot, and cost Jack Del Rio his job.
Steven Jackson Won't Last The Season: So Steven Jackson is the darling of '07 preseason fantasy football. He's a bull of a back with quickness and good hands. He has a good offensive line and great skill players in the passing game to compliment him. He also publicly set a goal of 2500 yards. LT set a high goal publicly a few years ago. He talked about training in a special way to make him flexible to make cuts off either leg. LT labored through a groin pull throughout the season that gave birth to Jesse Chatman's opportunities in the second half of games. Corey Dillon predicted greatness in his second year. You guessed it.
Steven Jackson also had more than 370-f/carries. He plays on artificial turf. He's a contact runner. He also just lost all-world tackle, Orlando Pace. Whoops…I may be wasting a roster spot, but I'm still holding onto rookie Brian Leonard where I can. Before you write me about predicting injury, just know that I hope I'm wrong. I like watching Jackson play. I'm just calling it how I'm feeling it.
Ricky Williams Has A Last Hurrah In The Second Half Of The Year: No, I didn't toke before I wrote…though I am getting a case of the munchies. That's the problem with working out at night. I'm starving by midnight. So take this prediction as either a stroke of genius—or brain drain—but Ricky Williams will have a shot to return to the NFL in October. Roger Goddell doesn't like to be bad guy and he's had to put the hammer down a great deal. The commish is looking for a feel good opportunity to give a repentant guy a second…third…fourth…hell, ANOTHER chance.
Some team is going to need him too. Think Tatum Bell will stay healthy in Detroit? If he does, think he'll find a hole as well as a sailor at happy hour while on shore leave? Don't think so. Kevin Jones isn't exactly convincing anyone he's ready. And if that doesn't work out, there are others out there who will take a chance on proven talent on the cheap. Williams was everything Steven Jackson is and at one time even better. Take heed if the NFL grants him eligibility in October.
Daunte Culpepper Throws For 3500 Yards And 18 Scores: JaMarcus Russell isn't playing this year. McCown is a stopgap until Daunte Culpepper has more time to get ready. Plus he's Ivan Drago with a Southwest Texas mentality and accent—how can you look at him and not laugh? I'm waiting for him to tell Lane Kiffin on the sideline that D.J. Williams is not human, but made of iron or come to the Raiders offensive huddle wearing a life preserver fearing he'll drown because two-thirds of the earth is covered by water and the entire field is about to get covered by Champ Bailey!
So enter Don't Take Old Pepper who, a week after originally writing this prediction gets the start this week now that Drago hoorts his finga. Look folks, you don't put up a season for the ages with prior seasons of excellence beforehand and just drop off the face of the earth because you stink. It doesn't happen. Scott Mitchell…err, okay bad example…well, no…Scott Mitchell had one great year but nothing that came close to it before or after:

| | | | | | | | | | | | | | |
| --- | --- | --- | --- | --- | --- | --- | --- | --- | --- | --- | --- | --- | --- |
| Last | First | Year | Team | G | GS | Pct | Pass Yds | Pass Tds | INT | Rush Yds | Rush Att | Rush Tds | Fpts |
| Mitchell | Scott | 1992 | Mia | 16 | 0 | 25.00% | 32 | 0 | 1 | 10 | 8 | 0 | 2.6 |
| Mitchell | Scott | 1993 | Mia | 13 | 7 | 57.08% | 1773 | 12 | 8 | 89 | 21 | 0 | 145.55 |
| Mitchell | Scott | 1994 | Det | 9 | 9 | 48.37% | 1456 | 10 | 11 | 24 | 15 | 1 | 121.2 |
| Mitchell | Scott | 1995 | Det | 16 | 16 | 59.35% | 4338 | 32 | 12 | 104 | 36 | 4 | 379.3 |
| Mitchell | Scott | 1996 | Det | 14 | 14 | 57.89% | 2917 | 17 | 17 | 83 | 37 | 4 | 246.15 |
| Mitchell | Scott | 1997 | Det | 16 | 16 | 57.56% | 3484 | 19 | 14 | 83 | 37 | 1 | 264.5 |
| Mitchell | Scott | 1998 | Det | 2 | 2 | 50.67% | 452 | 1 | 3 | 30 | 7 | 0 | 29.6 |
| Mitchell | Scott | 1999 | Balt | 2 | 2 | 42.86% | 236 | 1 | 4 | 1 | 1 | 0 | 15.9 |
| Mitchell | Scott | 2000 | Cin | 8 | 0 | 47.59% | 966 | 3 | 8 | 61 | 10 | 1 | 72.4 |
| Mitchell | Scott | 2001 | Cin | 6 | 0 | 33.33% | 38 | 0 | 3 | 0 | 0 | 0 | 1.9 |

To me, 3484 yards, 19 scores, and 14 picks are decent numbers fantasy-wise for a bye week starter and occasional injury fill-in—but nothing to brag about to your league-mates next year at the draft.

Culpepper is, was, and will be a better player than Scott Mitchell. He may not have Herman Moore, Barry Sanders, Perriman, and Morton in Oakland but I like me some Lamont Jordan, Ronald Curry, Zach Miller, and Jerry Porter this year. I think we might see flashes of the Old Pepper—enough of them to see he can keep your fantasy team competitive more times than not in 2007. Although I'm cheating a bit here (if Comrade Belicheck of the NFL's KGB can do it, why can't I?), I thought the Raiders played inspired offensive football versus Detroit at times. They played with a unity you didn't see under Art "Shell of a Coach" last year.

Are these stats lofty goals for the cadaver-attired knee of Culpepper? Probably. But these are BOLD predictions. You hear me, Nestrick? Go pick on Fox Sports, ESPN, AOL (wait, does the contract allow it?), and Fanball for their Wonder Bread and mayonnaise picks. I'm bringing the goods…

Sam Hurd Will Be A Productive Fantasy Fill-In During The Second Half Of 2007: No, I didn't get on Hurd's tip because he caught a skinny post for a td on Sunday Night to seal the game. I've been talking about the second-year receiver from Northern Illinois before last weekend (from this article):
Sam Hurd, Cowboys: Now this is a player I believe will fight his way onto the field one day. He's a long shot out of Northern Illinois, but if you watched him play, you'll understand. Hurd isn't stopwatch fast, but he ran routes well enough to get separation on players that were considered decent NFL prospects. He needs to add some muscle to his skinny frame, but he's fearless across the middle and displays excellent body control. He catches the ball very well with his hands and he was by far the best blocker at the receiver position I saw all year. I think Bill Parcells is going to like Sam Hurd a lot. The Cowboys actually signed Hurd to a 3-year deal as a free agent after the draft. Although Terry Glenn and Terrell Owens are ensconced in the starting lineup, it is very likely both are only 2-3 years away from retirement. Hurd could learn lot from two of the better technicians at the receiver position. Hurd isn't worth drafting, but I'm mentioning him so you can become familiar with his name in case you see it more often in the news around 2007.
Terry Glenn is possibly done for the season, if not a career and Patrick Crayton is the ideal slot receiver starting on the outside. I think Sam Hurd gets a chance to step in and shine. Hurd is still one of the better blocking receivers I see on an NFL field not named Hines Ward, Santonio Holmes, and Arnaz Battle. Add Hurd to your waiver wire watch list and act if he has two weeks of impact production.
Ben Roethlisberger Will Throw For 4000 Yards And 25 Scores: You know I'm not on Willie Parker's bandwagon, but I do like Big Ben to fulfill the promise he's shown as a prolific passer in high school and college. Now that he's healthy, wearing a helmet (if he's even riding), and has three excellent weapons in Ward, Holmes, and Miller look for Pittsburgh to be the unexpected, high-powered offense. It's funny, but I see the Steelers showing Cincinnati what Who Dey would look like if they had a tight end and a defense. I believe Roethlisberger will be a dark horse MVP candidate who won't get the pub of Manning, Brady, or LT , but will be a fantasy stud who doesn't need his team to perform industrial espionage to gain an advantage. In cased you missed it coach Mike Tomlin is a leader. If you can't buy into it yet, buy into the Rooney family. Since 1969, they've had three coaches. Here's hoping Bud Adams thinks about this in regard to Jeff Fisher, the best coach in the NFL nobody talks about.
The Gut Check's Week One
Nine leagues this year—yes, I'm a sucker this year—and rather than go into every one of them (you guessed it, I lost in half of them and don't want to talk about until a few weeks pass)—I'll end this column with my first bold prediction made in the preseason when I named my team in the long-standing local league "It's Mine" with our trophy as the logo. Why am I making the prediction? My starting lineup, and coincidentally, their week one results (standard performance scoring).

"It's Mine" - Week 1
Player
Fpts
J. Kitna QB
28.1
F. Gore RB
13.6
E. James RB
17.2
C. Chambers WR
9.2
R. Curry WR
22.7
S. Holmes WR
12.6
R. Williams WR
8.0
V. Davis TE
0.4
J. Elam K
9.0
D. Steelers DST
8.0
Total
128
It's early, but I have a good feeling about this one…