The Weekly Gut Check - Vol. 84
Sleeper Contest
11/16/06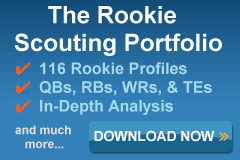 The "Gut Feeling" is often synonymous with a sense of desperation resulting from a lack of preparation. The Gut Check is a huge proponent of studying the numbers, but there's a point where one can place too much emphasis on the wrong information. This can result in the undervaluing or overlooking a player's potential. Therefore, The Weekly Gut Check is devoted to examining the frame of reference behind certain number-driven guidelines that fantasy football owners use to make decisions.

Although The Weekly Gut Check doesn't claim to be psychic, he does believe that he can dispel certain numbers biases and help you make the best choices for your team. We'll keep a running tally of The Weekly Gut Check's insights. This way you can gauge his views as something to seriously consider, or at least seriously consider running the opposite way as fast as you can!


---
The Gut Check loves picking the underdog and he's been itching to do a contest. This could be an experiment that goes awry, but who cares…it's informal, but fun.

Here's The Deal: Pick one sleeper at quarterback, running back and receiver according to the criteria below and the top three scoring teams win a free copy of the 2007 Rookie Scouting Portfolio, which we'll be selling on a pre-order basis next week. We'll use FFToday's default scoring system and the pool of players will be determined as such:

1. QBs—the quarterback must not be ranked in Krueger's top 20 as of Saturday evening at 6pm EST.

2. RBs—the runner must not be ranked in Krueger's top 30 as of Saturday evening at 6pm EST.

3. WRs—the receiver must not be ranked in Krueger's top 40 as of Saturday evening at 6pm EST.

Submit your picks to onewildman@gmail.com. Winners will be announced in next week's column.

By the way, a quick correction on the 20/20 Hindsight Column this week — there were two performances better than Jimmy Smith's dynamic game against Baltimore. Sean Klinge writes:
Just curious why you excluded 300-yard receiving days from your 200+ yards receiving list.

Willie Anderson, StL -- 336 vs NO, 1989
Stephone Paige, KC -- 309 vs SD, 1985

By the way, glad to see Bruce dominating the list. Always one of my favorites-- had him on every fantasy team since 1995.
Yours truly remembers the Flipper Anderson game, but completely forgot about Paige's outburst. Nonetheless, when you look at these two opponents—defenses that couldn't stop anyone—Smith's game against the Ravens still holds up as the best of the three, although not by the numbers.

Speaking of picks now is as a good of a time as ever to take inventory of the best and worst of the Gut Check's 2006 predictions:

The Best

Reggie Brown And Bernard Berrian As Viable Candidates For A Fantasy Break Out: Brown and Berrian are 17th and 22nd respectively in total fantasy points at their position. Brown was a likely candidate for everyone because of McNabb, but Berrian was a surprise. Even the Gut Check hedged his bet a little when he said Berrian's numbers will depend on Grossman's play. Still, yours truly understood these guys had talent and the opportunity to use it on the field. These two receivers are excellent examples of players that have a talent to work hard and play fast. They may not have the best combine stats, but they understand how to approach and play the game. If you can spot these two qualities in a college player and support it with specific reasons, you're going to be right more times than not over the long haul.

Pitch And Catch Combos Deluxe—Palmer/Johnson; Manning/Harrison; Favre/Driver; Holt/Bulger But Avoid Brady And Any Pats Receiver: Sometimes stats don't lie—all four combos are good fantasy starters, if not top five players at their position. The worst of the bunch happens to be the Bengals combo, but they are rising fast. If they can play with greater consistency for the stretch run, your squad is sitting on some premium jet fuel. The point here is that you should pay attention to stats that reflect what is also apparent to the naked eye.

The All Gut Check Team (Lundy, Taylor, Jennings, Mcnair, Kitna, Clayton, And Watson): Lundy faded into the background by late September, but he's had a few good outings since Kubiak finally decided all the other backs he acquired weren't as good as his 6th round draft pick. Lundy has good feet, runs downhill very well and spots whatever crumbs the Texans offensive line provides him. Domanick Davis, when healthy, was by far the better back, but Lundy has a real shot to retain the starting job in 2007 if he can work hard in the off season. Fred Taylor has actually benefited from the presence of Maurice Jones Drew. The Jags runner got into the best shape of his life and the team has done a good job with their platoon system. Taylor may only be a 14th-ranked back, but he's consistently a good starter. At the spot he went in most drafts, that's a great bargain.

Greg Jennings lived up to the Gut Check's hype. He's even playing decently with an injured ankle. The combo of Jennings, Driver, and a rehabilitated Ahman Green has given Brett Favre enough weapons to play like the fantasy friendly QB he's been so often throughout his career. Steve McNair is beginning to have that second half yours truly expected from him, although the reasons why McNair had such a poor first half was not something the Gut Check expected—the play calling. Billick is tailoring the offense to McNair's talents. This may sound to some that McNair just isn't a good enough quarterback to play in the original offense, but that's a silly argument. A good coach understands you have to have some give and take between your player's talents and your offensive system if the player can play the game. McNair has proven that much over the years and Billick is being more flexible than his former offensive coordinator, Jim Fassel. A beneficiary of these changes is Mark Clayton. Everyone knows McNair will look to Mason early and often, but the veteran has made the adjustment and has shown great trust in Clayton, a receiver that most draft analysts pegged as a rising star. If you can acquire the second year receiver in your dynasty league, don't hesitate to propose a deal.

Jon Kitna is finally playing like a Mike Martz quarterback. If this guy had a more dynamic #2 receiver than overachiever, Mike Furrey, the Lions starter would be having an amazing season. Just a shame Charles Rogers and Mike Williams didn't maximize their opportunities in Detroit. Blame management all you want, but the players deserve to be accountable for their failures as well. Ben Watson is stepping up lately and as the weather gets nasty in Foxboro, look for the tight end to get even more opportunities down the stretch.

Don't Give Up On Kevin Jones: Jones started the year poorly, but the Gut Check stuck by this runner for two simple reasons—talent and Martz's system. Jones demonstrated he could catch the football, so it was easy to conclude that once the offense got in sync, Jones would be the centerpiece. By the season's midpoint, Jones has become a terrific #1 RB and is #6 overall in fantasy points. If you got Jones as your #2 RB, you should be a playoff team.

Joseph Addai A Hidden Fantasy Gem/Rookie Impact Candidate: Dominic Rhodes supporters are probably silent by now. Addai has proven why the Colts saw him as a player with Edgerrin James' skill sets, but with more speed. The fact they had Addai split time had many fantasy owners believing the LSU back wasn't that great of a talent—especially when you consider the fact Nick Saban had Addai sharing carries with several other backs. By now you should remember that college platoon systems are generally no indicator of a player's talent or lack there of. A 19th-rated fantasy back going into this week, a back that you likely got after round four or five is a player definitely qualifies as a bargain.

Maurice Jones-Drew And Laurence Maroney As Impact Spot Time Players: Drew is ranked 20th among fantasy backs despite splitting time with Fred Taylor. Yes, you can look at it with a less optimistic viewpoint and say it could be so much better for one of these backs if the other weren't splitting time, but why be greedy when neither were picks you'd make anywhere near the first three rounds of a draft? Drew was probably on 80% of waiver wires to start the year.

Maroney looked like he was going to have the starting job wrapped up after a great September, but the Gut Check continued to preach the merits of Corey Dillon. Although Dillon hasn't been the fantasy success yours truly predicted, he's ranked 23rd overall and a decent #2 RB in most systems. It's clear Dillon has lost a bit—that 58-yard run versus the Jets would have been an easy touchdown 4 years ago—but you have to wonder what Dillon could have done at that time in an offense less putrid than Cincinnati's during the late 90s. Imagine Dillon in Kansas City or Dallas during those years. He would have been a HOFer, in the opinion of yours truly. He's an excellent runner, maybe not one of the absolute best of all time but not far off, either.

Leon Washington As Depth With Upside—Based on Barlow's play, Washington has faded a bit. This has to do with the fact Washington is much of what the Gut Check said—a good role player capable of good outings with limited use. Yours truly thought he might be wrong about the guy but after receiving additional analysis from readers that watched the games, his thoughts were confirmed: Washington was the beneficiary of excellent offensive line play during his big games. Nothing wrong with it, but a good NFL back doesn't need great offensive line play to produce good stats.

Vince Young Will Progress Faster Than Most Think: Young isn't fantasy starting material, but over the past three weeks he's ranked 15th overall—not bad for a rookie most though would have difficulty as a starter. If anything, Young has shown poise in the pocket and better accuracy than many anticipated. Oh yeah, that much ballyhooed release point has pretty much been a non-factor. Why? When you're 6-4 or 6-5 with a low release, you likely have the same delivery point as a Drew Brees. Does Brees have issues? Case closed.

Mixed Forecast

Bruce Gradkowski Will Become A Waiver Wire Darling By Week 8: The guy has been up and down as a fantasy player. As a football player, he's good a pleasant surprise (last week was the exception). Yours truly won't say much more about him. He's run it into the ground.

Sam Hurd Will Be The Cowboys #2 WR By Week 10: Technically this was true, but we all know Crayton is the better option. Still, he's not a bad player to keep tabs on next year—especially when the starting receivers are getting older, and increasingly more brittle both physically, (Glenn) and emotionally (Owens).

Marion Barber III Becomes A Viable Fantasy Starter: 22nd overall and not even a starter? The Gut Check rests his case.

Mixed But Fading

Reggie Bush As An Impact Rookie: Strained Achilles and role in the offense aside, the Gut Check expected better patience from the rookie runner. It looks like he's been pushing way too hard to make an impact and has gotten away from his game. Most might thing Bush has been doing what he did in college—especially when the game analysts on television keep saying so—but when you watch the college film, you realize that's false. Bush occasionally reversed his field, but he often ran down hill very well and demonstrated patience. The Gut Check believes Bush has altered his style as an attempt to make the big play all the time. Once this kid relaxes a bit more, he'll be everything yours truly has been touting. There's still a chance for a dynamite stretch run, but it's not likely.

Vernon Davis A ROY Candidate: Broken Fibulas can ruin that opportunity. He should be back this week or next. Maybe he can mount an impressive stretch run.

The Worst

Rashaun Woods As A Below The Radar Special: Whoa, this one stinks. The Gut Check had Drew Brees written down on his to do list as the original guy for that profile, but he thought it was too obvious. Big mistake. Maybe Woods will become a fantasy stud in the future—if there's fantasy bass fishing.

Devard Darling A Household Name As A Fantasy Receiver: Demetrius Williams wound up overtaking Darling as the #3 receiver in Baltimore, which hasn't been such a glamorous or productive role. Darling had flashes in the preseason, but never put it all together.

Mike Hass A Sneaky Good Rookie Candidate: Yours truly is stubborn about this guy. He believes Hass will make a team in the next few years and prove the Gut Check right. But for right now, both the player and this writer deserve their lumps on this one.


Week 10 League Updates

Fantasy Auctioneer Experts Invitational: McNair continued his improved play and The Gut Check used Mac-9, Mark Clayton, and Donald Driver to start another winning streak and take sole possession of first place in his division with a 7-3 record. This week, yours truly faces the Football Diehards squad that is one game back after a tough loss. Interestingly enough, both the Gut Check and Fantasy Guru's Scott Pianowski are atop their respective divisions—similar to last year when they faced off in the championship game. Projected Starting Lineup: McNair, Jackson, Taylor, Reggie Brown, Donald Driver, Joe Horn (Clayton if Horn isn't ready), Todd Heap, Josh Scobee, and the Ravens Defense.

Ironman 3 Dynasty League (40-man rosters with IDP): This team continues to be maddeningly inconsistent. This time the Gut Check's squad suffered a big loss and fell to 4-6. If yours truly can mount a winning streak, he could be playoff bound but injuries (Berrian, Fitzgerald, and Jones) and issues (Brandon Lloyd and Jerry Porter) have taken their toll. Projected Starting Lineup: McNair, Cadillac, Westbrook, Gabriel, Fitzgerald, Lloyd, McMichael, Vinatieri, Rod Coleman, James Hall, Kyle Vanden Bosch, Derrick Johnson, Michael Boley, Julian Peterson, Mike Vrabel, Walt Harris, Charles Woodson, Sean Jones, and Glenn Earl.

SOFA Fantasy Auction League: Make it 6 games strong for this LT-led team. Maurice Jones-Drew continues to be a better play than Cadillac and at 8-2 overall, the Gut Check is tied with RotoWorld for the best record in this site owner-showcase league. Drafting Donald Driver in multiple leagues has paid off handsomely. A mixed blessing is the benching of Mark Brunell—less trouble choosing whom to start at quarterback. Notice the different kickers and defenses each week? Nothing like playing the match ups with the waiver wire…Scobee is a keeper, though. Projected Starting Lineup: Pennington, LT, Maurice-Jones Drew, Driver, Grabriel, Wayne, Watson, Scobee, and the Falcons/free agent defense.

MADFAD (Dynasty Contract League w/IDP and Fluctuating Player Values): As mentioned on Monday, just when the Gut Check thought had a shot at the league's Toilet Bowl, but he scored 196 points and vaulted a few spots in the power rankings. At 4-6, yours truly still has a shot to contend for a title—a long shot, but still possible. He has the talent, but they need to turn it up a notch. The Gut Check actually juggled his starting backs with Dillon and Gore. This week, Westbrook will return to the lineup. Projected Starting Lineup: McNair, Gore (if ready), Westbrook, C. Johnson, Galloway, Stallworth, Shockey, Bullock, Vilma, Feeley, Hali, Dumervil, Polamalu, and A. Wilson.

Local League (Traditional re-draft and scoring): Now at 6-4 and riding a 3-game winning streak, the Gut Check has a 75-point lead for the overall scoring title and has moved from 7th to a 3rd place tie in overall record. The team with the best record lost Clinton Portis and now his only capable starting back is Fred Taylor. Guess who has Ladell Betts? Yep, yours truly! He's already been offered Michael Bennett and Santonio Holmes for Betts, but you know the Gut Check isn't budging for even a worthwhile offer. Plus it looks like the trade deadline has passed so the soon-to-be former front-runner is going with a 5 WR lineup. He still has a good team, but the loss of Portis is big-time. Of this makes the Gut Check's choice for a #2 RB problematic: Addai, Betts, Thomas Jones, Wali Lundy, and Reggie Bush are all viable option. Throw in Marion Barber and Michael Turner, and yours truly has 4 of the top 30 backs in the league and 6 of the top 40. Projected Lineup: Favre, LJ, Addai, Galloway, Colston, Henry (or Jennings), Marvin Harrison, Todd Heap, Mike Vanderjagt, and Ravens Defense.

FFTOC: Another down week that dropped the Gut Check to 107th overall, but he still leads his division—albeit slight—and well within range to advance to the final weeks. Marc Bulger and the Ravens defense were major disappointments, but his play of Anthony Thomas and Mark Clayton were lower profile starts that panned out decently. Yours truly will be picking his lineup sometime tonight.

Fantasy Football Handbook Expert Mock: Not much action here and with a 100-point deficit behind the 3rd ranked team, a lot will have to happen to make a significant move into the top three squads with six weeks left. You can select the link for the roster to see the Gut Check's options…