The Weekly Gut Check - Vol. 77
Second Half Fantasy QB & RB Splits
11/2/06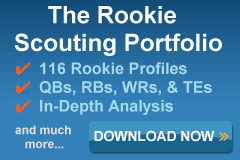 The "Gut Feeling" is often synonymous with a sense of desperation resulting from a lack of preparation. The Gut Check is a huge proponent of studying the numbers, but there's a point where one can place too much emphasis on the wrong information. This can result in the undervaluing or overlooking a player's potential. Therefore, The Weekly Gut Check is devoted to examining the frame of reference behind certain number-driven guidelines that fantasy football owners use to make decisions.

Although The Weekly Gut Check doesn't claim to be psychic, he does believe that he can dispel certain numbers biases and help you make the best choices for your team. We'll keep a running tally of The Weekly Gut Check's insights. This way you can gauge his views as something to seriously consider, or at least seriously consider running the opposite way as fast as you can!


---
T.


QB Scoring Proficiency 2005 (Minimum of 8 Games)
Last
First
Gms
Touches
Tds
Touch to Td
Crank Rnk
Tds/Gm
Palmer
Carson
16
543
33
16.45
1st
2.06
McNabb
Donovan
9
382
17
22.47
3rd
1.89
Bulger
Marc
8
296
14
21.14
2nd
1.75
Manning
Peyton
16
486
28
17.36
4th
1.75
Brady
Tom
16
557
27
20.63
5th
1.69
Bledsoe
Drew
16
533
25
21.32
20th
1.56
Manning
Eli
16
587
25
23.48
11th
1.56
Brees
Drew
16
521
25
20.84
22nd
1.56
Delhomme
Jake
16
459
25
18.36
19th
1.56
Hasselbeck
Matt
16
485
25
19.4
13th
1.56
Leftwich
Byron
11
333
17
19.59
17th
1.55
Roethlisberger
Ben
13
299
20
14.95
23rd
1.54
I


Team Updates

Fantasy Auctioneer Experts Invitational: So far, the Gut Check is 3-0 after big days from his four Ravens starters and consistent production from everyone else. Cadillac is on bye for week four, so the running back situation is yours truly's main concern. Fred Taylor seemed like the obvious choice until Maurice Jones-Drew had his huge day against Indy. The Gut Check has the rookie as Taylor's handcuff, but now he has to stay abreast of how the Jaguars will approach their RB workload in week four. The other question mark is quarterback. Steve McNair finally made some strides last week, but he faces the top ranked passing defense of the Chargers. David Carr is the possible alternative, and he has looked pretty solid. The Gut Check may stick with McNair, because San Diego has faced Tennessee and Oakland, which indicates the Chargers' pass defense may be good, but not as good as their stats indicate.

Projected Starting Lineup: McNair, Jackson, Taylor, Reggie Brown, Donald Driver, Horn, Heap, Stover, and the Ravens Defense.

Ironman 3 Dynasty League (40-man rosters with IDP): Yours truly (team name Out To Lunch) is 2-1 after Brian Westbrook led his team to victory this weekend. The Gut Check made some updates to his secondary last week with the addition of Walt Harris, Glenn Earl, and Charles Woodson. He'll be without a second back (Cadillac, Pittman, and Jacobs on bye) unless Wali Lundy or Musa Smith somehow gets thrust into the lineup. Could be a long weekend…

Projected Starting Lineup: Leftwich, Westbrook, Berrian, Fitzgerald, M. Jones, Gabriel, McMichael, Lindell (if Viniatieri isn't ready), Rod Coleman, Kyle Vanden Bosch, James Hall, Derrick Johnson, Channing Crowder, Mike Vrabel, Julian Peterson, Walt Harris, Charles Woodson, Glenn Earl, and Sean Jones.

SOFA Fantasy Auction League: The Gut Check rebounded from his high-scoring, heartbreaking .75 point, loss with an 18-point victory with consistent play from all but his #2 RB (which was a given considering it was Michael Pittman subbing for Ladainian Tomlinson's bye week). The FFToday.com team is 2-1, but the rumors of Kurt Warner getting benched could be a big blow to this squad. Fortunately, the Gut Check added Chad Pennington two weeks ago. Hopefully, he'll be able to add Charlie Frye to his squad for depth. With the Bucs, Toomer, Clayton, and Cadillac on bye, the Gut Check will have to pick up a defense and go with Marty Booker against the Texans and Maurice Drew. He could opt for Doug Gabriel against Cincy or an all-Chargers backfield with Michael Turner. Gabriel may be the more viable option than Booker (if health is still an issue), but the Gut Check will have to stay posted on the development of Drew's role before he pulls the trigger on the rookie over an all-Chargers bye-week backfield. After this week, only weeks 6 and 9 will present troublesome bye week decisions. If the Gut Check can win one of these three match ups, he should contend.

Projected Starting Lineup: Warner (if he starts; Pennington if not); LT, Jones-Drew; Driver; Booker, Wayne; Watson; Akers; free agent pick up on defense.

MADFAD (Dynasty Contract League w/IDP and Fluctuating Player Values): This is played on CBS, so the Gut Check can't provide a link. His team is 2-1 despite Frank Gore's poor outing and Donté Stallworth's last-moment lineup scratch. This was the second team of the Gut Check's that used Brian Westbrook to carry him to victory. This league goes off the power point system determined by head-to-head record, total points, and breakdown record. The Gut Check was 8th out of 10th in week one; 5th out of 10th in week two; and likely holding steady this week.

Projected Starting Lineup: Leftwich, Westbrook, Gore (or Dillon, Drew, or Maroney), C. Johnson, Stallworth, R. Moss, Shockey, Bulluck, Vilma, Feeley, Vanden Bosch, Umenyiora, Polamalu, and A. Wilson.

Local League (Traditional re-draft and scoring): Another CBS league, the Gut Check is 1-2 after poor lineup decisions at QB, RB, and WR. With LJ coming off a bye week, yours truly will have a fully loaded squad. His QB decision might be made for him (Favre) if Warner gets benched for Leinart this weekend. No problem, the Gut Check likes his chances if Favre and the Packers keep improving each week.

Projected Lineup: Favre, LJ, Bush, Chris Henry, Marvin Harrison, Greg Jennings, Marques Colston, Todd Heap, Stover, and Ravens defense.

FFTOC: Not sure as of this time…yours truly is winging it a bit more this year.

Fantasy Football Handbook Expert Mock: Another sub-par effort of 92 points, which isn't the worst of the bunch but will likely keep the Gut Check in the 8th position out of 12 teams.

Projected Lineup: McNabb, Dillon, Green, Fitzgerald, Houshmandzadeh, Witten, Rackers, and Colts defense.