The Weekly Gut Check - Vol. 63
Pitch and Catch Combos
6/20/06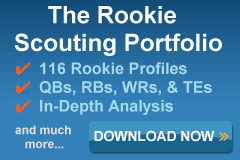 The "Gut Feeling" is often synonymous with a sense of desperation resulting from a lack of preparation. The Gut Check is a huge proponent of studying the numbers, but there's a point where one can place too much emphasis on the wrong information. This can result in the undervaluing or overlooking a player's potential. Therefore, The Weekly Gut Check is devoted to examining the frame of reference behind certain number-driven guidelines that fantasy football owners use to make decisions.

Although The Weekly Gut Check doesn't claim to be psychic, he does believe that he can dispel certain numbers biases and help you make the best choices for your team. We'll keep a running tally of The Weekly Gut Check's insights. This way you can gauge his views as something to seriously consider, or at least seriously consider running the opposite way as fast as you can!


---
Quarterback-receiver combinations in the same starting lineup—known as Pitch and Catch Combos—are often seen as a boom-bust strategy. The Gut Check will examine the consistency of these combinations versus traditional lineups and profile the best and worst combos in recent seasons. Due to free agency, there aren't a lot of combos of this type in recent years. So the Gut Check will break down the best combos in recent years as well as taking a shot at predicting the ones to draft in 2006.

What makes a strong pitch and catch combo? The quarterback has to be highly productive. Otherwise it makes no difference if his favorite wide receiver accounts for a significant percentage of his passing yards and scores because a percentage of a small number is just a smaller number. We're looking for receivers on prolific passing offenses. Pitch and catch combos that our opponents would be turning off their televisions with disgust because it seemed the two players were hooking up more often than Wilt Chamberlain at a bachelorette party.

Here are the top 20 combos from 2002-2005 that fit this description for at least a 14-game season:

Top 20 Combos - 2002-2005
Year
Tm
WR
Yds
TDs
QB
Yds
TDs
% Yds
% TDs
2002
Buf
Moulds
Eric
1287
10
Bledsoe
Drew
4359
24
29.53%
41.67%
2003
Ind
Harrison
Marvin
1272
10
Manning
Peyton
4267
29
29.81%
34.48%
2002
Ind
Harrison
Marvin
1722
11
Manning
Peyton
4200
27
41.00%
40.74%
2004
GB
Walker
Javon
1382
12
Favre
Brett
4088
30
33.81%
40.00%
2004
GB
Driver
Donald
1208
9
Favre
Brett
4088
30
29.55%
30.00%
2002
NYG
Toomer
Amani
1343
8
Collins
Kerry
4073
19
32.97%
42.11%
2004
Car
Muhammad
Muhsin
1405
16
Delhomme
Jake
3886
29
36.16%
55.17%
2004
Phi
Owens
Terrell
1200
14
McNabb
Donovan
3875
31
30.97%
45.16%
2003
Stl
Holt
Torry
1696
12
Bulger
Marc
3845
22
44.11%
54.55%
2003
Sea
Jackson
Darrell
1137
9
Hasselbeck
Matt
3844
26
29.58%
34.62%
2003
TB
McCardell
Keenan
1174
8
Johnson
Brad
3811
26
30.81%
30.77%
2004
NO
Horn
Joe
1399
11
Brooks
Aaron
3810
21
36.72%
52.38%
2005
NYG
Burress
Plaxico
1214
7
Manning
Eli
3762
24
32.27%
29.17%
2005
IND
Harrison
Marvin
1146
12
Manning
Peyton
3747
28
30.58%
42.86%
2002
GB
Driver
Donald
1064
9
Favre
Brett
3658
27
29.09%
33.33%
2005
Dal
Glenn
Terry
1136
7
Bledsoe
Drew
3639
23
31.22%
30.43%
2003
Cin
Johnson
Chad
1355
10
Kitna
Jon
3591
26
37.73%
38.46%
2005
Car
Smith
Steve
1563
12
Delhomme
Jake
3421
24
45.69%
50.00%
2002
SF
Owens
Terrell
1300
13
Garcia
Jeff
3344
21
38.88%
61.90%
2005
Was
Moss
Santana
1483
9
Brunell
Mark
3050
23
48.62%
39.13%

The percentage columns on the far right describe the percentage each receiver's totals account for his quarterback's productivity. The quarterback had to at least have 3000 yards passing and 19 touchdowns and the receiver had to account for no less than 29% of his signal caller's yardage and td passes.

It's at this point, you should see there's a difference between the pairing of a decent quarterback and a great receiver, and a true pitch and catch combo that a fantasy owner should seek in his drafts. Mark Brunell to Santana Moss, Jeff Garcia to Terrell Owens, and Jake Delhomme to Steve Smith were combos where you most definitely took the receiver, but could take or leave the quarterback. The quarterbacks were decent fantasy starters, but not equally productive at their position as their primary receiver.

Jon Kitna to Chad Johnson in 2003 was a good example of combo production on both sides of the equation that would do a fantasy owner good. Kitna was the 9th-rated fantasy quarterback and Johnson the 3rd-best fantasy receiver. Johnson alone accounted for nearly 40% of Kitna's productivity. That's a combination that any fantasy owner would enjoy watching on Sundays.

The best combo from this period has to be the 2002 version of Peyton Manning to Marvin Harrison. That's 583 fantasy points from this combo, and 23 more points than if you had the RB tandem of Shaun Alexander and Clinton Portis on your squad—the 4th and 5th best Rbs in 2002! Yet the Gut Check isn't recommending you change your draft approach to pick QB-WR combos from the same team in the first two rounds because one example. Manning to Harrison in 2002 is what the best type of combo can do. The point is the pitch and catch combo can make your fantasy squad highly successful, and you shouldn't avoid it if the opportunity to select the right one occurs on draft day.

So which is the right one? Judging from the top 20, there are some names that keep showing up on this list. Manning to Harrison is obvious—they show up no less than three times on this list. Brett Favre to Donald Driver appear twice, and Farve to Walker once. Terrell Owens shows up twice on this list with different quarterbacks and Drew Bledsoe shows up twice with different receivers. Will 2+2 add up correctly for Owens and Bledsoe in Dallas next year? It seems too hard to deny just from this history.

Jake Delhomme also shows up with two different receivers. The Gut Check believes the presence of Keyshawn Johnson, the development of Drew Carter, and a rebound year from Kerry Colbert, should make the Delhomme to Smith pitch and catch combo develop into a true pairing worthy of a fantasy owner's attention in 2006. This may be one of the easier WR-QB combinations to acquire in most drafts, because Delhomme usually goes somewhere after round 6 or 7.

Another way to locate a good pitch and catch combo is to examine production for a range of seasons. The Gut Check looked at Pitch and Catch Combo totals for two seasons and four seasons. It needs to be mentioned that the percentages in bold in the last two columns for these two tables are not completely accurate. The quarterbacks did not complete full seasons during this span of time. Therefore, the receivers' percentage of yards and scores to the QBs numbers are inflated.

Two-Year Totals
Year
Tm
WR
Yds
TDs
QB
Yds
TDs
% Yds
% TDs
04-05
CIN
Johnson
Chad
2706
18
Palmer
Carson
6733
50
40.19%
36.00%
04-05
IND
Harrison
Marvin
2259
27
Manning
Peyton
8304
77
27.20%
35.06%
04-05
STL
Holt
Torry
2703
19
Bulger
Marc
6261
35
43.17%
54.29%
03 & 05
CAR
Smith
Steve
2673
19
Delhomme
Jake
6640
43
40.26%
44.19%
04-05
GB
Driver
Donald
2429
14
Favre
Brett
7969
50
30.48%
28.00%
04-05
IND
Wayne
Reggie
2265
17
Manning
Peyton
8304
77
27.28%
22.08%
03-04
TEN
Mason
Derrick
2471
15
McNair
Steve
4558
32
54.21%
46.88%
04-05
DEN
Smith
Rod
2249
13
Plummer
Jake
7455
45
30.17%
28.89%
04-05
KC
Kennison
Eddie
2188
13
Green
Trent
8605
44
25.43%
29.55%

If you are looking for the ultimate pitch and catch combos still playing together, the top three choices on this list are pretty obvious. These combos are probably easier to acquire in auction leagues than traditional drafts. The Panther's duo of Smith and Delhomme is included on this list because of their 2004 season lost to injury and 2005 seemed to build upon 2003's fine effort. The Carolina tandem mark the beginning of a pitch and catch combo that a fantasy owner should have an easier time acquiring if he so chooses. Favre to Driver and Manning to Wayne are probably even better combos than Smith-Delhomme, because Driver and Wayne are generally considered #2 WRs on a fantasy team's starting lineup. This affords the owner an opportunity to have a #1 fantasy WR in addition to these receivers that may be #2's in our leagues, but #1-A options (at worst) in reality.

The Gut Check threw in Derrick Mason and Steve McNair because this combo has a strong chance of being reunited in Baltimore as yours truly writes this column. This pair has the potential to be a great bargain for a fantasy owner picking them up in the mid-to-late rounds. If they click in the Ravens offense, they could have the kind of stretch run Kurt Warner and the Cardinals receivers experienced at the end of 2005.

Four-Year Totals*
Year
Tm
WR
Yds
TDs
QB
Yds
TDs
% Yds
% TDs
02-05
Ind
Harrison
Marvin
5253
48
Manning
Peyton
16771
133
31.32%
36.09%
02-05
stl
Holt
Torry
5701
35
Bulger
Marc
11932
71
47.78%
49.30%
02-05
GB
Driver
Donald
4114
25
Favre
Brett
14988
109
27.45%
22.94%
02-05
KC
Kennison
Eddie
3947
20
Green
Trent
16334
94
24.16%
21.28%
02-05
stl
Bruce
Isaac
3873
21
Bulger
Marc
11932
71
32.46%
29.58%
02-05
Ind
Wayne
Reggie
3819
28
Manning
Peyton
16771
133
22.77%
21.05%
02-05
sea
Jackson
Darrell
3695
23
Hasselbeck
Matt
13756
87
26.86%
26.44%
02-04
Ten
Mason
Derrick
3483
20
McNair
Steve
7945
54
43.84%
37.04%
03-05
den
Smith
Rod
3094
16
Plummer
Jake
9637
60
32.11%
26.67%
*Two exceptions with 3-year totals: Mason-McNair and Smith-Plummer.
If you are looking for longevity Harrison-Manning is like Rice-Young in this respect (they broke the 49ers pitch and catch tandem's record last year). Holt and Bulger show nearly the same amount of promise when Bulger can stay healthy. Packer fans haven't had to worry too much about health problems with Favre under center. Donald Driver may not be a highly regarded primary threat, but he's highly underrated as both an NFL and fantasy receiver. Kennison and Green in KC a nice duo that's generally easy to pick up with little fanfare, but the Gut Check would be concerned that Green has more of a pitch and catch effort going with Gonzalez in many respects. A tandem that is better than their numbers is Seattle's Darrell Jackson and Matt Haselbeck. Jackson's injury-riddled 2005 deflated their two-year and four-year totals. Look for these two to be among the top pitch and catch combos in 2006.
Still, total yards and scores don't take week-to-week consistency into account. One way to predict the best pitch and catch combos may be to find the individuals with the highest Crank Score. Here are the 10 most consistent receivers and quarterbacks between 2002-2005:

Most Consistent WRs: 2002-2005
Last
First
G
FP/G
Crank
Subpar
Elite
WR#1
WR#2
WR#3
Owens
Terrell
50
14.04
59.64
8.00%
50.00%
64.00%
72.00%
76.00%
Harrison
Marvin
62
13.14
53.99
12.90%
38.71%
59.68%
75.81%
79.03%
Moss
Randy
59
12.75
52.62
15.25%
45.76%
57.63%
74.58%
79.66%
Holt
Torry
62
12.62
51.28
11.29%
45.16%
56.45%
67.74%
82.26%
Johnson
Chad
62
11.74
46.2
9.68%
41.94%
53.23%
66.13%
80.65%
Boldin
Anquan
40
11.13
39.65
20.00%
32.50%
47.50%
65.00%
67.50%
Ward
Hines
63
11.09
39.18
22.22%
38.10%
44.44%
58.73%
71.43%
Fitzgerald
Larry
32
10.39
38.65
31.25%
50.00%
53.13%
59.38%
62.50%
Smith
Steve
47
10.74
37.2
25.53%
36.17%
46.81%
57.45%
63.83%
Horn
Joe
60
10.16
34.63
20.00%
26.67%
46.67%
58.33%
66.67%
Most Consistent QBs: 2002-2005
Last
First
G
FP/G
Crank
Subpar
Elite
#1 QB
Culpepper
Daunte
53
24.39
76.78
3.77%
56.60%
79.25%
Manning
Peyton
64
22
63.7
12.50%
43.75%
73.44%
Bulger
Marc
44
21.51
62.89
9.09%
43.18%
75.00%
McNabb
Donovan
50
22.03
60.55
12.00%
44.00%
66.00%
Vick
Michael
50
19.39
50.74
22.00%
40.00%
62.00%
Green
Trent
64
19.66
49.69
18.75%
35.94%
59.38%
Palmer
Carson
29
19.22
49.44
13.79%
27.59%
65.52%
Brady
Tom
64
19.16
47.95
12.50%
29.69%
60.94%
McNair
Steve
52
18.73
46.87
15.38%
28.85%
61.54%
Brooks
Aaron
61
19.33
46.45
6.56%
26.23%
57.38%
Taking all of this analysis into consideration, here is The Gut Check's list of Pitch and Catch Combos you would be wise to consider or avoid for 2006.
Like a Well-Oiled Machine
Marc Bulger-Torry Holt: Scott Linehan takes over in St. Louis, but this shouldn't worry fantasy owners that appreciate the connection between Bulger and Holt. The biggest issue has been Bulger's health. Linehan will likely tinker with the offense or call certain plays in situations where Bulger doesn't take as many hits. When able to take the field, the Bulger-Holt tandem is as good as any in the league. It's also a great pass catch combo to pursue, because Bulger is infrequently drafted in the range of a first-tier stud due to his durability problems, but he has the upside to make him and Holt among the most consistently high-scoring (see the Crank scores above) combos in the NFL.
Peyton Manning-Marvin Harrison/Reggie Wayne: Manning-Harrison is the best pitch and catch combo in fantasy football, real football, and quite possibly the history of real football. From 2002-2005, Harrison scored at least like a #2 starting WR in fantasy football in 75% of his starts—best among all receivers. Manning is not only among the most productive fantasy quarterbacks, but he has also never missed a game due to injury. Reggie Wayne may have started his career as the second fiddle to Harrison in the pecking order, but he has developed into option 1-A and made Edgerrin James expendable. The Manning-Wayne combo has been easier to obtain on draft day, but the past two years have made it more difficult.
Carson Palmer-Chad Johnson: Assuming Palmer is ready to play, the Bengals pitch and catch combo may be better than all three the Gut Check has profiled thus far. It may also be an easier tandem to obtain because of doubts about Palmer's readiness for the season. If drafting early this summer, it might be worth the risk to acquire them both. Johnson has among the highest percentages of stats from a prolific quarterback of all the combos. This pair of players is one a fantasy owner wants to have at 4pm Sunday or Monday night when playing from behind and his opposition is out of players because they ring up the points quickly and frequently.
Underrated
Brett Favre-Donald Driver: Neither Favre nor Driver are the most consistently productive fantasy players on a weekly basis, but the combo's 2002 and 2004 efforts were among the best pitch and catch totals around. If the Green Bay offense returns to health, Driver has both the speed and fearlessness to stretch the field and make the tough catch across the middle. Both players are considered borderline #1 starters for owners, so they are also easy to obtain without losing out on other needs for a starting lineup.
Drew Bledsoe-Terry Glenn: Last year Terry Glenn accounted for nearly a third of the Cowboy's passing production and his running mate was a slow, but solid possession receiver in Keyshawn Johnson. Terrell Owens has been the best all-around receiver in the game in recent years and the most consistent fantasy receiver since 2002. Don't count on Glenn taking too much of a backseat to Owens in 2005. Look at the 2002 Bills quarterback-receivers production. Moulds stats were greater than Price by only 35 yards and a score. If Bledsoe can do this with those two receivers, imagine the possibilities with his favorite receiver (Glenn) and what could turn into his favorite receiver for this year (Owens). The wise fantasy owner will anticipate the likelihood of Terrell Owens arrival overshadowing Terry Glenn's draft value and act accordingly.
Kurt Warner-Larry Fitzgerald/Anquan Boldin: Is this passing offense the second coming of The Greatest Show on Turf or Dennis Green's Minnesota connection? Heck, with the addition of Edgerrin James will it be the Colts of the Southwest? Who cares what the right comparison will be if they perform like they did last year after week 9 with Warner at the helm. As with Bledsoe, Warner's value should increase in 2006 drafts because of the addition of James and more importantly his second half production in 2005. Neither combo is probably for the risk-adverse due to Warner and Boldin's recent injury troubles, but in many leagues Warner still may be available late enough to make him your second quarterback. Pairing Warner with either of these two excellent young receivers could propel your team to great heights.
Donovan McNabb-Reggie Brown: An owner with a sense of perspective will throw out Donovan McNabb's 2005 season as an anomaly of serious injury and even greater turmoil. What he'll take into account is the fact McNabb has been a top five quarterback from the span of 2002-2005—with or without Owens. Just a quick tangent—Owens may have demonstrated toughness and a will to win when he played in the Super Bowl after coming back too early from a broken leg to be fully healthy, but it also smacks of being an attention-seeking, media whore. On the other hand, McNabb snaps his ankle at the beginning of a game that in hindsight had much less meaning and delivered a sterling performance. The Gut check believes McNabb's effort was truly more heroic than Owens in the landscape of sport. Owens knew his risks, had time to rehab, and had the Super Bowl as motivation. McNabb risked making an immediate injury much worse just to help his team win a game that wouldn't net him a championship, possible endorsements, or a place in history. Which effort was more selfless? You know the Gut Check's take on that one.

Anyhow, McNabb's primary receiver will most likely be second-year man, Reggie Brown. As a rookie, Brown was very productive and should assume one of the top two spots on the progression tree alongside RB Brian Westbrook in 2006. Both players will be underrated, and easy to obtain—for this year only.
New Dance Partners
Drew Bledsoe-Terrell Owens: Despite the Gut Check's distaste for Owens' behavior throughout the second half of his career, the Cowboys' new receiver has been the best in the game. Look for Owens to have the type of year he had as an Eagle the first time around (77 receptions 1200 yards and 14 scores).
Aaron Brooks-Randy Moss: Talk about the island of misfit toys! Brooks is a physical wonder with a terrific arm, but prone to making poor decisions in pressure situations. Moss is arguably the most dominant deep threat in the history of football but is prone to making poor decisions when the ball is no longer in play. Even so, both players were very productive fantasy threats prior to last year. The Gut Check was high on the Collins-Moss combo last season, but the games demonstrated something yours truly did not take into account: Collins may have a big arm but he can't throw on the move like Culpepper. Defenses exploited this weakness in Collins' game and made the Raiders pay dearly. Aaron Brooks can throw on the run, and his ability to make a broken play successful with his athleticism and arm will be the missing piece to the Raiders offensive woes in 2005. The Gut Check knows this seems perverse, but he just has this weird feeling the words "Aaron Brooks—AFC Pro Bowl quarterback" has a funny, but truthful ring to it in 2006.

Drew Brees-Joe Horn: The Gut Check believes timing can be a difference between a poor fit, and a match made in heaven. Brees coming to New Orleans is one of the best things for Joe Horn. Both Brees and Horn are intense players with a highly competitive spirit. Horn needed to mature as a leader and has done just that in recent years. The Gut Check thinks Horn's experience with the laid-back Aaron Brooks has set the table for him to appreciate the leadership and intensity Brees will bring to the Saints. Horn is like Keenan McCardell with speed. With Bush, McCallister, and Stallworth keeping defenses honest, Horn should be in for an excellent year if Brees is healthy for the opener.
Late-Season Heroics
Daunte Culpepper-Chris Chambers: The Dolphins got Culpepper at a fire sale price. It's not likely he'll be ready until the halfway point of 2006, but Miami fans have been imagining this type of combo since the team realized they had a receiver with the physical talent to do great things, but lacked the quarterback to make it so. Sometime this year, we'll get a 2007 preview of what might become the next, most explosive deep game in the NFL. If you play your draft right and find yourself with Culpepper at a bargain round and a solid roster, you could have a great stretch run—especially if Chambers is a part of said roster.
Steve McNair-Derrick Mason: If McNair becomes a Raven, he'll be reunited with his favorite receivers over the past 3-4 years. Although Mason's totals weren't great in Baltimore, the only thing he lost was a good quarterback for most of the season. The Tennessee connection had some pretty good numbers and if McNair stays healthy with a good running game in front him, he's one of the more consistently productive starters in fantasy football. McNair and Mason may not be the most productive combo, but they'll be easy to acquire and at a bargain price they should easily outperform.
Avoid
Note: The Gut Check isn't saying to avoid these players individually, just don't seek them out as pass catch combo.
Trent Green-Eddie Kennison: These two are among the better tandems in recent years, but the departure of Al Saunders and the arrival of Herm Edwards will mean more ball control and conservative play calling. With Larry Johnson to wear out defenses, who can blame Edwards for the desire to keep the porous defense he inherited from spending more time on the field than absolutely necessary?
Brady-Any Pats receiver: Maybe Chad Jackson will finally be that primary receiver Brady has lacked throughout his career, but it won't likely become a reality until 2007—the earliest. Look for Brady to have a less productive season without Givens and the running game's return to health with Dillon and rookie, Laurence Maroney.