The Weekly Gut Check - Vol. 90
Dynasty Blog Excerpts
12/28/06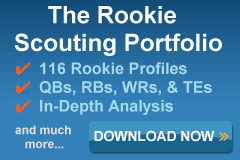 The "Gut Feeling" is often synonymous with a sense of desperation resulting from a lack of preparation. The Gut Check is a huge proponent of studying the numbers, but there's a point where one can place too much emphasis on the wrong information. This can result in the undervaluing or overlooking a player's potential. Therefore, The Weekly Gut Check is devoted to examining the frame of reference behind certain number-driven guidelines that fantasy football owners use to make decisions.

Although The Weekly Gut Check doesn't claim to be psychic, he does believe that he can dispel certain numbers biases and help you make the best choices for your team. We'll keep a running tally of The Weekly Gut Check's insights. This way you can gauge his views as something to seriously consider, or at least seriously consider running the opposite way as fast as you can!


---
Mike MacGregor and Matt Waldman had a blog devoted to building a dynasty team this spring. Mike made it to the finals of their dynasty league for the 4th straight season. For those of you considering your off-season moves or planning a dynasty league, here are some points from our discussion about this format.


Waldman 3/16/06 (Intro)

"You can love your pet, but you can't love your pet."

--Althea Bullard

You know what I mean. I'm not talking about things you don't want to see at a stag party. I'm talking about people that the idea of just having a pet around the house isn't enough for them. They have to take it to the next level. You know, dress them in outfits that if on a child, you would probably contact your local Department of Family and Children Services. Then again, they probably are social workers, how else can you explain publications such as this one.

Somebody contact Jimmy Kimmel and get these folks booked on his show. Although I have my share of cats--when you have a little girl with a big heart for animals you accept the fact you'll have more pets than you planned--I think if my sleep deprivation finally got to me, and I tried this with one of my pets, I pray it would perform a mercy killing. Maybe then the NRA could recruit in Cat Fancy...

While I don't love my pets I love fantasy football. I realized this problem when August through December leagues were no longer enough for me. I had to find a way to make my obsession a yearlong ordeal. Which much to the chagrin of my family, I have succeeded well past the point of reason, and I have entered the fantasy football equivalent of Ralph and his feline Petipa doing their Fred Astaire-Ginger Rogers act.

Like old Ralphie, I had to go all out. A traditional, 12-18 player roster of offensive skill players and team defenses wasn't going to cut it, either. I had to join a league with a 40-man roster, 4-man taxi squad, and 2-man injured reserve. Better yet, half our 20-player, starting lineup requires individual defensive players. It's called Ironman3, and it is definitely the Monpa of dynasty leagues.

I joined this league three years ago. Actually, I was voted into the league after I had to write a term paper-length post on their message board explaining why I was one of the best two candidates for their league. This is a free league, mind you! At that time I probably would have learned the two-step with one of my cats to the Houston Oilers 1970's theme song if I thought it would grant me an expansion team. Now that I know these guys, I probably would have just promised I'd blow my entire $100 annual free agency wad on a college CB impersonating an over-hyped tailback. Wait a minute I did do that! More on this Monpa-moment in future blogs.

In the coming weeks, Mike and I will be blogging the NFL season as it relates to our Ironman 3 experience. Hopefully, you'll absorb some strategy about what to do (Mike) and what not to do (yep, you guessed it), worthwhile player insights (nope, me this time) and how to negotiate trades as if you were the IRS going after Willie Nelson (Mike). Most of all, we hope you'll find it entertaining in the process.

MacGregor 3/16/06 (Intro)

My first blog. By the time I first really understood what blogging is, it was already huge. So while I felt the concept was kind of cool, I never gave it a try. I guess I didn't want to be a bandwagon jumper, especially trying to get on when it seemed the train (er, bandwagon) already left the station, long ago, and was already on the far side of the mountain.

So what happened? Well, Waldman pitches an idea that we should do a blog about our fantasy football teams in a particular dynasty league to help others learn a thing or two about building a dynasty. Or at least be entertaining, or maybe a bit of both. I understand sarcasm doesn't always work well over the Internet, but I can't help myself. Consider all things I type to quite possibly have a sarcastic undertone. You'll get the hang of it soon enough.

I have to wonder if this is the best way for me to go about writing my first blog. The thing with Waldman is he writes about a mile a minute, and by my estimation, only sleeps between the hours of 3:00 am and 6:00 am each night. I'm a fairly slow writer to the point I've strongly considered retiring my regular FF Today in-season column, FF In The Groin. In fact I said as much at our annual FF Today think tank meeting recently. I'd hate to abandon it after 5 years and plenty of nice emails received. We'll see. At any rate hopefully blogging is easier (read: quicker) but I suspect no matter what, this will be a challenge to keep up with him.

Plus a secondary, but minor concern, is my Toronto Toucans team has no where to go but down as reigning champ, top scoring regular season team for 3 straight seasons and a nice group of top tier players on my roster. Waldman's aptly named Out to Lunch squad on the other hand, has relatively low expectations attached to it. I like what he is doing with his team and while he has yet to earn a playoff spot in his 3 seasons, he was in the hunt until the final weeks last year. All in all though, given the law of averages, no matter what I say and do the Toucans might be due for a down season and OTL is a nice Cinderella candidate to rise up the charts. I can't help but wonder if this is a bit of a setup move on his part. Is he smelling blood in the water perhaps?

Fortunately I'm willing to throw caution to the wind. Lets get blogging...

MacGregor 3/20/06 (Philosophy of Long View vs. Short View)

When Krueger, Waldman and I all got together recently in Kansas City to discuss what makes a fantasy football information website great, there was a bit of a dissenting opinion on the need for specially tailored keeper and dynasty league information.

My immediate response was, "What's the big deal? Take everything we already do for redraft leagues, and bump up the younger players with upside, and bump down the older players whose upside is in the rear view mirror of their careers." I may have even used the phrase, "It ain't brain surgery." While I expected to see some head nods and perhaps an, "uh huh", indicating a shared level of acceptance of my view, it didn't happen. Instead I got, "well, I think it is important" (Waldman) and, "I get a lot of emails asking for dynasty rankings" (Krueger).

Okay, well, its not like I haven't been wrong before. Since that day though, I've been thinking about why we did have a difference of opinion, and I think I may have pinpointed it. Philosophy. People who play in dynasty leagues have a different philosophy as to how to manage their teams.

Some people take a short view with their teams, playing to win sooner than later, not afraid to pick up seasoned veterans or trade valuable draft picks. Most people take a long view (too many, and too long in my humble opinion - more on this later). These people jettison all players off their roster who are even remotely close to 30 years old, horde draft picks and are preparing to setup their team to become a true dynasty of 3 or more dominating seasons winning consecutive championship titles a la the historical '70s Steelers, '80s 49ers and '90s Cowboys.

My philosophy, as you probably guessed, is very short. That isn't to say I completely ignore the future, but I rarely sacrifice the current very much for a wishful big windfall in the future. With a short view, redraft information is not that different to me when applied to dynasty leagues, which goes back to the original point. "We have redraft info, there is no need for separate keeper / dynasty info, waste of time, yada, yada, yada."

Now, why do I think there are too many long viewers? I guess I've seen so many examples where an owner makes large short term sacrifices but doesn't get the expected payoff 2 to 3 years down the line (i.e. the perpetual rebuild), that I can only reason if some of those guys took a short view instead, they would have enjoyed much more fantasy success. Here's a great quote I stumbled on from David Yudkin of Footballguys: "You can only win the year you are playing in." Amen.

Keep in mind though, I'm not advocating cashing in your entire account of future draft picks so you can have the pleasure of holding retirement parties for Brett Favre, Curtis Martin and Rod Smith, as they fade off into the sun wearing your fantasy team's jersey. What we need, is balance. However, I am pressing the balance to align more with my short view because too often the long view is what is at the forefront of a dynasty player's mind, which ends up clouding their decision-making.

Some of the keywords I've thrown out so far in this discussion are philosophy, short vs. long view, balance and perpetual rebuild. Okay, the last one wasn't really a key, but I like the ring to it. Feel free to use it in some trash talk to put down your league's consistent basement dwellers. "Waldman, just trade me Larry Fitzgerald because you're now entering year four of your two-year (perpetual) rebuilding plan, and we both want Larry to feel what its like to play for a winner, right (Wink)?"

Anyway... now it is time for the most important word in fantasy football: Value. In the long run, you win at fantasy football because you get good value from your players. You lose because you get poor value. That's pretty simple to grasp. Value in fantasy football is measured by the player's stat production, which translates directly to fantasy points, relative to the cost, and cost can be draft picks, players given up in trade or auction dollars. Whatever you had to give up to acquire the stat production received is the cost.

The reason a long view, in my opinion, has less success than a short view, is because long viewers are not getting good value managing their team. It isn't that they are any less smart than the rest of us. In fact, there are a lot of long viewers who probably have more pure football savvy than short viewers, being they watch a lot of college football, scout the draft like madmen, and have a good knack for finding future fantasy gems while the masses are still pan mining the ore.

It isn't that these long viewers aren't good at finding decent stat production, keeping in mind that no one is perfect projecting future performances of millionaire or soon-to-be millionaire athletes, but the problem is these players end up costing too much. Remember value is a two variable equation (maybe three if we factor in risk). It doesn't matter if you think Reggie Bush is capable of performing at a level equal to LaDainian Tomlinson. If you pay LaDainian Tomlinson to get him, then you screwed up. There is little room to earn positive value on that transaction, but the downside is very much a reality.

In dynasty leagues, young players and rookie draft picks are almost universally overvalued. Veteran players are almost universally undervalued. I think most fantasy players know this, but what we know and what action we take with this knowledge doesn't always jive. Here are some interesting points, theories, etc. which I've thought about to support why I think a short view is a more successful proposition than a long view in a dynasty league:

1. There are more long viewers. Simple economic supply and demand indicates if there are more long viewers, then there is more demand for the hot rookie prospects, draft picks and young players, even if they haven't proven much of anything yet, which drives up the price to acquire them. The inverse is true of veteran players. The magic number seems to be the age of 30 where people get scared of having these guys on their team waiting for the dreaded and inevitable drop-off. Much less demand allows these guys to be had pretty cheap a lot of the time. I think since I've matured to the ripe old age of 33, I now give the 30 year olds more benefits of the doubt, which have worked out nicely. See: Muhsin Muhammad ('04), Joey Galloway ('05) and Rod Smith ('04 and '05)

2. Properly accounting for risk. Another important concept, everyone wants to hit the jackpot in the lottery. A dynasty rookie draft can be akin to playing the lottery. Everyone wants to turn his draft pick into the next LaDainian Tomlinson, and you can't win the jackpot unless you buy a ticket (i.e. own the draft picks). Certainly at this stage a Joey Galloway is never going to become as valuable as a LaDainian Tomlinson level of player, but how likely is it that your draft pick(s) are going to turn into an LT? Not very. You could just as easily end up with Cedric Benson or J.J. Arrington from last year, who didn't help a lick with your team's '05 win total.

People are overly optimistic about their own draft picks, much like fantasy owners overvalue their own players. Trading those picks looks like a much more positive expected value proposition when you realize your own personal rookie draft pick accuracy % hovers around 50%, instead of a perceived 80-90%.

3. Expecting the unexpected. One of my favorite things that give me a great laugh from people discussing fantasy football is when they say something to this effect, "I have Player X in my dynasty league. I've got that position sewn up with a stud for the next 10 years!" HA HA HA HA! Why am I laughing? If you've played fantasy football long enough you know to expect the unexpected. Any person who makes such a statement is unwisely not expecting the unexpected, and rather thinks Player X is going to carry on with back-to-back-to-back-to-back, etc. top of the league fantasy seasons. Obviously they've never had players who blew out a knee, got suspended, got thrown in jail, got in trouble with drugs, drinking, guns or women, had a serious attitude problem, reneged on their contract for more money, were lazy, or just quit.

Does anything surprise me anymore? Sometimes I get a mild surprise, but in most cases I already expect an incredible range of crazy stuff to happen which can often negatively impact the fantasy prospects of my players. The players are people, and life happens. Reeling this in to get back to my point, people acquiring players with a 10-year forward looking plan are unrealistically thinking way too far ahead. Consider using a 2 to 3 year outlook for over 90% of players, and anything beyond that is an "unexpected" (wink) bonus. I can see looking a little further for a very restrictive group of players like Eli Manning or Larry Fitzgerald, but remember, anything can happen at anytime. Just ask Carson Palmer on his first career playoff pass last January.

4. Manage from a position of power. Something I've noticed in recent years is that it becomes decidedly easier to talk trade with other teams when you are winning, than when you are losing. Obviously, when winning, it means your roster is probably in decent shape, and likely better shape than when you're losing. This means you likely have more options with which to work with. You can take trades that help you more now and the future, rather than strictly the future. You can also accept trades that bring in quality vets at the trade deadline for the final playoff push, without too much concern this will hurt you long-term because your team is strong otherwise. Heck, if your team is doing well you are protected from the often irrational idea to, "shake things up", as you might if the team is performing poorly. And overall, you can just be more selective about the trades you accept, because other owners will have a tougher time selling you that their trade proposal improves your team, when you already have a full trophy case and sit atop the standings.

Okay, I'm sure I'm past my time to wrap things up. A little less on the entertainment and a little less commentary specific to the Ironman 3 league this time than was intended with this project, but hopefully this submission qualifies nicely on the helpful side of the ledger. Plus it should give a good basis to understand my thought patterns going forward as I do discuss this league in more detail. Cheers.

Waldman 3/27/06 (Long View vs. Short View, continued)

Long view vs. Short view, MacGregor is dead-on about the choice. I don't know about you, but Mike's entry sounded like forced diplomacy. I can't say I blame him, really. After reading his take on choices of strategy, the question is whether there really is a choice at all.

In my other dynasty league, I primarily take the short view--not as conservative as Mike in Ironman3--and I have benefited from acquiring Brett Favre, Corey Dillon, Stephen Davis, and hanging on to Jimmy Smith rather than waiting for Drew Brees, Lamont Jordan, or Santana Moss over the past 4-5 years. I probably have one of the two-highest winning percentages in this league's 5-year, history. The short view is efficient, effective, and sometimes, boring.

Granted, winning is never boring. But winning can fuel the greed to win more and win on a bigger scale. The short view is the wiser method to stay on top. Mike's approach is like the 49ers under DeBartolo after all those years mortgaging the future, and at worst, paying the piper for a year before returning to contender status.

The long view--after thinking about what Mike wrote--is what I've been chasing in this Ironman3 league: My goal hasn't been to win one year at a time, but to hope I can build a team like Art Rooney and Chuck Noll did with the Steelers if the 70's. I want to achieve the kind of status where my competition looks at my team and is in awe of the juggernaut I assembled with draft picks and free agency. I want to wow them with my record of astute draft picks ranging from high profile prospects that lived up to their promise all the way down to the unknown guys off the scrap heap that made good.

In other words, I'm out of my mind.

But I think the long view is appealing for the same reasons people go to Vegas and bet on the long shot to win the Super Bowl. Life is too short to play the best percentages all the time. Embracing risk is an intoxicating rush, and addictive when it pays off. It was inherently more exciting several years ago to have taken the risk on Tomlinson before he became LT2 and some GMs thought he wouldn't be special than to give away the pick for Emmitt Smith.

Same thing now, because in some ways it's more appealing for people to take a chance on Reggie Bush before he becomes the Reggie Bush than give away the chance to get him in exchange for a player of currently high value. I tested Mike's theory about this infatuation and the resulting unwise, inflation of rookie values just last week.

I offered Randy Moss, my second round pick, and Chris Brown for the rights to Reggie Bush. I even presented an option to choose another starting back on my squad. The owner didn't even budge--even at the thought of negotiating a shot at Cadillac Williams or Brian Westbrook. Crazy? Maybe, maybe not, but that's the great part of dynasty leagues. The game isn't just about winning weekly match ups, but winning the art of making good long-term choices. Dynasty leagues offer a game within the game.

Those of us that take the long view want to live out the dreamer in our personalities. We want to take wild risks. We want to be Hugh Hefner. That's right, Hugh Hefner! We want to leave behind the success of playing by the numbers and do our own thing. We want to risk all our chips and win so big that we're dating three gorgeous, and brainy, pin-up models half our age by the time we hit 50--and all at the same time!

Okay, maybe the wife or girlfriend puts a governor on that dream, but you know what I mean. The long view owners want to be the Hugh Heftner of fantasy football. He wants multiple, big-time talents that causes others to drool over his roster. He wants to be the guy that discovered the Marilyn Monroe of fantasy football.

Like I said, I'm out of my mind.

Then again, so was the guy that quit his job at Esquire to produce a magazine at his kitchen table back in 1953 that would eventually earn him enough success from this publication to have a dorm style bedroom in a swank, Chicago mansion filled with pin-up models, and a swimming pool for them to join him for late night skinny-dips...

The problem with where I'm going here is Hef took calculated risks. He also worked his tail off to do the job right. So the answer about the Short View vs. Long View may be the question isn't the right one. Maybe it's really about having a broad perspective rather than a narrow perspective.

Mike has a broad perspective about what happens in dynasty leagues. People clamor for the hot, young thing. So Mike, like Hef, gives them the dream, but pockets what they pay in exchange. While these owners are excited about their fantasy draft pick that has yet to produce in reality, Mike is building his roster with riches. I guess it pays to look behind the curtain...

MacGregor 4/4/06 (Trades within the Long View vs. Short View)

I want to be like Hef, too. Damn you Waldman. Damn you and your well-articulated, fantasy-inspiring arguments. Of course everyone wants to be like Hef. What could be more obvious than that? Nice job selling the dream.

Yes, calculated risks are the name of the game, but I do admit that sometimes a person needs to take on a little more risk than they otherwise would to get something done that they think could really pay off. A risk that is more "Hef-like", shall we say?

Recently in Ironman 3, I decided to make an attempt at one of these moves, most definitely inspired by my counterpart's blog entry. I offered Willis McGahee for the 1.01 draft pick, which of course is the right to draft Reggie Bush.

I don't believe this goes against my long vs. short view diatribe, because it is essentially swapping a young RB for a young RB (i.e. similar windows of opportunity). However, it does go against my philosophy of trading a somewhat proven commodity, McGahee, for a prospect that has yet to prove a thing in the NFL, and they arguably have the same long-term upside. The big question: Would I be paying too much so that I couldn't earn positive value on the transaction? Quite possibly and no one really knows, which is where the risk arises. As for making it a calculated risk, here is my thought process:

On Bush, one thing about taking a chance on rookie prospects, particularly extremely highly touted rookie prospects, is if you don't try to acquire them now, then you will probably never be able to acquire them later. When Reggie Bush turns into the Reggie Bush.

As for McGahee, this offer would not have happened a year earlier when people expected McGahee to shine as he did in 2004, wrestling the starting job from Travis Henry and logging over 1,200 yards and 13 TDs in only 11 starts. After a disappointing 2005 however, I think people realize McGahee is a talented RB, but in a terrible situation with no short-term signs of correcting itself. As a Bills fan, I'm sorry to say that's exactly how I see it (sigh).

And this is where I'm going to fall back on the long vs. short view to justify this offer. Thinking just 2 years away (i.e. short view), the 2006 and 2007 seasons, if Reggie Bush can outscore Willis McGahee in this time, then he will be more valuable heading into 2008. And do I think Bush can do that? Absolutely. And the reason is not so much because I think Bush can and will step in and be the next LaDainian Tomlinson right out of the gate, but I do feel strongly that McGahee's situation is in fact terrible (double sigh). Even worse than a year ago with a continued unsettled QB situation, a new - and questionable - coaching staff plus other net talent losses on the roster, most notably Eric Moulds to Houston.

The important thing to note is that even with these young guys I'm not trying to acquire Bush with the thinking, "I'll be set at RB for 5+ years." No, it is still a short-term game whereas if Bush can even partly live up to his billing, and McGahee continues to perform worse than his talent otherwise warrants as I expect he will, Bush is a better value play. Even at a noticeably higher risk level given he hasn't taken an NFL hit, and we don't know for sure what team he will end up on yet.

All that said, this offer was rejected, pretty quickly. A counter was promised, but none arrived. I'm not surprised it was rejected because as noted above, it is essentially a young RB for a young RB. Unless the 1.01 owner Lukie really likes McGahee (which would have been a much easier sell last year at this time) and really dislikes Bush, then he doesn't really stand anything to gain from my trade proposal.

However, I am surprised at no counter offer. I did avoid having to make a tough decision though. If he had come back with McGahee + Darrell Jackson or McGahee + Santana Moss for the 1.01, that would have been a lot tougher to swallow. It is unlikely I would pull the trigger on that no matter how much I want to be like Hef. Its not like I'm head over heels in love with Bush right now, as he can be nothing but overhyped at this point. In another dynasty league of mine, the 1.01 owner said the only player he would take straight up for the 1.01 right now is Larry Johnson, arguably the #1 overall dynasty player. I guess from that we can infer he's not trading the pick!

What did surprise me about the i3 league though is the 1.01 did subsequently get traded. Lukie accepted draft picks 1.04, 1.07, 3.01 and 4.04 while giving the 1.01, 3.11, 4.01 and 5.01. I think he would have been better off with McGahee... (Wink)

Seriously though, I can see the thinking that his team has a few holes to fill so he is parlaying Bush into a RB at the 1.04 and perhaps Vernon Davis or another potential star at the 1.07. My only issue with the trade from his perspective is, did he drop down too far to get a quality RB? I think, yes. Taking the chance of 4, quality RBs going to good situations, or hoping one of the 1.01-1.03 picks takes another position (unlikely), is pretty risky. J.J. Arrington anyone? Put it this way... I wouldn't trade McGahee for the 1.04 and 1.07. If it was the 1.02 and the 1.07 or a later 1st, and I had multiple holes to fill, then that might be a different story.

MacGregor 6/17/06 (On Trades)

Out To Lunch have proposed a trade with Toronto Toucans.

Out To Lunch (Waldman) will give up:
Engram, Bobby SEA WR
Gold, Ian DEN LB
Year 2007 Round 3 Draft Pick from Out To Lunch

Toronto Toucans (MacGregor) will give up:
Watson, Ben NEP TE
Year 2007 Round 4 Draft Pick from Toronto Toucans

Trade Comments: "Is this any better? I figure the crux of the trade is Watson for Gold and the 3rd, but if you want more I figure Engram is a useful depth player especially with Jackson coming off two knee surgeries last year. Since he was a pretty good depth player, I figure a 4th from you could bridge the value gap..."

Amidst all the chaos that was my work week this past week, a rare Ironman 3 trade offer showed up in my Inbox. Matt has been trying to pry Ben Watson from me for a while, and with good reason. I've got Antonio Gates, Randy McMichael and Watson, so I can afford to part with one of McMichael or Watson. Matt on the hand has the dynamic duo of Ernie Conwell and Garrett Mills at TE. Quite the difference.

The reason I've passed on all his prior trade offers have basically come down to the fact I've held Watson for two years to see what he will develop into, so I don't want to trade him now before he reaches his potential and his value truly spikes. Ah, the old word all dynasty players cling to, "potential". While Matt's current offer is better than the prior ones, I just don't know if I can pull the trigger for the same reason - Watson's "potential".

Am I being too stubborn here? Have I now inflated expectations of Watson beyond all that is reasonable? Mike Krueger does have Watson projected #6 amongst TEs with a line of 53-657-6 as of writing this. Matt is a division rival that, despite his objections, is building a team on the rise. As for the compensation in the trade, maybe it is fair in terms of value today, but where is my upside in return? Ian Gold I like but is interchangeable with about 20 or more similar scoring LBs. The 3rd rounder will be a hit or miss prospect who, even if he pans, will likely be another 2 year waiting process. Bobby Engram... makes some sense to acquire, but his upside I think it is fair to say is nada, niltch, nothing.

I guess when it comes down to it, if I'm going to trade a guy who has high potential to finish top 6 at his position (even if it is a TE) and is only entering his 3rd season, shouldn't I get a similar player back who could finish near the top of his position? My team is already talented and deep. If I was in a different position of just needing a piece here or there to compete, then trading Watson's potential for those pieces makes more sense. I really think I need to stick with my buy-and-hold investing strategy with Watson. If he hits that magical potential, then I did the right thing. If he washes out, then I didn't really lose that much (that is, until Matt turns his 3rd rounder next year into the next Ryan Moats).

Sorry Matt. I realize I must be frustrating to deal with in this league, especially with you, but I just can't help myself ;)

Now to go work up a counter offer trading away McMichael instead...

Waldman 6/24/06 (Trades)

So while I wait for Mike's counter offer to hopefully end what looks like a bleak situation at tight end, I'm about a week away from making cuts. This is probably my least favorite time in dynasty leagues. I'm a packrat by nature. In fact, I never read C.S. Lewis' work The Lion, The Witch, And The Wardrobe, but once I saw Narnia the concept didn't surprise me. It's arguable I was able to travel back into the 1940's through the time portal known as my grandmother's closet. Who knew that a seventh floor apartment in Cleveland, Ohio housed the planes that went missing in the Bermuda Triangle?

This packrat gene naturally got passed down to my mother, a woman that has so much clothing stashed away, I'm sure the only reasonable explanation is she kidnapped a dressmaker and is holding her captive as forced labor until she produces enough wardrobe to fill a New York and Company. I'm not sure I fully inherited this trait, but it does show up prominently whenever my dynasty teams relax the roster limits. I just can't pass up on an inexpensive shot at potential. The problem is deciding whom to cut loose. I've already rid myself of a number of players that I wish I kept (WR Ernest Wilford and S Glenn Earl among them).

Here are my current candidates that face my first waive of cuts--I'll need to drop between 5-9 players depending on those I stash on my taxi squad. So let's rummage through my junk drawer and sort the potential treasure from the trinkets:

QB Stefan Lefors, Carolina
QB Adrian McPherson, New Orleans
RB Andre Hall, Tampa Bay
RB Jarrett Payton, Tennessee
RB Quentin Griffin, Kansas City
WR Quincy Morgan, Pittsburgh
TE Garrett Mills, New England
TE Billy Miller, New Orleans
TE Wesley Duke, Free Agent
TE Adam Bergen, Cardinals

I do have some easier choices--specifically, Wesley Duke, the tight end I pegged as a darkhorse candidate to start in Denver that promptly got cut upon his triumphant return from NFL Europe. What a waste of $7 in free agent bidding. These are the pitfalls of attempting to build a team rather than maintaining a winner. Quincy Morgan is at best, the #3 WR for the Steelers and I doubt he'll be a much sought after player at this point of the preseason. Andre Hall and Jarrett Payton are most likely practice squad players on their respective teams, but RBs with talent hold more potential value on the depth chart due to the injury factor. I'll hold onto them this summer for as long as they are still on an NFL team. I think both players possess enough talent to at least produce in small stretches and my RB roster lacks starters.

While I've been writing this blog entry, I updated my offer to Mike: Bobby Engram, Ian Gold, and now, my 2007 2nd round pick for Watson, a 3rd round pick or a 4th and rookie RB Wali Lundy. To me this is a no-brainer for him to take. But I received a counter offer of McMichael for what I just offered for Watson.

The dilemma for me is what I think Watson's worth is compared to McMichael. Strictly on production, McMichael has been worth more than Watson. He's the generally the 8th-10th ranked tight end in this league. Not bad for a guy without a star quarterback. McMichael has also played in all 48 games from 2002-2005--another plus for the first of the slew of Georgia tight ends to go pro. McMichael catching passes from Culpepper seems like a nice possibility.

The downside? He was in trouble with the law for beating his wife. Yep, it's personally reprehensible, and potentially one step away from suspension or major prison time in his professional life. Does McMichael have a higher ceiling of potential than the 8th-10th best fantasy tight end in this league? I'm not sure. Culpepper and Jermaine Wiggins hooked up enough to make Wiggins an option that rated just behind McMichael in 2004. Does that mean Culpepper will boost McMichael's stats even higher?

Ben Watson as a player is solely potential, since he was the 18th ranked TE last year, but he split time with Daniel Graham and Christian Fauria. One is the subject of trade rumors and the other is in Washington. Training camp reports indicate Watson is getting looks as if he'll be one of the primary options, if not the primary option in the passing game. Watson is the more athletic of the two tight ends. Honestly, I think it's easy to be enamored with the guy's potential. Especially when you see him do things like run down Champ Bailey from across the field in a playoff game.

The downside with Watson is a torn ACL as a rookie and Belicheck's system. Daniel Graham is still there. Mike Vrabel is still catching TD passes. Plus, the Pats drafted Dave Thomas and Garrett Mills--two good prospects at the position! But it's clear that both Mike and I feel Watson has far more potential than McMichael.

This is why Mike wouldn't take a 3rd round pick for Watson. He and I both believe Watson has the skills to be the next elite TE and he wants a big payday in return for giving him up. But at this point a 3rd round pick is more than fair when you combine that with a starting quality LB like Gold and a Engram--a WR that provides excellent depth because he'll produce very well if he has to sub for either Jackson or Burleson.

But when I offer him a 2nd round pick, he doesn't budge on Watson. Instead he offers me McMichael. We'll it's already clear he not only dislikes McMichael, but has him ranked 3rd on his depth chart. This means he'd never use McMichael and value Watson higher than him.

So Mike, I'll consider McMichael, but giving you a second round pick is costly for a guy neither of us value as highly as Watson. Even if I admit my team is on the rise, that likely means I'll have the 7th-9th pick while you still have the 13th or 14th pick. In essence, if I give you a 2nd round pick, your 4th round pick is closer to a 5th round pick in value.

My other need is defensive end. Mike, you are loaded at the position. Freeney, Justin Smith, Ellis, and Bertrand Berry make a nice quartet. Berry missed half the year with a torn pec and his career span is likely limited in comparison to the other three you already have on your roster.

I'll give you Gold, Ingram, my 3rd round and 6th round picks for McMichael, Lundy, Berry, and your 4th round pick.


Waldman eventually got Lundy and McMichael. He also got Berrian down the line, too. Waldman won the trade war this year, but MacGregor went to his 4th consecutive championship appearance. Waldman's team will be one of the teams drafting in the early rounds, yet again…


League Updates - Week 15

SOFA Fantasy Auction League: The Gut Check won this league with a Vince-Young-Maurice Jones Drew-led victory against a formidable RotoWorld squad. .

Fantasy Auctioneer Experts Invitational: Yours Truly won it all in a rematch against 2004 champ, Scott Pianowski of Fantasy Guru.

Good luck to those of you still playing this week!