The Weekly Gut Check - Vol. 89
2007 Free Agents
12/21/06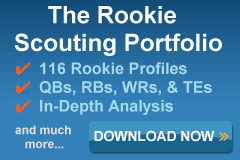 The "Gut Feeling" is often synonymous with a sense of desperation resulting from a lack of preparation. The Gut Check is a huge proponent of studying the numbers, but there's a point where one can place too much emphasis on the wrong information. This can result in the undervaluing or overlooking a player's potential. Therefore, The Weekly Gut Check is devoted to examining the frame of reference behind certain number-driven guidelines that fantasy football owners use to make decisions.

Although The Weekly Gut Check doesn't claim to be psychic, he does believe that he can dispel certain numbers biases and help you make the best choices for your team. We'll keep a running tally of The Weekly Gut Check's insights. This way you can gauge his views as something to seriously consider, or at least seriously consider running the opposite way as fast as you can!


---
For most, the 2006 fantasy season will come to an end this week. Congratulations to those of you that have made it this far. This week the Gut Check tips his hat to those of you looking to next season with his take on the members of the 2007 free agent class that have a better than average shot to make an impact in your fantasy league. It is also important to note the players mentioned in these profiles that would see a change in their status for playing time (or potential playing time) as a result of these possible moves.

Quarterbacks

Matt Schaub, ATL: The Falcons' restricted free agent will once again be a sought-after talent in the off-season. Schaub was rumored to be the subject of a 2006 pre-draft trade to the Vikings that involved a first day pick, but the Falcons were of the belief they might need a solid back up to Vick and his high-risk style of play. The Falcons' starter certainly made strides this year as a passer, but he still demonstrates a maddeningly amount of inconsistency from the pocket on a regular basis. Despite the fact Vick and his receivers are still undergoing a longer than desire growth period as a passing attack, the Gut Check believes there has been enough good moments for Atlanta to part with Schaub in 2007.

The Gut Check believes Schaub is by far the most promising free agent quarterback prospect for dynasty leagues because of his combination of youth, on-field experience, and physical skills. It wouldn't be a surprise to see a team make a strong bid for Schaub's services next year as player to compete for a starting job—a bid high enough to discourage Atlanta from matching the offer. Atlanta took measures to prepare for this eventuality with the selection of Georgia quarterback, D.J. Shockley, a raw but talented signal caller that demonstrated the potential to develop into a better than solid back up in a few years. It is not that Schaub wouldn't be welcome back in Atlanta, but it is difficult to believe he'll be an affordable option. The Gut Check believes Schaub winds up in Tampa, Carolina, Houston, or Oakland and Atlanta looks for a veteran presence that fell out of favor elsewhere (a Joey Harrington-Aaron Brooks type) to replace Schaub on the bench in 2007.

Damon Huard, KC: Despite some excellent on-field moments from the KC clipboard holder, there is no mistaking Huard as a potential opening day starter somewhere else in 2007. Of course there is a chance Huard could go for a bigger payday elsewhere as a backup, especially if KC's draft pick Brodie Croyle demonstrates any amount of significant development prior to 2007 mini-camp. But that's the extent one should consider the former Washington Husky. Croyle has an excellent arm, but he needs to add some weight to withstand the rigors of Sunday football. The Gut Check believes Huard remains in Kansas City in 2007 until Croyle shows something to make the journeyman expendable.

Chris Simms, TB: Tampa has offered their injured starter a deal, but the Gut Check can imagine Simms wanting a better offer despite the fact he hasn't generated enough of a track record to warrant a more lucrative contract. Jon Gruden will be feeling more heat in 2007—if he's still the coach—and it's likely he'll feel more tentative about Simms' prospects after his 2006 performance and season-ending injury. That doesn't mean Simms is likely to go anywhere. The Gut Check is steadfast in his opinion than Bruce Gradkowski has potential to be Gruden's starter in the next year or two and we all know the jump from rookie to second year is significant, so expect the makings of a training camp battle once Tampa hammers out a deal with Simms.

Tim Rattay, TB: The former 49er and current Buccaneer is a true journeyman at the position. NFL teams feel they can do a lot better in terms of finding a starter, but they know they could do a lot worse when they need someone to fill-in for an extended amount of time. Jon Gruden is still a Chris Simms and Bruce Gradkowski fan. Based on his interviews, one should expect the coach to have an open competition between these two young players in 2007.

Running Backs

Michael Turner, SD: Is there any doubt this guy is the top free agent back in 2007? Turner has shown terrific power and an excellent burst in relief of Tomlinson and several teams are rumored to be eyeing him already. Turner has youth and low mileage in his favor and no real injury history. If there is a back in 2007 that could have the impact many expected from Edgerrin James in 2006, it is "the Burner."

The Jets, Eagles, Giants, Texans, and Browns all seem like good candidates for this back that is ripe for a 1200-yard season.

Ahman Green, GB: Green had some decent moments while making his return from a torn quadriceps tendon, but he didn't do enough to garner a hefty payday in 2007. Green still has a bit of gas left in the tank and it's most realistic to expect the Packer to find his way to a team that wants to use him as a role player in a rotating backfield. The Gut Check believes if Green doesn't remain a Packer, he'll wind up going the same route as his predecessor, Dorsey Levens: Philadelphia. Andy Reid has a decent track record of getting mileage out of former Green Bay runners because of their versatility and familiarity with the West Coast system he uses with the Eagles. If Correll Buckhalter finds his way elsewhere, Green might be a reasonable alternative with slightly more upside for at least one year. Otherwise, he's about to hit Terry Allen-Stephen Davis-Antowain Smith status for fantasy owners—decent depth to own for a few games, but nothing more.

Chris Brown, TEN: If there is a back that will have a chip on his shoulder entering 2007, it will be the former starter for the Titans that likely feel he got "jobbed" out of a potential deal to the Texans. His reputation has taken a hit over the past two years because he hasn't demonstrated the skills to succeed as a short yardage runner. Then throw in the fact that Brown has a penchant for breaking a long run and missing the rest of the game, and one can see how interested teams suddenly grew skittish. Brown is a complete boom-bust free agent because he has the talent to put it all together and have a great season, but his track record doesn't indicate this will be likely. It's a bit of a shame, because Brown might wind up as the next unfulfilled talent due to several smaller factors that detract from his appeal as opposed to one huge problem. Brown is still a player you should active acquire or keep on a dynasty roster, because he could easily be in store for a good season if a more established player gets hurt. Could the Lions or Texans find Brown a worthwhile option? Kevin Jones' injury is pretty nasty and Houston hasn't found a definite successor to Domanick Davis. In all honesty, the Gut Check thinks Brown will remain a Titan for one more year.

Wide Receivers

Kevin Curtis, STL: Curtis might be the most talented free agent receiver on the market. He has speed to burn and the only reason he isn't a starter at this point of his career is the fact he's sitting behind two, future Canton enshrines. If Isaac Bruce decides to hang up the cleats, the chances of Curtis remaining a Ram increase. If the Reverend out of Memphis sticks around, Curtis might lack the patience to continue a year-to-year approach with his possibility of starting for a franchise. The Gut Check believes Curtis has better skills than at least one quarter to as many as one third of the current starting receivers in the NFL. Because the Rams' third string pass catcher has only been given the opportunity to show flashes of his talent, he'll be a reasonably easy player to acquire between now and the free agency period. Once Curtis' future is determined though, all bets are off. He could wind up as one of the favorite sleepers among the fantasy football media. The Gut Check believes the Patriots and Lions would be teams that could benefit—especially a Mike Martz-led offense with great familiarity with Curtis' skills.

Drew Bennett, TEN: Some of the luster has dulled from the former 1200-yard receiver, but he is still the most proven player on the market at the position. Bennett's leaping ability and long-striding gait makes him a solid, all around complement on a receiving corps. What will make organizations cautious is his history of nagging injuries and disappearing for stretches of time. A team will have to be convinced Bennett's streaky production had more to do with inconsistent quarterback play in Tennessee. The Falcons could use a player of Bennett's skills. He's a rich man's Brian Finneran—a player Atlanta missed this season—and could help Vick a great deal. Jacksonville also has issues at receiver—Reggie Williams hasn't come around, Matt Jones is still developing, and Ernest Wilford is viewed as role player. Bennett learned the receiver position from Steve Walters, the Jaguars current position coach, so the familiarity is there and Bennett is more reliable than what they've got thus far. The Gut Check would rather take his chances with Curtis, although Bennett could post better numbers elsewhere.

D.J. Hackett, SEA: Hackett's late-season opportunities could earn him the honorary Mathew Hatchette status in the off-season. For those of you with short memories, or no recollection whatsoever, Hatchette was a physically talented, but seldom-used receiver for the Vikings that signed a nice deal with the Jets. His hype was like Chester Taylor's this summer, but his performance wasn't close. Hatchette wound up bouncing around the league for the next few years and never fulfilled the promised other organizations saw in his game. The Gut Check isn't completely writing off Hackett, but he is more inclined to believe the CU alum is more of a system-oriented producer than a bona fide stud in the making. Personally, yours truly believes the next player on the list has more potential (although he isn't as likely to find himself elsewhere)…

Patrick Crayton, DAL: When you are former quarterback stuck behind two excellent receivers about a year or two from the twilight of their careers, your chances are slim you're going to win a starting job or find yourself going elsewhere. Crayton plays with decent on-field awareness and can make plays once the ball is in his hands. His potential development fits somewhere between Bobby Engram and Hines Ward; not a burner, but crafty and tough. Don't' count on him leaving Dallas, but odds are he'll be needed to start in 2007 when one or both of the Cowboy's high-strung thoroughbreds throws a shoe or gets put out to pasture.

Ernest Wilford, JAX: The Gut Check believes Wilford is a great option to buy cheap and hope for the best. His size and hands are good enough to earn him starting consideration with many teams and he plays with a level of toughness that could earn him a starting job with many teams. Amani Toomer isn't getting any younger and the Giants could use a reliable possession receiver that could stick arrive as a role player but take over the role immediately if necessary. Atlanta certainly could pursue Wilford—the Falcons seem to have a thing for Virginia Tech players and he could certainly be a potential upgrade to Brian Finneran if Atlanta doesn't want to wait and see on their veteran's health status. Since Wilford is a restricted free agent, it's likely he'll remain in Jacksonville if Del Rio's supreme confidence in William's potential wanes in the off-season. Either way, the talent is there. You just have to determine if he's worth holding until the opportunity arrives.

Tight Ends

Eric Johnson, SF: With Vernon Davis in the fold, Johnson is likely gone in 2007. There should be some decent opportunities for this talented, but injury-prone receiving tight end if San Francisco doesn't retain him as a role player and insurance policy. Put Johnson on a team with a West Coast offense paired with a veteran quarterback such as Green Bay or Seattle, and you have an instant value pick in 2007. He'll likely be a forgotten man to most casual fantasy owners so you should have the luxury to add him to your roster with little problem if so inclined.

Daniel Graham, NE: Cincinnati could use a tight end and despite the fact Graham has shown some trouble hanging onto the ball at times, he's a definite talent. New England already has enough tight ends to make Graham expendable and it wouldn't be surprising if the former first round draft pick wanted a chance to star elsewhere. He'll likely become more popular this spring as a fantasy sleeper, but right now his value is as low as it's going to get. Grab him now and you might be thankful later. Seattle could be another fine option for Graham because the next guy on this list hasn't stepped up.

Jerramy Stevens, SEA: The Gut Check would probably say not to waste your time with Stevens unless you have the luxury of a keeping an underachiever that has worn out his welcome with a team that initially gave him more chances than any other organization might. Yours truly doesn't like to make snap judgments about a player's attitude, but Stevens' track record suggests a player that didn't ever really love the game of football and his performance on the field demonstrates it. This kind of money player rarely fills his potential because the desire to excel isn't great enough.


League Updates - Week 15

SOFA Fantasy Auction League: Yours truly he Gut Check was an injury-ridden, bottom dweller in this league in 2005, but has rebounded nicely and makes his first championship appearance in his second year doing this league. He faces RotoWorld's top-scoring squad. Fortunately (well, hopefully) the Gut Check is armed with LT, which should keep him competitive versus any squad. Plus, his team isn't too shabby in addition to Tomlinson.

Projected Starting Lineup: Young (or Pennington), Tomlinson, Drew, Donald Driver, Reggie Wayne, Santonio Holmes, Randy McMichael, Josh Scobee, and the Patriots defense.

Fantasy Auctioneer Experts Invitational: The Gut Check came back in dramatic fashion to get the opportunity to defend his championship against last year's runner up, and 2004 champ, Scott Pianowski of Fantasy Guru. His squad is stacked with Tomlinson, Barber, and Harrison but week 16 is always funky with the lineup choices. Yours truly picked up Tim Rattay as a possible match up play over McNair or Carr. He may also have to consider Cadillac or Pittman over Jones-Drew (though not as likely). Yours truly honestly wouldn't say he's the favorite in this match up but he could make it interesting.

Projected Starting Lineup: McNair, Jackson, Maurice-Jones Drew, Driver, Brown, Holmes, Todd Heap, Scobee, and Ravens defense.

FFTOC: The Gut Check is 96th out of 206 with three mediocre-bad weeks. Unless he gets career days from every player in his lineup, his chances are nil for anything better than finish in the top 40. He's rolling the dice with Brett Favre, Ladell Betts, Cadillac, Javon Walker, Reggie Wayne, D.J. Hackett, Vernon Davis, Lawrence Tynes, and the Panthers defense.

Good luck to those of you still playing this week!