The Weekly Gut Check - Vol. 46
Scouting NFL Prospects
9/15/05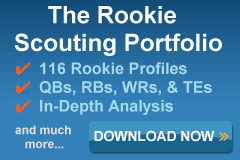 The "Gut Feeling" is often synonymous with a sense of desperation resulting from a lack of preparation. The Gut Check is a huge proponent of studying the numbers, but there's a point where one can place too much emphasis on the wrong information. This can result in the undervaluing or overlooking a player's potential. Therefore, The Weekly Gut Check is devoted to examining the frame of reference behind certain number-driven guidelines that fantasy football owners use to make decisions.

Although The Weekly Gut Check doesn't claim to be psychic, he does believe that he can dispel certain numbers biases and help you make the best choices for your team. We'll keep a running tally of The Weekly Gut Check's insights. This way you can gauge his views as something to seriously consider, or at least seriously consider running the opposite way as fast as you can!


---
It is wise to listen to feedback—especially when completely different people are saying the exact same thing. The Gut Check has been hearing for years that he should seriously think about compiling scouting reports on NFL prospects. A great deal of this feedback comes from people that heard Yours Truly's point of view on rookies or second-year players. Especially those players few had a bead on in the general populace of fantasy footballers.

So The Gut Check finally decided to take the plunge. At several points this season this column will provide scouting profiles and checklists on NFL prospects—college juniors and seniors. The checklist and profiles include:


An overall weighted score for the position on a 100-point scale


Position specific criteria broken down into key components


Game day stats


Analysis and commentary of each key component based on film study of the prospect's performance in live action


Analysis and commentary of overall strengths and weaknesses based on film study

Each player will have two pages of information devoted to his performance. The Gut Check will be covering prospects at QB, RB, WR, and TE. In the future, this will also include analysis of each player's fantasy prospects.

This first profile is of Bowling Green junior QB Omar Jacobs

(PDF file)

. Jacobs seemed to come out of nowhere as a sophomore to post incredible numbers:


309 completions out of 462 attempts—a terrific 66.9% completion rate


4002 passing yards


41 touchdowns


Only 4 interceptions


This included a 24 for 41, 218-yard, 2 Td, 0 Int opener in Oklahoma.

The Gut Check scouted Jacobs' opener at Wisconsin, a quality Big-Ten team with a sound track record for producing quality NFL prospects in recent years. Bowling Green runs the increasingly popular spread offense, which Coach Urban Meyer originally brought to the team prior to moving onto Utah and Florida. The positives of this attack in terms of evaluating a quarterback is one gets to see the quarterback make a lot of different throws to both backs and receivers. The greatest negatives involve not seeing the quarterback take a snap under center, drop back, or use the traditional forms of play fakes.

The reports are in Adobe Reader, a very common program on most PCs today, but free to download if you don't have it.