The Weekly Gut Check - Vol. 45
Preparing for the FFTOC
9/6/05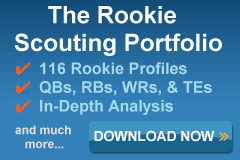 The "Gut Feeling" is often synonymous with a sense of desperation resulting from a lack of preparation. The Gut Check is a huge proponent of studying the numbers, but there's a point where one can place too much emphasis on the wrong information. This can result in the undervaluing or overlooking a player's potential. Therefore, The Weekly Gut Check is devoted to examining the frame of reference behind certain number-driven guidelines that fantasy football owners use to make decisions.

Although The Weekly Gut Check doesn't claim to be psychic, he does believe that he can dispel certain numbers biases and help you make the best choices for your team. We'll keep a running tally of The Weekly Gut Check's insights. This way you can gauge his views as something to seriously consider, or at least seriously consider running the opposite way as fast as you can!


---
Most drafts are over and it's time to focus on a completely different fantasy league: the Fantasy Football Tournament of Champions (FFTOC). For those of you that never heard of FFTOC, it is a format where there is no draft and any player may be used once during the season. The specified number of teams with the most total fantasy points between weeks 1-12 make the cut, and advance to the playoffs. The team with the most cumulative fantasy points from weeks 13-16 wins it all. For the actual money tournaments, an owner can double his money just by winning his 4-5 man division—regardless of whether he makes the final cut.

Last year, Mike Krueger, Mike MacGregor, and The Gut Check were invited to try FFTOC during its inaugural season. Krueger and Yours Truly won their divisions. Krueger actually made the final cut. The Gut Check made a four-week run that bumped him up a couple hundred places in the rankings only to come up agonizingly short in the final week of the regular season.

You're probably wondering why Krueger isn't writing this article—as MacGregor did, and Yours Truly doesn't blame him, either. The best answer The Gut Check can give you is that there's a lot that can be learned from experience—especially when one defines experience as not getting what you want. When it comes to the FFTOC, this writer qualifies. But this year will be different because a lot of quality information was gained through the process.

The first thing learned is a successful FFTOC season is about planning and pacing. Going all out with the best players early can really get an owner in a bind. Approaching the conclusion of the regular season with also-rans or unknowns can make a playoff run tricky, at best. At the same time, saving good players for too long can create an insurmountable gap between you and the cutoff ranking for the playoffs. Therefore, The Gut Check recommends you consider these points when competing in an FFTOC tournament, which he will break down in greater detail:

Divide the season into three periods: weeks 1-6, 7-12, and 13-16

Don't over emphasize strength of schedule during the first period

Take risks during the first period

Capitalize on short term injuries early and often

Understand specific player types for each position

Begin planning your stretch run around week 5 or 6

Begin placing greater emphasis on strength of schedule after week 6

Reference historical Crank Score/Consistency data
These eight points will at the very least keep you competitive. Moreover, remaining patient during the first six weeks will also give you a real shot at not only making the cut, but also making a run in the playoffs.



Divide the season into three periods:

The aim is to provide some structure. Otherwise, it is easy to panic if you see your team ranked in the lower half or lower third of a large FFTOC tournament. It is important to understand that a hundred or more teams can be separated by less than 50 points! Therefore, a basic framework helps you stay focused on the big picture without blowing your strategy. The Gut Check views the FFTOC as two seasons because at the beginning of each the point totals are reset for every participant. Weeks 1-12 is the first season and the second is playoff weeks 13-16. The first season needs to be split in half to maximize one's planning. This has to do with the succeeding points.



Don't over emphasize the importance of strength of schedule during the first period (weeks 1-6):

There are three things that have a negative impact on the effectiveness of pre-season strength of schedule rankings:

Injuries

Free Agency

The Draft

2004's preseason strength of schedule surely had Tennessee as a much better defense than Arizona or San Diego. Tennessee wound up with only three starters playing the entire season and savvy fantasy owners capitalized on the Titans after the first third of the season. On the other hand, the Cardinals and Chargers made enough strides where they could no longer be considered a scheduling patsy.

This year there are several changes that can throw off these types of rankings. Chicago has key players returning from injury and should be much tougher. Minnesota acquired enough free agents at key positions that they are expected to improve. Yet Miami has lost some key players as others continue to age. The point is league parity has a major impact on strength of schedule. In reality there are minor differences in talent level separating most NFL teams. Injuries, free agency, and excellent draft picks can tip the balance. Therefore, it makes sense to begin seriously evaluating strength of schedule after observing the first six weeks of the season. After this point, one can gain a general idea of a team's real performance and project from there as opposed to using information based solely on the previous year.



Take risks during the first period:

Weeks 1-6 is the best time to gamble on lineup choices. It's like a football team throwing a bomb on the first play of the game—if you succeed, you win big; if you don't, chances are your losses will be minimal. The Gut Check isn't advocating you only use these types of players during this time, but the more you can comfortably add to your lineup early, the greater your wealth of choices in future weeks. There are certain types of players worth using early:



New/unproven starters:

Wide receiver and quarterback are the best positions that qualify. These are players that have developed over the course of a few seasons that finally get their shot, or get a new opportunity with a different team. Here's several that come to mind:

Early Risks at WR & QB
Pos
Name
Comments
WR
Reggie Williams
Nice training camp could translate.
WR
Bobby Engram
Will start at least until Warrick demonstrates health and confort with offense.
WR
Arnaz Battle
Nice preseason and a new starter. Faces Rams defense week one.
WR
Antonio Bryant
Looking excellent and begins season in Cincinnati.
WR
Michael Jenkins
Low risk at beginning of season--if it's a bad play, the season is still young.
WR
Charles Rogers
Looked good when on the field and healthy. Get him on the field early.
WR
David Patten
Veteran that establishes a reliable presence in DC
WR
Antwaan Randle El
Titans pass defense is regarded as weak.
WR
Travis Taylor
Culpepper and company like what they see from the former Raven
QB
Joey Harrington
Packers pass defense could help Harrington out.
QB
Carson Palmer
Expected to breakout this year, but if you're not sure you agree—use early.
QB
Trent Dilfer
First starting gig in a few years, Bengals are good matchup in week one
QB
Kyle Boller
He has to start strong to gain confidence of his team.
QB
Patrick Ramsey
Has to convince Gibbs he can be the man--take chances early.
QB
Tim Rattay
Before he gets hurt or gives way to Alex Smith--will have to throw vs. Rams
QB
Eli Manning
Should show some improvement.



Slots:

In today's passing offenses, the #3 receiver on a good unit can be a fantasy surprise on a weekly basis. Several teams have strong #3 receivers capable of a solid-excellent game.


Early Risks From The Slot
In The Slot
Comments
Kevin Curtis
Great deep threat and should exploit weak 49ers secondary
Ronald Curry
Or Gabriel if healthy--the #3 WR in Oakland should surprise regularly.
Bryant Johnson
Warner has shown confidence in Johnson
Kevin Johnson
The Lions slot receiver will give way to Mike Williams at some point
Earnest Wilford
Leftwich has confidence in him, but Matt Jones will be gaining ground soon.
Kelley Washington
Will be a #3 WR that may see balls like a #2 WR
Dennis Northcutt
As Braylon Edwards gets his feet wet, Dilfer will look to Bryant and Northcutt
Patriots WRs
Interchanged a lot, might as well take chances early.



Rookies:

Most opposing teams view an NFL rookie as a player that has yet to prove himself and will not devote a specialize game plan against him. The Gut Check's research illustrates that the position of the rookie factors greatly into one's decision to start him early.


What About The Rookies?
Pos
Impact
1
2
3
4
5
6
7
8
9
10
11
12
13
14
15
16
17
RB
11
3.5
2.9
1.6
6.6
6.6
8.1
11.9
16.2
5.7
9.6
6.0
11.9
15.8
13.1
8.3
15.6
14.3
WR
21
7.5
6.2
7.3
7.1
5.9
6.0
6.6
6.9
6.9
7.2
4.8
7.8
4.0
7.1
5.5
10.4
4.9
QB
5
8.2
9.9
9.0
12.7
23.8
14.6
23.9
14.0
14.9
13.3
10.7
8.3
16.1
7.5
15
11.1
17.4
TE
11
1.5
4.6
1.5
3.0
4.0
2.1
3.3
3.7
9.7
4.0
2.7
2.6
3.0
4.4
7.0
3.8
4.4

The column labeled Impact lists the count of players that were starters or saw significant opportunities in a game at their respective position as a rookie from 2003-2004. The rookie runners over the last two years tend to increase their production after week four, and pick it up another notch in week six. The raw data behind the average shows that more rookie backs got an opportunity as the season progressed and backs with early opportunities demonstrated they have become acclimated to the speed an intensity of the NFL through their increased production.

The speed of the game in the NFL can initially catch a rookie RB off guard in two facets of their game: running inside the tackles and pass protection. A hotshot college RB can often rely upon his athleticism to gain yards: taking the ball and either reversing his field behind the line of scrimmage or coming to a full stop and making a sharp cut in a large hole. NFL defenses are too athletic to allow most backs to makes these types of plays on a regular basis. Rookie backs often have to get these tendencies pummeled out of them.

A lack of pass protection skills is the most common reason a talented rookie back does not get the 20-25 touches many fans initially hope. NFL defenses are filled with players that use and abuse rookie backs by either running round them, through them, or outsmarting them (sending two on a blitz at once, hoping the back chooses the wrong guy) on the way to creaming the quarterback. So much of football is taking the right angles to block, run away from, or tackle a player. When a player enters a league where the speed of every opponent is significantly faster on average, then that player may react slower and wind up taking the wrong angles. Taking bad angles often results in missed blocks, running into tackles unnecessarily, or having improper balance and getting blown up by the opponent.

In contrast, wide receivers getting significant playing time as rookies seem to be more consistent than their running back counterparts. Unfortunately, their numbers as a whole don't appear to take a jump, either. There are some individual standouts that are exceptions—Michael Clayton and Anquan Boldin come to mind—but Lee Evans, Larry Fitzgerald, and Roy Williams were inconsistent with their production.

The key thing about rookie wide outs is they tend to perform more consistently early in the season. As the season progresses, the numbers drop. The Gut Check believes this could be due to fatigue—or "hitting the wall"—something attributed to most rookies. Yet, there are notable exceptions so playing the match ups in FFTOC is still important. Still it's a good idea to consider taking a chance on a rookie during the first two phases of the season rather than the playoffs.

There aren't a lot of rookie quarterbacks or tight ends that start for NFL teams on an annual basis, so the numbers aren't as reliable for a two-year period. But it makes sense to believe a quarterback will gain some confidence and demonstrate improvement after the first month of the season. The middle of the season appears to be the most consistent stretch of higher performance for the few rookie quarterbacks that played in 2003-2004. After that, the production has more ups and downs. The weeks with an average printed in italics indicates there was only one quarterback from the sample that played during this week in question.

Tight ends do experience a statistically significant increase, but not so much in the scheme of fantasy contests that an owner is going to see that difference translate to their roster. Unless there is a player tearing up opposing defenses early and often, taking a chance on a rookie tight end may be best for the end of the year—if at all.

The Gut Check recommends you use common sense in regard to these numbers: if a rookie is performing well, don't override your decision to start him at a different time because of this data. Michael Clayton got better as his rookie year progressed! It is excellent when one's data matches their planning, but one always needs to be flexible to recognize when something may be leading them off course.



Capitalize on short term starters early and often:

Capable backups that start for a portion of the season can really help owners save big-time players for the other two periods. For example, Carson Palmer sprains his ankle and is scheduled to miss a few games? Use Jon Kitna for one of those weeks. If he has a 300-yard, 3 TD game, you not only benefit from your ranking but you still get another shot at using Palmer starting behind the same high-powered offense. Here's a list of potential players that fit this criteria:

RB Willie Parker, Steelers —may only start 1-2 games, but has big-play speed.


QB Jonathan Quinn, Chiefs—if Trent Green can't go week one, the Jets will force Quinn to throw.


RB Reuben Droughns, Browns—Droughns will start (watch William Green, too) at least until Lee Suggs returns. If he performs well enough, he could lock up the job. Count on Droughns to have some decent games early.
Continue to look for these opportunities as the season progresses. Quentin Griffin, Aaron Stecker, Mewelde Moore, Sammy Morris, and Derrick Blaylock all had big games in limited starting time. The more high-profile choices you can save and still get production early, the better your chances to not only make the cut, but do damage in the final weeks when the big money is on the line.



Understand specific player types at each position:

Stat splits can provide a nice comparative analysis for the three periods of the FFTOC and help us spot where players might be best used during the season.
The Gut Check accumulated data from seasons 2002-2004 and separated the results by position for weeks 1-6 vs. 7-12 vs. 13-16 (Periods 1, 2, and 3 respectively). Here is the information provided for each table:

Player

Average fantasy points per game for each period

Color Codes


Green—Player's most productive period

Yellow—Slight drop off from most productive period

Red—Significant drop off from Green or Yellow periods
The Gut Check narrowed the sample of players for position according to specific criteria. First, Yours Truly only used active players currently starting, or in contention for a starting role on an NFL team. Second, The Gut Check eliminated 2004 rookies from the sample. The statistical trend with rookies reflected common sense about their inherent progress when starting for a team: first year players get better as they gain greater comfort in the system or they don't even see significant time until the season is well under way. The only exceptions appeared to be rookies suffering injuries during weeks 7-16. Roy Williams' (-) 6.29 fantasy points per game difference is a good example. The Lions' rookie was the only rookie starter at the receiver position with a negative difference. Let's start with backs:


Running Backs
First
Last
Period 1
Period 2
Period 3
Portis
Clinton
13.64
14.27
25.29
Tomlinson
LaDainian
17.50
18.08
24.88
Henry
Travis
14.73
10.48
15.09
Barlow
Kevan
8.89
8.46
13.02
Lewis
Jamal
17.89
12.14
16.50
Jones
Thomas
9.86
6.69
10.98
Alexander
Shaun
18.19
16.06
19.70
Westbrook
Brian
8.40
9.05
12.10
Taylor
Fred
13.94
12.50
15.20
Bennett
Michael
10.94
8.46
10.70
Martin
Curtis
12.41
12.55
14.30
Staley
Duce
10.29
10.22
11.35
Williams
Ricky
15.77
12.13
12.98
Davis
Domanick
10.32
16.92
17.56
Duckett
T.J.
6.31
9.71
10.20
Dunn
Warrick
10.24
13.58
13.51
Bettis
Jerome
7.98
12.14
11.98
Holmes
Priest
23.26
26.62
26.34
Anderson
Mike
7.49
4.66
4.17
Brown
Chris
10.89
7.50
6.60
Shipp
Marcel
6.46
11.65
10.61
Dillon
Corey
11.70
13.54
10.93
James
Edgerrin
15.05
16.21
12.77
Pittman
Michael
10.03
12.60
8.07
Barber
Tiki
15.08
17.65
12.78
Faulk
Marshall
13.11
16.52
11.64
Davis
Stephen
14.27
14.72
9.25
Johnson
Rudi
15.13
15.13
9.09
McAllister
Deuce
14.09
20.24
14.13
Green
Ahman
17.55
19.16
12.91
Backs to save for the final rounds?


Based on this information, Clinton Portis and Ladainian Tomlinson saved their best for last better than any RB for the previous three seasons. Others that fit this category to a lesser extent are Curtis Martin, Brian Westbrook, Shaun Alexander, and Fred Taylor. Kevan Barlow and Travis Henry also qualify as players that have recently performed their best in FFTOC's final period of games. What do these backs have in common? Portis, Tomlinson, and Westbrook are runners with great ability to make defenders miss them. Martin, Alexander, and Taylor are slashers—although Taylor is capable of moves that rival the first group. Other than Travis Henry, none run with a style where they absorb a lot of hits. Coincidentally, these results happen to match the exact number of RBs (8) necessary to start in the final four weeks of period 3. If all eight manage to make it to week 13 healthy and productive, plan accordingly. Another guy to consider is Priest Holmes—his 3rd period stats are nearly as good as his awesome 2nd period.



Hot Out of The Gate


Jamal Lewis, Michael Bennett, Chris Brown, and Mike Anderson have their best outputs early. Anderson and Lewis are all big runners with a downhill style—which opens them up to further punishment. Bennett and Brown are speedy runners with few moves—both have been nicked up early in their career. While Lewis' health is iffy, it is wise to wait a week or so to gauge his health and then use him as soon as possible. Bennett is already nicked up, but Brown and Anderson are expected to be the rushing attack for their respective teams to start the season. Use these guys early. Plus, both runners play behind decent offensive lines so if they get hurt, you can use their backups in later weeks—increasing your chances to save the strong finishers for the right time.



Now That They're Warmed Up…


For the six weeks of period 2, there are twelve backs that produce best for this period. Each seems to hit their stride in the middle of the season. Neither Marshall Faulk nor Michael Pittman are expected to carry the load, but interestingly enough the backs taking their place (Steven Jackson and Carnell Williams) seem to share similar styles to most on the list that perform best in the second period (Barber, Faulk, and Dunn the exceptions). The backs The Gut Check is referring to run with patience, maximize their blocks, and like to hit before they get hit. It should be noted that Faulk truly isn't a part of this list because at the peak of his career he was finishing strong like Portis and Tomlinson.


Quarterbacks
Last
First
Period 1
Period 2
Period 3
Palmer
Carson
13.69
17.88
25.90
Hasselbeck
Matt
16.05
17.82
22.67
Pennington
Chad
13.13
19.10
17.57
Collins
Kerry
15.96
18.23
19.84
Boller
Kyle
9.25
13.10
13.06
McNair
Steve
20.34
16.52
23.38
Green
Trent
19.79
20.48
22.77
Vick
Michael
17.14
23.57
19.61
Delhomme
Jake
14.74
18.80
16.28
Brooks
Aaron
19.29
20.53
20.56
Roethlisberger
Ben
16.67
13.24
17.48
Manning
Peyton
22.60
25.99
22.66
Favre
Brett
20.24
18.27
20.28
Plummer
Jake
18.37
20.29
17.55
Brees
Drew
16.97
16.85
15.53
Leftwich
Byron
17.35
14.13
15.32
McNabb
Donovan
22.40
21.91
20.03
Harrington
Joey
14.61
13.23
12.18
Fiedler
Jay
16.31
11.53
13.84
Culpepper
Daunte
28.89
22.36
26.30
Bledsoe
Drew
19.18
13.18
15.97
Griese
Brian
20.42
16.38
17.18
Brady
Tom
19.76
19.27
16.15
Ramsey
Patrick
19.58
10.13
14.30
Warner
Kurt
14.94
12.82
8.68
Dilfer
Trent
10.19
6.56
2.84
Carr
David
18.73
14.23
10.38
Bulger
Marc
23.97
22.79
14.97
Rattay
Tim
12.94
13.00
3.00
There are also some notable differences among quarterbacks. Matt Hasselbeck, Steve McNair, Carson Palmer, and Trent Green all peak at the best time for those in the FFTOC's final weeks. Each has some favorable match ups during weeks 13-16, and could be great fits. All four possess some new/young targets in the receiving corps and the passing game should click by season's end. Plus, these quarterbacks post four of the five highest fantasy points averages among current starters for this period. Whatever the reason, these signal callers (2nd year starter Palmer excluded) are historically the most prolific choice.

Unlike running backs, it is probably a good idea to start some of the studs early. Culpepper, McNabb, and Bulger all come out smoking in the opening weeks. Take advantage of this opportunity. It will also provide some insurance with riskier picks at other positions in the first period. Might as well get the most out of some studs when you can. This provides you some flexibility to balance out your risks—if you are scoring well already, then save these guys for later.

McNabb and Bulger also qualify as more consistent starters during these two periods. Drew Brees and Tom Brady also fit in here. These players should provide you more flexibility with lineup choices if you plan on using this game plan as a basis for strategy.

Other quarterbacks that do their best work early are David Carr, Patrick Ramsey, Kurt Warner, Brian Griese, and Joey Harrington. All five are regarded as pocket passers that have a tendency to take a lot of punishment and maybe experience streaky performances as a result. Use them early before they get hit too much.

Interestingly enough, there are some excellent quarterbacks that do their best during the meat of the season. Peyton Manning scores a scintillating 25.99 FPG in weeks 7-12—noticeably more productive than any other time of the year. Jake Delhomme, Aaron Brooks, Michael Vick, and Jake Plummer are all are capable of huge games and tend to do it just when you should be planning a stretch run.

Who are some of the more productive fantasy receivers in the opening period of FFTOC?


1st Period Wideouts
Last
First
Wks
1-6
Wks
7-12
Wks
13-16
Moss
Randy
14.76
12.00
15.07
Harrison
Marvin
13.68
13.67
12.69
Williams
Roy
13.40
5.88
9.36
Holt
Torry
12.77
11.62
12.82
Johnson
Andre
12.25
7.55
5.43
Owens
Terrell
12.22
16.39
11.52
Moulds
Eric
12.00
7.31
7.68
Boldin
Anquan
11.87
9.61
9.10
Ward
Hines
11.63
13.18
8.39
Mason
Derrick
10.46
9.30
11.59
Stokley
Brandon
10.38
7.43
10.31
Driver
Donald
10.15
8.47
8.15
Horn
Joe
10.11
12.19
12.37
Boston
David
10.03
8.50
7.04
Johnson
Chad
9.17
13.51
11.29
Glenn
Terry
9.14
6.79
5.86
Wayne
Reggie
9.07
8.89
9.75
Colbert
Keary
9.00
8.00
4.28
Bruce
Isaac
8.98
11.6
8.32
Clayton
Michael
8.9
10.08
12.10
Galloway
Joey
8.79
6.40
8.01
Price
Peerless
8.77
7.41
6.49
Many of the usual suspects are here—Moss, Harrison, and Holt among them. Yet, The Gut Check is looking for players that have a significantly better start to the season than the rest of the year. These three players are often nearly as good, or even better, throughout all three of these splits.

Terry Glenn is a perfect example of a player The Gut Check wants to identify as a good starter, but slow finisher. Glenn averages a respectable 9.14 FPG during the past three seasons, but his numbers drop significantly in the next two periods. This makes Glenn a good candidate as a player to start early.

Keary Colbert appears to have the same pattern, yet the Panther has only been in the league for a year and this could be the factor of his steady decline as the season progressed. Eric Moulds is an example of an established player that looks great to start the year, but tails off noticeably after the first six weeks. This may have a lot to do with Moulds' previous QB, Drew Bledsoe. This year Moulds will be paired with J.P. Losman—essentially a rookie starter—so it may be more likely to expect the Bills receiver's production to increase as the young quarterback gains experience. Speaking of Bledsoe, the new Cowboys QB is paired up once again with Terry Glenn—another reason to start Glenn sooner than later because both have faded fast in recent years.

Donald Driver, Anquan Boldin, and Andre Johnson also look like strong starters. Johnson has been a noticeably weak finisher, so it might be wise to keep this trend in mind. David Boston, if he sees significant time in Miami, might be a good early gamble. The nomadic body builder, in disguise as a once-elite receiver, has a tendency to make a good first impression on the field.

Some receivers that peak during the meat of the schedule are Terrell Owens, Hines Ward, Isaac Bruce, and Chad Johnson. None are particular poor plays at other points of the season, but historically their best games appear between weeks 7-12 in the last three seasons.


2nd Period Wideouts
Last
First
Wks
1-6
Wks
7-12
Wks
13-16
Smith
Jimmy
8.71
10.23
8.38
Smith
Steve
7.46
10.33
8.55
Porter
Jerry
6.13
10.60
6.72
Moss
Santana
6.22
10.62
6.58
Smith
Rod
7.93
9.89
8.19
McCardell
Keenan
8.62
9.50
7.21
The receivers to the left are noticeably better in the second period of these splits. All six receivers are primary threats on run-based offenses. Is it possible these players peak as opposing defenses begin key more on the running game? Not sure this is the case, but whatever the reason there are ten receivers that are excellent plays during this time.

Who are the strong finishers at receiver?

Moss, Holt, Muhammad, and Jackson are best in the final frame. In fact, the Seahawks receiver is nearly 3 FPG better!


Down The Stretch...
Last
First
Wks
1-6
Wks
7-12
Wks
13-16
Evans
Lee
6.16
6.62
16.58
Moss
Randy
14.76
12.00
15.07
Curry
Ronald
5.41
9.30
13.10
Holt
Torry
12.77
11.62
12.82
Muhammad
Muhsin
6.87
10.46
12.71
Harrison
Marvin
13.68
13.67
12.69
Jackson
Darrell
8.69
9.73
12.51
Horn
Joe
10.11
12.19
12.37
Bennett
Drew
6.92
6.90
12.32
Clayton
Michael
8.90
10.08
12.10
Mason
Derrick
10.46
9.30
11.59
Owens
Terrell
12.22
16.39
11.52
Johnson
Chad
9.17
13.51
11.29
Stokley
Brandon
10.38
7.43
10.31
Robinson
Koren
7.06
8.44
10.26
Burress
Plaxico
8.19
8.90
10.08
Chambers
Chris
8.06
8.85
10.02
Wayne
Reggie
9.07
8.89
9.75
Toomer
Amani
8.51
7.23
9.59
Kennison
Eddie
6.65
8.70
9.59
Coles
Laveranues
7.95
9.48
9.50
Williams
Roy
13.40
5.88
9.36
Boldin
Anquan
11.87
9.61
9.10
Warrick
Peter
6.41
8.64
9.10
Fitzgerald
Larry
7.14
7.73
9.06
Walker
Javon
8.58
6.84
9.03
Parker
Eric
7.30
5.01
8.73
Houshmandzadeh
T.J.
4.44
5.15
8.62
Stallworth
Donte
6.78
6.48
8.58
There are some rookie receivers that fared well down the stretch—which means established starting rookie WRs might be better bets towards the end despite what the Rookie Average Point per Week Breakdown states for the position. Lee Evans, Michael Clayton, and Larry Fitzgerald were all starters that were healthy down the stretch and their numbers improved as they gained experience. Even Roy Williams' average increased from the middle weeks—as his ankle improved, so did his numbers. The difference may be to start rookie WRs that are complementary players early—Colbert—and true primary threats later—Clayton and Williams.

Derrick Mason and Plaxico would seem to be good bets, but both have new quarterbacks/teams, and might not demonstrate the same pattern in 2005. Drew Bennett is nearly 6 FPG better at the end, but his numbers may be a product of last season's breakout. This may also be true for T.J. Houshmandzadeh, Ronald Curry, and Eric Parker.



Begin Planning Your Stretch Run Around Weeks 5-6


After the first month of the season, take inventory of your team's situation. If you are near the top of the points standings, the priority will be to maintain a comfortable level of production to make the cut while saving as many productive finishers for the final weeks. This means continue to take chances on unproven players or backups that get a shot due to injury or promotion. At the same time, it is still easy to lose a lot of ground in a short span of time so pay attention to the number of points that separates you from the last ranked team eligible for the final round. Continue to maximize the establish starters that historically show they are performing at their best in the middle weeks.

Yet this information should keep you from panicking if you are near the bottom of the pack. You have 7-8 weeks to gain ground, which means you'll have to play greater amount of established starters while limiting your risks to situations where they have decent match ups. As The Gut Check mentioned at the beginning of the article, he was able to advance nearly 200 hundred spots in the span of a month and was only one bad player choice away from making the final cut. Furthermore, Yours Truly began his stretch run around weeks 9-10. In contrast, this plan will give you an extra month to gain ground, if necessary.



Begin looking at Strength of Schedule Data


After six weeks, it will be come pretty clear where defenses stand against the run or the pass. Greg Alan of 4for4.com, and one of the people behind the FFTOC tournament, published the type of rankings in Fantasy Football Pro Forecast The Gut Check recommends for your planning:

Against The Pass
Ranked Easiest To Hardest
Rank
Team
Avg. Ranked Pass Defense Opponent
1
JAX
22.1
2
CHI
22
3
TEN
21.1
4
DEN
20.9
5
IND
20.8
Against The Run
Ranked Easiest To Hardest
Rank
Team
Avg. Ranked Run Defense Opponent
1
TB
21.7
2
ATL
21.3
3
NO
20.6
4
CAR
20.4
5
ARI
20.1

These are partial rankings from 2004 data. The Gut Check recommends you use 2005 data from week six, onward. This should be readily available information and easy to compile from various sources.



Reference Historical Crank Scores


At FFToday.com, the Gut Check has Crank Scores available for 2003-2004. If you don't know about Crank Scores read here. If you do, this information will become a useful ally as the final weeks draw near. You will be able to make wiser line up decisions because you can insert choices that have a higher level of performance on a consistent basis. Or you can take the risk and choose players with the higher elite scores and hope you hit on them. For example, Portis and Tomlinson are both players The Gut Check recommended you save for the final weeks but one is almost twice as likely to have a game that at worst, only one RB in that given week can beat. Information like this may help put you over the top. Of course, in The Gut Check's case, that means competing with 180+ teams to get there. We'll see if Yours Truly learned the right things.

Mike MacGregor and Matt Waldman are participants in the $250 entry fee FFTOC. They will keep you posted on their progress throughout the 2005 season.