The Weekly Gut Check - Vol. 53
Musings
11/3/05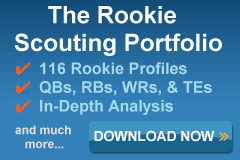 The "Gut Feeling" is often synonymous with a sense of desperation resulting from a lack of preparation. The Gut Check is a huge proponent of studying the numbers, but there's a point where one can place too much emphasis on the wrong information. This can result in the undervaluing or overlooking a player's potential. Therefore, The Weekly Gut Check is devoted to examining the frame of reference behind certain number-driven guidelines that fantasy football owners use to make decisions.

Although The Weekly Gut Check doesn't claim to be psychic, he does believe that he can dispel certain numbers biases and help you make the best choices for your team. We'll keep a running tally of The Weekly Gut Check's insights. This way you can gauge his views as something to seriously consider, or at least seriously consider running the opposite way as fast as you can!


---
Feeling Good about these Summer Predictions: Tiki Barber as an under-appreciate offensive centerpiece—Brandon Jacobs be damned! Larry Fitzgerald and Donté Stallworth breaking out this year. Drafting Heath Miller at the end of as many drafts as Yours Truly could this summer. Mike Anderson, Karlos Dansby, Kyle Vanden Bosch, Odell Thurman, and Derrick Johnson on The Gut Check's all-preseason squad.

The Corollary—Wishing this didn't have to be brought up: Touting Ahman Green. Yours Truly sincerely apologizes for this one. Downplaying the offensive line problems was a potential draft-killer. Somehow The Gut Check has to figure out a way to develop a predictive analysis for offensive line play. The offensive line rankings he did last year are a great formula for units with no turnover in staffing, but it doesn't do much to account for change. Once Yours Truly can combine offensive line play and a few other factors into a player's Crank Score, he'll be rolling.

Kinda-Sorta: The Gut Check contends he was right about his reasons why Willis McGahee would be over-valued in drafts this summer: J.P. Losman. Fortunately for McGahee owners, the Bills came to their senses, and inserted Kelly Holcomb. Now McGahee is the second-leading rusher in the AFC. Deshaun Foster the best mid-round value? Well, if Stephen Davis didn't appear out of nowhere during the last week of the preseason…Foster has looked good in limited time.

Standing by these Claims to the Bitter End: Carson Palmer started great, but his past few games have been a dose of reality. Yours Truly still believes Palmer will have up and down performances that will drive some contending fantasy owners nuts. Kerry Collins will catch fire in the second half of the season. Randy Moss' injury, and Nov Turner's hesitation to rely upon Lamont Jordan sidetracked Collins production a bit. The Gut Check still believes Collins will make many fantasy owners happy—especially Oakland figuring out how to force defenses to contend with Jordan. Cadillac started well, hid his injury, and has fantasy owners pining for him ever since. Yours Truly still foresees some quality starts from the Tampa rookie.

On The Lighter Side: Anyone else think Ben Roethlisberger is looking like Will Ferrell's kid brother with that hairdo? And what's up with the sideburns? Seriously, who cares? The Gut Check will let Kid Brother Cow Bell, QB his squad in real life.

Topics From The FF Today Board
If Farve, Bruschi, and Vick were drowning who would the media save first? None. All three would get run over by the mass of boats speeding to the scene for the exclusive.
Dear Gregory Gall…
The only plausible excuse you would have for doing what you did is mental illness—but that's out of the question based on initial accounts you were just drunk and stupid. You broke the law. And you were enough of a distraction for the Green Bay Packers to have a plausible reason—beyond their horrible performance for the first 58 minutes—for losing this game. Cincinnati may not be far from Kentucky, but even at Churchill Downs on Derby Day, the locals are smart enough to confine this stuff to the infield.
Never mind all of that: You, the Detroit Pistons fans, and the father and son combo that hopped onto the field at Comiskey Park and took pot shots at an umpire, are giving major league sports more reasons to consider security that may one day lead to what we see in other countries during soccer matches. The Gut Check doesn't want to get into the subject of politics here, but regardless of your leanings most relatively sane, American citizens should be able to concede our society has its own unique set of flaws—behaviors that open us up to rightful, and accurate criticism from the rest of the world.
Nobody is perfect, but one thing about American Sport is that beyond all the celebrity there is still a sense of purity involved with going to an arena to watch a game. It's sickening to hear about other countries where riot police have to be on hand at a soccer match, players' families are kidnapped, or fans throw batteries and coins onto basketball courts at the players.
The Gut Check would hate to see the actions of so few idiots necessitate the leagues to further strip away the remaining innocence and purity of their games. One of our perceived flaws is our historical tendency to solve problems with violence. By they way, if you haven't seen The History of Violence, don't wait any longer—great movie. Anyhow, Yours Truly is willing to be a hypocrite in this situation. While he doesn't advocate violence as a normal solution, he endorses the idea that the next time some drunk fool decides to disrupt the game, the players should make him the #1 highlight for Tom Jackson's Jacked Up segment on ESPN's Monday Night Countdown.
The Gut Check is sure you'll see the tape over and over while sitting there in a courtroom. You'll notice the expression on Favre's face. While Yours Truly doubts Favre has any interest in Women's Tennis, The Gut Check bets Favre has heard of Monica Seles, and what happened to her. The look on his face looked a lot like someone wondering if they were safe. People like you Gregory Gall, ruin it for the rest of us…
Look Over Your Shoulder…
Reggie Williams—While you're making wild gyrations after a 6-yard reception, the guy drafted three rounds after you, makes game-changing catches. Ernest Wilford has made a first down on 14 of his 15 receptions this year. His 145-yard effort was against a depleted, Rams secondary but Wilford has done enough to force the Jaguars organization to give him the opportunity over the more expensive…err, higher profile options. Don't be surprised if Matt Jones and Ernest Wilford are the 1-2 punch in Jacksonville for years to come.
NFC East—The Miami Dolphins will be a dangerous, second-half team. New York, you have too many holes on either side of the ball. Buffalo, you are better with Holcomb but not good enough to win the division. New England you still have the decided edge, don't be surprised of Ronnie Brown and Ricky Williams not only give Miami fans hope for next year, but also get hyped as the best tandem backfield in Miami since Larry Csonka and Jim Kiick. The Gut Check thinks Ricky Williams is going to make some fantasy owners happy for several games down the stretch. He may not be happy playing football, but Yours Truly can understand how one can be great at their job, yet still hate it. Ricky Williams is as talented an RB as there is in football. He's beginning to regain his form, and if Nick Saban can manage to get both backs 15-20 carries in a game, we'll be hearing a lot about a surprisingly competitive Miami team as the winter sneaks up on us. Look for some weekly upsets involving Miami in this division.
NFL—drunken idiots are pouring out of the stands to steal the football from players. Are you going to wait for one to pretend he's a defensive end before you think of a real solution? Please don't make fans sit in coliseums that are filled with cages and barbed wire, either.
So far, Yours Truly is in contention with most of his leagues with a traditional auction or snake draft. Admittedly some teams have a much better chance than others. You'll notice, The Gut Check problems resulted from consistently picking some of the same players that haven't panned out thus far.

| | |
| --- | --- |
| League | Fantasy Auctioneer Experts Invitational |
| Record | 6-2, tied for first in division |
| Lineup Efficiency | 94.50% |
| Panned Out | Holmes, James, Johnson, Holt, Glenn, & Eagles Defense |
| Simply Panned | Jimmy Smith starting great and doing little since. |
| Key Injuries | Holt |
| Key Additions | Az-Zahir Hakim |
| Comments | The Gut Check put up a 29-point week last week with Glenn, Holt, and James out of the lineup. But the squad is looking pretty good for a stretch run. |
| | |
| --- | --- |
| League | FF Pro Forecast Auction |
| Record | 4-4…3-way tie for second in the division. |
| Lineup Efficiency | 88.10% |
| Panned Out | Heath Miller, Larry Fitzgerald, and Brian Westbrook. |
| Simply Panned | Ahman Green and the infirmary below. |
| Key Injuries | Cadillac Williams, Drew Bennett, Isaac Bruce, & Ahman Green |
| Key Additions | Az-Zahir Hakim won me a game. |
| Comments | A slow start, but some waiver wire starters helped Yours Truly steer through injuries. If Peyton Manning can be just a little better, and two of these three players above return to a healthy level of productivity, The Gut Check can make a run. |
| | |
| --- | --- |
| League | Local League (Athens Atlanta Fantasy League) |
| Record | 5-3…second place overall in 12-team league for both record and points (48 behind the leader) |
| Lineup Efficiency | 90% |
| Panned Out | Edgerrin James, Antonio Gates, and the Eagles Defense/Special Teams |
| Simply Panned | My infirmary of… |
| Key Injuries | Cadillac Williams, Drew Bennett, & Isaac Bruce--sound familiar? |
| Key Additions | Heath Miller, Joe Jurevicius, Amani Toomer |
| Comments | Another slow starting team due to injured receivers. The luxury of owning Gates is the ability to play two tight ends in this league and getting WR production out of one--if not both. The RB rotation is keeping this squad alive (James, Martin, Caddy, and LJ…actually dropped Barber III several weeks ago). |
| | |
| --- | --- |
| League | East Coast Dynasty League |
| Record | 7-1…12-teams, first in division, second overall in power ranking used to determine champ. |
| Lineup Efficiency | 83% |
| Panned Out | Odell Thurman, Rod Coleman, Chad Johnson, Shockey, Westbrook, and many others. |
| Simply Panned | No one really. |
| Key Injuries | Randy Moss and Corey Dillon--in other words, not many. |
| Key Additions | Trading Anquan Boldin and Mewelde Moore for Cadillac Williams. |
| Comments | When Randy Moss, Chad Johnson, Jimmy Smith, Donté Stallworth, and Brandon Lloyd are your receivers (and Boldin until two weeks ago)--there's not much to complain about. Throw in an LB rotation of Vilma, Bulluck, and Thurman…Good times. |
| | |
| --- | --- |
| League | Ironman 3 Dynasty League |
| Record | 4-4…14-team dynasty league. Mike MacGregor has a commanding lead in this league. |
| Lineup Efficiency | 81% |
| Panned Out | Fitzgerald, Vanden Bosch, Cadillac, Dansby, Coleman, Derrick Johnson, and my secondary |
| Simply Panned | Dropping Ernest Wilford after trading for him last season. Samie Parker has done nothing. |
| Key Injuries | Bobby Engram |
| Key Additions | Jerry Porter, Bobby Engram, Michael Pittman |
| Comments | The Gut Check doesn't have the talent to have this low of lineup efficiency and consistently win. He'll need to make better choices with his WRs and secondary. |
| | |
| --- | --- |
| League | FF Handbook Expert Mock |
| Record | 105.9 pts per game--8th out of 12 teams. Dropped 6 spots in two weeks due to injuries |
| Lineup Efficiency |  N/A |
| Panned Out | Fitzgerald, Dillon, Cadillac Williams. |
| Simply Panned | Ahman Green and Charles Rogers |
| Key Injuries | Joe Horn, Ahman Green, Najeh Davenport, and Marc Bulger. |
| Key Additions | None allowed. |
| Comments | The Gut Check was the third-highest scorer, but injuries left the bye weeks exposed and Yours Truly's team plunged like a stone. There's still time to recover. |
| | |
| --- | --- |
| League | SOFA Auction Draft |
| Record | 2-6 and bringing up the rear in the division of a 12-team league. |
| Lineup Efficiency | 86.90% |
| Panned Out | When a TE, K, and DEF are your best performing picks for their value, that's a bad sign. |
| Simply Panned | Ahman Green, Michael Clayton, and Drew Bennett. |
| Key Injuries | Green and Bennett |
| Key Additions | Bettis, Barber III, Brunnel, Fisher, and Eric Moulds |
| Comments | The waiver wire choices are pretty good, but the lineup choices have cost me two games. The .1 pt, defeat to the high scoring team of the opening week didn't help, either. |
| | |
| --- | --- |
| League | Friends of FF Today |
| Record | 4-4…in the middle of the pack |
| Lineup Efficiency | 92.5% highest efficiency in league--getting the most out of what little is here. |
| Panned Out | James, Boldin, Bulger, and Collins |
| Simply Panned | Deshaun Foster, Ashley Lelie |
| Key Injuries | Bulger and Boldin |
| Key Additions | Barber III |
| Comments | If this team posts a winning record, it will likely be due to injuries to players on the opposing teams. The Gut Check is surprised this team is as good as it is. |
Scouting Reports—There isn't one this week, but there will be new one for week 10.