The Weekly Gut Check - Vol. 48
Notes From The Film Room
9/29/05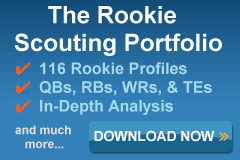 The "Gut Feeling" is often synonymous with a sense of desperation resulting from a lack of preparation. The Gut Check is a huge proponent of studying the numbers, but there's a point where one can place too much emphasis on the wrong information. This can result in the undervaluing or overlooking a player's potential. Therefore, The Weekly Gut Check is devoted to examining the frame of reference behind certain number-driven guidelines that fantasy football owners use to make decisions.

Although The Weekly Gut Check doesn't claim to be psychic, he does believe that he can dispel certain numbers biases and help you make the best choices for your team. We'll keep a running tally of The Weekly Gut Check's insights. This way you can gauge his views as something to seriously consider, or at least seriously consider running the opposite way as fast as you can!


---
Next week, The Gut Check will perform an analysis of his Crank Scores vs. the first quarter of the season. This will include Crank Scores for the top 20 players at the QB, RB, and WR positions and how they stack up to Yours Truly's preseason ranking. But this week, The Gut Check has more scouting profiles and checklists, plus notes about future prospects to keep an eye on for next year. It may seem early to begin looking at college prospects, but as an avid dynasty league owner, drafting quality rookie talent can make all the difference.

It can also be even more effective for re-draft leagues. Yours Truly has been touting Cadillac Williams for months as far and away the back in the best situation this year and at least in this writer's opinion, the most talented of the draft class. The Gut Check projected Williams high enough that taking him as your #3 RB with confidence should have netted you three quality starting RBs and likely two, top-ten performers at the position to start the season. Plus, Yours Truly did an analysis indicating a good chance at least one back from this draft class will have a rookie year that places him among the elite fantasy talents at the position—guess who The Gut Check tabbed as the best choice?

There has been a share of poor choices—Tony Hollings and Onterrio Smith come to mind right away—yet The Gut Check's process to make these decisions has become more sound:
An overall weighted score for the position on a 100-point scale


Position specific criteria broken down into key components


Game day stats


Analysis and commentary of each key component based on film study of the prospect's performance in live action


Analysis and commentary of overall strengths and weaknesses based on film study
Each player will have two pages of information devoted to his performance. The Gut Check will be covering prospects at QB, RB, WR, and TE. In the future, this will also include analysis of each player's fantasy prospects.

This week there three sets of reports—two on Louisville RB Michael Bush and one on Wisconsin RB Brian Calhoun. Both are very different runners, but with similar scores. The reports are in Adobe Reader, a very common program on most PCs today, but free to download if you don't have it.

Here are some Notes from The Gut Check's film room—otherwise known as a cluttered bedroom with random furniture, and a TIVO:



RB Laurence Maroney

runs with a style that reminds The Gut Check of Deuce McAllister. Last weekend versus Purdue's #1 rushing defense, Maroney had a 46-carry performance with several nice inside runs that demonstrated vision, patience, and good cuts. It helps to have a great offensive line—good enough for coaching great Howard Schnellenburger says Minnesota's line is the most talented unit he's seen in years and compared them Nebraska's unit from the mid-80's that generated several NFL stalwarts. Unlike a guy like Wisconsin's Brian Calhoun, who is a smaller back used to dart through huge holes, Maroney's patience got him extra yards and when the line broke down, he knew how to utilize his power to gain yardage on his own.

Reggie Bush

, if he declares himself eligible, may be a better back but Maroney will be the power back with breakaway speed that most RB-needy teams in the NFL will covet. If Bush and Maroney participate in the drat, don't be surprised with a lot of debate similar to Brown, Williams, and Benson.



DE Elvis Dumervil

of Louisville leads the NCAA in sacks. He's build somewhat like Dwight Freeney—5-11, longer wingspan than height would indicate, and excellent speed, anticipation, and leverage.

Don't be surprised if Louisville becomes a more popular school on draft day over the next few years.

QB Brian Brohm

is the most polished passer The Gut Check has watched on tape this year (he's waiting on Leinhart)—very poised and excellent mechanics. Louisville's 6-5, freshman

WR Mario Uruttia

has the type of skills that may have scouts comparing him to Plaxico Burress within a short period of time.

Last year my favorite two draft-eligible running backs were Cadillac and Ryan Moats. A guy that has quickly become one of my favorites is Alabama's

Kenneth Darby

. One of my friends feels the junior tailback has been a minor disappointment because he hasn't exploded against quality competition. The Gut Check watched the Tennessee-Alabama game last year and couldn't find much wrong with this runner's game. If anything, he didn't demonstrate great breakaway speed, but he's one of the tougher runners The Gut Check has seen thus far.

Another Crimson Tide player surely getting ready for the NFL is

LB Freddie Roach

.

On the other hand, Yours Truly just doesn't see the skills many had touted in

Gerald Riggs, JR

. For such a prized recruit, his career hasn't lived up to the notoriety. The Longhorns'

RB Jamaal Charles

already has moments where he runs like a seasoned professional. If he remains healthy, he could be the best of the Texas RBs that have moved onto the NFL.



Ted Ginn, Jr.

may be getting all the love at Ohio State, but

WR Santonio Holmes

looks like a terrific playmaker in his own right.