The Weekly Gut Check - Vol. 60
Below The Radar Redux — RBs & QBs
12/22/05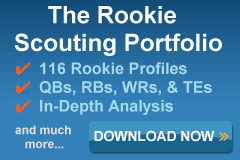 The "Gut Feeling" is often synonymous with a sense of desperation resulting from a lack of preparation. The Gut Check is a huge proponent of studying the numbers, but there's a point where one can place too much emphasis on the wrong information. This can result in the undervaluing or overlooking a player's potential. Therefore, The Weekly Gut Check is devoted to examining the frame of reference behind certain number-driven guidelines that fantasy football owners use to make decisions.

Although The Weekly Gut Check doesn't claim to be psychic, he does believe that he can dispel certain numbers biases and help you make the best choices for your team. We'll keep a running tally of The Weekly Gut Check's insights. This way you can gauge his views as something to seriously consider, or at least seriously consider running the opposite way as fast as you can!


---
The Gut Check concludes his three-part series on fantasy players below the general radar of most owners that have the talent, and possibly and opportunity, to surprise in 2006 with running backs and quarterbacks. Samkon Gado is a great example of a player below the radar of most owners heading into the season. A running back out of Liberty University, where football takes a pretty major back seat to practical applications of theology, that wasn't even the starter and got cut from the Chiefs this summer isn't someone most owners would pay attention to in the first place. But it's just these types of players that are good to at least read what the right people (coaches, general managers, and peers) are saying about them—if you haven't ever seen them play. Here's Yours Truly's take on some talented players with varying levels of notoriety, but lacking a starting gig for now.

Runners

Nehemiah Broughton, Washington Redskins — The coaching staff believes Broughton could develop into an ideal runner in a 1-back scheme. The rookie out of the Citadel runs with great power and enough speed and vision that he's seen more as a running back than the projected fullback role some scouts felt he'd be pigeon-holed due to his 5-11, 255-lb. frame. How is Broughton going to get a shot in Washington with Clinton Portis and Ladell Betts in front of him? Good question, but why even speculate? Opportunities appear at the most unlikely times due to injury, contract issues, free agency, or in some cases, indiscretions with the law. The point is Washington liked Broughton so much they kept him despite already having Betts and Rock Cartwright in the fold. Look for Broughton to show more development as a receiver in year two, and possibly challenge for playing time in a situational role.

Ciatrick Fason, Vikings — The rookie out of Florida has seen some time in goal line situations and Mike Tice has been enamored with his skills. Fason dropped a little further in the draft than many scouts projected him, but he's an athletic runner with good long speed and an excellent receiver out of the backfield. Neither Mewelde Moore nor Michael Bennett can stay on the field consistently to keep the job, and a physical back like Fason might be able to push his way to the front of the depth chart. In college Fason sometimes ran a little too upright and lacked a wiggle to his style, but he has the talent to be a feature back that makes big plays.

Onterrio Smith, Vikings — The Gut Check traded away the Original Whizzinator prior to the incident that earned him this moniker due to his previous issues with drug abuse and a crowded Minnesota backfield. Still, there's no denying Smith has great instincts, vision, and receiving skills. Take Marcel Shipp's attitude and combine it with Onterrio Smith's physical skills and instincts, and you might wind up with a Hall of Fame caliber talent. Smith wants to return to the NFL and has been saying all the right things. Koren Robinson obviously took advantage of his opportunity for a fresh start maybe Smith will do the same if given one. Don't write him off—and how can you? Look at Ricky Williams' situation. It can't get much more bizarre and he's back!

Vernand Morency, Texans — Yours Truly just doesn't see how the Texans can draft Reggie Bush even if they win the top spot. Personally, The Gut Check would take Bush and try to deal Domanick Davis, but the deals probably won't look too enticing—especially with Davis' recent knee problem. Plus, Houston has a talented back in Morency—an explosive runner with good vision and breakaway speed. The Texans will have a new regime in a short period of time and anyone that has watched at least a few of this team's games knows offensive line is too high of a priority to ignore. This doesn't mean you can't find talent after round one, but it stands to reason the team will consider trading down to acquire more picks and players rather than acquire The President out of USC. Morency will likely be the beneficiary in the next year or two as long as he shows continued development (and gets in good with the new coaching staff).

Michael Turner, Chargers — If The Gut Check wrote about running backs three weeks ago, this might have still been a true, off the radar pick. But "The Burner" showed up on most astute fantasy owners' radars after one play in the RCA dome this Sunday—an 80-yard score that displayed surprising speed for a man his size. The second year back out of Northern Illinois—keep an eye on backs and receivers coming from this school—has shown an aggressive running style at various times of the season when he substituted for Tomlinson. He's a great candidate to become the next Lamont Jordan in a year or two—a talented back in a backup role that finally gets a chance to start elsewhere.

Derek Watson, Buccaneers — The former South Carolina star that got kicked off his team for various indiscretions originally signed with the Patriots last year, but couldn't stay healthy on the practice field and got cut. To his credit, Watson didn't give up. He worked out and got signed by Jon Gruden after an impressive street free agent tryout. Watson continued to impress in training camp and made some serious noise towards gaining a roster spot. In fact, ESPN reported that Watson was signed to the active roster about a month ago because the Buccaneers were concerned other teams were eyeing him. Yours Truly watched Watson do some impressive things while in the SEC. If this kid has his life in order, he could wind up producing somewhere in the NFL. Not a player to draft, but know his status in case injuries give him a chance. The 6-0, 220-lb runner has a style reminiscent of Corey Dillon and Gruden likes the guy.

Kenneth Darby, Alabama — The Gut Check is convinced this running back is going to surprise some people with his production in the NFL. He's a tough runner with excellent instincts, and great cutting ability. Reggie Bush, Laurence Maroney, DeAngelo Williams, and maybe a few others will find their way ahead of Darby in the NFL but this kid could be as productive as any of the others not named Bush. See the scouting report and profile on this guy on our home page.

Quick Hitters

Adrian Peterson — Great balance, good burst, and decent power. Lovie Smith really likes him and the little brother of Jaguars MLB Mike Peterson could earn an opportunity elsewhere in a year or two. Injuries will likely dictate if he'll ever get a real shot to be a starter, but the talent is there to produce.

Jarrett Payton — The Gut Check continues to like what he sees out of the second year runner. Look for him to stick with the Titans and make even bigger strides over the course of the 2006 off-season.

Quarterbacks

Adrian McPherson, New Orleans Saints — The most researched player the Saints ever drafted never saw the field this year. The team doesn't feel he's ready, but that doesn't mean he won't ever be prepared to lead an offense. In fact, McPherson has electrifying skills and should develop into a promising option in a year or two. Remember, Daunte Culpepper wasn't deemed ready to see the field as a rookie, either. McPherson has a great arm, excellent skills as a runner, and some great stats out of the Arena League. With Aaron Brooks possibly on his way out, Todd Bouman isn't the long-term answer. If the Saints draft a quarterback in the first three rounds it may mean they don't foresee a future with McPherson as a starter, but The Gut Check is betting on New Orleans taking other positions on the first day and giving McPherson a chance to show he can develop.

Andrew Walter, Oakland Raiders — Norv Turner may not have a great record as a head coach, but he's always functioned at an extremely high level as an offensive coordinator. Turner knows a thing or two about quarterbacks and he's felt Walter was one of the top talents in 2005's class of signal callers. Walter has a big arm and prior to an injury his senior year, garnered views of him being an automatic, future starter. Walter isn't much more mobile than Kerry Collins but he'll still likely get a more consideration next year.

Bradlee Van Pelt, Denver Broncos — Jake Plummer is playing his best football, but Van Pelt has earned enough credit from his coaching staff to become the #2 QB in Denver. A gutsy, aggressive player and son of former all-pro Giants linebacker Brad Van Pelt, the second year player out of Colorado State has developed enough disciplined work habits to become a student of the game. This guy could very well work his way into a starting position somewhere within the next 3-4 years. If Plummer can't say healthy next year, Van Pelt has the skills to keep this offense afloat.