Overvalued/Undervalued
7/14/09
Each year, the road to a fantasy championship begins with a draft that has a few owners believing their team will be THE team and a number of teams that did not. As I have stated on more than one occasion, I feel that while a team does not win a league with their first-round selection, they sure can lose their league if they blow it. Similarly, I believe that teams – real and fantasy – win with what they do in the later rounds.
The best example I can give from this past season was a PPR money-league team where I was pretty happy to land Marion Barber and Larry Johnson in Rounds 1 and 2. (We all know how that worked out, especially with Barber contributing a whopping five total points in my league's three-week playoff setup and LJ missing four games due to suspension and playing like he missed a couple of others.) Despite a season of inconsistency and frustration in that league, I was able to secure a No. 3 seed in a six-team playoff primarily due to the contributions from third-rounder Calvin Johnson, fourth-rounder Jason Witten, seventh-rounder Jay Cutler and eighth-rounder Chris Johnson. A 16th-round selection of the Titans' defense worked out nicely, as did free agent pickups Tashard Choice, Antonio Bryant and Dustin Keller. As luck would have it, I posted a 50-point victory in the championship game without the benefit of using my first or second round picks.
There's little doubt I had some good fortune on my side, but it was key that Barber wasn't a "blown" pick – he kept me in the mix long enough for the rest of my team to come around. (Imagine the first three rounds of the draft being like the first three rounds of a golf tournament. essentially, with the idea being that a golfer leaves him/herself a chance to dominate on Sunday after spending the first three days figuring out the course and sizing up his/her competition.) I believe one of the several reasons I was able to win the points title in four of the eight leagues I was in last season was because I treat EVERY selection as a building block for my team - and I value it as such. When a last-round flier on Sammy Morris allows an owner to deal him for the top-notch defense he was missing, all of the sudden, staying focused until the end of the draft doesn't seem like such a chore anymore.
As Mike Davis stated in "Fresh Eyes", if fantasy football is losing its luster with you, try shaking up your routine. We are all busy and most of us are being pulled in a number of different directions each day. But folks, the draft is supposed to be the culmination of everything that is good and fun about getting football season started again. For most of us, drafting season lasts no more than a week and a half (in between the third full week of the preseason and Kickoff Weekend), so do yourself a big favor and hammer out each round until the very end.
So while a handful of owners in your league may be loading up on their umpteenth alcoholic beverage or auto-picking a defense in Round 5 because they didn't realize they were on the clock, buckle down even more as your draft hits the middle and late rounds. Save the alcohol or multi-tasking for later, when you can really celebrate your thievery of a handful of middle-to-late-round steals. I can honestly say of the dozens of league titles I have won over the years, not a single one has come my way solely because I "won" the first 2-3 rounds.
Therefore, let's discuss some players who stand a great chance to give fantasy owners a lot of bang for their buck as well as a few players who may disappoint owners in 2009. With each player, I will attempt to make the case for that player being overvalued or undervalued and then follow up with a detailed explanation on why I placed him in the category I did. And yes, the point of any good fantasy column - besides to entertain and inform - is to stimulate conversation and debate, so don't be shy.

Average Draft Position for each of the players below was taken from 12-team drafts conducted on Fantasy Football Calculator.
UNDERVALUED
Early Rounds
Peyton Manning, QB Colts
ADP: 3.04
The Case For Manning Being Undervalued: Incredible durability, long history of top-level production, healthy offseason, the return of 60% of his regular starting offensive line
The Case Against Manning Being Undervalued: Loss of longtime offensive coordinator and OL coach, first season without Marvin Harrison
Verdict: Sometimes, a player is a victim of the resume he created. When in recent memory has a player - coming off an MVP season - slid nearly a round and a half in the following season's fantasy drafts? For the first time since he has established himself as an elite QB, there is some reason to doubt Manning going into a season, considering that Tom Moore and Howard Mudd will no longer have the titles of offensive coordinator and OL coach, respectively, even though both assistants will be given the title of "consultant". Early indications are the duo will be doing a lot more coaching than consulting, but it is a situation that seems to change by the week, so stay tuned. And while fantasy owners spent all of last season bemoaning the falloff of Harrison, the longtime wideout still posted 60 catches and finished No. 39 overall among fantasy WRs (according to traditional, non-PPR scoring). So, as you can see, there is reason to question whether Manning can continue being one of the best at his position.

Now, the case for him. While he is the third QB coming off the board (which is about right), he is getting selected around the middle part of the third round, which is insane. (Consider this for a second: the team with the No. 1 pick in a fantasy draft can come out of the first three rounds with Adrian Peterson, Marques Colston/Anquan Boldin/Ronnie Brown and Manning. Would YOU want to face a trio like that in any week?) Manning's 2008 season was a disappointment by his owners' standards, but to put his career into prospective, his sixth-place finish at his position last year was his worst since a similar finish in 2001. Further consider that C Jeff Saturday missed four games in the middle, LT Tony Ugoh was absent from the blind side four more times and G Ryan Lilja spent the entire season on the PUP list - which severely hindered the ground game that fuels the Colts' play-action passing attack - and that Manning didn't even start resembling himself until Week 5 following two offseason knee surgeries. He won't have any of those issues entering 2009 and Anthony Gonzalez should be able to produce to at least the level of Harrison last year, if not much more. If that isn't enough to still spend a mid-second-round pick on Manning, the man has yet to miss a game in his career (something we can no longer say about one of the two QBs going ahead of him, Tom Brady). So while the chances that Manning puts together one of the best years of his career are slim, he still is as good of a bet as any QB to repeat his 4,000-yard, 28-TD year of 2008.
Pierre Thomas, RB Saints
ADP: 3.07
The Case For Thomas Being Undervalued: Strong supporting cast, dual-threat player, team's strong history of fantasy production at the RB position under HC Sean Payton, injury history of Reggie Bush
The Case Against Thomas Being Undervalued: Pass-heavy offense, tougher schedule, presence of Bush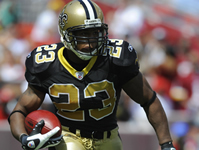 Pierre Thomes: Looking for 250 touches this season.
Verdict: Payton must have been a fantasy football player at some point of his life. The Saints have thrown at least 580 passes in each of his three seasons, making for a number of very good options in the passing game. For his RBs, he gives them just enough carries to make them relevant, then makes sure they are a consistent option for QB Drew Brees on screen and swing passes, making them great targets in PPR leagues while preserving their careers by getting them out in space. Despite a 60-40 pass-run ratio since Payton took over the Saints in 2006, New Orleans' RBs have finished third, tenth and fourth in team fantasy points scored (according to traditional, non-PPR scoring) - an amazing stat considering that 2006 was the only season in which Saints' backs have surpassed 400 carries. This leads us to Thomas, who figures to assume the Deuce McAllister "power" role in this high-octane offense this season. What makes Thomas particularly intriguing is that he has very little wear-and-tear for someone who has already proved he can produce for an extended amount of time, is entrenched as the "big back" in the Saints offense and is a very capable receiver, meaning he will not necessarily be removed for Bush when the Saints elect to pass.

Obviously, Bush will steal some of Thomas' fantasy appeal because he will be heavily involved in the gameplan too, but Thomas should be a solid bet for 250+ touches this season and see the important goal-line touches in what figures to be a top five-offense once again. He should be considered a top RB2 option in 12-team leagues at the very least, with the potential for his value to skyrocket if/when Bush succumbs to injury. The only downside I can see with Thomas (and all Saints, for that matter) is a wretched schedule against the defenses of the NFC and AFC East as well as two intradivision games against Carolina. However, an improved Saints' defense will leave the offense in more advantageous positions on the field than they have in recent years, thereby giving Thomas more opportunities to carry the ball when it counts.
Other early-round players to consider outperforming their ADP: Ronnie Brown (3.03; could assume lead back role in offense that will run the ball and showcase him in various packages to accentuate his talents), Ryan Grant (3.09; healthy for first time since breakout season of 2007, passing game will ensure Grant doesnít face a loaded box)
Middle Rounds
Ahmad Bradshaw, RB Giants
ADP: 9.06
The Case For Bradshaw Being Undervalued: Likely moves into more important role with one of the NFL's best running offenses, has produced when given the chance, is a big play just waiting to happen, injury history of Brandon Jacobs
The Case Against Bradshaw Being Undervalued: Not a starter, will need to hold off talented competition to maintain second-string status, small size serves as a detriment for Derrick Ward-like role
Verdict: At 5-9, 198 pounds, Bradshaw hardly seems like someone who should be lining up in the backfield, that is, until one observes the fact that he has five runs for over 20 yards in just 90 career carries. To put his big-play ability into perspective, Bradshaw had two carries of 32 yards or more in just 67 rushes last season. By comparison, the Washington Redskins ran the ball 478 times as a team in 2008, none of which went over 31 yards. Given that kind of explosiveness, it comes as little surprise his career YPC stands at an impressive 6.1. With the man who occupied the spot ahead of him on the depth chart now in Florida (Ward), the time has come for Bradshaw to take on a much larger role within the offense, which finished No. 1 in the league in rushing yards in 2008. Yes, Bradshaw's small frame is a negative, but we've seen backs of his size perform well in the NFL as long as their touches are monitored.

With Jacobs assuming the lead back role and either rookie Andre Brown or Danny Ware also in the mix, Bradshaw shouldn't be overexposed. But his size will probably keep him from completely replacing Ward, who recorded 223 touches in 2008. Also unlike Ward, his carries probably would not greatly increase all that much if Jacobs was to miss games as he has in each of the past two seasons since becoming a starter. What he should be able to do, though, is match Ward's production as a receiver. While he hasn't had much of an opportunity to show off his pass-catching skills since becoming a pro, his 87 career receptions - including 56 in 2005 - as a collegian at Marshall shows that he has it in him. According to traditional, non-PPR scoring, Ward finished as the 23rd-ranked back last season, probably a bit high for Bradshaw. But 1,000+ total yards and 5-6 TDs is certainly within reach for him, a fantasy total that would have seen him place in the top 30 at RB in 2008. As a result, it seems like blasphemy that Bradshaw is currently the 41st RB taken in draft so far.
Trent Edwards, QB Bills
ADP: 10.11
The Case For Edwards Being Undervalued: The "T.O affect", improved supporting cast, intelligent and accurate, the Bills' plans to incorporate the no-huddle offense on a part-time basis
The Case Against Edwards Being Undervalued: Questionable offensive line, limited production so far as a pro, late cold-weather games limit fantasy playoff upside
Verdict: Perhaps I'm in the minority, but I believe that debate about who the NFL MVP will be in any given season should be tabled until AT LEAST the midpoint of the season, if not December. One of the most ridiculous campaigns I've ever witnessed was ESPN's touting of Edwards as such as candidate in September 2008 after the Bills rolled to a surprising 4-0 start. Their opponents? (Seattle, Jacksonville, Oakland and St. Louis - four of the bottom eight teams in the league.) Edwards and his team were exposed soon enough as a blowout loss to Arizona in Week 5 triggered a 3-9 finish for Buffalo. Of particular concern was an offense that was held to 17 points or less in seven of those games, including games of 3, 3 and 0 in three of the final five games. So what possibly could have happened for Edwards to be considered "undervalued" one season later? Let's observe a small trend that I will call for the purposes of this article "the T.O. affect". When Terrell Owens moved from the Niners to the Eagles in 2004, Philly went from 18th in total offense to ninth. In 2006, Dallas went from 13th to 5th. According to traditional, non-PPR scoring, Donovan McNabb followed a 13th place finish in 2003 with a third-place finish among all QBs in 2004, nearly doubling his TD passes from the season before. Similarly, the Cowboys' QBs (Drew Bledsoe and Tony Romo) soared up the charts eight spots in Owens' first season with Dallas, from 13th to fifth. Since production seems to follow Owens, the question becomes whether or not the soon-to-be 36-year-old still has the tools necessary to pull off another T.O.-like season. I'm betting he does, at least on the level he did in 2008.

But Owens is not the only reason to like Edwards' chances in 2009. While his chemistry with Lee Evans should already be above average, the team also wisely invested in one of the draft's most top TEs, Shawn Nelson, who may be the finest athlete the Bills have drafted at that position in team history. While the rookie doesn't figure to be a fantasy factor this season, he will need to be accounted for more than the Robert Royals and Mark Campbell')s that have manned the position for far too long. Amazingly, one has to go back to the early part of this decade to find a Bills TE worth using in fantasy (Jay Riemersma). The team also is seriously considering a part-time conversion to a no-huddle attack, which should complement Edwards' cerebral approach to the game while limiting an opposing defense's opportunities to get too creative with their blitz package. Doing this successfully will help an offensive line that is taking a big chance with Langston Walker and Brad Butler at the tackle spots and two rookies - Eric Wood and Andy Levitre - likely manning the two guard spots. With the questions surrounding the quality of the offensive line combined with the kind of weather Buffalo usually has come December, Edwards shouldn't be looked at as much more than a spot starter. However, at this point, he is the 17th QB on average coming off the board. With the weapons Edwards now has on board, that is bit too low for him.
Other mid-round players to consider outperforming their ADP: Joseph Addai (5.03; despite injury history, he is still a strong all-around RB in a top offense), Greg Olsen (6.10; most accomplished receiver on team, significant upgrade at QB), Cedric Benson (6.11; little competition for lead back role, schedule much friendlier than last season)
Later Rounds
Zach Miller, TE Raiders
ADP: 13.06
The Case For Miller Being Undervalued: JaMarcus Russell's favorite target, strong running game, solid and improving production in each of first two seasons in bad offense
The Case Against Miller Being Undervalued: Weak and unproven supporting cast in the passing game, inaccurate QB
Verdict: A player's fantasy value can fall for any number of reasons from the end of one season to the beginning of the next. Quite often, that change can be attributed to perception, be it whether said player happens to be playing for a bad team or linked to a bad offense. Unfortunately, Miller has both things working against him in the court of public opinion. Using traditional, non-PPR scoring, Miller finished 11th at his position last season despite hauling in just one scoring pass - only Chris Cooley and Owen Daniels scored more fantasy points and caught less than four TDs. He was the seventh-highest targeted TE in the league and, given QB JaMarcus Russell's inaccuracy down the field, don't expect that to change. Furthermore, Chaz Schilens and rookie Louis Murphy appear to be the most impressive receivers in Raiders' camp, so Miller should continue to be Russell's favorite target. Even in Oakland's seemingly inept passing attack, Miller could be considered a low-end TE1 in 12-team leagues and a nice choice for those owners who despise using mid-round picks on TEs. For where he is currently going, apparently owners can load up on just about every position before grabbing Miller, who is the 16th TE coming off the board right now. Consider this for a second: Cooley is being drafted in the late seventh round, Miller in the 13th. Last season, Cooley finished with 90.9 fantasy points and Miller with 83.8 - a difference of 7.1 points, which averages out to less than a half-point per game difference. Can owners justify a six-round difference for two players separated by such a slim margin? I personally enjoy the comfort of grabbing a mid-tier, high-upside TE1 (like Greg Olsen this year) after the top ones are taken so I am set at the position because finding TEs off the waiver wire that end up being every-week starting options can be very difficult. With that said, if circumstances dictate that I must go in another direction in the sixth or seventh round, players like Miller in the early teen rounds - the same point of the draft where most owners start thinking about taking kickers - make a lot of sense.
Jerome Harrison, RB Browns
ADP: 14.01
The Case For Harrison Being Undervalued: Likelihood of breakdown by Jamal Lewis, entering contract year, dual-threat player, already a Eric Mangini favorite
The Case Against Harrison Being Undervalued: Non-starter, limited track record, size likely limits him to little more than committee role
Verdict: Last season showed us a number of things, including the ability of mighty mites in the backfield making an impact in fantasy as a pair of smallish backs in Darren Sproles and Leon Washington showed they are worth their weight in gold. By the end of this season, though, that list could grow to include Harrison, who by all accounts has impressed new HC Eric Mangini in every facet of the game. Mangini went so far as to say that he compares to Washington, who the ex-Jets coach helped develop in his three years in New York. Unlike Washington, however, Harrison is not needed on special teams, so it is conceivable that he could see more offensive touches than the 123 Washington posted last season on his way to a 29th place finish among RBs in 2009 in traditional scoring, non-PPR leagues. Given how Mangini feels about his latest scatback, his role could grow because, after a bounceback season by Jamal Lewis in 2007, the eight-year NFL veteran (going on nine) clearly was not the same back last year. And unlike some other backs in or entering their age-30 season in 2009 (Tomlinson, for example), Lewis appears well into his descent as a valuable fantasy property, has taken his fair share of punishment and is a strong candidate to post only the second non-1,000-yard rushing season of his career. For a team that is planning to center its offense around a punishing ground game, that may be a concern. More likely, Cleveland will be required to throw the ball a bit more in order to catch up, which is where Harrison should thrive.

Entering the walk year of his contract, Harrison should have the opportunity and the desire necessary to make a sizeable contribution. Because he doesn't fit into the offensive "plan", he probably doesn't qualify as full-time Lewis' handcuff, but that isn't necessarily a bad thing. Why? His role should be consistent - as a back who can give Lewis a rest on first and second down as needed with regular third-down work. For fantasy owners in 12-team leagues, he should already be viewed as a flex or RB3 option in much the same way Washington was last season. For where he is currently going, owners can draft him as their last RB since he is coming off the board as the 62nd best player at his position.
Other late-round players to consider outperforming their ADP: Dustin Keller (12.08; TE is a young QBís best friend, teamís heavy emphasis on run shouldnít significantly hurt a short-to-intermediate threat such as Keller), Justin Gage (11.09; teamís clear #1 WR in an offense that should throw more often this season), David Garrard (11.10; addition of Holt and young talented receivers should complement strong running game and vice versa), Brent Celek (13.10; clear #1 TE in passing offense who showed his wares last postseason)
OVERVALUED
Early Rounds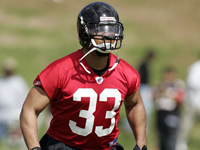 Michael Turner: Cursed?
Michael Turner, RB Falcons
ADP: 1.03
The Case For Turner Being Overvalued: "Curse of 370", tougher schedule, not a dual-threat player as Falcons likely transition from running team to more of a balanced offense
The Case Against Turner Being Overvalued: Incredible size/speed combination, relatively little wear-and-tear, improved supporting cast
Verdict: It is an incredible compliment to a player's athleticism when he is 244 pounds and his nickname is "Burner" - this at a position that has its fair share of people 30 pounds lighter and not nearly as fast. Typically, when a team acquires an all-world TE like Tony Gonzalez to drastically improve its passing game, I would be giddy about selecting this 27-year-old RB with a total of 604 career carries. But, alas, there may be trouble looming in paradise for Turner. First, there is the ever-popular theory of the "curse" of any back who crosses the 370-carry mark in a single season, detailed here. Turner's 376 carries in 2008 put him in 20th place in league history for rushing attempts in a single season and represented a 60% increase over his career carry total entering the season. However, his story is a bit more curious than other high-workload backs before him. Only Jamal Lewis and Jerome Bettis compare favorably in terms of size (each under 6 feet tall; Bettis weighed about 10 pounds more while Lewis was within a couple pounds). What is different is that both Bettis and Lewis gradually worked their way up to their career-high carry total as both backs had at least one 300-carry season earlier in their career. Both backs went on to post a few more fantasy-relevant seasons after THE season, but neither came close to matching it. As far as I can tell, Eric Dickerson is the only back in the aforementioned top 20 to see such an increase in carries (and that was because his first high-workload year was his rookie season). The point to be made here is since there is no roadmap for such a dramatic increase in carries for a big back, Turner could break down in training camp or he could put together three more solid seasons because he is built to take the punishment. After all, he came to Atlanta with a lot of tread still left on his tires after four seasons of part-time duty in San Diego. We can assume, however, that 2008 was probably a career year for the ex-Charger. Take into account that Detroit, St. Louis and Oakland - which accounted for 33% of the rushing yards and 17% of the touchdowns Turner accrued his numbers against - will be replaced by AFC and NFC East teams. At first glance, the only games Turner looks like a solid bet for are two contests against a rebuilding Bucs team and a Week 16 tilt vs. Buffalo, but even those games are far from a given. Perhaps his outlook would be a bit brighter if he were used more in the passing game, but he has only 17 career receptions to his credit and Jerious Norwood figures to get most of the third-down work. For all the reasons I detailed above, I believe Turner is the most likely first-round player to disappoint this season.
Braylon Edwards, WR Browns
ADP: 4.08
The Case For Edwards Being Overvalued: Lack of "other" proven playmaker, highly inconsistent hands and concentration, contract year
The Case Against Edwards Being Overvalued: Great athleticism, big-play ability, two QBs with strong enough arms to get him the ball, unhappy to be in Cleveland?
Verdict: In retrospect, we probably should have seen a dropoff coming from Edwards in 2008. Consider for a second that seven of his 16 TDs came in three games against poor defenses that season (four total TDs in two games vs. the Bengals, three more scores vs. Miami). The schedule got tougher, Joe Jurevicius dealt with problem after problem throughout the 2008 preseason and, let's face it, expecting Kellen Winslow to play a full 16-game slate three years in a row was probably too much to ask. But the precipitous falloff of the Browns' top receiver and his numbers was surprising when one considers he was pegged as a top-five talent at his position. Edwards, who has seemingly fought the football for most of his pro career, led the league with 16 drops last season with a fair number of those gaffes coming at some critical points of the game. Without the sure hands Jurevicius used to provide, Winslow intermittently missing games and a defense that sorely disappointed, Derek Anderson was almost destined to fail. Fast forward to this season, where Edwards is the only key WR remaining in an offense that will try to fashion itself as a punishing power-running team. Rookies figure to be the second- and third-best options in the passing game and the QB situation is fluid at best, meaning there will be precious little time for Edwards to build the all-important offseason chemistry he needs to re-establish himself as one of the best at his position. A bounceback season is always possible for a WR entering the final year of his contract and his career 15.6 YPC is reassuring, but with Winslow gone, teams have little reason not to double-team him and make the Browns prove that Mohamed Massaquoi and Brian Robiskie can beat them. As far as I'm concerned, Edwards should be regarded as a low-end fantasy WR2 in 2009 with very little upside. He may have everything to play for in terms of his contract status and the schedule eases up a bit from 2008, but fantasy playoffs matchups vs. Pittsburgh and Oakland limit his end-of-season appeal. As for the first part of the season, the unsettled QB situation, the lack of another playmaker to "protect" him and renewed emphasis on the run all figure to keep his numbers down.
Other early-round players to consider not living up to their ADP: Matt Forte (1.04; Kevin Jones is one more year removed from ACL surgery and will take more than 34 carries in 2009, the arrival of Jay Cutler will balance the play-calling a bit more), Kevin Smith (3.11; offense switching from zone-based blocking scheme - that Smith is used to - to more of a power-running scheme)
Middle Rounds
Tony Gonzalez, TE Falcons
ADP: 5.03
The Case For Gonzalez Being Overvalued: OC Mike Mularkey's history with TEs, new team with run-based offense, more mouths to feed in Falcons' passing game
The Case Against Gonzalez Being Overvalued: One of the best TEs in NFL history, all-around player with few weaknesses
Verdict: Let me begin by stating that I have admired Gonzalez's talents for some time, even though he always seems to go higher than I'm willing to take him in fantasy drafts. With that said, I suppose it is somewhat ironic that I may pass on him this season at a price that I would be willing to accept in most seasons. Shockingly, it has nothing to do with his age (33). By all accounts, Gonzalez is the best all-around TE most of the younger generation has had the pleasure to watch. But if we are to believe OC Mike Mularkey's recent comments about Gonzo's role in the offense, it is that "all-around" bit of Gonzalez's game that may get him into trouble with fantasy owners this season. For starters, note that Falcons' tight ends combined for 19 catches for 211 yards last season. Naturally, the first argument that almost anyone would present is that Atlanta didn't have anyone better than Justin Peelle to throw to at that position in 2008. Unfortunately, it goes a bit deeper than that. Outside of Randy McMichael in 2006, none of Mularkey's TEs have caught more than 19 passes in a season. As for McMichael's 2006 season, he posted a 62-catch, 640-yard campaign (on 96 targets) in his one year with Mularkey.

While I expect a bit more out of Gonzalez this season than McMichael posted three years ago, the comparison is fair in the sense that 2009 Gonzalez and 2006 McMichael aren't all that much different. Mularkey, a coach that most people still remember as the man who brought the gadget play back into the NFL while he was with the Steelers, cares first and foremost about running the football. If he establishes the run, he then wants to go deep. Perhaps I'm being a bit simplistic with my evaluation of Mularkey, but his resume seems to back it up. While Gonzalez will be used plenty on third down, I get the feeling most owners are grabbing him early in the fifth round with the idea he may come close to matching his 2008 totals, most of which came out of the spread offense. A more realistic projection for him would be a prorated line of the 34-352-2 (catches-yards-TD) line he posted in the seven games before Kansas City pretty much operated out of the shotgun. Is a 75-800-5 campaign BAD for a TE? Not at all. Will owners be able to get similar production from Dallas Clark, Kellen Winslow or Greg Olsen a round or two later? More than likely. The point to be made is not that Gonzo will fall on his face, but rather that his name and resume will inflate his value a bit higher than it should be on Draft Day 2009. Certainly, I am willing to admit I may be wrong about Gonzalez's prospects for the upcoming season, but between Mularkey's history of capping his TEs' production and defenses going back and forth week-to-week doubling Gonzo and Roddy White, it's fair to say that Gonzalez may not be the most consistent producer week in and week out.
Antonio Bryant, WR Bucs
ADP: 5.12
The Case For Bryant Being Overvalued: Up-and-down production over last four seasons (he missed 2007-08), questionable QB situation, the acquisition of Kellen Winslow
The Case Against Bryant Being Overvalued: Athletic 28-year-old WR, nice fit in new offensive scheme, playing for a contract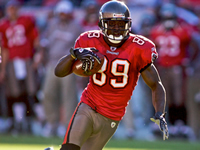 Don't reach for Antonio Bryant .
Verdict: Let it be known that Bryant will always have a small place in my heart (and my wallet) after his nine-catch, 200-yard, two-TD performance vs. Carolina on Monday Night Football in Week 14 delivered me all the way back from a 27-point deficit (in the PPR league I mentioned in the beginning) to a comfortable 14-point victory and, two weeks later, a league championship. So it pains me a bit to suggest that, less than one year later, he will be drafted too high. As fantasy owners, it's easy to get caught up in a receiver coming off a good year and imagine the possibilities of what he may do in a contract year. On the other hand, I believe much more in the situation being ideal and the schedule lining up right for a player to break out or repeat success (unless that player is an elite talent). Despite being known as a coach who favored the passing game, ex-HC Jon Gruden leaned much more on the running game over his final two seasons. Although the emphasis of the run game will not change under the direction of new OC Jeff Jagodzinski, the philosophy and execution of it will.

"Jags" (as he is often called) favors a running game behind a zone-blocking line and a deeper passing game than Gruden did. By itself, Jagodzinski's influence on the offense would actually help Bryant's cause in maintaining his stellar 2008 numbers if not for the presence of Winslow. But Jags has shown his affinity for TEs since the time he helped Bubba Franks put together some of the best years of his career in Green Bay. Combine that with Bryant's inability to sustain his production from season to season and a trio of QBs competing for the starting spot and now owners have a right to be a bit concerned. However, I'm not completely swearing off on Bryant as he will still be the unquestioned #1 WR in this offense. I just have a bad feeling about the prospect of Bryant matching his 2008 numbers with the QB situation up in the air and another primary receiver who just happens to play tight end. Derrick Ward is also going to get his share of receptions and it wouldn't come as a big surprise if rookie Sammie Stroughter also chipped away at Bryant's value. A 60+ catch season is entirely possible, but 83 receptions again may not be. If my projection is accurate, he should be considered as more of a top-end WR3 than a mid-range WR2, thus, his ADP would appear to be a round or two too high.
Other mid-round players to consider not living up to their ADP: Donnie Avery (7.08; probably not quite ready yet to serve as a team's #1 WR), Michael Crabtree (7.07; foot surgery held him back in offseason, a fair number of talented WRs to keep happy in a run-heavy offense), Larry Johnson (5.09; rebuilding team, very difficult schedule, off-field behavior always a bit worrisome)
Later Rounds
Darren Sproles, RB Chargers
ADP: 7.12
The Case For Sproles Being Overvalued: Plays behind LaDainian Tomlinson, size and special teams assignments likely makes him committee back at best with Chargers, contract status
The Case Against Sproles Being Overvalued: Almost impossible to tackle in the open field, dual-threat player, produced last season while LT struggled with injuries, plays in offense that caters to his strengths well
Verdict: As someone who saw Sproles dominate the Big 12 at Kansas State, I was not the least bit surprised by his emergence last season, so it pains me to suggest he may be getting more credit than he deserves, at least for the upcoming season. Granted, he was stuck at third on the depth chart for the first two years of his NFL career as he sat behind one of the best RBs ever to play the game and another runner in Michael Turner who tore up the league in his first season as a feature back in Atlanta. Nevertheless, it has amazed me for some time how play callers choose not to use elite punt returners more often on offense (given their ability to work well in space) in order to create more big plays in the passing game. Sproles was forced into action almost from the start after LT suffered a toe injury in Week 1 and then was severely limited by a groin injury late in the season. But I believe owners are being a bit overzealous in taking a change-of-pace RB like Sproles over players that will get the majority of rushes for their team (Julius Jones) strong reserve RBs like Ahmad Bradshaw, backs that play behind more injury-prone backs than Tomlinson (LeSean McCoy sitting behind Brian Westbrook) or players that have a chance to take the lead role in their committees (Ray Rice).

No one will question that LT is getting to the age where we need to be concerned about a falloff, but anyone who saw him regularly throughout the season could easily see that it was injuries and porous run blocking, not age, that held him back last season. Need proof? As explosive as Sproles is, he was unable to break a run of more than 21 yards until the season finale against Denver, a defense that was truly run-challenged. The point is that unlike many RBs before him, Tomlinson treats his body well and stays in shape, doesn't take unnecessary punishment and plays through injury. Coaches, not unlike fantasy owners, are stubborn in pulling away from the players that help them keep their jobs and Tomlinson is one of those players. HC Norv Turner, to his credit, has already stated his intention to get Tomlinson 320 carries. Ignore this at your own peril, but HC Norv Turner doesn't strike me as the type of coach that will ever willingly adopt a RBBC approach, so the workload split at the end of this season doesn't figure to be much different than the 4:1 ratio of 2008. Tomlinson is said to be completely healthy, something he hasn't been the past two offseasons, by his own volition. Sproles is one of the best in the business at returning kicks and punts, so extending him into regular work on offense doesn't make sense with LT feeling good. And while his franchise tag would seem to warrant more offensive touches, it could easily be argued that the Chargers may attempt to limit his touches in the event they want to re-sign him at a lower cost and let LT go (an idea they tossed around this offseason) to avoid paying LTís $2 M signing bonus in March 2010. Should Sproles be on of the first "handcuff" RBs to be drafted? Is Sproles worth a late seventh-round pick for an LT owner? Yes and yes, if we are talking about a PPR league. But Sproles' production at the end of this season is not likely to exceed last season's, so the fear of him producing on another owner's roster will likely be much greater than his actual production. Remember, the only regular season game Tomlinson has missed in his career was one in which then-HC Marty Schottenheimer sat him down in the final game of the 2004 season, in order to rest him for the playoffs.
Matt Cassel, QB Chiefs
ADP: 9.08
The Case For Cassel Being Overvalued: Loss of Tony Gonzalez, limited options in passing game and offensive line issues, brutal schedule (especially in the first half of the season)
The Case Against Cassel Being Overvalued: Great mobility, Dwayne Bowe, strong play-calling tandem with OC Chan Gailey and HC Todd Haley
Verdict: Some fantasy owners feel it is pointless to use the schedule as an important means to determine how well a player will perform for the upcoming season, rather opting for such factors as good situation and/or supporting cast, right/wrong age and offensive philosophy. While those are certainly key factors (and certainly go into my thinking when I project a player's stats), I am obviously not one of those people, as my belief in my PSA breakdowns will attest. Exhibit A: The 2009 Kansas City Chiefs. Few people will argue that very little is expected out of the Chiefs in 2009. Even less should be expected when an owner sees that six of Kansas City's first seven games are against the Ravens, Chargers and all four NFC East teams, all of which are teams that can get after the quarterback. The lone team that appears to be a softer matchup - Oakland in Week 2 - has the league's best CB who will make life tough for Bowe. The first four games after the bye are no walk in the park either, as road games in Jacksonville and Oakland precede a home game vs. the Steelers and another road game in San Diego. Thus, one could make the argument that Cassel may not be starting material for the first 12 games of the season! Bowe will be worth a mid-round pick as a WR2 because the Chiefs will be forced to throw the ball regularly. A motivated Larry Johnson and healthy Mark Bradley could make the offense watchable but I still want no part of Cassel behind a line whose right side consists of an aging RG Mike Goff and RT Damion McIntosh. If Cassel was sacked 47 times behind the Patriots' o-line while throwing to two Pro Bowl WRs, how many more times should we expect him to get nailed behind an overmatched line with its best receiving weapon in another conference? Gailey and Haley are two fine X-and-O guys, but play designs alone won't make the Chiefs' offense go. As a result of the pounding Cassel will take, there is a very good chance we may see Tyler Thigpen play some significant games again this season.
Other late-round players to consider not living up to their ADP: Darius Heyward-Bey (12.05; injuries, may get beat out by fellow rookie Louis Murphy), Jamaal Charles (12.09; many of the same reasons given above for Larry Johnson plus he is a clear reserve and not a committee back), Willis McGahee (10.05; injuries always a concern, two up-and-comers in Ray Rice and LeíRon McClain)