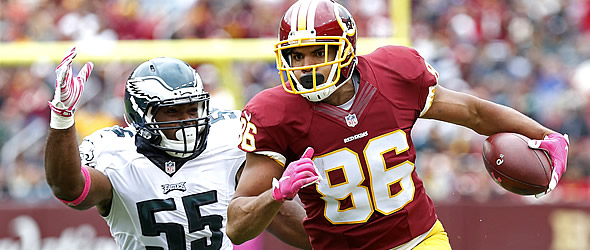 Fantasy owners are wise to Reed's inability to stay on the field but is his stock now in value territory?
QB Alex Smith
(2017 QB Rank - No. 4, 23.2 Fpts/G)
Smith posted a career-best 23.2 fantasy points last season with the Chiefs as the No.4 fantasy quarterback, setting career highs in yards (4,042), passing touchdowns (26) and completions (341). Not only was Smith excellent in short and intermediate throws that he has been known for over his 12-year NFL career, but he also finished as the No.1 downfield passer in adjusted completion percentage according to ProFootballFocus.com.
The Chiefs rewarded Smith for his career-year by trading the veteran to the Washington Redskins for cornerback Kendall Fuller and a 2018 third-round draft pick. Smith replaces Kirk Cousins as the starting quarterback for the Redskins after Cousins left via free agency to join the Minnesota Vikings in a lucrative 3-year, $84 million deal.
From a fantasy perspective, it is difficult to project how Smith will fare in 2018 under Jay Gruden. Andy Reid tailored his offense around Smith with a quick passing offense that built upon Smith's strengths as a cerebral quarterback who often favored tucking and running with the ball instead of forcing the issue in tight coverage, as evident to the fact that Smith never threw more than eight interceptions in a season with Kansas City.
Conversely, Smith's penchant for avoiding risky throws limits his touchdown upside, as the former first overall pick in the 2005 NFL draft has never thrown for more than 26 touchdowns in a season. Smith will not kill you with bad throws and turnovers, but he will not be a week-winning difference maker compared to other quarterbacks going in the late rounds of drafts.
Smith is a safe late-round pick and a nice streaming option for owners who opt to wait on QB until the double-digit rounds in drafts this summer. However, due to the fact that Smith has fewer weapons in Washington and the unknown of how he will do under Jay Gruden, expecting another top-4 performance for Smith may be a far-fetched.
RB Derrius Guice
(2017 RB Rank - N/A)
The ground game under head coach Jay Gruden has been nothing short of atrocious, as the Redskins fielded one 1000-yard rusher since Gruden took the helm of the team in 2014. Robert Kelley flashed some upside in 2015 with 704 yards and six touchdowns in 2014 but failed to stay healthy and lacked the durability required to be a first and second down back in the NFL. Matt Jones failed to secure the starting role primarily due to a fumbling problem and Samaje Perine underwhelmed with a 3.4 yard per carry average as a rookie in 2017.
Not surprisingly, the Redskins addressed their woes at the running back position with the selection of LSU RB Derrius Guice with the 59th pick in the 2018 NFL draft. Guice, a consensus first-round pick who fell to the second round based on vague off-field issues, rushed for 3074 yards and 29 touchdowns in three seasons with the Tigers. His gaudy 6.5 career yards-per-carry average was higher than fellow LSU starter Leonard Fournette, and he lacked the injury concerns that plagued Fournette in his time at Death Valley.
Guice enters 2018 as the likely first and second down starting running back for Gruden and the Redskins, with 225 touches and goal line work well within reach. Assuming he can return to form after a gruesome leg injury, third down and passing game specialist Chris Thompson will eat into Guice's value in the receiving game.
Ball security is often an issue for Jay Gruden running backs, as former promising running backs like Matt Jones and Silas Redd failed to earn the trust of the Washington coaching staff because of fumbling issues. Although Guice did not have what would be called a fumbling problem at LSU, his fumbling rate of one fumble per 100.6 touches placed him in the middle of the pack compared to other 2018 rookies (Saquon Barkley fumbled once every 193 touches). If Guice can protect the ball and average a respectable 4.0 yards per carry, he will likely finish as a top 20 fantasy running back in 2018.
RB Chris Thompson
(2017 RB Rank - No.12, 11.6 Fpts/G)
A gruesome broken right fibula Week 12 prematurely ended Thompson's 2017 season, cutting short an impressive career year for the former Florida State Seminole. Despite missing six games, Thompson set career marks for receiving yards and touchdowns (510, 4), while averaging an impressive 11.6 fantasy points per game based on FF Today Default Scoring. Not only was Thompson skilled as the third/passing down back for Jay Gruden, he also earned more first and second down touches in the Redskin offense due to the injuries and ineffective running by Rob Kelley and Samaje Perine.
With the Redskins using their second-round pick in the 2018 NFL draft to select Derrius Guice, the path for touches from Thompson will likely be limited to passing and third down work. Guice is a talented runner, but he has a way to go with regards to pass protection and catching the ball out of the backfield.
Despite having a set role with limited upside rushing the ball and questions surrounding his ability to return to form after the broken leg, Thompson will have flex value in PPR leagues with the upside of more work should Guice suffer rookie struggles.
WR Jamison Crowder
(2017 WR Rank - No. 44, 6.7 Fpts/G)
A favorite 2017 breakout candidate by many analysts and writers in the fantasy community, Jamison Crowder failed to improve on his 2016 campaign in which the former Duke Blue Devil caught 67 balls for 847 yards and seven touchdowns. The narrative of Crowder benefitting from an increase in targets due to Pierre Garcon and DeSean Jackson leaving did not materialize to the level projected by Crowder apologists, and Crowder's touchdown and yard-per-reception average went down.
Owners who made the unfortunate selection of Crowder in the fifth or sixth rounds in drafts last no doubt were burned by Crowder not living up to the draft price as the No.29 ranked WR according to 2017 ADP data. After finishing last season outside of WR territory as the No. 44 wide receiver behind fantasy stalwarts like Jermaine Kearse and Mohamed Sanu, Crowder has fallen down drafts and can be selected as late as the 10th round in most 12-team formats.
The devaluation of Crowder based on last year's disappointing performance has made the slot receiver a value in 2018 when you consider the fact that Alex Smith loves to target short and intermediate routes in the passing tree while avoiding risky throws. According to NFL Next Gen Stats, Smith ranked 20th in average completed pass yards (6.3 yards per pass), and Smith was the second lowest out of all qualified quarterbacks in throwing into aggressive and tight windows. When you consider that Crowder ranked eighth among all wide receivers in separation yards last season (3.2 average yards of separation), it is likely that Smith will lean heavily on Crowder in 2018.
WR Paul Richardson
(2017 WR Rank - No.45, 6.6 Fpts/G)
Richardson parlayed a career-best 80 catches for 703 yards and six touchdowns with the Seahawks into an eye-opening 5-year, $40 million contract with the Redskins, including $12.5 million guaranteed. Although Richardson is a talented receiver with a collection of circus catches from his four seasons with Seattle, his signing with Washington was a head scratcher based on the fact that the former Colorado Buffalo has 93 career catches and eight touchdowns in the NFL and looks to be the third receiving option for the Redskins behind Jordan Reed and Jamison Crowder.
As the likely No.3 wide receiver in a Washington passing game that will also look to heavily incorporate tight end Jordan Reed and receiving back Chris Thompson, Richardson will likely be a touchdown-dependent streaming option in only deep leagues.
WR Josh Doctson
(2017 WR Rank - No.59, 5.7 Fpts/G)
A former first-round selection in the 2016 NFL draft, Josh Doctson has yet to live up to the abilities that made him one of the most highly touted wide receivers in his class. At 6'2", Doctson excelled in college at TCU as an aggressive jump ball wide receiver skilled at making contested catches. After an injury-riddled rookie season that included just two catches for 66 yards, Doctson played in 15 games last year, posting 35 catches for 502 yards and six touchdowns.
Although currently listed as the No.1 wide receiver on our Washington Redskins depth chart, Doctson will likely be a touchdown-dependent outside wide receiver once again in 2018, with Jamison Crowder and Jordan Reed leading the team in targets.
The addition of Alex Smith under presents positives and negatives for a big play WR like Doctson, as Smith was the highest rated deep thrower last season according to ProFootballFocus. Yet on the downside, only C.J. Beathard of the 49ers threw fewer balls into aggressive widows than Smith last season, bringing into question whether or not Smith will throw many contested balls to Doctson.
TE Jordan Reed
(2017 TE Rank - No.30, 4.2 Fpts/G)
Reed's injury history looks more like a college dissertation than an injury report, with numerous ailments to his feet, legs, and brain over his six-year career. When healthy, Reed is without a doubt one of the best pass-catching high ends in the league and should be grouped in the second tier below Gronk, with Travis Kelce and Zach Ertz. Yet his inability to stay healthy (Reed has never played in more than 14 games in any season) has made him a risky draft pick over the previous few seasons as a mid-round selection.
As a fourth or fifth round selection in past years, the risk associated with Reed was not baked into his ADP and owners who drafted the former Florida Gator were often burned, as forging the ability to draft a No.2 RB or wide receiver instead of Reed was a significant opportunity cost. But with an 8th or 9th round ADP in 2018, the risk of drafting Reed is included in his draft cost, making Reed worth the risk all formats.