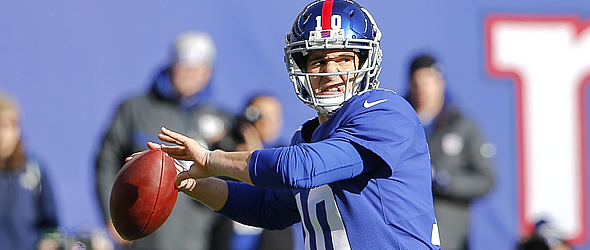 With studs at all three skill positions shouldn't' the fantasy community be higher on Eli?
QB Eli Manning
(2017 QB Rank - No.29, 17.2 FPts/G)
To say the 2017 New York Football Giants were a dumpster fire would be a gross understatement, as the G-men finished 31st in total offense and 28th overall in total defense. The team was a train wreck from the onset of the season, with Odell Beckham Jr. suffering a season-ending leg injury, and a Paul Perkins-led ground game failing to produce any semblance of a running game behind the 26th-ranked offensive line (according to Pro Football Focus).
A 3-13 record culminated with the bizarre benching and subsequent reinstatement of franchise quarterback Eli Manning in Week 13, and the eventual dismissal of head coach Ben McAdoo. Lost in all the off-field drama was the fact that Manning, despite losing arguably the best wide receiver in the league and garnering no help from a piss-poor rushing attack, finished with a completion percentage of 62%, while throwing the second-fewest interceptions of his 14-year career.
Although the quarterback position in 2018 is by far the deepest it has ever been, with at least 14 serviceable fantasy quarterbacks available in the draft, Manning will likely go undrafted in most redraft leagues this summer. Recency bias is something that affects many owners and the ability to look past last year's debacle is not an easy task. However, with the addition of left tackle Nate Solder and guard Will Hernandez, the Giants made great strides improving the offensive line for both pass protection and run blocking.
In addition, the addition of superstar prospect Saquon Barkley and the return of a healthy Beckham will give Manning more than enough weapons to dissect opposing defenses and improve on last year's finish as the No. 31 scoring offense. Manning is the only quarterback in the NFL who boasts a top-5 fantasy WR, top-12 RB, and top-5 TE. If fantasy owners believe that Beckham Jr, Barkley, and Evan Engram will live up to their ADP, then Manning is grossly undervalued and could be a top-12 QB that will go undrafted in most formats.
RB Saquon Barkley
(2017 RB Rank – N/A)
The success of rookie running backs Ezekiel Elliott, Alvin Kamara, Dalvin Cook, Kareem Hunt, and Leonard Fournette over the past two seasons has challenged the old narrative that first-year players cannot be stud running backs right out of the chute. Kamara, Hunt, Fournette, and Cook all finished as RB1's last season regarding points per game, while Elliott followed up his impressive rookie campaign in 2016 with a second-place finish last year.
After setting the college football world on fire last season and turning heads at the combine, Saquon Barkley became the first running back since Reggie Bush to be taken second overall in the draft. Barkley joins an excellent situation in New York on a team with an improved offensive line and a passing game that will not allow opposing defenses to sell out on the run.
With volume and opportunity being king in fantasy football, Barkley will be heavily used in both the rushing and ground game, making him a first-round pick in all formats with the upside as a top-5 RB in 2018.
WR Odell Beckham Jr.
(2017 WR Rank – No.3, 12.3 FPts/G)
Beckham Jr. suffered a pedal ankle fracture in Week 5 against the Los Angeles Chargers, forcing the former 2014 first-round pick from LSU to miss the remainder of the 2017 season. Before suffering the injury, Beckham Jr. was on pace to deliver nearly identical numbers from his 2016 campaign in which he finished with 101 catches for 1367 yards and ten touchdowns as the No. 5 ranked wide receiver.
At just 25 years of age, there is little evidence to suggest that Beckham Jr. will not fully recover from his injury and regain his record-setting form from the first three seasons of his career. The addition of second-overall pick Saquon Barkley should give an otherwise anemic rushing attack a much-needed boost that could equate to more success in the passing game. Also, the Giants made great strides in improving their offensive line with the addition of free agent left tackle Nate Solder from New England, and the selection of guard Will Hernadez with the 34th pick in the 2018 NFL draft.
Doubts surrounding Beckham Jr.'s ability to recover from injury fully and contract dispute will likely push the star receiver to the back end of the first round in most redraft leagues. Although those concerns have some validity, the improvements to the Giants offense and the fact that Beckham Jr. has never finished outside the top-5 in WR make him arguably the best value in the first round.
WR Sterling Shepard
(2017 WR Rank – No.33, 7.8 FPts/G)
Injuries played a massive role in a sophomore slump for wide receiver Sterling Shepard, as multiple ankle sprains, a hamstring pull, and migraines held the former second-round pick from Oklahoma to just 11 games in 2017. In those 11 games, Sheppard was a boom or bust fantasy option, with three games of at least 14 fantasy points sandwiched between seven games of six or fewer.
The season-ending injury to Odell Beckham Jr. did not equate to a monster season for Shepard, as teams focused their defensive strategy on stopping the second-year player and the Eric Flowers-led Giants offensive line was downright atrocious.
With ODB back and healthy and the Giants front office addressing their offensive woes in both free agency and the draft, the New York offense looks primed to make great strides in 2018. The question is will Shepard, arguably the No.4 receiving option behind Beckham, Evan Engram, and Saquon Barkley, get enough volume to make him a viable No.3 wide receiver in fantasy football?
There is little doubt that Beckham will be among the leaders in targets at the wide receiver position, and Engram trailed only Travis Kelce in targets among tight ends. In addition, Barkley is an accomplished pass-catching running back who will be featured in the passing game under new head coach Pat Shurmur. For Shepard to have significant fantasy value in 2018, he will need to be a viable touchdown scoring threat like he was when he caught eight TDs as a rookie in 2016.
TE Evan Ingram
(2017 TE Rank – No.4, 7.3 FPts/G)
The Giants used the No. 23 pick in the 2017 NFL draft to take Evan Ingram, a pass-catching tight end out of Mississippi who projected to be more of a big-bodied wide receiver than a traditional tight end. Injuries to Odell Beckham Jr. and Sterling Shepard opened the door for Engram to make his mark quickly with the Giants, as the former Rebel led the team in catches, targets, and receiving touchdowns.
As one would expect from a young player playing in his first season, not all was rosy for Ingram, who managed to catch just 56% of the balls thrown his way. Engram dropped a team-high six balls last season, as he failed at times to be on the same page with Eli Manning.
Despite his shortcomings, Engram finished the year as the No.4 tight end in fantasy points per game, behind Rob Gronkowski, Travis Kelce, and Zach Ertz. With tight end projecting to be one of the more shallow positions in fantasy for 2018, Engram enters the year as a consensus top-5 pick even though both Beckham Jr. and Shepard are once again healthy and will consume a large percentage of Eli Manning's targets.
Concerning pecking order, it is safe to assume that ODB will command the lion's share of targets in the passing option, and rookie running back sensation Saquon Barkley will garner his fair share of targets out of the backfield. With targets a being a finite commodity, it would not be surprising to see Engram not reach the 115 targets he enjoyed in 2017. However, if he can improve on his low catch percentage, reduce the number of drops, and catch between six and ten touchdowns, look for Engram to once again finish as a top 5 tight end.