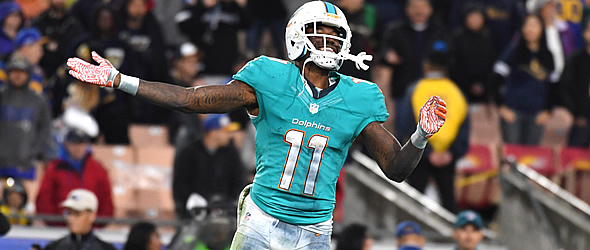 The fantasy season is kicking into gear which means the DeVante Parker hype train is up and rolling.
QB Ryan Tannehill
(2017 QB Rank - N/A)
Instead of opting for surgery after injuring his knee against Arizona in Week 14 of the 2016 season, Tannehill decided to rest and rehab his ailing knee. That decision proved to be costly, as the former first-round pick out of Texas A&M blew out his knee again in a training camp scrimmage, causing him to miss all of 2017 and the Dolphins finished with a disappointing 6-10 record.
Prior to the initial injury against the Cardinals in 2016, Tannehill and the Miami offense looked to be clicking in the final quarter of the season. Tannehill completed 71% of his passes from Weeks 10 through 14, while throwing for at least two touchdowns in four of his final five games.
With quarterback being as deep of a position as any in fantasy football in 2018, Tannehill's lack of top-5 upside will likely make him a mid-range QB2 and a player that will go undrafted in most formats. Despite this fact, he does have streaming appeal for those opting to wait on the position, especially in home games against the Raiders, Jets, and Bills.
RB Kenyan Drake
(2017 RB Rank – No.38, 8.0 FPts/G)
Drake proved to be a productive fantasy asset in the playoff run last season with double-digit performances from Weeks 12 through 15, including a 23-carry for 120 yards and one touchdown performance against the Broncos Week 13. When given the opportunity to be the bell-cow running back for head coach Adam Gase, Drake responded well with a 4.8 yard per carry average in his final five games.
Despite his solid performance, Gase and the Dolphins front office opted to bring in veteran Frank Gore via free agency and rookie Kalen Ballage to compete with Drake for carries. At 6'1", 210 pounds, Drake is on the smaller size compared to other three-down backs, but according to PlayerProfiler.com, his breakaway run rate, yards per touch, and juke rate all rank in the top ten among qualified RBs from last season.
It appears reasonably clear that owners expecting Drake to be an every-down back to start the season will be hugely disappointed, as the Dolphins coaching staff did not bring in a veteran like Gore to not use him, and Ballage's talent will earn him carries and receptions as well. But that does not mean Drake will not have value this season on a team that could be a sneaky source for fantasy production in 2018.
RB Frank Gore
(2017 WR Rank – No.26, 9.1 FPts/G)
It may surprise some fantasy owners to learn that 35-year-old Frank Gore averaged more fantasy points per game in standard scoring that Kenyon Drake last season. With 9.1 points per game and seven double-digit performances out of 16 games, Gore finished the year just outside of RB2 consideration in 12-team formats. Not too shabby for a running back with 3226 carries on his legs over ten seasons of bruising work as an NFL tailback. One of the reasons why Gore was successful was the fact that he received the ninth-most carries of any player in the NFL, giving him a volume advantage over most other backs in 2017. With Drake and rookie Kalen Ballage in the mix, that volume advantage does not appear to be in line for the former Miami Hurricane, making Gore a flex option at best in most formats.
RB Kalen Ballage
(2017 RB Rank - N/A)
At 6'2", 230 pounds, Kalen Ballage is a physical freak who rushed for 20 touchdowns in his final two seasons with the Arizona State Sun Devils. Enticed by a size and speed mixture not often found in a 230-pound running back, the Dolphins drafted Ballage in the fourth round of the NFL draft. While his size and power make him an attractive sleeper to compete in a backfield with Kenyon Drake and Frank Gore, his inconsistent play at Arizona and the fact that he never rushed for more than 700 yards in a season are red flags. For now, Ballage is third in the pecking order for opportunities but does have some late-round flier appeal in 12-team redraft leagues.
WR DeVante Parker
(2017 WR Rank – No.62, 5.6 FPts/G)
The hype machine that is the Miami Dolphins beat writer arena of the Twitterverse created a monster last season that burned fantasy owners that drank the kool-aide on DeVante Parker. At 6'3", 210-pounds, the former first-round selection from Louisville has the size and talent to be a stud wide receiver in the NFL, and nearly everyone pegged Parker as a breakout candidate as a third-year wide receiver last season.
Instead of breaking out, Parker delivered his worst season as a pro, setting career lows in catch percentage, touchdowns, and yards per reception, to go along with a putrid 5.6 FPts/G average. As a player drafted before the seventh round in most drafts last season, Parker didn't live up to the hype and proved to be a title-killing mistake for those poor souls who drafted him in the middle rounds.
Now that Jarvis Landry signed a lucrative free-agent deal to join the Browns, the hype train on Parker is once again starting to build up steam. With Landry's 161 targets from the previous season up for grabs and the oft-injured Danny Amendola likely to take only a fraction, Parker could be primed for that breakout season that did not materialize in 2017. The most positive aspect of Parker in 2018 is that investing in the former first-round pick will not cost quite as much draft capital as last season, making Parker worth the gamble by owners looking for an upside pick in the ninth or tenth round of 12-team leagues.
WR Kenny Stills
(2017 WR Rank – No.31, 7.5 FPts/G)
For two consecutive seasons Kenny Stills was drafted outside the range of No.3 WR in all formats, only to finish as a viable No.3 WR with No.2 WR upside. As owners continued to view DeVante Parker as the wide receiver to own opposite of Jarvis Landry, Stills quietly scored more touchdowns than Landry, while posting more catches and more yards than Parker.
As a somewhat boring player who lacks the flashiness that Parker possesses, Stills once again is getting drafted outside the top 36 at his position despite the fact that Parker has been a bust up to this point and Landry and his 161 targets moved on to Cleveland. Most people assume that Parker, free agent veteran Danny Amendola, and rookie tight end Mike Gesiki will be the primary beneficiary of the open targets in the Miami passing game. While all three players will undoubtedly benefit with more volume, even a small increase of one extra target per game by Stills based on his 2017 stats would give him an impressive 71/1042/8 line. He'll more than likely be undervalued in your fantasy draft.
WR Danny Amendola
(2017 WR Rank – No.65, 5.2 FPts/G)
The Dolphins signed veteran wide receiver Danny Amendola to a two-year, $12 million contract over the offseason to help fill the void in the slot left by Jarvis Landry. Because Amendola managed to play in only one full 16-game schedule in his nine-year NFL career, the Dolphins made a bold move by offering $6 million guaranteed to a 32-year-old veteran.
There is no doubting Amendola's talent, as the shifty slot receiver proved to be an excellent weapon for Tom Brady and the Patriots over past five seasons. But from a fantasy perspective, Amendola has never posted more than 700 yards or four touchdowns in a season, and his injury report reads more like a college dissertation than a player blurb.
Despite the usage, age, and injury negatives working against Amendola, owners in deep PPR formats may want to consider using him as a flex option. Just don't make the mistake of counting on him as a starter, as history has proven that 16-games is not likely in the cards for the diminutive WR.
TE Mike Gesicki
(2017 TE Rank - NA)
The Dolphins signed veteran Julius Thomas to be the athletic pass-catching tight end that Adam Gase loves to feature in his offense. Instead of returning to the form that made him a fantasy stud in Denver with Peyton Manning, Thomas turned out to be out of shape and over the hill and proved to be a disaster signing.
To fill a need at the tight end position, the Phins used the 42nd pick of the 2018 NFL draft to select Gesicki from Penn State University. At 6'6" and 250 pounds, Gesicki has the prototypical size and athleticism needed to succeed in the league. He also boasts above average hands and the ability to make circus style, leaping grabs and will give Ryan Tannehill a much needed red zone target. He's got an opportunity to be in the starting lineup Week 1, making him a viable TE2 streamer.