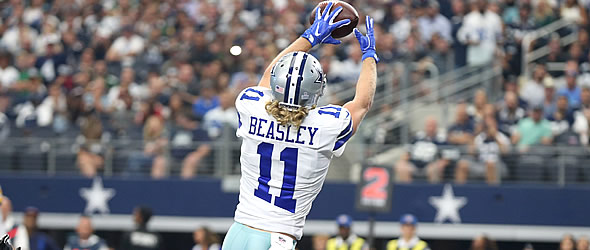 Finding relevant wide receivers in the Dallas offense may prove to be a challenge for fantasy owners.
QB Dak Prescott
(2017 QB Rank - 14, 20.4 FPts/G)
The 2017 season for the Dallas Cowboys was marred by off-field issues with running back Ezekiel Elliott and internal strife between former star receiver Dez Bryant and the coaching staff. Through all of the ups and downs of the turbulent season, second-year quarterback Dak Prescott managed to finish as the 14th ranked quarterback in points per game for the second consecutive season.
Although his end totals mirrored his rookie season in terms of total fantasy points, Prescott did not look like the same confident quarterback from the previous season. His 62.9 % completion percentage was nearly five percentage points lower than in 2016; he threw for 300 fewer yards while throwing seven more interceptions.
After a strong start to the season that included three weeks of three or more passing touchdowns against the Rams, Packers, and 49ers from Week 4 through Week 7, Prescott failed to throw a passing TD in six of his final ten games.
The Cowboys completely revamped their passing weapons entering the 2018 season, with Bryant leaving the team as a cap casualty and tight end Jason Witten retiring to join the Monday Night Football booth on ESPN. Prescott will need to quickly build a rapport with veteran WR signee Allen Hurns and rookie Michael Gallup, and one of the many tight ends on the Dallas roster will need to pick up the slack from Witten's abrupt departure. Although Prescott does not have attractive weapons on paper, the absence of Bryant could make the Dallas passing game more efficient, as Prescott will no longer need to worry about appeasing a prima donna wide receiver who is past his prime. Assuming Prescott will continue his recent streak of logging at least five rushing touchdowns and he can reach at least 20 passing touchdowns, another 14th-place finish is well within reach.
RB Ezekiel Elliott
(2017 RB Rank - 2, 12.0 FPts/G)
A sophomore slump and six-game suspension could not keep Ezekiel Elliott from finishing the season as the second-ranked running back in fantasy points per game. The former Ohio State University star posted 1252 total yards and nine touchdowns in just ten games of action, highlighted by a three-touchdown performance Week 7 against the 49ers.
With no pending suspension in sight (that we know of) and the Cowboys releasing Dez Bryant and presumably refocusing on the running game, Elliott is a lock for well over 300 total touches and double-digit touchdowns, making him one of the safest picks of the first round.
The narrative of defenses stacking the box against the run now that Bryant is no longer on the team is a favorite argument against Elliott in the fantasy community. But the reality is defenses did not fear Dez on the outside last season, and Elliott was a dominant force yet again for fantasy owners. Barring injury or suspension, Elliott's elite volume, commitment to the run by the Cowboys, and the vaunted Dallas offensive line will all but ensure another top 5 finish for Zeke.

WR Allen Hurns
(2017 WR Rank - 53, 6.0 FPts/G)
A breakout 2015 season in which Hurns caught 64 balls for 1030 yards and 10 touchdowns earned the former Miami Hurricane a lucrative 4-year, $40 million contract extension from the Jacksonville Jaguars. After two injury-riddled seasons and just five touchdowns in his next 21 games, the Jags cut bait on Hurns in favor of signing Marqise Lee to a long-term deal.
Hurns quickly signed a two-year, $12 million deal with the Cowboys over the offseason and looks primed to be the No.1 wide receiver in the Scott Linehan offense opposite Terrance Williams. The Cowboys also signed Deonte Thompson from Buffalo and added rookie Michael Gallup in the draft to challenge Hurns for the starting role for the departed Dez Bryant.
The Cowboys will continue to be a run-first offense centered around Ezekiel Elliott and the vaunted and expensive Dallas offensive line, making it difficult for any of the wide receivers to have a monster season for fantasy purposes. However, if Hurns does secure the starting Z receiver position and receives at least 100 targets, he could be a viable No.3 WR in 12-team leagues.
WR Michael Gallup
(2017 WR Rank - NA)
A former junior college transfer who played his final two years of eligibility at Colorado State University, Gallup impressed in his short time in Fort Collins with 176 catches for 2690 yards and 21 touchdowns over 26 games. Gallup averaged just over 15 yards per reception while using his 6'1", 205-pound frame to battle for contested balls.
Although his combine results did not turn any heads (4.51 40-yard dash, 36-inch vertical, & 10 reps on the bench press), the Cowboys used a third-round pick on Gallup to help replace Dez Bryant.
When asked about how much Gallup will contribute as a rookie, Dallas Cowboy owner and president Jerry Jones said the former Ram would have an immediate role. How significant that role has yet to be determined, and veteran Allen Hurns will likely get the first crack at the starting wide receiver opposite of Terrance Williams. However, Gallup's upside makes him an attractive post-10th round pick in all formats.
WR Cole Beasley
(2017 WR Rank - 81, 3.1 FPts/G)
After setting career-highs in targets, catches, yards, and touchdowns in 2016, Beasley went from an emerging PPR value back down to fantasy obscurity in 2017. Aside from two somewhat fluky multi-touchdown games against the Packers in Week 5 and the Chiefs in Week 9, Beasley failed to score more than three fantasy points in 13 of his 15 games.
The loss of Dez Bryant and Jason Witten may open the door once again for Beasley to have value in deeper PPR formats, as there are 219 targets up for grabs based on last year's passing volume of Dak Prescott. The Cowboys brought in veterans Allen Hurns and Deonte Thompson via free agency and drafted Michael Gallup in the third round of the NFL draft to help bolster the passing game. Despite the new faces, it is not out of the realm of possibility that Beasley and Prescott's rapport over the past two seasons will result in the diminutive slot receiver returning to the 98 targets that made him fantasy relevant in 2016.
TE Rico Gathers
(2017 TE Rank - NA)
For 15 years, Jason Witten was a foundation of the Dallas Cowboys offense as a rock at the tight end position. That changed this offseason with the abrupt announcement that Witten opted to retire from the NFL in favor of a lucrative color commentator opening on ESPN's Monday Night Football.
Witten's announcement caused a bit of a firestorm in Dallas as owner and president Jerry Jones and the Cowboy front office scrambled to deal with a position that required very little attention over the past 15 seasons. The Cowboy brain trust used a third-round pick on Dalton Schultz in the 2018 draft, and signed undrafted free agent David Wells, joining a stable of Geoff Swaim, Blake Jarwin, and former 2016 selection Rico Gathers.
Gathers, a former basketball player at Baylor who has limited experience playing football, is an athletic freak in the mold of Jimmy Graham and Antonio Gates. At 6-6, gathers has the size and athleticism to create mismatches for linebackers, but he has yet to play in a regular season game.