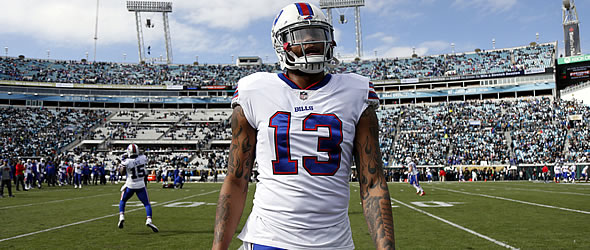 Benjamin as a WR3: Most of skill position players in Buffalo don't inspire a lot of fantasy confidence.
QB AJ McCarron
(2017 QB Rank - No.62, 1.7 FPts/G)
Former Cincinnati Bengal AJ McCarron signed a two-year, $10 million contract with the Bills over the offseason with the hope of becoming the long-term solution at quarterback for Buffalo. That plan quickly dissipated for the former fifth-round section in the 2014 NFL draft when general manager Brandon Beane used the seventh pick in the 2018 draft to select Josh Allen from the University of Wyoming.
With McCarron presumably a placeholder until Allen is deemed ready to assume the starting role, there is no reason to draft McCarron in any format outside of deep two-quarterback leagues. In the event that Allen struggles and McCarron is the starter for the majority of the season, his value is still well outside the top-24 based on the fact that the Bills boast one of the least attractive wide receiving corps in the league, and three of the five starting offensive linemen from last year are no longer on the team.
RB LeSean McCoy
(2017 RB Rank - No.10, 12.9 FPts/G)
McCoy enters his age-30 season with numerous red flags both on and off the field. The nine-year veteran posted a career-low 4.0 yards per carry average in 2017, with just six rushing touchdowns on 287 carries. Although he managed to end the season as a top-10 RB, his 12.9 fantasy points per game were somewhat underwhelming when you consider the fact that he garnered 346 touches.
In addition to a decline in efficiency on the field, McCoy was accused of domestic violence via social media by the friend of a former girlfriend. McCoy vehemently declined the accusations, but the NFL has stated they are investigating the incident and a suspension could be forthcoming.
The departure of Tyrod Taylor and three of the five starting offensive linemen from last season will likely pose an adverse effect on McCoy in 2018, as the rushing ability at the quarterback position by Taylor helped open rushing lanes for McCoy and former guard Richie Incognito is one of the better run-blocking guards in the NFL.
With multiple negative factors surrounding McCoy in 2018, he is a risky selection as a late second or early third round pick. However, the sheer volume McCoy could receive out the backfield could make him a steal for a risk-tolerant owner willing to roll the dice.
RB Chris Ivory
(2017 RB Rank - No.78, 2.9 FPts/G)
Ivory signed a two-year $5.5 million deal with the Bills over the offseason after two uneventful seasons with the Jaguars. The former Jet and Saint averaged a paltry 3.6 yards per carry in limited action with Jacksonville and became expendable when the Jags drafted Leonard Fournette last season.
At age 30, Ivory is clearly past his prime and was brought in by Buffalo to be the backup running back behind LeSean McCoy. An aging backup for another aging running back on a bad team is not an attractive target in any fantasy draft format. However, should McCoy miss time or get released for his pending domestic violence accusations and Ivory receives 200-plus touches, he would enter the discussion as a low-end No.2 or flex in 12-team leagues.

WR Kelvin Benjamin
(2017 WR Rank – No.50, 4.4 FP/G)
The former first-round pick in the 2014 NFL draft out of Florida State delivered an uninspired first season with Buffalo after getting traded from Carolina. Benjamin caught 48 balls for 692 yards and three touchdowns in 14 games with Buffalo as the No.1 receiving option for then quarterback Tyrod Taylor.
Benjamin projects to be the No.1 receiver once again for Buffalo in 2018, however, Taylor has been replaced by either AJ McCarron or rookie Josh Allen, and the Bills lost three of five starting offensive linemen from the previous year.
At 6-5, 245 pounds, Benjamin has the build of a tight end and not a wide receiver, and the former Seminole's lack of speed is a detriment for a wide receiver going against the No.1 cornerback on opposing defenses. Although his large frame hurts him in creating separation off the line and on downfield routes, his 6-5 frame and above average leaping ability makes him an excellent red zone target for whoever starts at quarterback for the Bills.
With a sub-par career catch rate of 57%, Benjamin will need a premium number of targets to garner consideration as a viable No.3 WR. Although the Bills project to be a lousy team on the defensive side of the ball and will likely be chasing points with second-half deficits, Benjamin will probably be relegated to low-end No.3 WR or flex play consideration.
WR Zay Jones
(2017 WR Rank – No.108, 2.4)
The only thing more disappointing than Zay Jones' 27 catch, 316-yard rookie season was his offseason behavior that culminated in a bizarre domestic violence & alleged attempted suicide episode. The former second-round pick out of East Carolina was arrested in downtown Los Angeles after a naked struggle involving his brother - a bizarre incident that was plastered on TMZ and social media.
Jones also underwent knee surgery and will miss spring and summer training sessions with the team. At this point in his career, Jones needs to address any mental and personal issues before focusing on football, and fantasy football players should look elsewhere until the promising young athlete delivers on his talent on the field.
TE Charles Clay
(2017 TE Rank - No.19, 3.8 FPts/G)
Although Clay managed to play in only 13 games last season and delivered his worst point per game average in three seasons with the Bills, the veteran tight end may lead all Buffalo receivers in receptions in 2018 and could be the only Bill worth owning besides Kelvin Benjamin.
The loss of three starting tight ends and the uncertainty at the quarterback position with AJ McCarron and Josh Allen vying for the starting role hurts the value of all skill position players in Buffalo. However, young quarterbacks looking to gain confidence and acclimate to the speed of the NFL often lean on sure-handed veteran tight ends. For this reason, Clay might be a sneaky No.2 tight end with the ability to finish as a No.1 TE by the end of the year.