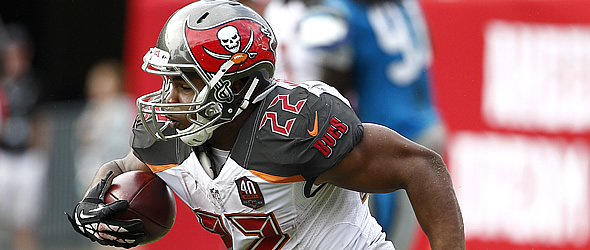 Martin will be cheap in fantasy drafts but will need Lynch to falter in order to reach fantasy relevance.


The quintessential fantasy football Dr. Jekyll and Mr. Hyde over his first four years in the NFL, Doug Martin confused many a fantasy owner with two sub-500 yard performances sandwiched between two seasons as a top-three fantasy running back. But after averaging 2.9 yards per carry in his final two disappointing seasons with the Bucs, perhaps the real Doug Martin has emerged as he looks to revive his floundering career in 2018.

After fleecing Mark Davis and the Raiders for a ridiculous 10-year, $100 million contract this offseason, Jon Gruden is once again a head coach in the NFL after taking a hiatus in the Monday Night Football booth on ESPN. Gruden is a throwback to another era of run-first, ground and pound football, and has gone on record stating that the analytic revolution is not for him. It doesn't mean that Gruden will not throw the ball with quarterback Derek Carr, and wide receivers Jordy Nelson (it will be odd seining him in silver and black) and Amari Cooper, but he will lean heavily on the ground game with a stable full of running backs at his disposal.

Although there will be more than a few carries to be distributed in the Oakland backfield, Martin will compete with fellow veteran and incumbent starter Marshawn Lynch for early-down carries, and young, versatile backs DeAndre Washington and Jalen Richard in the passing game. At age 31, Lynch garnered 207 of the team total 370 carries, posting 891 yards and seven rushing touchdowns. Richard and Washington combined for just 428 rushing yards, 453 receiving yards, and five total touchdowns.

At this point in the season, we have no idea how Chucky and offensive coordinator Greg Olson will use their collection of backs. We also do not know if all four backs will be on the active roster when they open the 2018 regular season. One thing we do know is that Martin possesses the skill set to have a significant fantasy impact as evident by his 2012 and 2015 seasons, making him a worth-while flyer later in fantasy drafts as a stash and see.

A path to fantasy relevance could be in the receiving game, as Martin flashed an ability to catch 49 passes for nearly 500 yards in his first season after getting selected as a first-round pick out of Boise State. Although he has managed just 23 receptions for 116 yards since 2015, that skill set could help him jump Richard and Washington as the primary receiving back.

Fantasy owners who drafted Martin in 2013 and 2016 know full well of the pain that comes with using a high pick on a player who is a volatile fantasy asset. There is nothing more frustrating than using substantial draft capital on a player who burns your roster with a sub-three yard-per-carry average and off-field issues.

Fortunately, Martin will require very little draft equity this summer and is an attractive wait and see player to stash on your bench. If he continues his recent trend of mediocre play and is apparently not worthy of a bench spot, he can be easily dropped with little recourse. If Lynch gets hurt or does not perform, Martin could be a late round steal and a viable low-end No.2 running back with a ton of upside.