Adding a RB to your stack isn't always the best strategy but there are always exceptions to the rule.


With Week 1 in the books and the advantage of using early season player valuations no longer in play, fantasy owners in large GPP tournaments will need to incorporate other strategies to build a winning roster.

One strategy to consider is the concept of stacking, which simply put means using multiple players on solid offenses that have advantageous match ups against poor or underperforming teams.

This concept tends to work well in large tournaments where owners are looking for home run shots who can deliver breakout performances instead of consistent, non-volatile players that owners in head-to-head contests are more likely to target. After all, when you are facing off against tens of thousands of other entries, you need to aim for the stars and not worry about beating just one opponent.

Pairing a quarterback and wide receiver is the most common and widely used method of stacking, as logic would tell you that if the wide receiver scores a passing touchdown the quarterback will also receive points.

Choosing the running back and quarterback on the same team has more risk in the fact that a rushing touchdown does not provide the double-dip effect like a passing TD, and a rushing TD means a missed opportunity for the quarterback.

But in certain circumstances, having the quarterback, running back, and top wide receiver on one team can pay huge dividends if the situation and the salary of each player is just right. One such circumstance exists for fantasy owners this week as the Saints host the lowly Tampa Bay Bucs at the Superdome on Sunday.

Drew Brees ($8,900 on Fanduel)

The Saints offense clearly missed Jimmy Graham in the red zone in their week one loss against the Cardinals, as Drew Brees managed only one passing touchdown despite throwing for 355 yards. Although he threw for only one passing touchdown, he was able to deliver a decent fantasy performance on the road against one of the best defenses in the league. Now he returns home to play against a distraught Buccaneers defense that allowed four passing touchdowns to rookie Marcus Mariota.

Brees is a decent value at his current salary of $8,900 considering Aaron Rodgers at home against Seattle and Andrew Luck at home against a tough Jets defense are each going for a higher cost.

Mark Ingram ($8,000 on Fanduel)

As expected, the Saints struggled to move the ball on the ground against the Cardinals in Week 1, as Ingram managed only 24 yards on 9 carries. But the former Alabama star came through for fantasy owners with 98 yards on 8 receptions, as C.J. Spiller missed the game with a knee injury. Ingramís emergence in the passing game is one of the keys that makes playing all three Saints against the Bucs a viable stacking option, as he proved his value on screens and the Bucs will need to bring pressure to stop Brees and the passing game.

If Ingram hits pay dirt with a rushing touchdown and continues to be active in the passing game and Spiller misses the contest due to injury, he is a nice play this week even at his current $8,000 salary on Fanduel.

Brandin Cooks ($7,400 on Fanduel)

Patrick Peterson shut down Cooks in their Week 1 contest to the tune of only 49 yards on 4 receptions. It was a tough outing for the second year speedster and a rough way to start the year for his fantasy owners.The bright side for both Cooks and his fantasy owners is that the Bucs secondary was shredded by the Titans for 42 points at home, providing a nice Week 2 matchup for a bounce back performance. Stacking home run hitting wide receivers and their quarterback is a strong strategy in large DFS tournaments, and the Brees to Cooks connection is one of the best values and upside plays of the week.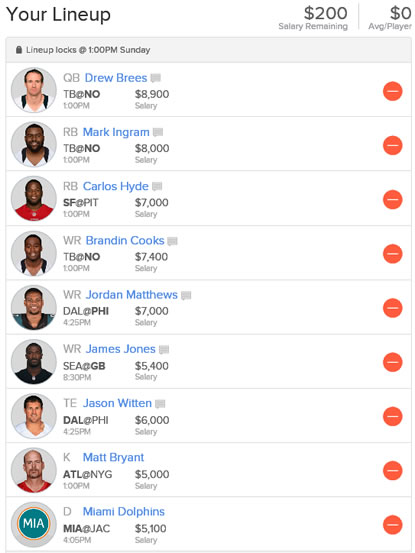 The perfect storm for three-player fantasy stacking appears to be developing in the Gulf of Mexico and will hit New Orleans this weekend. An elite quarterback playing at home against a poor defense, a running back who has value in the passing game for double dipping and upside of rushing TDs, and a home run hitting wide receiver facing a defense that gives up big plays. For owners looking for an edge this week in large DFS tournaments, going heavy on the Saints may be an excellent option.