The word "value" gets thrown around plenty during fantasy drafts, and for good reason. Acquiring key contributors in the right round without reaching for need can make or break fantasy owners. That's why mock drafts are important – to help owners get an idea of which rounds a player might go in. But during these busy summer months, not everyone has the time for that, so we're going to give you a position-by-position breakdown of overvalued and undervalued players based on their Average Draft Position (ADP).



Undervalued



Jordan Cameron, Browns


ADP: 5.10





The Case for Cameron Being Undervalued:

He is still coming into his own after a breakout 2013 campaign.



The Case against Cameron Being Undervalued:

Cleveland's unproven quarterback situation and the loss of Josh Gordon mean defenses will key on him.



Verdict:

Last season, Cameron didn't exactly come out of nowhere, but he did take more than a few folks by surprise with totals of 80 receptions, 917 yards and seven touchdowns. He was fantasy's No. 4 tight end in scoring, and trailed only Tony Gonzalez and Jimmy Graham in targets. This season, despite the presumptive loss of Gordon and the Browns' lack of an established quarterback, Cameron figures to put up numbers better than last year.

Jason Witten, Cowboys


ADP: 6.12





The Case for Witten Being Undervalued:

He is a consistent fantasy performer with a quarterback who trusts him in any situation.



The Case against Witten Being Undervalued:

He posted his fewest catch and yardage totals since 2006.



Verdict:

While it's true that Witten's 73 receptions and 853 receiving yards in 2013 were his lowest totals in a while, he did catch eight touchdowns, which was the second-highest total of his career. It's understandable that fantasy owners may be nervous about Witten's age and the fact that Gavin Escobar could take a few of his snaps away, but it's not as if the Cowboys are loaded with other established receiving options. Witten was one of just six tight ends to get at least 110 targets last year, and there's no reason to think 2014 will be any different.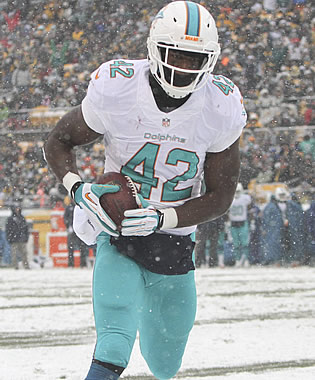 Miami's Charles Clay is currently a draft day bargain.

Charles Clay, Dolphins


ADP: 13.01





The Case for Clay Being Undervalued:

He was seventh among tight ends in fantasy scoring last year and is being taken in the 13th round on average. What other case needs to be made?



The Case against Clay Being Undervalued:

At that ADP, there is no case against him.



Verdict:

Clay's ADP is difficult to understand, as is the fact that 14 other tight ends are being taken ahead of him. He hauled in 69 receptions for 759 yards and six scores during Miami's tumultuous 2013 campaign and ranked 10th among qualifying tight ends in consistency. This season should be even better for Clay, as the Dolphins invested heavily in their offensive line and quarterback Ryan Tannehill should take a step forward. Clay may not be an elite tight end, but he's certainly going to end up higher than 15th in scoring at his position.



Overvalued



Rob Gronkowski, Patriots


ADP: 3.07





The Case for Gronkowski Being Overvalued:

Injuries, injuries and more injuries.



The Case against Gronkowski Being Overvalued:

When healthy, he's a beast. Gronk has scored double-digit touchdowns in three of his four seasons.



Verdict:

If Gronk was fully healthy, he'd be in our Undervalued section. But he isn't, and that has been a consistent problem for him. Yes, he's been cleared for training camp activities but he will be limited. The mammoth tight end has injury problems dating back to his time in college, when he missed a season with a back injury. Gronkowski has had four surgeries on his arm and tore up his knee last year, which will likely affect him even if he's on the field for Week 1. If Gronkowski does only play half the year, he's still worth owning, but in the third round, fantasy owners should be less averse to so much risk.

Jordan Reed, Redskins


ADP: 7.07





The Case for Reed Being Overvalued:

His NFL career consists of nine games, he's had concussion issues, and Washington added DeSean Jackson this offseason.



The Case against Reed Being Overvalued:

He's shown a load of potential and had a couple of huge games last season.



Verdict:

Reed was starting to blossom in the middle of 2013, having put up nine or more points three times in a four-game span when he suffered a concussion and missed the remainder of the regular season. Reed has reportedly had four concussions over his last four seasons, which is clearly a concern. Also of concern for Reed's potential fantasy owners is Washington acquired the aforementioned Jackson, as well as Andre Roberts, to team with Pierre Garcon and give the Redskins a solid receiving trio. Reed seems to be the "it" player this year among fantasy owners at the tight end position, and while it's possible he lives up to the expectations, the seventh round seems too early to grab him.

Ladarius Green, Chargers


ADP: 11.07





The Case for Green Being Overvalued:

He's accomplished little in his first two NFL seasons, and there's still that Gates guy ahead of him.



The Case against Green Being Overvalued:

He's six and a half feet tall, runs as fast as a wide receiver and may finally be learning the pro game.



Verdict:

Green's two-year NFL career consists of 14 games and 21 catches. Yet in mock drafts, he's being taken ahead of teammate Antonio Gates. Granted, Gates is 34 years old and fantasy football is a what-have-you-done-for-me-last-week game, but it's not like he fell off the face of the earth last season. In fact, Gates had 872 receiving yards and four touchdowns on 77 receptions in 2013. Green may be younger and faster than Gates, but anyone who has paid attention to football knows the best athletes do not necessarily make the best football players. Green will likely put up better numbers than he did in his first two seasons, but we're not going to select him when the likes of Clay and Gates are still available.