Grab a Helmet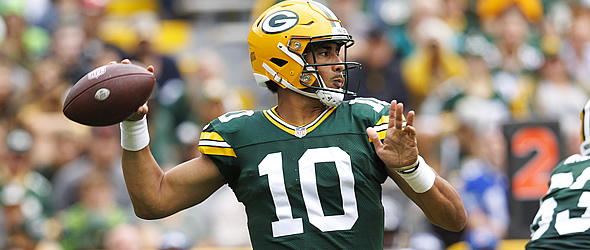 Jordan Love produced top-five fantasy numbers in Week 1 and that was without his No. 1 receiver Christian Watson. Watson (hamstring) could be back for this one which would be a good thing because there is a chance running back Aaron Jones (hamstring) doesn't play. Atlanta (ranked 19th in QB points allowed last season) throttled rookie Bryce Young over the weekend, but Love was apparently paying attention to Aaron Rodgers the past two seasons and looked very good in a dominating win over Chicago.
If Matthew Stafford can light up the Seahawks' secondary for 334 passing yards without Cooper Kupp, we should expect Jared Goff and Amon-Ra St. Brown and Co. to do the same this weekend. Goff was mistake-free against the defending Super Bowl champions Thursday night and will have extra rest and film study coming into Week 2. Meanwhile, a Seahawks defense likely without No.1 draft pick Devon Witherspoon and safety Jamal Adams is vulnerable.
3) Jalen Hurts vs. Minnesota (Thu)
Yes, Hurts was ugly in Week 1 along with quite a few highly-paid quarterbacks, but there were a number of factors which should not be present this Thursday. Hurts had not played a single down in preseason and it showed. He was against a Bill Belichick ever-changing defense which is pretty good and who outcoached the Eagles rookie OC Brian Johnson. And the game was on the road in poor weather. None of those factors will be present in Lincoln Financial Field this week. The Eagles got up early and played far too conservatively and that won't happen in front of the rabid hometown fans. Hurts returns to 2022 form.

Grab a Clipboard
Kenny Pickett had a tough day against the strong San Francisco 49ers defense as expected last Sunday, but it doesn't get a lot better this weekend. The Browns were the No. 1 defense in QB fantasy points allowed in 2022 and started off 2023 by holding the highest-paid quarterback in the NFL to 82 passing yards. Additionally, Pickett will be without No.1 wideout Diontae Johnson. Stay away.
Kirk Cousins on national television on a Thursday night? We know his record in big games isn't good. They came into Philadelphia for the second game last season and lost 24-7 with Cousins tossing three interceptions and Justin Jefferson held down by Darius "Big Play" Slay to six catches for 48 unproductive yards. Save Cousins for next week in a shootout with Justin Herbert.
The Jets can rush the passer as well as anyone in the league and defend the pass too with "Sauce" Gardner, DJ Reed and Jordan Whitehead (3 INTs). They made Josh Allen look bad in Week 1. Now is not the time for the Cowboys to start throwing the ball all over the yard. They will keep the game plan conservative and run behind Tony Pollard. Dak will breakout next weekend in Arizona.

Quarterbacks | Running Backs | Wide Receivers