Week 1 is in the books and there were both pleasant surprises and unfortunate disappointments as there always is on the opening weekend. But don't go overboard from one week's statistics. In most cases, we need a larger sample side before we make drastic changes. Because I can promise you Andy Dalton will not throw for 418 yards every game. And Sammy Watkins is unlikely to post 198 yards and three touchdowns again.

Although we are in the middle of hurricane season, only hot weather should be a factor in Week 2 where at least eight games have an early weather forecast of 80+ degrees.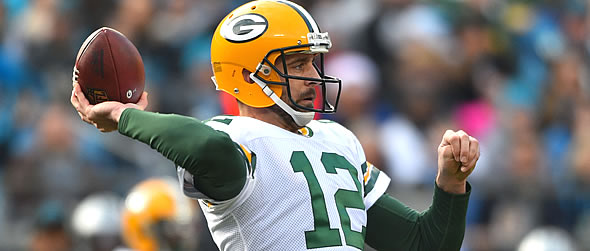 Truths
"Never tell the truth to people who are not worthy of it." - Mark Twain
1) If you own the following quarterbacks you should be concerned; Deshaun Watson, Kyler Murray, Andy Dalton, Mitchell Trubisky or Aaron Rodgers.
True. These five quarterbacks were sacked at least five times in their season opener and hit a lot more. In particular, Watson was sacked six times and threw his body around on a rushing touchdown like he thinks he's invincible. If you have these guys, think about whether they can last 16 games and plan accordingly. Perhaps trade him if offered enough in return. At least have a handcuff or a backup plan when the starter inevitably goes down.
2) Julio Jones is the anti-Antonio Brown.
Julio Jones just signed an epic contract … the right way. He showed up every day. He plays like a star, make that superstar. He conducts himself as a positive representative of his team and sport that every owner would want to have on his side. Just ask Arthur Blank. For that, he was rewarded with a three-year extension worth $66 million with $64 million guaranteed. Eat your heart out AB. If you have Jones on your fantasy team you know by season's end he'll likely rack up about 1,500 yards and 6-8 scores.
3) There is the New England Patriots management and 31 wannabes.
In this edition, the Patriots added Antonio Brown without giving up the No.1 draft choice they offered the Steelers last season and traded Demaryius Thomas to the division-rival Jets for a sixth-round pick, netting them one draft choice and a top-three wide receiver talent. And knowing Bill Belichick as we do he will probably be able to control AB … at least for this season. Is ring No.7 five months away?
4) Larry Fitzgerald looked like his old self.
Apparently he just needed a "real" quarterback and OC who would throw him the ball downfield. Fitzgerald saw 13 targets last Sunday, catching eight, for 113 yards and a touchdown, including two 40+ yarders. If Murray can survive his subpar offensive line, Fitz (preseason ADP 105.6) should end up being a huge bargain this season. We will a lot know more after they play at Baltimore in Week 2.
5) Two young tight ends stood out this weekend – T.J. Hockenson and Darren Waller.
While a number of big-name tight ends came up small in Week 1, (I'm looking at you O.J. Howard, Jared Cook, Vance McDonald, Greg Olsen and Eric Ebron), Hockenson (6-131-1) and Waller (7-70-0) looked like viable fantasy options for the future. The No. 1 tight end this weekend was Evan Engram (11-116-1) who looked like a star now that he is out from under the shadow of Odell Beckham Jr.
Lies
"Everyone is entitled to his own opinion, but not to his own facts." - Daniel Patrick Moynihan
1) Playing 100% of his team's snaps is a good thing for my running back.
In the short-term perhaps, but can Christian McCaffrey and Le'Veon Bell play at a high level and play every down for 16 games? Expect McCaffrey to want to re-negotiate his four-year, $17.2 million contract. What a bargain he is for the Panthers and fantasy owners, however, I prefer a head coach or OC that gives my guy a little rest. If he runs 80-90% I'd feel better (As long as the backup doesn't look good).
2) Josh Jacobs outstanding debut is typical of Alabama running backs.
Sorry no. The Raiders looked like a team trying to show they are more than "AB fodder." They played very well led by Jacobs and Derek Carr. But Crimson Tide backs rarely get off to good starts in the NFL. See below as a sampling. If they don't have an emotional letdown, the Chiefs' defense is vulnerable to the run and Jacobs should roll again.
Alabama RBs
Year
Player
Att
Ru Yds
TDs
Rec
Rec Yds
TDs
2018
Josh Jacobs
23
85
2
1
28
0
2016
Derrick Henry
5
3
0
2
41
0
2015
T.J. Yeldon
12
51
0
3
16
0
2013
Eddie Lacy
14
41
1
1
31
0
2012
Trent Richardson
13
39
0
1
5
0
2011
Mark Ingram
13
40
0
0
0
0
2000
Shaun Alexander
2
5
0
0
0
0
3) Lamar Jackson's right arm has suddenly turned into Dan Marino circa 1984.
I don't think so. Don't overestimate Jackson's value from one game, particularly one game against the "tanking-for-Tua" Miami Dolphins. Though he is on "pace" for 5,184 passing yards and 80 touchdown passes the schedule says he can't play Miami 15 more times. I like what I saw of Jackson Sunday, but until I see the "new" throwing Jackson through at least eight more games I'm not convinced.
4) Just a bad day for Kerryon Johnson and Devonta Freeman … nothing to fear here.
False. I'd be concerned if I were their fantasy owner. Johnson saw just 57% of the Lions snaps (50-of-88) and C.J. Anderson saw 30% (26 snaps) with Johnson seeing 16 rushing attempts and Anderson 11. I thought Johnson would see a larger percentage in Year 2, but apparently not and this was a game the Lions held a big lead for the first three quarters. Freeman saw just 39-of-78 snaps in a blowout loss to Minnesota which could have been a factor as the Falcons went three-receivers often. But be prepared to make a change if this trend continues.
5) Gardner Minshew is a viable fantasy option.
Not buying it. Minshew went 22-of-25 for 275 yards and two scores in his relief stint for injured Nick Foles. Both touchdown passes came after the Chiefs had built a commanding 37-13 fourth-quarter lead and were in prevent-defense mode. And the Chiefs' pass defense wasn't exactly stellar last season yielding the fourth-most fantasy points to opposing quarterbacks in 2018 (25.1 FPts/G). So this wasn't much of a test. Houston and Tennessee the next two weekends will tell us more and I'm betting Mr. Minshew, a sixth-round pick from Washington State, crashes to earth with a loud thud.