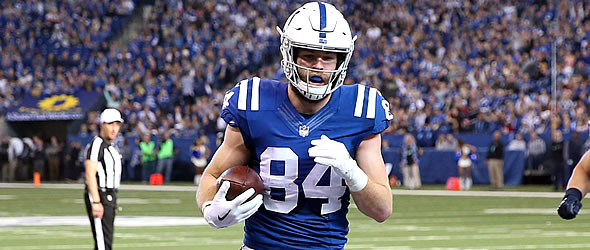 Jack Doyle's increased opportunties in 2017 came with a 22% market share of IND's redzone targets.

Unless your tight endís name is Rob Gronkowski or Travis Kelce and always crank out 1,000-yard seasons, what is the easiest way to find a ďstart-worthyĒ fantasy tight end? Should you look for yardage producers? Touchdown scorers?

How about if I show you a statistic that would give you an 85% chance of having a top tight end?

Itís not total targets. That would only give you a 75% chance of being correct.

Itís not red zone targets. You would think this statistic would be accurate because thatís where tight ends do most of their scoring. Sorry, only 9-of-14 tight ends with at least a dozen red zone targets last season ranked in the top-12 overall (64.3%).

Itís not percentage of red zone targets caught for touchdowns. Actually catching passes close to the goal line should be a good indicator, but in reality it isnít. Only 10-of-16 tight ends who caught at least 20% of their red zone passes for touchdowns ranked in the top-12 (62.5%).

The most accurate way to find a start-worthy tight end is by percentage of a teamís total red zone targets.

In 2017, those who saw at least 20% of their teamís red zone targets (there were 11), 10 ranked as a top-12 tight end last season (90.9%). Since 2015, 24-of-28 tight ends under this parameter finished as a top-12 fantasy tight end. Thatís 85.7%


Ok thatís nice you are saying to yourself, but how can I know who will see a high percentage of his teamís red zone targets in 2018?

Letís analyze our options for this upcoming season based on who we think will see a 20% share of red zone targets.

Jimmy Graham (No. 4 in points, No. 1 in percentage of teamís red zone targets while playing in Seattle) should be an open and shut case, but surprisingly, Aaron Rodgers and the Packers havenít used the tight end all that much. That will change in 2018. For many seasons Rodgers used Jordy Nelson at the goal line, but Nelson is now playing for Oakland after being released. Graham will get many of those red zone looks and once again be an elite touchdown maker.

Any coach from the Andy Reid coaching tree is a guarantee for tight end usage. Travis Kelce (26.9%) and Zack Ertz (21.5%) are obvious. The Colts Jack Doyle was a surprise in 2017 (22.2%), but shouldnít surprise you in 2018. On top of last yearís performance, his new head coach is Frank Reich, who was the OC under Doug Pederson the past two seasons. Thatís the Reid connection. He also gets Andrew Luck back under center (we hope) and Luck has always utilized his tight ends.

Kyle Rudolph (25.8%) gets a new quarterback, but under Kirk Cousins in Washington, Redskinsí tight ends always ranked top-10 in TE fantasy points scored (9th in 2017, 4th in 2016 and 3rd in 2015).

Rob Gronkowski (24.4%) obviously. He was No. 1 in fantasy points for 2017 and, if healthy, will be at the top of the list in 2018 as the Patriots offense will be missing Brandon Cooks, Danny Amendola, Dion Lewis and Julian Edelman (four games).

Evan Engram was a surprising fifth in points among tight ends last season, but I donít see that happening in 2018. Injuries decimated the Giants wide receiving corps last season and Engram (22.2%) ended up being the ďbest of the restĒ after Odell Beckham Jr., Brandon Marshall and Sterling Shepard were sidelined. Beckham and Shepard will all be back in 2018. Add in rookie Saquon Barkleyís expected usage and Iím staying far away from Engram and his 65.9 ADP (courtesy of Fantasy Football Calculator) as his opportunities should take a huge hit.

Delanie Walker (23.5%) is a quarterbackís best friend. Heís posted at least 800 yards in four consecutive seasons and in the conservative Tennessee run-first offense should once against be a Marcus Mariota favorite.

The last three tight ends with 20% or more from 2017 were; Jason Witten, Tyler Kroft and Austin Seferian-Jenkins. Witten has retired and awaits the call from Canton, Kroft will be knocked down to No. 2 on the depth chart by the return of Tyler Eifert and ASJ will get lost with his new team, Jacksonville, amid a plethora of receivers and a lot of run blocking.

Who could join the 20% group for 2018?

Greg Olsen is a solid choice. Heís been there frequently (30% in 2014, 26.0% in 2015 and 23.5% in 2016) and could again, if healthy, despite the fact his red zone target percentage has been dropping each season.

Although Cameron Brate came closest to the 20-percent mark in 2017 (18.1%), second-year starter O.J. Howard should eat into his opportunities this season. I expect Brateís production to sink, not rise.

Second-year 49er George Kittle (43-515-2) could be the ďnewcomerĒ for 2018. Jimmy Garoppolo comes from an organization that obviously likes their tight end and head coach Kyle Shanahan has always used his tight ends in all his stops as offensive coordinator.




---
Steve Schwarz served as the fantasy sports editor of The Sports Network and is the 2014 FSWA Football Writer of the Year.