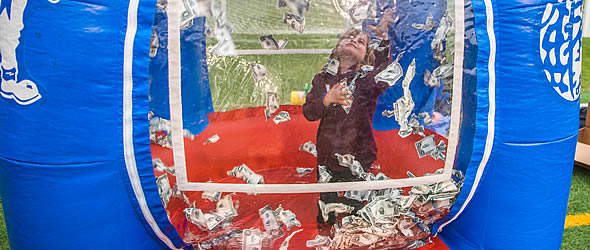 Sports wagering is coming to a state near you. How will new gambling laws affect your fantasy play?
When I was younger, I gambled on sports. A lot!

Football, baseball and basketball, but not hockey, I wasn't that crazy. Sometimes legally in Las Vegas where $4.8 billion was bet on sports in 2017, but most times illegally with a bookie. Estimates by the American Gaming Association say that $93 billion is wagered illegally each year in the United States.

I am a competitive guy, but too old to play most games and this was my outlet. Like Michael Jordan or Phil Mickelson, but without their endless bank accounts. I had my ups and downs and after one particularly bad week, I realized it couldn't continue, however I still needed a way to compete.

Then I found fantasy sports.

Instead of betting thousands of dollars a night on games, I could play an entire season for nothing, or almost nothing. I could still get the thrill of beating someone, the adrenaline rush of outsmarting opponents and the smug pleasure of knowing something that my opponent didn't know.

And it worked. I don't gamble on games anymore. I do go to a casino once in a while, but for entertainment mainly and not to win a fortune. I play golf and loser pays for lunch, but nothing more. My hometown Philadelphia Eagles were in the Super Bowl last February and yet I still wasn't tempted to bet the game.

I have played fantasy football since the early 1980s. My first-ever draft pick in a fantasy league was quarterback Dan Fouts (1993 inductee to the Football Hall of Fame), the ringleader of "Air Coryell," so I've been at this for quite a long time.

Legal mumbo jumbo

On May 14, 2018, the Supreme Court ruled that the Federal government couldn't tell the 50 states they were barred from running state-authorized sports gambling by striking down the 1992 Professional and Amateur Sports Protection Act (PASPA) a.k.a. "Bradley Act" (its sponsor New Jersey Senator Bill Bradley, a former college and professional basketball star turned politician). The law, codified at 28 U.S.C. § 3701, et seq., stopped new states from sports gambling, but grandfathered in four states – Nevada, Oregon, Delaware and Montana, but only to the extent that they did before the law. (For example, Delaware had multi-game pro football betting cards, so that could continue, but they couldn't institute full-scale sports betting.)

The PASPA also contained a clause that would have allowed any state with commercial gambling for the 10 previous years to legalize sports betting. Only New Jersey qualified, but they failed to enact a betting law in the 12 months the clause allowed them to act, because its citizens weren't ready. Nineteen years later, New Jersey voters, in a non-binding referendum, voted to legalize sports betting. They were ready. The New Jersey Senate and then-Governor Chris Christie enacted a law and were immediately sued by the NFL, NBA, NHL, MLB and the NCAA and the leagues won. In 2014, New Jersey tried again and lost in the lower courts, again. It appealed the latter decision to the Supreme Court and this time the highest court declared PASPA unconstitutional, clearing the way for New Jersey and any other state that chooses to regulate sports gambling.
How the ruling will affect the fantasy world

The fantasy world is primarily made up of two distinct hemispheres – season-long leagues and daily fantasy games. Let's look at each of these areas.

Season long leagues –

Fantasy owners draft teams, trade and claim players and accumulate points over an entire regular season to produce a winner. This is "traditional" fantasy sports. It's what we all grew up playing. Head-to-head matchups or rotisserie style, it is a long-term activity. It's what I play most of the time.

Sports gambling likely won't have much of an impact on these players and leagues. Although big sums of money can be on the line, season-long leagues are social as well as financial. When you win one of these leagues, the fun is bragging about it, lording it over your friends/competitors as much as raking in the cash. They should continue uninterrupted despite the addition of legal sports gambling.

Daily fantasy games –

Daily fantasy gaming, one-day leagues, are about as close to sports gambling as was possible under previous laws without going over the line. You couldn't bet on the Dallas Cowboys, but you could select Dak Prescott, Ezekiel Elliott and Dez Bryant on your team and in essence be "betting" on the Cowboys. Companies like FanDuel and DraftKings walked right up to the "line" which separated fantasy gaming and gambling without stepping over it. And fantasy players were as close to being legal sports gamblers as possible … without living in Las Vegas.

Also, DFS companies were the only legal game "in town" for those who didn't live in Nevada. You didn't have to fly across the country to play. In fact, you didn't have to leave the privacy of your living room to compete.

The removal of the federal law will change much of that.

Seeing a bountiful new income stream will make sports gambling a reality in many states. While Nevada already has full-scale legalized sports betting, five states (Delaware, New Jersey, New York, Pennsylvania and Mississippi) have recently passed legislation to join them. Delaware could be up and running by June 1. Monmouth Park in New Jersey wanted to be operating on Memorial Day, but will slightly delay its start until legislation sets up exactly how the state will regulate and tax the new casino/racetrack revenue. Fourteen other states, including California, have introduced, but not yet passed, legislation.

It's coming to a state near you! Yes, you may have to get dressed to travel to a local casino or racetrack, but that's a lot more convenient than flying to Las Vegas. And when it becomes available online … the sky's the limit.

When it does become legal online, daily fantasy sports will take a huge body blow. Playing DFS, at a high level, requires people to invest time into research. Placing a bet SHOULD require similar research time, but to most of the public, it rarely does. Yes, the diehard fantasy players will always be there, but the casual guys will move to the easier-to-play and just-as-convenient game.

Which is why DFS companies are readying themselves to become daily gambling sites.

"Our mission has always been to bring fans closer to the sports they love and now, thanks to the wisdom of the Supreme Court, DraftKings will be able to harness our proven technology to provide our customers with innovative online sports betting products," said Jason Robins, DraftKings' CEO and co-founder.

The writing is on the wall for daily fantasy sports.

---
Steve Schwarz served as the fantasy sports editor of The Sports Network and is the 2014 FSWA Football Writer of the Year.