The quality of your bench will be tested over the next two weeks. Weeks 8 and 9 will likely be the hardest all season to fill out your roster with 12 teams on bye - split evenly over two weekends. In Week 8 it's Baltimore, Los Angeles, Miami, New York Giants, Pittsburgh and San Francisco getting time off. Next weekend it's Arizona, Chicago, Cincinnati, Houston, New England and Washington.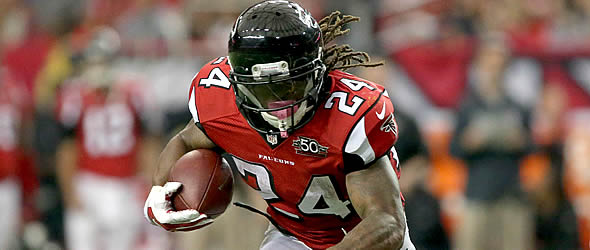 Devonta Freeman should see his opportunities increase but has the worst matchup for any RB in Wk 8.




Truths



"Better a cruel truth than a comfortable delusion." Edward Abbey



1) Don't overvalue Devonta Freeman in Week 8.



The toughest decision of the weekend might be whether to play Devonta Freeman. On the one hand, he's likely going to be a workhorse without Tevin Coleman (hamstring) to share the load. On the other hand, he's facing the league's top-ranked defense against running backs – Green Bay. The Packers are yielding just 10.6 fantasy points per game (399 yards rushing, 174 yards receiving, 1 TD through six games). In deference to the World Series, great pitching usually beats great hitting and in football great defenses usually win out over offenses.

2) Don't undervalue Sam Bradford and Stefon Diggs this weekend.

Sure, both quarterback (15.1 points) and receiver (1.8) looked horrible against Philadelphia, but the Eagles rank No. 2 against quarterbacks and No. 7 against receivers. The Vikings face the Bears on Monday night, who are yielding a league-worst 28.3 fantasy points to receivers and middle-of-the-pack against quarterbacks (20.8).



3) Fool me once, shame on you. Fool me twice, shame on me.



It's nearly impossible to play running back with a hamstring injury. LeSean McCoy was a game-time decision after the hamstring injury he suffered in Week 6, and after warmups last Sunday morning convinced trainers and coaches he could play. He played poorly (eight carries for 11 yards, zero receptions). He will likely be another game-time decision this weekend after re-injuring his hamstring in the third quarter. When a quick-twitch running back like McCoy can't practice during the week, it would be wise for fantasy owners to choose another option, even if he says he is going to play.



4) Jacquizz Rodgers should be considered an RB1.



He'll likely be an RB1 until Doug Martin returns from injury in a couple of weeks … at the earliest, because of a favorable schedule. Rodgers will face Oakland (RB fantasy rank 24th) and Atlanta (26th) the next two games.



5) Jack Doyle has become a viable fantasy option.



True. Apparently Andrew Luck wasn't locked into Coby Fleener because of their Stanford connection, Luck just likes throwing to his tight ends no matter what name they go by. Doyle is tied for the league-lead in TE touchdowns (4) along with Martellus Bennett and the Colts tight end has posted double-digit points in his last two games.



6) Blake Bortles, a "best-value" pick in 2015 is lost in the wilderness in 2016.



Mostly true. His yards-per-game is down less than 10-percent and his completion percentage is actually up from his first two seasons, but that hasn't made fantasy owners happy because he's thrown just nine touchdown passes and been intercepted nine times. Most were expecting a percentage more like 2015 when he threw 35 TDs against 18 INTs. A running game would help. The issue moving forward is a very tough schedule with seven of the next nine games against top-10 quarterback-points-allowed defenses.



Lies



"The most outrageous lies that can be invented will find believers if a man only tells them with all his might." Mark Twain

1) The numbers said Drew Brees wasn't the play on the road last week.

OK, I have to admit he defied his recent history in taking apart the Kansas City secondary last Sunday (37-of-48 for 367 yards, 3 TDs, 1 INT). The next four games will also challenge his past history. He'll be facing Seattle this Sunday and Denver at home in three weeks and San Francisco and Carolina on the road. Denver is No. 1 against opposing QBs and Seattle is No. 5, while the 49ers rank 22nd and Carolina 30th. Sometimes you have to ignore the numbers.



2) It's time to jump off the Wentz Wagon.



Not necessarily. A second consecutive bad performance last Sunday might have you questioning whether he's fantasy-worthy, but you should take into account he was facing two top defenses – Washington and Minnesota. The Vikings rank sixth against opposing fantasy quarterbacks (17.8 FPts/G) and the Redskins are ninth (18.5). He should be much better against Dallas (ranked 21st) Sunday night in a matchup of exciting rookie quarterbacks.



3) Mike Wallace's best days are behind him.



Yes, he probably shouldn't have left Ben Roethlisberger and the Steelers in 2013, but don't look now, Wallace is finally a fantasy factor again. It's not just the season-high 13 targets last week, it's the fact that he's seen double-digit targets in three of the last four games (combined 43 targets). He's on a bye this weekend, but faces those Steelers in Week 9 and then a vulnerable Browns defense.



4) Martellus Bennett is still a fantasy worthy tight end.



Sorry, but he's become consistently inconsistent. And with the return of Tom Brady, Bennett has become touchdown dependent. Bennett has a combined 120 yards on 15 targets in three games with Brady after averaging 61.8 ypg pre-Brady. A three-touchdown game against lowly Cleveland has disguised his drop off. Meanwhile, Rob Gronkowski has seen 20 targets over the same span which he turned into 16 receptions for 364 yards and two scores worth 16.3 FPts/G. If you can still get quality for Bennett on the open market, it's time to sell before the numbers slide downhill.


---
Steve Schwarz served as the fantasy sports editor of The Sports Network and is the 2014 FSWA Football Writer of the Year.