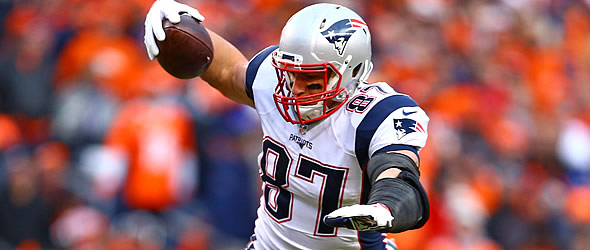 Rob Gronkowski is the clear leader of the fantasy tight end position but is his Round 1 ADP justified?


I once won a fantasy football league with waiver wire pickup, Jim Kleinsasser of Minnesota, as my starting tight end. The year was 2003 and he posted mediocre numbers (46-401-4). I've also won a league spending a high-draft choice on the New England Patriots All-Pro Rob Gronkowski. It was 2011 and "Gronk" was otherworldly (90-1327-17). These two diametrically opposed strategies can both be winning strategies.

While Mr. Kleinsasser has long since retired, there are multiple questions which need to be answered surrounding Gronkowski's 2016 draft position. Will he be the best tight end again this season? Is he worthy of a first-round draft choice?



Question No. 1 – Is Gronkowski the best tight end in football?



Over the past few seasons, the top spot at this position has been a battle between Gronkowski and Jimmy Graham. But with Graham leaving New Orleans and no longer the primary target of Drew Brees' passes, he's lost much of his fantasy value. Playing for a run-oriented team in Seattle, Graham managed just 48 receptions for 605 yards and two scores worth 6.6 FPts/G.

Meanwhile, Gronkowski has continued his elite production, scoring a position-high 183.6 fantasy points (12.2 FPts/G) in 2015. He led the league for the second consecutive season and third time in five years (Graham was No. 1 in 2012 and 2013). Over the past five seasons Gronkowski has averaged a stunning 13.08 FPts/G and never less than 11.9 in any season. You know what you are going to get from him when he's on the field and it's going to be top tier.

So for me, the answer is … Yes, Gronkowski is indeed the best tight end in football.



Question No. 2 - Is he a first-round draft choice?



Paying a big price for a tight end only works when there are a limited number of elite options at a position and the scoring difference between the elite player and an average starter makes it worthwhile.

At tight end, Gronkowski's 12.2 FPts/G was just 0.7 better than Washington's Jordan Reed, 1.5 points better than Tyler Eifert and 5.6 FPTS/G better than Graham.

Meanwhile, the difference between the No. 1 QB Cam Newton and No. 2 Tom Brady was 3.1 FPts/G and between Newton and the 12th-ranked QB Aaron Rodgers was 6.3 FPts/G. At running back Devonta Freeman was 1.7 FPts/G better than Adrian Peterson and 6.3 FPts/G better than No. 12 Danny Woodhead. Finally, Antonio Brown was 0.7 FPts/G better than Julio Jones and 4.8 FPts/G better than No. 12 Brandin Cooks.

So if everything stays the same in 2016 there would be no reason to rush to select a TE based on position scarcity.

It also begs the question - Why pay a first-round price for 12.2 points when you can get 11.5 points in the fourth round or 10.7 points at the end of the early sixth round? (See chart below).
Additionally, the upcoming season has a couple of built-in obstacles for the Patriots' All-Pro tight end.

Gronkowski will have to play at least four games without his future Hall of Fame quarterback – Tom Brady. We know Brady frequently looks for Gronkowski. We know Brady will throw it to him even if not completely open. Since 2011, Gronkowski has averaged 8.14 targets per game. Unfortunately, we don't know anything about Game No. 1-4 starting quarterback Jimmy Garoppolo. And I hate unknowns, particularly when it pertains to my top draft choice.

Even when Brady returns in Game 5, there is another question. How will the Patriots' quarterback use his newly-acquired tight end weapon - Martellus Bennett?

Although Bennett's 2015 numbers were mediocre (53-439-3), it was just two seasons ago that he was a huge factor for fantasy owners, posting 90 receptions for 916 yards and six scores. Will Gronk have to "share-the-wealth" as he did when New England often utilized a double tight-end formation with Aaron Hernandez?

As I see it, taking Gronkowski in the first round is, at best, getting "fair-market value" and if any of the questions raised turns out to be a legitimate issue then it will end up being a losing proposition.

---
Steve Schwarz served as the fantasy sports editor of The Sports Network and is the 2014 FSWA Football Writer of the Year.