I With the start of the 2015 fantasy football draft season just around the corner, I thought it was time to make a few bold predictions based on what I've seen over the spring and summer OTAs and first week of training camp.

1) Eli Manning will post better fantasy numbers than his brother Peyton Manning.

It's never happened since the younger Manning joined the NFL in 2004. OK, technically when Peyton didn't play in 2011 due to the four neck surgeries, Eli was the better fantasy quarterback, but that shouldn't count because Peyton wouldn't have been drafted.

The reasons behind the prediction are three-fold. Peyton's new head coach, Gary Kubiak, is known as a run-oriented guy. No, this won't be the Seattle Seahawks who rushed 525 times in 2014 while passing the ball just 454 times, but it will be much more balanced than in past seasons. Second, Eli Manning's wide receiving corps is better than Denver's group. Although Demaryius Thomas is the best on either team, the combination of Odell Beckham Jr., a hopefully healthy Victor Cruz and an improved Rueben Randle is better overall. Add in one of the best receiving backs in the league in former New England Patriot Shane Vereen, and Eli (ADP 94.5, Pick 8.11) is going to edge out Peyton (ADP 40.9, Pick 4.05) this season for the first time in his career.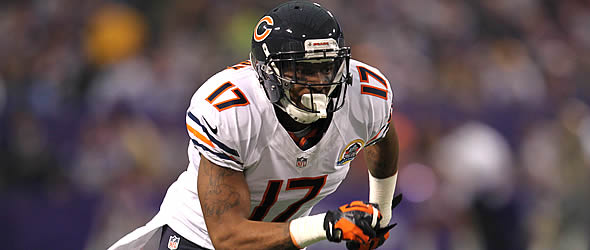 Despite being the No.2 option on the team, Jeffery finished as a WR1 in each of the last two seasons.


2) Alshon Jeffery will lead the NFL in targets.

The third-year receiver finished sixth in targets last season. And that was with Brandon Marshall hogging eight targets per contest and tight end Martellus Bennett with a career-best 128 targets. Eddie Royal, Marshall's expected replacement is more of a short-yardage type (career 11.1 ypc) who will steal targets from Bennett, not Jeffery. Rookie Kevin White, the long-term answer for the spot opposite Jeffery, is dealing with an injury and late-arriving rookies rarely are a factor.



3) The Kansas City Chiefs wide receivers WILL catch a touchdown pass in 2015.



This is an easy one and not necessarily bold because it so rarely happens in today's wide-open game that a team goes an entire season without a touchdown pass to a wideout. In fact, before the Chiefs did it last season, you have to go all the way back to the 1964 New York Giants to see that type of receiving ineptitude. Still, the Chiefs' starting quarterback, Alex Smith, is one of the most conservative throwers in the game and rarely gives his receivers a chance at "50-50" balls. We are going to see a significant hit to No. 1 receiver Jeremy Maclin's fantasy value, but he will post between 6-8 scores in 2015. They might even let Albert Wilson catch one or two touchdown passes.



4) DeMarco Murray will suffer from the "Rule of 370."



There is a well-known theory which says that a running back that carries the ball 370-or-more times in the regular season will see a drastic decrease in production the following season.
If we evaluate the last six players to hit that workload number and their next season's production, it doesn't look very encouraging for Murray's fantasy owners. Only one player broke 300 attempts the next season and the average rushing yards dropped almost 50 percent (1,715 yards to 862 yards). Include a quality backup in Ryan Mathews and a questionable offensive line and Murray is likely to be the next in a long line of overworked, over-drafted running backs. Don't you be that owner.


RBs with a Heavy Workload...
Player
Team
Year
Attempts
Yards
Year
Attempts
Yards
DeMarco Murray
DAL
2014
392
1,845
2015
???
????
Michael Turner
ATL
2008
376
1,699
2009
178
871
Larry Johnson
KC
2006
416
1,789
2007
158
559
Shaun Alexander
SEA
2005
370
1,880
2006
252
896
Curtis Martin
NYJ
2004
371
1,697
2005
220
735
Ricky Williams
MIA
2003
392
1,372
2004
168
743
Ricky Williams
MIA
2002
383
1,853
2003
392
1,372



5) Derek Carr will be a top-12 fantasy quarterback.



Only six quarterbacks threw more times than Carr did in his rookie season and each of them threw for more than 4,200 yards. Carr only managed 3,270 yards, but posted 21 touchdowns to just 12 interceptions, showing management he can be trusted with the decision-making process.

On a team that gave up a league-worst 452 points last season (28.2 ppg) and doesn't figure to be much better on that side of the ball in 2015, Carr is likely to see the same level workload this season. Fortunately, his receivers should be better ... much better.

The Raiders used their first draft pick to grab the most NFL-ready wideout on the board - Amari Cooper. They also added veteran Michael Crabtree, who seems over his injury issues and has looked pretty good this spring and in the first week of training camp. The duo should jump ahead of holdovers Rod Streater and Andre Holmes. Oakland also added a nice third-down receiving option out of the backfield in Roy Helu.

I'm not a believer that Latavius Murray has the ability to carry this offense, nor is Trent Richardson the answer to any question. Therefore the responsibility falls to Carr and his receivers. The quarterback could reach 4,000 passing yards this season.



Bonus Prediction -

Brett Favre will remain retired, preferring the life of a commercial pitchman to getting knocked down by 300 lb. defensive linemen. He played his last game for Minnesota in 2010 (has it really been that long since the last "will he or won't he" summer saga?) and will be eligible for the Hall of Fame in 2016.


---
Steve Schwarz served as the fantasy sports editor of The Sports Network and is the 2014 FSWA Football Writer of the Year.