Picking a running back in the first round of your fantasy draft seems like the most sensible thing to do, doesn't it? It must, or else why would fantasy owners have made a running back their top pick in 42 of the last 50 first-round selections in 10-team fantasy drafts between the years 2009-2014?

But here's the thing, it's actually not that safe a play.

That's because only 55 percent of the top-10 fantasy totals over the past six seasons have come from the "trusty" running back position.

That's a huge difference between perceived reliability and reality.

And the gamble is even more risky that that!

Because not only might the running back not finish among the top 10, he might not even finish in the top 100!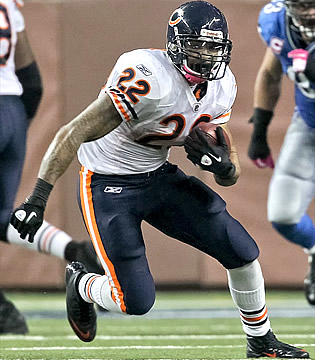 Matt Forte: A running back worthy of the first round.

In the last six seasons a first-round selection hasn't even finished as a top-100 value a total of 10 times and eight of those were by running backs.

Despite these facts, when we check fantasyfootballcalculator, seven of the top-10 selections are running backs, including the first five, led by Kansas City running back Jamaal Charles.

Here is the complete top-10 from 1,225 mock drafts during the first two weeks of May:

1) Jamaal Charles
2) Eddie Lacy
3) Adrian Peterson
4) Le'Veon Bell
5) Marshawn Lynch
6) Antonio Brown
7) LeSean McCoy
8) Matt Forte
9 ) Dez Bryant
10) Odell Beckham Jr.

That's a top-10 ripe for disappointment.

Charles is a huge talent both as a rusher and receiver. But the emergence of Knile Davis in 2014 should concern Charles' fantasy owners. Charles racked up 33 touchdowns over the past two seasons, but what coach doesn't like to use a 230 lb over the 199 lb scatback near the goal line?

Is there a more risky play than choosing "AP" in the first round? Where will he play? He's repeatedly said it would not be in Minnesota. While he may soften on that stance, how will the Vikings use him? Most suggest that Peterson would return to his workhorse status with Jerick McKinnon as the third-down receiving back, but nothing is written in stone. Of course, if Jerry Jones gets his hands on Peterson, with the great Dallas offensive line, the sky's the limit. That's a huge swing in his possible value.

Bell didn't have a sophomore jinx. He built on his solid rookie season to post 2,215 yards from scrimmage and 11 total touchdowns. Unfortunately, he'll start the 2015 season watching the action from the owner's box as he's been suspended for the first three games after being charged with marijuana possession and DUI in an August incident. That means DeAngelo Williams will get three games to show what he can do. If he performs well, the Steelers might have to let him have a bigger portion of the offense than Bell's fantasy owners would prefer.

McCoy will ply his trade in a new offense, in a new city, for a new coach. That alone adds risk to selecting him. Despite all the recent verbal "shots" he's taken at his former head coach Chip Kelly, McCoy is likely to miss the old offense. He averaged 313 rushing attempts per season under Kelly. That will not happen in Buffalo. Fred Jackson was a "pain in the backside" to C.J. Spiller owners for the past five seasons and now he'll be a pain for McCoy owners.

If we are seeking to eliminate first-round risk, we are left with the two most reliable running backs options in this season's draft – Lynch and Forte.

Since being shipped off to Seattle, Lynch has become a force. In four full Seahawks seasons he's averaged 1,339 rushing yards and 12 touchdowns. It's not a coincidence that Seattle is 43-21 over that span with two trips to the Super Bowl. (Yes, they would own two Lombardi trophies instead of just one if they would just have handed him the ball one more time.). There may be a lot of talk about his successor, but make no mistake about it, that guy isn't on Seattle's current roster.

Matt Forte was just a late second-round selection out of Tulane in 2008, but he's been a fantasy stud from his first day in the NFL. It's his dual ability to be part of the running or the passing game that sets him apart from most other backs. It doesn't matter whether the Bears are ahead, or behind, Forte is a major force in the game plan. In seven seasons he's averaging 1,101 yards and six touchdowns on the ground and 63 receptions for 532 yards in the air. He caught 102 balls last season. Forte only averages eight touchdowns a season, if that numbers were 12 or 13, he'd be the No. 1 overall selection. Still, he is as sure a thing as there is in fantasy football.

If you are looking for the monster 2,000-yard rushing season, these guys are not what you are seeking, but if you are looking for guaranteed first-round level production that will help your fantasy lineup, you can't get any better than Lynch or Forte.

---
Steve Schwarz served as the fantasy sports editor of The Sports Network and is the 2014 FSWA Football Writer of the Year.