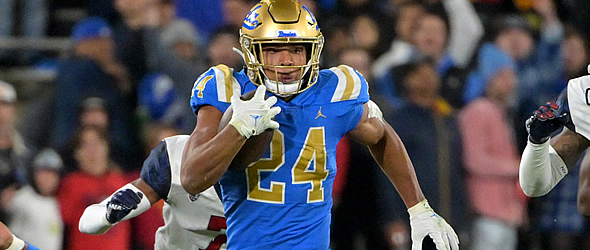 Vitals

College: UCLA
Height/Weight: 6'0"/214
Hands: 9 7/8"
Age: 22 (at the time of the 2023 season opener)



Important NFL Combine Numbers



40-Yard Dash: 4.53
Vertical Jump: 37"
Broad Jump: 10' 2"
20-Yard Shuttle: N/A
3-Cone: N/A



College Production

(Stats)


High-end NFL Player Comp(s): Michael Pittman
Low-end NFL Player Comp(s): Tyler Allgeier

Best Scheme Fit: An offense that leans on inside zone runs, although he is versatile enough to fare well in a gap scheme.

Best Team Fit(s): Bengals, Cowboys, Chargers, Eagles, Buccaneers

Non-bolded times - Good examples of attribute
Bolded times - Average/poor examples of attribute
Position-Specific Attributes and Grades (2022)
Attribute
Att Grade
Scale
Examples
Burst/Explosiveness
7.5
10.0
0:53, 1:05, 1:50, 1:53, 1:54, 2:32, 5:41
Contact Balance
9.5
10.0

0:43, 1:24, 2:37, 2:46, 4:06, 5:04, 5:55

Instincts/Patience/Vision
8.5
10.0

0:53, 1:50, 1:53, 2:32, 3:18, 3:46, 4:06

Power/Tackle-Breaking Ability
9.5
10.0

1:50, 3:21, 3:46, 4:02, 4:06, 4:09, 5:55

Quickness/Elusiveness
8.0
10.0

2:03, 2:30, 2:37, 3:21, 4:50, 5:41, 5:55

Route-Running/Hands
7.5
10.0

0:31, 1:52, 2:03, 3:34, 4:00, 5:04

Ball Security
5.5
6.0
4:20
Pass Protection
4.5
6.0
Durability
3.0
4.0
Long Speed
2.5
4.0
1:05, 1:52, 2:32
Film Grade
66.0
80.0
| | |
| --- | --- |
| Pre-Draft Fantasy Prospect Grade* (out of 50): | 41.0 |
* - How well does his skill set carry over to the fantasy game? For running backs, a player needs to be a three-down option as well as a realistic threat for 1,000 rushing yards and 500 receiving yards to be a candidate for a perfect grade. Positional scarcity at the pro level is also a part of the equation.
Positives
Charbonnet works inside the tackles without hesitation and finishes runs as well as any prospect in this class, thanks in large part to a powerful lower half. His 215-pound frame does not do him justice, as he runs angrier than just about any of his peers. Most of his touches end up testing the manhood of defenders. His game tape is littered with examples of him running through linebackers/defensive backs and generating yards after contact (averaged 4.2 yards after contact per carry in 2022). Charbonnet is resourceful enough (stiff arm, dead leg, moderate jump-cut, etc.) that he can usually avoid unnecessary contact at the first level - he is usually patient and his vision rarely betrays him - and has a great feel when to lower the boom on players his size or smaller at the second and third level. While he possesses average timed speed for a running back, the Michigan transfer can chew up some ground once he has a runway (usually build-up speed is a product of being a long-strider, which he is). While he will get tracked down from behind, he has enough burst and explosiveness to break off medium-sized chunk runs. (To that end, he ranked fifth in FBS with 26 carries of 15-plus yards in 2022.) Charbonnet also boasts unusually good hands for a powerful back, possessing the ability to snag balls thrown outside of his frame. He is also not afraid to punish defenders as a blocker either.
Negatives
By no means is Charbonnet an average athlete; look no further than his 37-inch vertical jump for proof of that. However, he is more of a one-track runner than a player that can stack one move on top of another in the open field. Although patience is one of his strengths, the All-Pac-12 selection performer is also occasionally guilty of trying too hard to utilize upper-body deception rather than just taking what is there. His 4.52 speed is good for a back who relies on power, but it also means he is unlikely to turn many of his medium-sized runs into touchdowns. While Charbonnet certainly has the hands to be an asset in the passing game, he is not sudden enough to be considered a mismatch in the passing game for linebackers or safeties in the NFL. In short, there is a very real chance he is limited to early-down work if his new team already has a dynamic passing-down back on the roster. Any running back that runs with as much power and tries to run through contact as much as he opens himself up to injury risk. To that end, he missed his team's final three games last season due to injury and has dealt with minor knee, calf and biceps injuries throughout his college career.
Bottom Line
Charbonnet may not possess the measurables that make evaluators drool or the kind of game that excites a fan base, but he is a strong candidate to be a three-down back in the NFL. He is a tone-setter and should have little problem carving out a long career based solely on the fact that he is what many coaches want: a hard worker that picks up the difficult yards and does a lot of what is expected from the position well. He should have no problem grabbing and holding onto his next team's early-down role (as well as short-yardage and goal-line work), so long as they draft him to start as the physical component of a committee and not to back up a Derrick Henry- or Nick Chubb-style runner.
The downside to Charbonnet is that his skill-set may have been worth more to teams 20 years ago than it is today. There always be a place in the NFL for running backs capable of breaking tackles, gaining yards after contact and converting short-yardage opportunities, but the league just does not prioritize the power game as much anymore as it does backs that create mismatches in the passing game or possess game-breaking speed. Just because he is not a "matchup nightmare" does not mean he will not be a good NFL running back, however. It probably just means he will not be a great one. If Charbonnet can find a landing spot like James Conner did in Pittsburgh in 2017 and again in Arizona in 2021, he could that level of success at the next level. However, if his next team is leaning toward a division of labor at running back, Charbonnet probably will not be dynamic enough to get his coaches to reconsider.

---



Predict the top ten picks of the NFL Draft for a chance to win $100 and FFToday prizes. Enter our NFL Draft Contest now.

---
Doug Orth has written for FF Today since 2006 and been featured in USA TODAY's Fantasy Football Preview magazine since 2010. He is also a high-stakes player who often appears as a guest analyst on a number of national sports radio shows, such as Sirius XM's "Fantasy Drive." Doug is also a member of the Fantasy Sports Writers Association.