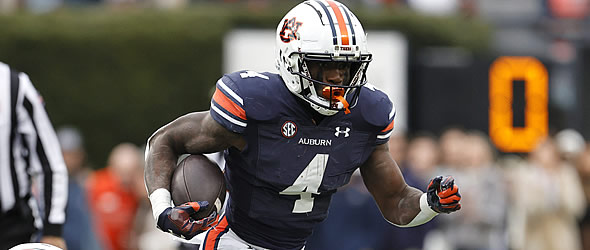 Vitals

College: Auburn
Height/Weight: 6'0"/210
Hands: 9 1/2"
Age: 22 (at the time of the 2023 season opener)



Important NFL Combine Numbers



40-Yard Dash: 4.56
Vertical Jump: 32.5''
Broad Jump: 9' 11''
20-Yard Shuttle: N/A
3-Cone: N/A



College Production

(Stats)


High-end NFL Player Comp(s): Cam Akers
Low-end NFL Player Comp(s): Zonovan Knight

Best Scheme Fit: Universal, although his vision and one-cut ability would likely fit better in a zone-running scheme. He is probably best suited to work as the early-down option in a committee to begin his career until he proves is more adept as a receiver.

Best Team Fit(s): Dolphins, Chargers, Buccaneers, Cardinals

Non-bolded times - Good examples of attribute
Bolded times - Average/poor examples of attribute
Position-Specific Attributes and Grades (2022)
Attribute
Att Grade
Scale
Examples
Burst/Explosiveness
9.0
10.0
0:59, 1:04, 1:38, 2:25, 3:01, 3:27, 3:36
Contact Balance
8.0
10.0
Instincts/Patience/Vision
8.0
10.0
Power/Tackle-Breaking Ability
8.0
10.0

0:00, 0:08, 0:18, 1:41, 2:15, 2:49, 3:19
0:00, 2:10, 2:41, 3:09

Quickness/Elusiveness
9.0
10.0
Route-Running/Hands
6.5
10.0
Ball Security
4.5
6.0
Pass Protection
3.0
6.0
Durability
3.5
4.0
1:18
Long Speed
3.0
4.0
Film Grade
62.5
80.0
| | |
| --- | --- |
| Pre-Draft Fantasy Prospect Grade* (out of 50): | 38.5 |
* - How well does his skill set carry over to the fantasy game? For running backs, a player needs to be a three-down option as well as a realistic threat for 1,000 rushing yards and 500 receiving yards to be a candidate for a perfect grade. Positional scarcity at the pro level is also a part of the equation.
Positives
True to his nickname (Tank), Cartavious Bigsby can be a north-south runner who will not go down easy and displays a fair amount of power in his game. Although he does not possess a lot of thump in short-yardage situations, he usually falls forward after contact and gets his money's worth on those opportunities. With that said, his overall game relies much more on patience, tempo, vision and instincts while operating on the first and second levels of the defense. (Each of these traits certainly played a role in him averaging 4.2 yards after contact per attempt despite playing behind the third-lowest-graded run-blocking line in the SEC - per Pro Football Focus - in 2022.) Bigsby does an excellent job of processing the information the defense gives him in real-time. He has the uncommon ability to make defenders miss in between the tackles without appearing as if he is trying hard to do it. The Georgia native makes sharp cuts when he needs them, but he is more of a slippery and controlled runner than anything else, consistently using subtle jump cuts to dodge incoming tackle attempts. Bigsby also showed a tendency to make something out of nothing on plays where the offensive line failed him. This big-play ability was part of the reason why he led the SEC with eight carries of 30-plus yards in 2022.
Negatives
Even though Bigsby possesses near-ideal weight for a man playing his position, he lacks the kind of thick and dense frame that lead or featured backs usually have in the NFL. He will probably need to put some more work into his lower body in the weight room if he hopes to be a team's primary early-down/goal-line option in the NFL. For as much of a strength as Bigsby's vision typically is, he does miss opportunities to cut back. Bigsby flashes a nice dead leg in the open field but also displays a tendency to fall over himself after making such a move. Despite his track background (not to mention the examples of long speed above), he did not break a ton of long runs in college (one run of more than 50 yards on 540 career attempts and only six that covered at least 40 - four of which occurred in 2022). While his 30 receptions last year would suggest otherwise, the 2020 co-SEC Freshman of the Year may need to concentrate most of his offseason work on becoming a better receiver. There are too many times when his instinct is to catch the ball with his body and other times when does not look the ball into his hands.
Bottom Line
Bigsby has many traits that evaluators want in running backs, but it is hard to pinpoint one that makes him stand out from the rest of his draft classmates. On the plus side, the ability to generate yards after contact in college - especially in the SEC - tends to carry over well to the pro game. The ability to change tempo instinctually also usually comes in handy in the NFL. With Bigsby, the inability to find a second gear and some of his adventures as a receiver sometimes makes it hard to remember how much he does well. In his defense, countless running backs have overcome the speed limitation over the years. Another feather in his hat is how much Auburn trusted him as a pass-catcher; his 30 catches led the Tigers. His 18.9 reception share is also very high for a running back.
One of the most concerning things regarding Bigsby is how inconsistent his production was throughout his college career. While it could have been a product of a deteriorating offensive line and questionable coaching, the inconsistent production was still an issue when the Tigers were decent in his freshman year. The lack of true game-breaking runs is also troubling. As such, Bigsby profiles as a potentially good pro but not one that is going to make an average run game good or a good running game great. He has three-down upside, but he desperately needs to become more of a sure thing as a receiver.

---



Predict the top ten picks of the NFL Draft for a chance to win $100 and FFToday prizes. Enter our NFL Draft Contest now.

---
Doug Orth has written for FF Today since 2006 and been featured in USA TODAY's Fantasy Football Preview magazine since 2010. He is also a high-stakes player who often appears as a guest analyst on a number of national sports radio shows, such as Sirius XM's "Fantasy Drive." Doug is also a member of the Fantasy Sports Writers Association.