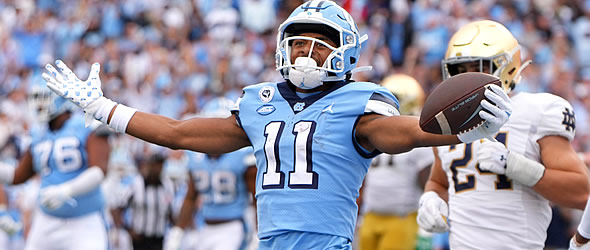 Vitals

College: North Carolina
Height/Weight: 5' 9''/171
Hands: 9 1/4''
Age: 22 (at the time of the 2023 season opener)



Important NFL Combine Numbers



40-Yard Dash: 4.48
Vertical Jump: 38.5''
Broad Jump: 10' 11''
20-Yard Shuttle: 4.15 (pro day)
3-Cone: 6.75 (pro day)



College Production

(Stats)


High-end NFL Player Comp(s): Doug Baldwin
Low-end NFL Player Comp(s): Greg Dortch

Best Scheme Fit: Day 1 slot receiver in a spread offense with a heavy emphasis on option routes.

Best Team Fit(s): Packers, Dolphins, Colts, Panthers, Chargers, Seahawks, Saints

Non-bolded times - Good examples of attribute
Bolded times - Average/poor examples of attribute
Position-Specific Attributes and Grades (2022)
Attribute
Att Grade
Scale
Examples
Ball Tracking
8.5
10.0
1:21, 1:41, 5:02, 16:10
Contested Catch/Body Control
8.5
10.0
0:52, 1:21, 1:31, 5:02, 16:10
Hands
8.0
10.0
Release
9.0
10.0
10:06, 17:03, 25:36
Route-Running
9.5
10.0
0:51, 1:31, 6:09, 6:47, 12:45, 25:36
Run After Catch
7.0
10.0
Physicality/Competitiveness
5.5
8.0
Separation
5.5
6.0
0:51, 0:52, 6:47, 13:42, 17:03, 25:36
Speed
3.0
4.0
1:21, 18:13
Blocking
0.5
2.0
4:40
Film Grade
65.0
80.0
| | |
| --- | --- |
| Pre-Draft Fantasy Prospect Grade* (out of 50): | 39.5 |
* - How well does his skill set carry over to the fantasy game? For receivers, a player needs to be a realistic threat for 70 catches and 1,000 receiving yards at some point early in their career to be a candidate for a perfect grade. Positional scarcity at the pro level is also a part of the equation.
Positives
Smaller receivers often need to rely on quickness and craftiness to make a living in the NFL. Downs offers both and a lot more. The former top-100 recruit was able to get open against just about any cornerback in college, using the defender's leverage and his ability to adjust his tempo to create separation. His biggest weapon, however, may be how seamlessly he can sink his hips and accelerate out of his transitions. Also working in his favor is how infrequently defensive backs can get a jump on where he is going because he does not telegraph his routes. For a receiver with somewhat small hands, Downs is an extremely confident and competent hands-catcher. One area in which this shows up the most is the surprising regularity with which he wins in contested-catch situations. (Per Pro Football Focus, his 13 contested catches in 2022 were tied for 23rd in the country. He also won more than 72 percent of his contested-catch targets!) To that end, Downs was a surprisingly productive red zone target for North Carolina, scoring nine of his 11 touchdowns last season inside the 20 - including four inside the 10. He should also be a dependable zone-buster from the day he puts on an NFL uniform, as he displayed great spatial awareness with the Tar Heels.
Negatives
The ability to play - and thrive - in space is more important than size in today's NFL, but the deck is still stacked against receivers that measure in at 5-9 and 171 pounds. Forget for a second that he could be destined to be a part-time player because he may never be capable of being a serviceable run-blocker, but he will almost certainly be limited to slot work. (He lined up outside on only 136 of 736 offensive snaps in 2022 and rarely encountered any kind of potential disruption in his routes.) It is also extremely rare for a player of his size to enjoy the kind of success in contested-catch situations in the NFL that he did in college. Downs' speed is not an issue per se, but it is far from ideal. At the very least, coaches would prefer a receiver with his size limitations to be able to stretch the field. His timed speed makes that a bit of a dicey proposition in the NFL. Downs also went from being one of the best yard-after-catch receivers in 2021 (third in the country with 754 YAC yards; 7.5 yards after contact on 101 catches) to one of the least effective (51st; 375 YAC yards, 4.0, 94 catches). Considering he was able to elude defenders so easily in 2021, did the lower-body injury that caused him to miss three games early in the season bother him throughout 2022?
Bottom Line
Downs should be a consistent producer in the NFL, but it will be critical for his next play-caller to feature him on change-of-direction routes. Time after time, it appears as if he can get open anytime he wants on a whip or pivot route. Assuming Downs' early-season injury sapped him of some of his playmaking ability for a few games and that he is more of the player we saw in 2021 - his four biggest YAC efforts came over the final six games - then evaluators can dream of potentially landing the next Doug Baldwin.
Not every team is going to be open to the idea of ignoring the prototypical size and strength an NFL receiver theoretically should have, especially when he does not have blazing speed. It seems unlikely that Downs will be able to survive - much less thrive - as a perimeter receiver. What Downs should be able to do from the first day he steps on the field, however, is move the chains. If his new team has the luxury of sticking him in the slot on 75 percent of his snaps and letting him do his thing on option routes, he will very much be worth a Day 2 selection. That is probably where his contested-catch ability would shine the most as well.

---



Predict the top ten picks of the NFL Draft for a chance to win $100 and FFToday prizes. Enter our NFL Draft Contest now.

---
Doug Orth has written for FF Today since 2006 and been featured in USA TODAY's Fantasy Football Preview magazine since 2010. He is also a high-stakes player who often appears as a guest analyst on a number of national sports radio shows, such as Sirius XM's "Fantasy Drive." Doug is also a member of the Fantasy Sports Writers Association.