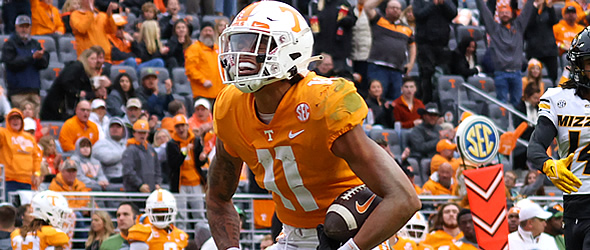 Vitals

College: Tennessee
Height/Weight: 6' 0''/176
Hands: 9"
Age: 21 (at the time of the 2023 season opener)



Important NFL Combine Numbers



40-Yard Dash: 4.4
Vertical Jump: 40''
Broad Jump: 11' 3''
20-Yard Shuttle: 4.33 (pro day)
3-Cone: 7.06 (pro day)



College Production

(Stats)


High-end NFL Player Comp(s): Darius Slayton
Low-end NFL Player Comp(s): Mecole Hardman

Best Scheme Fit: Z receiver in a spread offense whose primary purpose will be to alter coverage in the same way Randy Moss once did. May need to line up often in the slot to provide extra protection from potential press coverage.

Best Team Fit(s): Chargers, Rams, Dolphins, Eagles, Titans, Seahawks

Non-bolded times - Good examples of attribute
Bolded times - Average/poor examples of attribute
Position-Specific Attributes and Grades (2022)
Attribute
Att Grade
Scale
Examples
Ball Tracking
9.5
10.0
Contested Catch/Body Control
7.5
10.0
Hands
8.5
10.0
Release
6.0
10.0
Route-Running
7.0
10.0
Run After Catch
7.5
10.0
Physicality/Competitiveness
4.0
8.0
Separation
5.5
6.0
Speed
4.0
4.0
0:24, 1:56, 2:37, 2:47, 8:14
Blocking
1.0
2.0
Film Grade
60.5
80.0
| | |
| --- | --- |
| Pre-Draft Fantasy Prospect Grade* (out of 50): | 39.0 |
* - How well does his skill set carry over to the fantasy game? For receivers, a player needs to be a realistic threat for 70 catches and 1,000 receiving yards at some point early in their career to be a candidate for a perfect grade. Positional scarcity at the pro level is also a part of the equation.
Positives
The 2022 Biletnikoff Award winner's triangle numbers (40, vertical, broad) tell the story: he is ridiculously explosive. His gaudy 40 time may not actually do him justice; there may not be a prospect in this draft with more speed and ability to reduce a cornerback's cushion quickly; he is a field-stretcher (20 catches of 20-plus yards, seven receptions of 50-plus yards in 2022). Hyatt catches virtually everything with his hands and tracks the ball exceptionally well. (His 58.3 percent success rate on targets 20-plus yards ranked No. 1 in the FBS in 2022.) Hyatt understands leverage on his deep routes, which shows he has some nuance to his game. The first-team All-American's 40-inch vertical jump and 32.5-inch arms suggest he has the ability to win frequently in contested-catch situations, but he didn't find himself in that position very often in 2022 (three contested catches, per PFF). Hyatt was trusted or proved he was capable of running intermediate routes - such as a stop route - that played off the defense's fear of his speed - as the 2022 season progressed. The South Carolina native may be slender, but he brings more tenacity as a blocker to the table than many players his size, even if he is unable to hold up on occasion.
Negatives
Hyatt's role - or more what he was asked to do - in the Tennessee offense was so limited that it begs the question of whether HC Josh Heupel valued him only for his ability as a vertical receiver or was trying to hide Hyatt's limitations. One piece of information that indicates the latter could be true is that Heupel and his staff lined him up in the slot on 90 percent of Tennessee's pass plays in their two seasons together. (Per Pro Football Focus, Hyatt only press coverage on 62 snaps over his 35-game career, and most of those plays saw him stacked behind another receiver or featured him catching (or carrying out a fake) on a quick screen. The overwhelming majority of his routes were quick screens and vertical routes with the occasional stop or post route thrown in for good measure. While his single-season school record of 15 touchdown catches is highly impressive, at least half of them - including most of his five against Alabama in mid-October - came on complete coverage busts that were a result of late motion and/or poor communication on the back end of the defense. Hyatt's advanced metrics suggest he is great after the catch (489 yards in 2022), but most of that production came on the aforementioned coverage busts; he rarely did much of anything after the catch on his shorter routes.
Bottom Line
What Hyatt brings to the table is one of the things NFL teams covet the most (especially at his position): speed. What he lacks is just about everything else outside of high-level hand-eye coordination. Considering how he was utilized by Heupel and the lack of reps he had doing other NFL things outside of running deep routes, it would be a huge upset if Hyatt ever becomes anything more than a field-stretching complementary receiver. While that "skill" certainly has a place on an NFL roster, it is difficult to justify spending a draft pick in the first round on a player that may not necessarily create his own offense but opens things up for everyone else.
There are simply too many unknowns about Hyatt to believe he will be an immediate contributor in the NFL. Worse yet, the degree to which he was sheltered from any kind of physical coverage - not to mention his relative lack of play strength - suggests it might take him a while to get to a point where he and his play-caller are comfortable with him running perimeter routes consistently. He is much more of a projection than receivers that typically go in Day 1 or Day 2 of the draft usually are. In short, the early part of his career could end up mirroring Mecole Hardman's as a part-time gadget player who will be asked to stretch the field. When he splashes, he will splash big. Unfortunately, NFL defenses will catch onto his trick quickly unless he is operating opposite a true alpha receiver.

---



Predict the top ten picks of the NFL Draft for a chance to win $100 and FFToday prizes. Enter our NFL Draft Contest now.

---
Doug Orth has written for FF Today since 2006 and been featured in USA TODAY's Fantasy Football Preview magazine since 2010. He is also a high-stakes player who often appears as a guest analyst on a number of national sports radio shows, such as Sirius XM's "Fantasy Drive." Doug is also a member of the Fantasy Sports Writers Association.