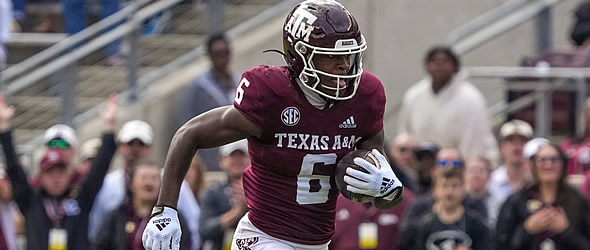 Vitals

College: Texas A&M
Height/Weight: 5' 8 1/2''/188
Hands: 8 1/2''
Age: 21 (at the time of the 2023 season opener)



Important NFL Combine Numbers



40-Yard Dash: 4.32
Vertical Jump: 33''
Broad Jump: 9' 3" (pro day)
20-Yard Shuttle: 4.36 (pro day)
3-Cone: 7.05 (pro day)



College Production

(Stats)


High-end NFL Player Comp(s): A more powerful Kenneth Gainwell
Low-end NFL Player Comp(s): A more explosive Dion Lewis

Best Scheme Fit: An offense that leans on inside zone runs, although he is versatile enough to fare well in a gap scheme.

Best Team Fit(s): Chiefs, Rams, Seahawks, Giants, Texans, Titans, Falcons

Non-bolded times - Good examples of attribute
Bolded times - Average/poor examples of attribute
Position-Specific Attributes and Grades (2022)
Attribute
Att Grade
Scale
Examples
Burst/Explosiveness
9.5
10.0
0:16, 2:06, 2:37, 8:37, 9:37, 16:33
Contact Balance
8.0
10.0

1:23, 3:08, 3:45, 7:39, 18:13, 52:11

Instincts/Patience/Vision
8.0
10.0

0:16, 2:06, 2:37, 4:51, 5:29, 8:37, 42:00, 42:52

Power/Tackle-Breaking Ability
7.5
10.0

1:06, 2:00, 3:08, 18:13, 42:52, 52:11

Quickness/Elusiveness
9.5
10.0
3:45, 5:31, 7:16, 7:39, 8:37, 9:37, 42:00
Route-Running/Hands
8.0
10.0

1:08, 7:20

Ball Security
5.5
6.0
4:06
Pass Protection
3.5
6.0
Durability
2.5
4.0
Long Speed
4.0
4.0
1:58, 2:37, 9:37
Film Grade
66.0
80.0
| | |
| --- | --- |
| Pre-Draft Fantasy Prospect Grade* (out of 50): | 40.5 |
* - How well does his skill set carry over to the fantasy game? For running backs, a player needs to be a three-down option as well as a realistic threat for 1,000 rushing yards and 500 receiving yards to be a candidate for a perfect grade. Positional scarcity at the pro level is also a part of the equation.
Positives
Achane may look and be built like a scatback, but he is surprisingly comfortable and effective running between the tackles. What makes him even more unique is his patience in pressing the hole and his ability to change direction and stop-and-start once inside. His acceleration is as good as any back in this draft class. Good contact balance is not something that is typically associated with 188-pound running backs, but the former four-star recruit will rarely go down on an arm tackle and can take second- and third-level defenders for a short ride on occasion. (He accumulated 705 yards after contact in 2022 and forced a missed tackle on 29 percent of his career rush attempts, per Pro Football Focus.) Although he did not account for a large number of "home runs" in his college career, Achane's track speed (4.32) - notable because he is also an accomplished college sprinter - checks out with his game speed. The first-team All-SEC performer, who fumbled only twice in his career (on 434 touches), should provide immediate returns on special teams after returning two of his 20 career kick returns back for touchdowns. Achane may not have the size to hold up very long against bigger defenders as a blocker, but he showed a high level of commitment and effort in that area. While his 2022 tape did not reveal much creative use in the passing game, his 2021 film showed that he has significant upside as a weapon in the passing game - be it out of the backfield or split out wide.
Negatives
Even in today's NFL where speed rules and size does not matter as much as it used to, there are very few backs who can (or even given a chance to) be primary backs - much less featured backs. The fact that he needs to add at least 10-15 pounds before he could enter the conversation with most teams limits how some NFL teams will view him. As is the case with any running back his size, durability will be a primary concern. That may especially be the case for Achane if he continues to run inside as often as he did at Texas A&M. His lack of size could also come into play against defenses with bigger linebackers; the likelihood is that he will be expected to regularly stand up a defender at least 35 pounds heavier than him against the blitz. His patience as a runner serves him well the majority of the time, but it occasionally leads to tackles for losses or missed big-play opportunities because he took a split-second too long to decide to abandon a doomed play. While he is very elusive and can stack moves on moves, Achane is also a bit more straight-line than one would expect for a player of his size; he is less likely to juke defenders and more likely to spin or lower his shoulder.
Bottom Line
The fact of the matter is that if Achane was even about 200 pounds, he might be viewed as a surefire second-round pick. His initial calling card figures to be his versatility - he was the only Power 5 player to score as a rusher, receiver and kick returner in 2022 - but evaluators should not make the mistake that he is just another try-hard scatback. His size will understandably keep him from handling a heavy workload in the pros, but it would be a waste of his talents to give him five carries and five targets per game and call it a day. Jamie Morris (Michigan, 1988 NFL Draft) was one of the best short and sub-190 pound inside runners the league has seen and Achane is like him in some ways.
It is probably too much to ask Achane to become the next Austin Ekeler - especially near the goal line - but there is little doubt that the 2020 Orange Bowl Offensive MVP can be used in a similar fashion otherwise. His best fit is with a team that believes in a true split backfield and has an offensive coordinator creative enough to line him up all over the field. It may take Achane a bit to convince his next coaching staff that he is something more than just a scatback/kick returner, but it should happen eventually. He is not just another 188-pound back who should be capped at 120-130 touches per season.

---



Predict the top ten picks of the NFL Draft for a chance to win $100 and FFToday prizes. Enter our NFL Draft Contest now.

---
Doug Orth has written for FF Today since 2006 and been featured in USA TODAY's Fantasy Football Preview magazine since 2010. He is also a high-stakes player who often appears as a guest analyst on a number of national sports radio shows, such as Sirius XM's "Fantasy Drive." Doug is also a member of the Fantasy Sports Writers Association.