Nine years ago, I introduced "The Dirty Dozen" and "The Delicious Dozen" around Thanksgiving time. The idea then - as it is today - was to identify negative and positive receiver matchups, respectively, as a way to prepare owners for the upcoming stretch of fantasy games that usually determine fantasy championships.

Receiver-cornerback matchups are among the most critical ones in the real game, yet very few fantasy analysts spend any time breaking them down - and few do it in much detail. Until this becomes a more common practice, there will be thousands of owners who will avoid matchups they shouldn't and vice versa.

The point is the fantasy industry as a whole tends to rely on name recognition when it comes to avoiding a potential matchup rather than doing some research to find out which defenders are playing well consistently. They also tend to stick with their opinions about struggling corners for far too long when they finally break through and begin playing well. The truth is defensive players ebb and flow in much the same way offensive players do.

Note: The cutoff for this piece was 300 coverage snaps. At roughly 30 coverage snaps per game, we should be able to eliminate any players who are not "full-timers." Below each write-up is the remaining schedule and the projected matchups each corner should see in coverage in that week. Please keep in mind that receivers move across the formation a lot, while most defensive coordinators seem to favor keeping their corners on one side of the formation, so this is far from an exact science.

In cases in which a receiver there isn't a discernible difference in how often a receiver plays on one side of the field or the other (which is quite common), the most likely player to see primary coverage from the cornerback below will be listed first. Receivers expected to see less of him will be listed second or third but in the order of times they should square off against the cornerback.

All coverage data courtesy of Pro Football Focus.

*** - Indicates the cornerback has been/could be used as a "shadow"
12. Roger McCreary, Titans (Passer Rating Against: 105.8)
* Has logged 294 snaps in the slot and 269 at left cornerback.
McCreary has settled into a bit of a groove after a rough five-week stretch to begin his NFL career that included allowing two touchdown passes and 22 of the first 29 passes thrown in his direction to be completed. Over his last five games, quarterbacks are much more manageable 16-for-25 for 210 yards and one TD. (Unsurprisingly, that one score came against Kansas City.) McCreary may be undersized at 5-11 and 190 pounds, but he is a feisty competitor who fits in well with Tennessee and should improve as the season progresses. Since the team's Week 6 bye, McCreary's passer rating against is a reasonable 91.4. With 2021 first-round pick Caleb Farley (back) done for the year and Kristian Fulton and journeyman Terrance Mitchell absorbing a ton of snaps alongside McCreary, DFS players and fantasy managers should be targeting them as opposed to the rookie.
Week 12: Tyler Boyd/Tee Higgins/Ja'Marr Chase (Bengals)
Week 13: Quez Watkins/DeVonta Smith/A.J. Brown (Eagles)
Week 14: Christian Kirk/Marvin Jones (Jaguars)
Week 15: Keenan Allen/Josh Palmer/Mike Williams (Chargers)
Week 16: Chris Moore/Brandin Cooks/Nico Collins (Texans)
Week 17: CeeDee Lamb/Michael Gallup/Noah Brown (Cowboys)
11. Eli Apple, Bengals (Passer Rating Against: 106.6)
* Has played 351 of his 446 cornerback snaps on the left side.
Expecting Apple to serve as their second cornerback was a big enough ask, but the Bengals went from being at least a moderately tough unit to throw against to one that might force the offense to go into shootout mode most weeks following Chidobe Awuzie's ACL tear in Week 8. Apple managed to play well during the team's Super Bowl run in 2021, but it is mildly surprising he has not been part of "The Delicious Dozen" more often in his career with three seasons allowing a passer rating over 100 in his last five years. Interestingly, Apple is not giving up a high completion rate (60 percent) or much after the catch (104 yards). Apple was playing roughly at the same level as last year through six weeks, but he has surrendered touchdowns in two of his last three games despite facing Marcus Mariota, P.J. Walker and Kenny Pickett. The road is about to get rougher for Apple and the Bengals with upcoming games against Patrick Mahomes, Deshaun Watson, Tom Brady and Josh Allen. New starter - rookie Cam Taylor-Britt - has a ton of upside but can't be expected to fill Awuzie's shoes anytime soon, making Cincinnati a defense to target moving forward with fantasy receivers who see most of their time on the perimeter.
Week 12: Robert Woods/Treylon Burks (Titans)
Week 13: Marquez Valdes-Scantling/JuJu Smith-Schuster (Chiefs)
Week 14: Amari Cooper/Donovan Peoples-Jones (Browns)
Week 15: Julio Jones/Mike Evans (Buccaneers)
Week 16: Nelson Agholor/DeVante Parker (Patriots)
Week 17: Gabe Davis/Stefon Diggs (Bills)
10. Greg Newsome II, Browns (Passer Rating Against: 108.8)
* Has played at least 96 snaps at each cornerback position (slot, left corner, right) but logged 239 of his 461 cornerback snaps in the slot.

Defensive coordinator Joe Woods is catching a lot of heat for his inability to mold the Browns into the defensive juggernaut that their talent (and/or draft capital) says they should be. Newsome is one of four former first-round picks made by Cleveland that logs a significant number of snaps each week on defense. (Along with DE Jadeveon Clowney, LB Jeremiah Owusu-Koramoah, CB Martin Emerson and S John Johnson III, the Browns have eight players who were either former first-round picks or playing like one.) This brings us back to Newsome, who probably suffers because he plays opposite Denzel Ward. With that said, his defensive metrics are down almost across the board from his impressive 2021 rookie season. He has been mostly hit-or-miss in 2022 with most of his poor performances coming in road games. On the road, quarterbacks have completed 13 of 15 passes for 184 yards and two touchdowns in four games. At home, those numbers are 14-for-24 for 115 yards and no TDs in five outings. Newsome missed Week 11 with a concussion and may miss another game or two if Ward's recent concussion timeline is any indication of how much time Newsome might miss. A.J. Green was the primary slot corner against Buffalo last week and gave up a score. Newsome should not be considered a target for fantasy purposes when he returns, but he has yet to play up to his first-round draft status in 2022.

Week 12: Chris Godwin (Buccaneers)
Week 13: Chris Moore (Texans)
Week 14: Tyler Boyd (Bengals)
Week 15: James Proche/Devin Duvernay (Ravens)
Week 16: Jarvis Landry (Saints)
Week 17: Curtis Samuel (Commanders)
T-8. Marcus Peters, Ravens (Passer Rating Against: 109.4)
* Has played 465 of his 489 cornerback snaps on the left side.
By most accounts, Peters is having the same kind of year he usually does. The biggest difference in 2022 is that he has not piled up the interceptions he usually gets to lower his passer rating against and offset the chances he takes. (How much of his poor season is a product of him tearing his ACL right before the start of the 2021 season?) Peters enjoyed about a month-long stretch of decent play after getting roughed up during his season debut in the wild Week 2 game against the Dolphins, but he has been far too easy of a target over the last four games. In that time, 15 of the 19 passes thrown in his coverage have been completed for two touchdowns. In all four games, his passer rating allowed has been over 100 in each contest. He has only one interception (Week 2) and has not broken up a pass since Week 3. His missed tackle rate is 17.6 percent, which suggests there is room for receivers to be much more productive after the catch if Baltimore suffers any injuries on the back end of its defense. Peters has never been a shutdown corner as much as he has been a savvy playmaker who anticipates well, so fantasy managers should feel comfortable loading up on receivers who spend the majority of their time on the right side of the offensive formation.
Week 12: Marvin Jones/Zay Jones (Jaguars)
Week 13: Courtland Sutton/Jerry Jeudy (Broncos)
Week 14: George Pickens/Diontae Johnson (Steelers)
Week 15: Amari Cooper/Donovan Peoples-Jones (Browns)
Week 16: Damiere Byrd/Drake London (Falcons)
Week 17: George Pickens/Diontae Johnson (Steelers)
T-8. L'Jarius Sneed, Chiefs (Passer Rating Against: 109.4)
* Has lined up in the slot on 371 of his 513 cornerback snaps.
It is fair to say that Sneed would be nowhere close to this list were it not for giving up three of his four touchdowns against a healthy Mike Williams (one in Week 2) and Christian Kirk (two in Week 10). If Sneed could erase those weeks from his log, quarterbacks would be completing only 61.7 percent of their passes with no touchdowns in his coverage. Only once outside of those two contests has Sneed allowed quarterbacks to post a passer rating of more than 100 in his coverage. (In six games, his passer rating against has been 85 or lower.) Interestingly, two of three worst coverage efforts came in Weeks 2-3; his performance against the Jaguars was his first truly rough outing since then. All told, it makes Sneed a somewhat difficult player to target for DFS or fantasy purposes and more of an average matchup at best. One area of concern for him might be his missed tackle rate; while it stands at 12.3 percent for the season, it has been exactly 16.7 in three of the last four contests. What this means is that a good yard-after-catch receiver could have a field day at his expense down the road.
Week 12: Ben Skowronek/Van Jefferson (Rams)
Week 13: Tyler Boyd (Bengals)
Week 14: Jerry Jeudy (Broncos)
Week 15: Chris Moore/Brandin Cooks (Texans)
Week 16: Marquise Goodwin/Tyler Lockett (Seahawks)
Week 17: Jerry Jeudy (Broncos)
7. Taron Johnson, Bills (Passer Rating Against: 111.4)
* Has lined up in the slot on 471 of his 475 cornerback snaps.
Johnson appeared to be taking the next step in his development last season when he allowed only 56.8 percent of the passes in his coverage to be completed, leading to a very good passer rating against of 79.5. This season is quickly shaping up to be his worst in five years as a pro. Johnson started 2022 in much the same way he played in 2021 through five weeks - he was giving a completion rate of 72.4 percent, however - until the dam started to break loose in Week 6. Since Buffalo's Week 7 bye, Johnson has been a virtual sieve, allowing 19 of the 23 passes in his coverage (82.6 percent) to be completed for 217 yards (99 after the catch) and three touchdowns. In two of those four games, quarterbacks have posted a perfect quarterback rating of 158.3 when throwing in his coverage. (Zach Wilson even enjoyed a 127.1 rating against him in Week 9.) Considering this recent stretch appears to check out more with his career norms, it is reasonable to conclude this is more than just a lack of confidence. It appears this is who he is in Buffalo's zone-heavy defensive scheme. Feel free to fire up primary slot receivers against the Bills.
Week 12: Amon-Ra St. Brown (Lions)
Week 13: Jakobi Meyers (Patriots)
Week 14: Elijah Moore (Jets)
Week 15: Trent Sherfield (Dolphins)
Week 16: Darnell Mooney (Bears)
Week 17: Tyler Boyd (Bengals)
6. Chandon Sullivan, Vikings (Passer Rating Against: 115.8)
* Has lined up in the slot on 497 of his 502 cornerback snaps.
Minnesota has taken keeping its cornerbacks in one spot to an extreme. Patrick Peterson has played 622 of his 632 cornerback snaps on the left side. We will talk about another player in a bit who has not moved off right cornerback at all. This brings us to Sullivan, who is shaping up to be more of an average player at best in full-time work over the last three seasons after enjoying a standout 2019 campaign as a part-timer in the slot for Green Bay. About the only area in which Sullivan has not been poor in 2022 has been surrendering touchdowns (one). Quarterbacks have completed 45 of 54 throws in his coverage (83.3 percent) for 557 yards (369 after the catch). He has been credited with only one pass breakup and no interceptions. The Georgia State product has also yielded a passer rating against of at least 101.0 in all but two games. Sullivan is a player that DFS players and fantasy managers should target week after week.
Week 12: Jakobi Meyers (Patriots)
Week 13: Elijah Moore (Jets)
Week 14: Amon-Ra St. Brown (Lions)
Week 15: Parris Campbell (Colts)
Week 16: Richie James (Giants)
Week 17: Randall Cobb (Packers)
5. Jalen Ramsey, Rams (Passer Rating Against: 116.5) ***
* Has played at least 137 snaps at each cornerback position (slot, left corner, right).
Considering the falloff of the Rams' pass defense this year, it was not hard to conclude that Ramsey may be having a down year before digging into his metrics. Seeing him on this list after giving up his second two-touchdown game of the season is a bit jarring, however. Whether he has become disinterested (he played well enough for the most part in the first eight weeks of the season except for Week 1) or lost a bit of confidence is up for debate. What is not up for debate is that each of the Rams' last three opponents has targeted him relentlessly. Tom Brady, Colt McCoy and Andy Dalton have combined to complete 23 of their 30 passes in his coverage over that stretch for 247 yards and two TDs. It seems a bit premature to tell fantasy managers to target Ramsey in their upcoming matchups, but the Rams' defense has unquestionably become a good matchup for receivers in general (eighth-most fantasy points allowed to the position). The larger point here may not be to target Ramsey - he moves around too much to predict his primary matchup for fantasy purposes - but to target receivers as a whole against the Los Angeles defense.
Week 12: JuJu Smith-Schuster/Kadarius Toney/Marquez Valdes-Scantling (Chiefs)
Week 13: DK Metcalf/Tyler Lockett (Seahawks)
Week 14: Davante Adams (Raiders)
Week 15: Allen Lazard/Christian Watson (Packers)
Week 16: Courtland Sutton/Kendall Hinton/Jerry Jeudy (Broncos)
Week 17: Mike Williams/Keenan Allen/Josh Palmer (Chargers)
4. Kyler Gordon, Bears (Passer Rating Against: 118.2)
* Has lined up in the slot on 380 of his 550 cornerback snaps.
When working opposite an established cornerback such as Jaylon Johnson, it is common for "the other guy" to get picked on a lot - especially if he is a rookie. Better days are likely ahead for the No. 39 overall pick in the 2022 draft, but there is no question he is still adjusting to the NFL. Quarterbacks are enjoying an 82 percent completion rate when throwing to pass-catchers in his direction, which somewhat overshadows the fact he has yielded a touchdown pass in his coverage in only two games. He has given up a league-high 615 receiving yards, while his 314 yards allowed after the catch ranks second. There was about a four-week stretch in which opponents chose not to attack him very aggressively (Weeks 4-7) or else his overall numbers might look a lot worse than they already do. He has also been penalized six times. In part because his usage has been largely predictable, in part because he is playing for a rebuilding team and in part because he was a high draft pick of a new regime, we can largely assume Gordon will continue to keep his role unless he completely bottoms out. In case it was not already obvious, target almost any decent primary slot receiver going up against Chicago.
Week 12: Elijah Moore (Jets)
Week 13: Randall Cobb (Packers)
Week 14: bye
Week 15: Quez Watkins/DeVonta Smith/A.J. Brown (Eagles)
Week 16: Isaiah McKenzie/Khalil Shakir (Bills)
Week 17: Amon-Ra St. Brown (Lions)
3. Cameron Dantzler, Vikings (Passer Rating Against: 118.8)
* Has played exclusively at right cornerback (all 435 cornerback snaps).
While Patrick Peterson is having what feels like the third bounce-back season of his career, Dantzler is likely playing too soft in coverage. The third-year pro has surrendered only two touchdowns and 89 yards after the catch, but he is making most of the quarterbacks throwing in his direction look like Drew Brees in his prime. Quarterbacks are completing 79.1 percent of the passes they throw into Dantzler's coverage, connecting on all of their attempts in three games. This has almost singlehandedly rocketed his passer rating against metric from where it was his first two seasons (94.0 in 2020 and 70.3 in 2021) to where it is more than halfway through 2022. (Amazingly, his PFF coverage grade is remarkably similar in all three years.) Dantzler has also allowed a completion rate of at least 80 percent in five of eight outings. His worst games of the season have come against two teams that attacked him down the field (Quez Watkins and Josh Reynolds) and DeAndre Hopkins. Because of Dantzler's usage (he does not move off right cornerback) and because he plays soft in coverage on a defense that stops the run most of the time, fantasy managers have a near-perfect recipe for a player to target in upcoming matchups.
Week 12: DeVante Parker (Patriots)
Week 13: Garrett Wilson (Jets)
Week 14: D.J. Chark/Jameson Williams? (Lions)
Week 15: Michael Pittman Jr. (Colts)
Week 16: Darius Slayton/Isaiah Hodgins (Giants)
Week 17: Christian Watson/Allen Lazard (Packers)
2. Kenny Moore, Colts (Passer Rating Against: 123.6)
* Has lined up in the slot on 457 of his 558 cornerback snaps.
Moore was included in The Dirty Dozen as recently as 2020 and has been the Colts' primary slot corner for five seasons, so it is a bit of a shock to see him here. He is another player on this list that is paying for a dreadful start to the season, surrendering touchdown passes in his coverage in each of his team's first three games. He has yielded just one since (Week 11), but he is still giving up a completion rate of 75.5 percent for the season. To further drive home that point, quarterbacks have successfully connected with pass-catchers in his coverage at least 80 percent of the time in four of the team's last five contests. Making matters worse, he has a missed tackle rate of 15 percent this season. At 5-9 and 190 pounds, Moore makes for an easy target if opponents know he is struggling. While a player with his history of making plays could turn his season around at any time, there is probably a better chance he is no longer as feisty as he used to be just over a month away from his 29th birthday.
Week 12: Steven Sims (Steelers)
Week 13: CeeDee Lamb (Cowboys)
Week 14: bye
Week 15: K.J. Osborn (Vikings)
Week 16: Keenan Allen (Chargers)
Week 17: Richie James (Giants)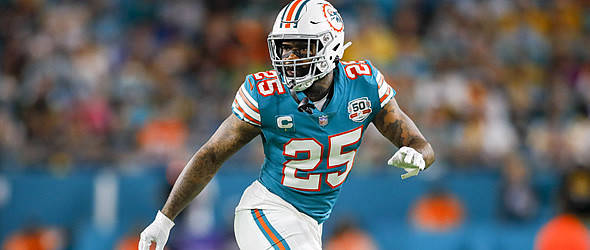 1. Xavien Howard, Dolphins (Passer Rating Against: 143.1) ***
* Has lined up at left cornerback more than right cornerback (299 snaps at LCB vs. 192 at RCB) but logged just 38 snaps in the slot.
As recently as 2020, Howard was one of the premier corners in the league. His play dropped off slightly in 2021, but he was still not a great matchup for most non-elite receivers. However, "abysmal" may be the only way to describe how he began the 2022 season, giving up exactly one TD in each of his first five games and a total of 229 yards after the catch. An early groin injury was likely to blame for some of his poor play. To his credit, Howard has played more to the standard he set in 2020 and 2021 in his last four games, yielding only one TD over that span while surrendering no more than 42 yards (or 27 yards after the catch) in any game over that span. Howard has been used as a shadow in games against a clear alpha receiver (Justin Jefferson in Week 6 and Amari Cooper in Week 10) and played 182 of 187 of his perimeter snaps on the left side of the defense in the other three games since returning from his injury in Week 5. As his PFF coverage grades indicate since his return, Howard is more of a player to avoid now than a player to target in matchups. However, with a lack of teams featuring one true alpha remaining on the schedule, it will be difficult to predict if he will see a receiver - other than Stefon Diggs in Week 15 - more than half of the time.
Week 12: Brandin Cooks/Nico Collins (Texans)
Week 13: Deebo Samuel/Brandon Aiyuk (49ers)
Week 14: Mike Williams/Josh Palmer (Chargers)
Week 15: Stefon Diggs (Bills)
Week 16: Allen Lazard/Christian Watson (Packers)
Week 17: Nelson Agholor/DeVante Parker (Patriots)
---
Doug Orth has written for FF Today since 2006 and been featured in USA Today's Fantasy Football Preview magazine since 2010. He hosted USA Today's hour-long, pre-kickoff fantasy football internet chat every Sunday in 2012-13 and appears as a guest analyst on a number of national sports radio shows, including Sirius XM's "Fantasy Drive". Doug is also a member of the Fantasy Sports Writers Association.