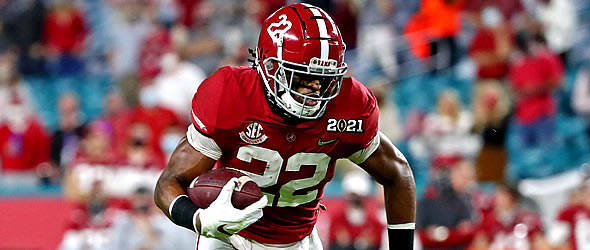 Vitals

College: Alabama
Height/Weight: 6'1"/232
Hands: 10 1/4"
Age: 23



Important NFL Combine Numbers



40-Yard Dash: N/A
Vertical Jump: N/A
Broad Jump: N/A
20-Yard Shuttle: N/A
3-Cone: N/A



College Production

(Stats)


High-end NFL Player Comp(s): Steven Jackson
Low-end NFL Player Comp(s): A more athletic and nimble David Montgomery

Best Scheme Fit: Universal.

Non-bolded times - Good examples of attribute
Bolded times - Average/poor examples of attribute
Position-Specific Attributes and Grades
Attribute
Att Grade
Scale
Examples
Burst/Explosiveness
8.5
10.0
1:09, 3:19, 3:42, 7:21, 7:50
Contact Balance
9.5
10.0
0:28, 1:53, 2:30, 2:58, 3:07, 4:34, 5:24
Instincts/Vision
9.5
10.0
0:26, 1:18, 1:57, 2:04, 2:35, 3:57, 6:28, 1:06, 1:41
Power/Tackle-Breaking Ability
9.5
10.0
0:46, 1:14, 1:18, 1:20, 1:53, 1:57, 3:33, 6:58, 7:27, 0:44, 0:58, 1:07
Quickness/Elusiveness
9.5
10.0
1:45, 1:57, 2:35, 2:54, 4:55, 5:07, 6:28
Route-Running/Hands
9.5
10.0
1:50, 2:13, 2:45, 4:33, 3:51
Ball Security
5.5
6.0
4:34
Pass Protection
4.5
6.0
0:25, 0:35, 1:30, 1:36, 3:08, 0:36, 1:15
Durability
4.0
4.0
Long Speed
3.0
4.0
1:23, 3:42, 7:50
Film Grade
73.0
80.0
Pre-Draft Fantasy Prospect Grade* (out of 50): 47.5
* - How well does his skill set carry over to the fantasy game? For running backs, a player needs to be a three-down option as well as a realistic threat for 1,000 rushing yards and 500 receiving yards to be a candidate for a perfect grade. Positional scarcity at the pro level is also a part of the equation.
Positives
Harris is a smooth runner that has one of the best blends of fluidity and power of any running back prospect in recent years. He also excels or is naturally blessed in many of the areas that coaches want from their running backs in today's NFL. At 230-plus pounds, he is built to handle and dish out punishment. The difference with him is that he is surprisingly quick and elusive for a big back as well, putting defenders in a serious bind just about every time they find themselves in a one-on-one situation with him. Harris lost one fumble over the entirety of his college career (718 touches), so he is extremely dependable. However, it might be his work as a receiver that separates him from the majority of big backs. Harris was charged with only one drop last season en route to 43 catches - easily the most by an Alabama running back since David Palmer in 1993. Although he can still refine his technique, his awareness and willingness in pass protection are developed enough to believe he will be very good in that area sooner than later.
Negatives
There's not much that Harris struggles to do well, and most of those minor flaws should be relatively easy to correct over the next year or two. The biggest knock on his game is a lack of explosive runs. (Only 25 of his 638 career carries covered more than 20 yards and only two went for 40-plus.) Harris will occasionally bounce a run when he might not need to. He didn't run all that many routes (but typically showed well when he was asked to), although consistently positive game script and playing on the same team as four recent or projected first-round talents at receiver probably played a role in why he didn't get more of a chance to display those talents. Harris is occasionally guilty of seeking out contact when he would probably be better served stepping out of bounds. Harris also turned 23 years old in March, which is hardly a bad thing now but means he will most likely be a one-contract runner - especially if he is selected in the first round (mandatory four-year contract plus a team option in the fifth season).
Bottom Line
Matt Forte also is an excellent recent comp for Harris, although the latter is much more physical in between the tackles. My first comp for him was a slightly bigger and slightly slower Edgerrin James, which should speak to just how complete of a player he is. As noted above, Harris is smooth, elusive, powerful, versatile and dependable. He figures to be a three-down back on the first day of camp, and it seems pretty clear he has a singular focus to be great. While his lack of big runs and slightly advanced age (for a rookie) are decent reasons not to spend a first-round pick on him, he has the feel of a player who could be a regular threat for 1,500 scrimmage yards and a lock for goal-line duties for most of his career. NFL teams are reluctant to spend a first-round pick on running backs anymore, but Harris is the one back in this class worthy of being considered an exception late on Day 1. The California native isn't the same elite back tier as the likes of Christian McCaffrey and Saquon Barkley, but he has a well-rounded game that could lend itself to a Jackson-like career if he can improve his speed even just a little bit.

---
Doug Orth has written for FF Today since 2006 and been featured in USA TODAY's Fantasy Football Preview magazine since 2010. He is also a high-stakes player who often appears as a guest analyst on a number of national sports radio shows, such as Sirius XM's "Fantasy Drive." Doug is also a member of the Fantasy Sports Writers Association.