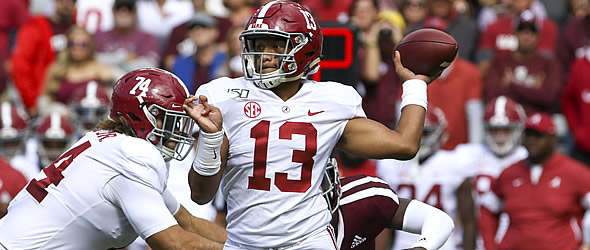 Injury history and loss of some of his athleticism will likely force Tua to become more of a pocket QB.




Vitals



College: Alabama
Height/Weight: 6'0"/217
Hands: 10"



Important NFL Combine Numbers



40-Yard Dash: DNP
Vertical Jump: DNP
Broad Jump: DNP
20-Yard Shuttle: DNP
3-Cone: DNP



College Production

(Stats)


High-end NFL Player Comp(s): Mark Brunell
Low-end NFL Player Comp(s): Jimmy Garoppolo

Best Scheme Fit: Injury history and the loss of some of his athleticism due to those issues will likely force him to become more of a pocket quarterback. Repeatedly showed the ability to work through progressions, so he should fare well in a West Coast scheme or in a run-based offense that utilizes a heavy dose of play-action.

Strengths

Concerns
Significant injury history, including two ankle surgeries, hip surgery, a broken nose and a concussion as a college starter. (Refer to this article for recent QB prospects with similar injury histories in college.)


Less than ideal stature combined with some of the athleticism he has lost due to multiple injuries may contribute to further durability issues.


Offers a bit of a mixed bag as a deep thrower, sometimes leading the receiver beautifully (0:12, 3:48, 5:42, 8:25, 14:21) and sometimes floating the ball and/or missing an open target entirely. (1:38, 2:13, 2:29, 3:06)


Poise under pressure can be lacking at times, and his arm strength isn't so great that he can consistently deliver solid off-platform throws. (2:46, 4:05, 4:25)


Only threw three interceptions on 252 attempts in 2019, but each one was forced and could have been avoided; does he not always see/account for backside defender? (0:54, 1:05, 6:35)


Slightly constricted three-quarter delivery could lead to batted balls down the road if asked to play regularly under center.


Left-handedness could be a blessing since so few southpaws have been regular NFL starters in recent years (making him a unique challenge for defenses) or a curse if his new OC/team is unable to accommodate him.
Bottom Line

Without question, Tagovailoa figures to be the most polarizing prospect at the top of this draft. It's not hard to see how much his game changed from 2018 to 2019, transforming from an all-around playmaker to more of a distributor to account for what NFL teams can only hope was a temporary loss of explosiveness. Granted, the Hawaii native wasn't a game-breaking dual-threat quarterback before all of his injuries, but he was certainly a more viable threat to snap off a long run if he broke containment. It's a shame the NFL may not get a chance to see the pre-injury version of Tagovailoa anytime soon (or at all), but it's also important to understand his ability as a passer alone makes him a high-level prospect.
The point to be made here isn't so much whether Tagovailoa returns to pre-injury form, but rather if his body is capable of holding up season after season. Of course, the assumption must be made that his current hip issue will not resurface at some point down the road. And there within lies the rub. Can an NFL coach and/or general manager get comfortable with a young quarterback that is more late-in-his-career Steve Young right now than the early-career Young he was shaping up to be during his first two years at Alabama? The uncertainty of it all is why Brunell - and not Young - is a realistic NFL comp for Tagovailoa.
It's not hard to understand why Tagovailoa was considered such a slam-dunk prospect before 2019 and is still considered one by many, as his ability to throw with accuracy (69.2 career completion percentage), avoid negative plays (threw only 11 interceptions on 684 pass attempts and took only 26 sacks in his college career) and keep plays alive is exactly what GMs want at his position. However, even as the qualities that personnel people look for in quarterbacks in today's NFL keeps evolving, rolling the dice on an undersized player with a long injury history is still a losing bet more often than not. There is Pro Bowl talent here to be sure, but there is also significant bust potential as well, perhaps more than anyone cares to admit. It would be irresponsible for evaluators to pretend his durability isn't a big part of the equation and a major red flag. As such, he is a complete wild-card at the moment - one capable of ascending to Young-like heights if he is eventually able to quiet concerns about his durability or settling in as a less mobile version of Brunell.

---
Doug Orth has written for FF Today since 2006 and been featured in USA Today's Fantasy Football Preview magazine since 2010. He hosted USA Today's hour-long, pre-kickoff fantasy football internet chat every Sunday in 2012-13 and appears as a guest analyst on a number of national sports radio shows, including Sirius XM's "Fantasy Drive". Doug is also a member of the Fantasy Sports Writers Association.