One of the jobs of a good fantasy analyst is not telling readers who to select in their drafts, but rather to provide them with as much relevant information as possible to make sound decisions. After all, they are YOUR fantasy teams.

Change is one of the few constants in this world and the NFL (and fantasy football, by extension) is no different in that regard. To that end, it is often helpful to see if we can identify when and why a particular event took place in the previous season when looking ahead to the next one. Unfortunately, false narratives are often created and certain myths are embraced as fact by the fantasy community for any number of reasons, including but not limited to wanting the easy answer to be the right answer.

Last week, I took a look at the AFC to see if there is there some level of truth to the narratives and maybe even debunk some myths. This week, I'll dive into five situations in the NFC that require more examination since they had a dramatic effect on how last season played out and figure to impact fantasy owners again in 2020: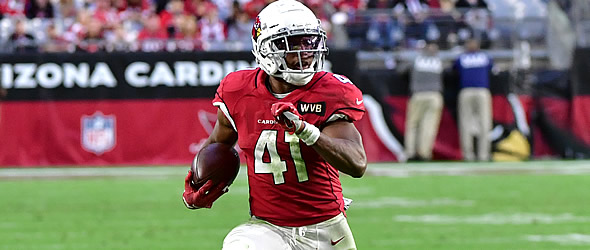 How much of an upgrade was Kenyan Drake over David Johnson last season? Is Drake guaranteed the same kind of workload he had over the second half of 2019?
What if I told you Johnson and Drake were essentially the same back during their time with the Cardinals last season? They were, at least from a fantasy perspective. Counting only Johnson's first six games and sparing him the indignity of everything after that - including the Week 7 con job Arizona pulled with his injury status - this is how he stacked up with Drake on a per-game basis following the latter's arrival from Miami:
Johnson vs. Drake 2019 Averages
 Player
Touches
Targets
Tot Yds
FPts
Johnson (Weeks 1-6)
17.7
6.8
102.2
20.2
Drake (Weeks 9-17 w/ARI)
18.9
4.4
101.8
19.9
Drake (Weeks 1-7 w/ MIA)
11.5
5.5
58
9.1

As we know, the situations facing both men were wildly different. Johnson had the benefit of a full offseason in the offense. Drake had three days to prepare for his first game with Arizona. Johnson was able to overcome his ineffective running early (1.8 yards after contact) by getting more work in the passing game (79.5 PPR fantasy points via the passing game alone through six games versus 45.1 for Drake in eight games after the trade).

Drake handled at least 14 touches in every game with the Cardinals and 18 or more in five of them. Unfortunately, fantasy owners cannot be completely certain of that kind of workload moving forward. Chase Edmonds went down with a hamstring injury around midseason after enjoying a brief but impressive run. After all, Edmonds led the backfield with a 2.95 yards-after-contact average and sported a team-best 15 percent explosive run rate (per Pro Football Focus) on his 60 carries in 2019. It's not as if he came up short when presented with an opportunity.

HC Kliff Kingsbury made it clear before the draft that he was quite pleased with Drake and Edmonds, perhaps suggesting he sees the backfield as a "hot-hand" or lead/breather back situation as opposed to the workhorse role Drake enjoyed. Did Drake show enough to push Edmonds into a true backup role? It appears so.

Upon his return from injury in Week 13 and over the remainder of the season, Drake saw 239 offensive snaps to Edmonds' eight. For those who wonder if Edmonds became a spectator because Arizona was trying not to rush him back, his relatively heavy involvement on special teams over the last five weeks would suggest he was not being protected by the coaching staff.

During Drake's time with Arizona, he saw at least 64 percent of the snaps in the backfield in every contest and at least 79 percent five times. Barring a huge change of heart by Kingsbury or a significant challenge in training camp from Edmonds, Drake appears headed for a similar workload right away in 2020. Considering the Cardinals' ability to run in favorable situations - Johnson, Drake, Devin Singletary, Joe Mixon and Damien Williams were the only backs in the league who ran against eight-plus defenders in the box less than 10 percent of the time last season, per NFL Next Gen Stats - Drake is a prime candidate to become an elite fantasy back in 2020.



---
Doug Orth has written for FF Today since 2006 and been featured in USA Today's Fantasy Football Preview magazine since 2010. He hosted USA Today's hour-long, pre-kickoff fantasy football internet chat every Sunday in 2012-13 and appears as a guest analyst on a number of national sports radio shows, including Sirius XM's "Fantasy Drive". Doug is also a member of the Fantasy Sports Writers Association.