Recently, I wrote a piece for USA Today Sports Weekly entitled, "Be sure to have WRs in their proper tiers on draft day".
Writing such a piece (supporting the notion that receivers are wise early investments) even a few years ago might have been blasphemy for me, but today's fantasy football is not the same game most of us played 20, 10 or even five years ago. While I haven't finalized work on the Big Boards for this season, I can say with about 99.5 percent certainty a receiver (and probably more than one) will sit atop my rankings for the first time. The zero-WR strategy has received a lot of pub in recent years - especially this year - but I still believe it is as fundamentally unsound now as I always have (outside of the FFPC and TFC high-stakes leagues, in which it is often the right approach given the format and rules). However, I am willing to acknowledge receivers - the right ones - are more stable fantasy properties than running backs, so it is about time that shift in thinking is reflected in my rankings going forward. With that said, it is important to understand just how unusual the 2015 season was at the running back position. Let's take a quick look:
2015:

RB1s (RB1-RB12) averaged 262 touches for 1,336 total yards and 9.3 touchdowns (229.6 PPR fantasy points)



2010-14:

RB1s averaged 310 touches for 1,620 total yards and 10.6 TDs (270.6)

2015:

RB2s (RB13-RB24) averaged 217.2 touches for 1,084 total yards and 5.1 touchdowns (176.2)



2010-14:

RB2s averaged 241.6 touches for 1,139 total yards and 7.1 touchdowns (189.4)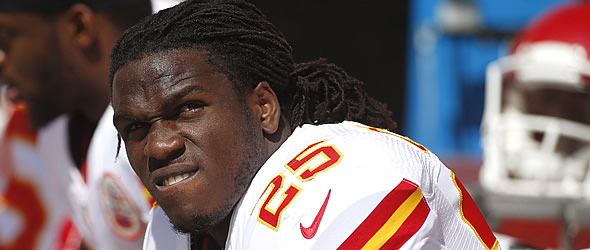 Injuries to Jamaal Charles and Le'Veon Bell weren't the only factor in the overall RB decline of 2015.
RB1s averaged 218.4 carries last season and RB2s checked in at 176. Meanwhile, the worst single-season marks in the previous five seasons were 249.9 and 183.7, respectively. The drop for the RB1s was so dramatic that it is hard to believe running backs won't experience a significant rebound this year, especially in light of all the information I collected for this little study going back to 2002. Three of the top 12 finishers (total PPR points) last year played 13 or fewer games and three of the top 12 totaled 165 or fewer rush attempts, which should be an indication as to how low the bar was set in 2015. Injuries to proven 300-touch fantasy stalwarts like Le'Veon Bell and Jamaal Charles contributed to the declines across the board, but what stuck out to me last year is the complete lack of job security about 75-85 percent of starting running backs have nowadays.
Lesson learned.
Fantasy owners don't get to choose how the intended and unintended consequences of coaching-philosophy or rules changes affect our game, but it is our job to react quickly and intelligently to them if we want to win consistently. Running backs arenít less important in fantasy than they used to be (although the right ones are arguably worth more now), there just aren't near enough with the job security or requisite workload to build our teams with anymore, so it is pointless to force it when receivers seemingly have incredible job security and are seeing as many targets as they ever have at a less physically demanding position. When you consider receivers like Antonio Brown and Julio Jones are seeing nearly as many opportunities as some low-end RB1s are getting carries and remember the former is usually getting the ball in their hands at least 10 yards down the field, it is no wonder wideouts are taking over the fantasy landscape. Add to that the fact receivers suffer far less punishment, and it is no wonder they have emerged as the safer investments.
Class is dismissed for this week.
---
Doug Orth has written for FF Today since 2006 and been featured in USA Today's Fantasy Football Preview magazine since 2010. He hosted USA Today's hour-long, pre-kickoff fantasy football internet chat every Sunday in 2012-13 and appears as a guest analyst on a number of national sports radio shows, including Sirius XM's "Fantasy Drive". Doug is also a member of the Fantasy Sports Writers Association.