Every year, it's not a matter of if top picks will fail to meet expectations, but who those players will be. Because each game (and its importance to the overall success of the season) carries so much weight, slow starts from top picks are magnified and extended stretches of poor statistical production are grounds for fantasy termination (or to hold a 3-5 year grudge).

Even though we should always be able to learn from the past, it is rarely ever a good idea to live there. Three weeks is hardly enough of a sample size from which to draw season-long conclusions, but it gives us much more of an idea about the trajectory of a player's fantasy stock than the snap decisions that tend to follow Week 1.

Most of the "disappointments" thus far have come at the running back position for one reason or another, although it is hardly surprising that some of them get off to slow starts every year given the lack of work most receive in August and early September. Sometimes, slow starts are exactly that. Other times, it takes a fair amount of statistical analysis and video study to figure out if the player, the supporting cast, the coaches or the opponents are to blame.

With that in mind, I think it makes sense to take a deeper look at the players who have disappointed thus far, understand why they have failed to meet expectations and evaluate their ability to bounce back.


Slight Disappointments

The Problem(s): A passing offense that went into the tank for any number of reasons (not the least which includes simplistic – or dare I say "dumbed-down" – route concepts), uneven quarterbacking from Josh Freeman, receiver drops…all of which have led to a number of stacked boxes. The absence of LG Carl Nicks over the first two games also did not help matters.

Where do we go from here? Let's be clear: Martin hasn't been so much disappointing in fantasy as he has yet to be awe-inspiring in the way he was during the middle of last season. As should be clear from reading the paragraph, I'm putting very little of the blame on Martin and a lot on factors outside of his control. He has at least 22 touches in every game, but four receptions (on 13 targets) for 19 yards is unforgivable and probably one of several reasons why the Bucs pulled the plug on Freeman on Wednesday. For comparison's sake, the Jets' Bilal Powell also has 13 targets, but eight catches for 66 yards in an offense that isn't anywhere close to the Bucs in terms of overall talent.

It should start getting better soon for Martin owners; for one, Nicks' return can't be overemphasized. No back has more carries (73) than Martin and one has to believe either HC Greg Schiano or OC Mike Sullivan won't continue to settle for a 45.7 completion percentage from new starter Mike Glennon, which should mean more quality opportunities for Martin as a receiver out of the backfield. Arizona (Tampa Bay's next opponent) and Atlanta (the Week 7 opponent) haven't exactly faced an offense committed to the run while Philadelphia (Week 6) just gave up 172 total yards on 27 touches from Jamaal Charles in a game in which Kansas City refused to throw the ball down the field. Want more reason to believe? Martin is first in the league in yards after contact with 162, tied for third with four broken tackles and tied for third with four explosive rushes (runs of 15 or more yards).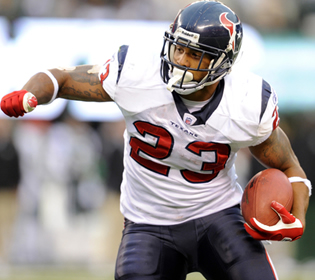 Foster is still capalbe of a double-digit TD season.
The Problem(s): Lack of usual volume due to sharing touches with Ben Tate; difficult early schedule.
Where do we go from here? When I think of a glider at the running back position, I think of Foster. What does that mean? It's hard for me to put it into words, but part of the description would be a back that doesn't ever look to be in much of a hurry, but is usually getting to where he wants to faster than it looks like he should. Burst and explosion are not as important as they are for some runners; he relies more on long strides as well as patience and vision. It might be a long-winded way to say that if Foster as a lost a step due to his heavy workload in recent years, it might be a quarter-step and doesn't mean much in the overall scheme of things. Better yet, Foster's yard-per-carry average has gotten better every week, suggesting he is getting back in synch with his offensive line and vice versa.
In my revised projections (the ones I used for my final Big Board), I projected Foster for 175 rushing yards and two touchdowns as well as nine catches for 60 yards through three weeks. (His current numbers: 190 yards and one touchdown as a runner and eight catches for 37 yards as a receiver.) In short, he was going to start out slow and that should not have been a surprise to anyone who understands most running backs need their reps during camp and preseason in order to contribute before Week 3 or 4. Furthermore, the new reality in Houston – at least for 2013 – is that Tate is going to get his share of touches (11 or 12 in each of the first three weeks) as long as both players are healthy. On a related note, Foster's back issues (remember the ones he supposedly needed injections for?) appear to be a thing of the past and the schedule really opens up for Houston after Week 4, especially if San Francisco's run defense (the Texans' Week 5 opponent) continues to play as poorly as it has. Foster's days of being a 4.5+ YPC back are probably over because FB Vonta Leach is no longer there and the right side of the Texans' offensive line isn't what it was when he first broke out in 2010, but I don't see any reason why he won't push 1,100 rushing yards and 10 touchdowns again in 2013.
The Problem(s): Difficult matchups in Weeks 1-2; overall lack of offensive plays in Weeks 2-3 and lack of commitment to the rushing attack in Week 3.
Where do we go from here? Go ahead and start the talk…he's 30 and wearing down. After all, his 2.1 YPC in Week 1 and 1.8 YPC in Week 2 is proof enough, right? The bigger issue would appear to be his 20 total carries over the last two weeks and the Niners' sudden inability to stop the run on defense. Green Bay did a fine job of winning the battle in between the tackles in Week 1 and few expected Gore to do much of anything in Seattle in Week 2, but the Colts' game was bizarre in the sense that he had 70 yards on eight carries at halftime. Even though San Francisco didn't trail by more than six points until the 4:13 mark of the fourth quarter, Gore did not receive another carry after the fourth play of the second half.
For some kind of perspective, Gore got off to a worse three-game start in 2011, and then strung together five consecutive 100-yard games en route to the first of consecutive 1,200-yard campaigns. If there was one constant that fantasy owners could count on entering this season, it was that the Niners would not abandon the run (and, by extension, Gore). The lack of carries against Indianapolis was puzzling, but I find it hard to believe that it is a sign of things to come. It is entirely possible HC Jim Harbaugh and OC Greg Roman were doing nothing more than managing Gore's reps in advance of Thursday night's NFC West game against the Rams. Gore is still ripping off big runs up the middle of the field just like he has been since Harbaugh and Roman took over in 2011. He looks as good as ever, although fantasy owners would be wise to consider the possibility his rushing numbers may take a small hit if the Niners find themselves in a few more high-scoring games than normal given the loss of Aldon Smith.
The Problem(s): A 3.6 yard-per-carry and 4.1 yard-per-catch average; two big runs in three games (both in Week 2); Fred Jackson.
Where do we go from here? Spiller has the same speed and explosion that I saw in 2012 and during the preseason. It is still evident he wants to bounce plays to the outside and make too much happen on every play, but progress is being made in that regard. He is no longer afraid to run inside when necessary, which wasn't always the case. The main difference I saw from Week 2 to Week 3 was that Spiller enjoyed much of his success on draws and delays against the Panthers when E.J. Manuel was under center (he broke loose for 21-yard and 46-yard runs and had one 28-yard run called back – all on draws and delays). Against the Jets, most of Spiller's runs were out of the shotgun and to the outside, which played right into the hands of the Jets and the speed they have on defense. Another reason Spiller isn't finding consistent space is because there is very little threat of a deep ball from the passing game. I can only assume Manuel has been instructed to see the throw and make it as opposed to trusting one of his receivers to win his one-on-one battle down the field.
If I am a Spiller owner (which I am in my most important league), I'm encouraged and discouraged at the same time. Successful run games cannot be rely solely on draw or delays and the schedule doesn't get easier anytime soon. Conversely, I am encouraged because he was very effective against a very good Carolina front seven and has evolved as a runner in the last year. I'd also be excited only one other team (the Ravens, 104) has given their running backs more touches than the Bills through three weeks (102). With an average of 34 touches, there will be plenty of opportunity for Jackson and Spiller to be relevant in fantasy – or in Spiller's case, dominant. Jackson hasn't been the model of health in recent years either, which makes Spiller an attractive buy-low target – especially in PPR formats.
Big Disappointments
The Problem(s): The losses of Rob Gronkowski (both as a blocker and a threat in the passing game), Aaron Hernandez and Wes Welker as well as the injury to Danny Amendola have left Ridley as the last man standing. Ridley was benched in Week 1 and he has since been handed two difficult running game matchups.
Where do we go from here? This is the problem when owners invest in a running back that is, by all accounts, just a running back (as opposed to an able receiver out of the backfield). To his credit, he has earned praise for his pass-blocking abilities recently. However, his eight-yard reception in Week 3 was his first target of the season and he has seen exactly one-third of his team's snaps through three games. Furthermore, all the personnel losses have made the Patriots a shell of themselves offensively thus far. So when a player that relies heavily on game situation (holding the lead late in games, frequency of trips to the red zone, etc.) loses the players around him that make those situations possible and doesn't contribute in the passing game, there is a strong possibility he will disappoint in fantasy.
Unlike someone like Martin above, Ridley needs his injured teammates to return to form AND a break from the schedule, the latter of which he isn't about to get anytime soon. In fact, his high-water mark in terms of trade value this season may come after this week's game if the matchups – as they appear right now – hold somewhat true to form. Atlanta (Week 4) is dealing with severe personnel losses on defense, but the schedule is daunting after that: Bengals, Saints, Jets, Dolphins, Steelers, Panthers, Broncos, Texans, Browns, Dolphins and Ravens. It's not often where there may only be a one-week window to sell a running back in fantasy, but that may very well be the case for Ridley unless Gronkowski and Amendola both return healthy and stay that way…which is far from a given.
The Problem(s): A more-difficult-than-expected early schedule; the zone-blocking system (reportedly has been scrapped, or is in the process of being scrapped); an offense committed to seeing what it has in Blaine Gabbert when most of us already know what he is.
Where do we go from here? Zone-blocking schemes are typically good fits for an offense with a patient running back with athletic linemen. It also helps when the quarterback is a running threat so as to freeze the weakside linebacker (or safety in some cases) from crashing down too hard before the running back picks his spot. MJD is a patient-enough runner to make it work, but seeing as how he has made his living running inside for so many years, the ZBS seemed to be a bad idea from the start. But the bigger issue is that no starter on the offensive line is grading out well as a run blocker after LT Eugene Monroe and RG Uche Nwaneri did OK in that area last season.
Jones-Drew could have a chance in Week 4 against the Colts, but I don't see a big turnaround in his future either. Defenses don't have a ton of respect for Chad Henne, but have even less for Gabbert, meaning MJD will have his fair share of stacked boxes in his future. His best path to success this season was always going to be as a high-volume rusher when the game was close and a player that benefited from his share of garbage time as a receiver. To this point, he has three catches on eight targets and it should be noted Jacksonville has trailed by at least three scores in all of its games, so there has been plenty of opportunities for Jones-Drew to pad his numbers late in games and it hasn't happened.
The Problem(s): The fumbles heard around the world in Week 1; a lack of confidence likely stemming from his opening-week benching in Week 2; significant struggles/injuries up and down the offensive line and at fullback; inconsistent defense has allowed games to get out of hand.
Where do we go from here? If there has been a more inept offensive line through three games (particularly over the last two) than the Giants' front five, I haven't seen it. Wilson has been "stuffed" on five of his 25 carries (the same number of times Doug Martin has been "stuffed" on 73 carries and the Bucs' back has faced his share of loaded boxes or received the best offensive line play). After overcompensating for his Week 1 fumble woes in Week 2, Wilson looked much more dynamic when he had a crease to run through in Week 3. He had a 17-yard touchdown called back on a holding penalty that he created in a sense when he chose to take an outside run even more outside (and not through the assigned hole). The explosion is very much there; the opportunities have not.
As one of my favorite 80s bands – Huey Lewis & The News – used to sing, "Sometimes, Bad is Bad". Very few owners who used a third- or fourth-round pick can afford their flex – much less their RB2 – to post 75 yards on 25 carries and contribute nothing in the passing game. However, unlike the two players listed above him, I see more hope for Wilson after another difficult game in Week 4 against the Chiefs. First off, the running game is going to improve because HC Tom Coughlin isn't going anywhere and has always been one to stress offensive balance. Just as importantly, the schedule features games against Philadelphia in Week 5 as well as Week 8 and looks reasonably promising after the Week 9 bye. However, none of this makes a difference as long as the defense continues to give up an average of 38.3 points, which is the primary reason that I wouldn't sacrifice too much in a buy-low bid for him.

Suggestions, comments, about the article or fantasy football in general? E-mail me or follow me on Twitter.

---
Doug Orth has written for FF Today since 2006 and appeared in USA Today's Fantasy Football Preview magazine in 2010 and 2011. He is also the host of USA Today's hour-long, pre-kickoff fantasy football internet chat every Sunday. Doug regularly appears as a fantasy football analyst on Sirius XM's "Fantasy Drive" and for 106.7 The Fan (WJFK – Washington, D.C). He is also a member of the Fantasy Sports Writers Association.