All Out Blitz: Volume 59




12/13/12



Aggressiveness is a characteristic that tends to reward fantasy owners more times than not. In the NFL, an offensive line will sometimes hold up long enough to give the quarterback enough time to beat man coverage down the field and make the defense look foolish against a fierce pass rush. More often than not, though, when a defense brings the heat and forces the action, crisis management becomes the name of the game for the opposing team.

In that same vein, I hope to apply that same kind of pressure to the owners in all of my leagues by beating my opponents to the punch in regards to personnel moves. Sometimes, reaching a conclusion about a player too quickly results in making a bad situation worse. However, coming to a correct conclusion two weeks or two minutes quicker than your opponents is considered foresight and can often lead to fantasy championships.

Fantasy owners can be a uneasy lot, knowing that one two-or-three-game losing streak can wreak irreparable damage to his/her team's chances to make a visit to the fantasy postseason. But just as it is in the NFL and in life, it's hard to land the big prize by playing scared. Thus, I will strive each week to help each of you become a smart blitzer, so to speak.


---

The road to fantasy glory is rarely easy.

About 10 years ago, I recall owning a team that I pretty much knew was going to win the league title. I don't remember why my team lost a game that year, but it finished 15-1 and achieved the hallowed ground I expected it to that season. A few years later, I recall another team in which I owned Peyton Manning, Brian Westbrook and Larry Fitzgerald and managed just one win. To this day, it is the only last-place team – record-wise – that I've ever owned out of the 100+ teams I've drafted. (To my knowledge, I've never had the lowest-scoring team.) To this day, I can still recall how I began the season with 12 straight losses despite the fact my team – which finished about third or fourth overall in total points – was regularly scoring over 100 points in a standard format.

Lately, more than one of my title-winning teams has started off 3-5 only to catch fire in the same way recent Giants' teams do late in the year. The reason I mention these teams to you is that – just like in the real game – it really doesn't matter how you get in the playoffs so long as you get in. For those of us fortunate enough to still be playing for a fantasy championship, you've already been rewarded for your diligence even if it came with a little bit more stress than expected.

Now is the time to really focus on the small details. This time of year – as I detailed in last year's Week 15 column, "Eye On The Prize" – is usually about the time where preparation begins to lag a bit, perhaps out of sheer exhaustion. Don't let that happen to you. A player like Danario Alexander has proven he is for real; he always had the talent, but not the health. Now that both knees feel like new, he is an every-week fantasy starter. Josh Gordon isn't too far behind him. On the other hand, a player like Hakeem Nicks isn't operating anywhere near 100%, so don't feel obligated to play him simply because he is a "name-brand" receiver.

I could go on, but the point is that when opportunity and talent lines up, stats usually follow. When it happens consistently – as it has for Alexander and Gordon – and the matchup lines up as well that week, don't question it. What's going to make you feel worse: plugging in Nicks and watching him leave in the second quarter or relying on a young and healthy receiver that is getting opportunity after opportunity in a plus matchup? Certainly, Nicks could have a better day in fantasy, but winning in fantasy is often about predicting what the most likely outcome will be.

Assuming you are like me and playing for something more than bragging rights, the next 10+ days can go a long way in determining whether the holiday season was merely enjoyable or one to remember. Let's get to the Week 14 analysis:

Broncos-Raiders

If the 2012 book on Carson Palmer looks familiar, it is probably because most of us have read a similar script from him before. In Cincinnati, Palmer would flash the ability that he had prior to his devastating knee injury back in 2007, but more often had Bengal fans scratching their heads on the direction of some of his throws during his last days in the "Queen City". Palmer has thrown a pick in nine straight games and his one interception in this contest was right out of his old "playbook" when he failed to recognize that Champ Bailey – who had no receiver on his side of the formation on the play – simply played trail technique behind TE Brandon Myers. Most quarterbacks would simply not challenge Bailey in that situation, but Palmer did that AND stared down Myers, further compounding his mistake when he threw the ball about a 1-2 yards behind Myers and right at Bailey. The throw was even more surprising considering Palmer tossed a picture-perfect 50-yard throw to Rod Streater on the previous play. That inconsistency is the very thing that has defined the back end of Palmer's career.

Knowshon Moreno is really a shell of the player that I remember coming out of the 2009 draft. Numerous injuries – including last year's ACL tear – have robbed him of the explosiveness that I thought was going to make him a better-than-average NFL back. But while I can say I don't agree with his new standing on the depth chart (or how he rose from inactive fourth-stringer to first-string), the fact is that he is probably the best mix of pass blocker and efficient runner on the roster. As the competition gets tougher – most of the second half of the season has been an assortment of bad teams for Denver – the Broncos will need more of Ronnie Hillman. Until then, consider it another example of HC John Fox deferring to the veteran. Moreno is going to remain the featured back for as long as he can stay healthy.

Fantasy implications: Palmer's garbage-time exploits are becoming the stuff of legend. His numbers when Raiders are ahead or tied (842 yards, two TDs and three INTs) and when they trail (2,963 yards, 20 TDs and 11 INTs) don't tell the whole story, but they make the point I want to make: he's really hasn't had a great year when it counted, but has feasted on defenses late in games when the opposing defensive coordinators have called it a day. If history has taught us anything, it might be that Peyton Manning can make just about every regular player on offense usable in fantasy. Moreno isn't close to the same talent he was when he was the apple of then-HC Josh McDaniels' eye four seasons ago, but the vision and patience – and a little more power than I remember – will serve him well in this offense. He should remain a solid RB2 play in Weeks 15 and 16.

Jets-Jaguars

Jacksonville may have only scored 10 points in this game, but it served as the last bit of proof I needed to believe Chad Henne will be named the starter at quarterback for the 2013 season. Certainly, his final numbers were anything but eye-popping, but this is just the kind of game that Blaine Gabbert would have completed 10 passes and led his offense to about 150 total yards. Henne – with a supporting cast consisting of one recent high first-round pick at receiver and a whole lot of journeymen talent – managed to lead this rag-tag offense to almost 300 total yards, without the benefit of breakout receiver Cecil Shorts. It is doubtful Henne will ever be a consistent passer, but his presence makes defenses respect more of the field.

It appears that even though I was impressed with Montell Owens in his limited touches last week, I may have sold him a bit short. There's no question the Jets' run defense isn't among the best in the league, but remind me of the last time a fourth-string RB – listed as a FB – was able to jump-cut in the hole and average 6.5 YPC against any defense. Owens was a standout in this game, showing the same kind of vision and burst that he did last week while also displaying more elusiveness than a player his size (5-10, 225) should have. His 32-yard touchdown run was easily the best highlight of this game as Owens hopped over a couple of fallen linemen, showed the vision and anticipation to use a defender engaged in a block with another Jaguar as a screen to break to the outside and the explosion to run away from the defense for the score.

Fantasy implications: Unfortunately, there isn't much reason to get excited about Jacksonville players for the rest of the season. Miami (Week 15) and New England (Week 16) should both be able to handle the Jags' running game, making Shorts – when he returns – the only viable fantasy play from this group.

Chiefs-Browns

People who simply check out the box score will be surprised Trent Richardson couldn't do more against the Chiefs' defense. I would argue that if it wasn't for his never-say-die style, he would have finished with even worse numbers. In other words, it appeared to me he maximized the runs he had. In some NFL games, one defense simply beats the opposing offense between the tackles for most of the contest and that is exactly what happened in this one. Montario Hardesty had the benefit of getting a good chunk of his yards on outside runs while Richardson did most of his work inside. As the CBS broadcast team pointed out, Richardson is already one of the better short-yardage runners in the league, a point that was proven again on his two scoring plunges.

Fantasy implications: We've discussed the exploits and exciting future Richardson has in this space before, so I'll move on to Josh Gordon, who deserves another mention here as well. This was the type of game he wasn't capable of having earlier in the season, considering most of his routes were of the short and intermediate variety. He has evolved quickly into an every-week play, especially this week against Washington.

Titans-Colts

When a player is recovering from a severe injury, the first thing most of us look for are flashes of his pre-injury ability. When a player comes along with the character issues that Kenny Britt does, one also questions whether or not he will be diligent with his rehab. This game suggested that he: 1) is recovering nicely and 2) must be putting in the time in the training/weight room. It took new OC Dowell Loggains less than two games to realize that QB Jake Locker is a better thrower on the run than in the pocket. While Locker and Britt's big 46-yard pass play came as a result of the quarterback remaining in the pocket, it bodes well for the future because getting Locker on the edge more often will result in Britt getting more time to work downfield. In a way, Locker's inaccuracy in the pocket may wind up playing into Britt's strengths as the two continue working together in the coming years.

In a lot of respects, Vick Ballard has done about what I expected – even if his opportunities came a little later than I thought they should have. With that said, interim HC Bruce Arians' assertion that Vick Ballard is a "poor man's Edgerrin James" is yet another coach engaging in hyperbole. James – before his ACL injury – was a quick yet physical all-purpose back that could break a big play when given the chance. The post-injury James was more of a physical pounder that could still contribute in all facets of the game, but lacked any hint of big-play ability. Ballard is neither version of James, but more like a combination of the two (with an emphasis more on the post-injury James). At the rate Ballard has improved this season, it is obvious he is an intelligent player like James – and that will serve him well as he continues to grow with Andrew Luck – but the rookie is probably never going to be the all-purpose threat James was throughout most of his career. For a coach who left Indy after the 2000 season and never worked with the post-injury James, it is irresponsible of him to make that kind of comparison.

Fantasy implications: Britt is going to remain high-risk until he proves otherwise, but his talent and WR1 role in this offense will demand that he remains a regular starter in fantasy going forward. I doubt we'll see the early 2011 version of Britt until 2013, but he is coming around. The Jets and Antonio Cromartie can probably limit his effectiveness next week, but the Packers can be exploited in Week 16. Ballard is a suitable flex play in fantasy with somewhat limited upside in an offense that doesn't throw the ball much to their running backs. However, with a workload that figures to push 15-20 touches – due to a lack of quality alternatives – Ballard's workload will keep him fantasy relevant.

Chargers-Steelers

San Diego entered this contest struggling to find anything resembling consistency. Based on its traditional offense – as opposed to the garbage-time numbers it has produced in recent weeks – the Chargers hadn't scored more than 16 points in three straight games, including against two opponents with weak secondaries in Baltimore and Cincinnati. Furthermore, San Diego was already rolling out an offensive line that is among the worst in the game (31st in pass-blocking efficiency according to Pro Football Focus, behind only Arizona). Against the league's No. 1 overall defense – even without top CB Ike Taylor – it seemed obvious the Chargers would struggle. Instead, San Diego's rolled up 24 points over the course of about 24 minutes and did so through the air. Despite the Chargers' non-existent running game, the Steelers: 1) managed to get one sack against an offensive line starting a third-string left tackle, 2) could not force a turnover against an offense that had committed at least two in four of the previous five games or 3) stop Danario Alexander despite the fact that he was ignored for most of the first half and no one else from San Diego was really producing.

Fantasy implications: We already knew this is not the same Steelers defense we have become accustomed to in recent years, but it was a particularly bad showing for the top-ranked defense in the league. The fact this happened with Troy Polamalu in the lineup makes it even worse and suggests to me that Pittsburgh assumed a healthy Ben Roethlisberger was going to be enough to get it a win on Sunday. While I don't expect a repeat over their final three games, Pittsburgh's defense just isn't worth using again this season.

Falcons-Panthers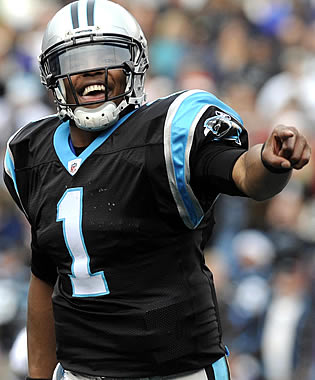 Newton owners still in the playoffs should be smiling.
Here are two of the most telling observations from this game: 1) Julio Jones did not see his first target until there was 4:28 left in the second quarter while Roddy White was not targeted at all in the opening 30 minutes and 2) Atlanta ran 13 offensive plays in the entire first half. The Panthers did a fine job at getting to Matt Ryan while the run game was ineffective and the no-huddle was non-existent. Atlanta did a much better job of picking up the tempo and asking its receivers to run shorter routes in the second half, but the run defense and tackling that has been a problem for most of the season was an issue again in this game, especially on Cam Newton's 72-yard TD run and DeAngelo Williams' 56-yard score on a screen play.
If he can be as accurate as he was in this game going forward, Newton may still be the standard by which the new wave of athletic quarterbacks is measured. Certainly, Newton had his way with Kansas City and Philadelphia prior to this game, but a number of his throws in this game were challenged – both from a pass-rush as well as a coverage standpoint. In the games I have seen him play this season, this was easily his finest performance. The fact that I waited this long to talk about his ability as a runner also should serve as a compliment to how good he was as a passer. Even though we remember his speed and running ability from the NFL Combine and his time at Auburn, it defies logic that a 6-5, 250-pound man can run like a defensive back AND be his team's best short-yardage option. While the latter trait was not really needed in this game, his long scoring run reminded us he is more than just a player who runs to pick up a first down or red-zone score.
Fantasy implications: As far as the Panthers defense is concerned, their strengths are their pass rush and linebacker play, so it is really a mystery to me why White and Jones were almost always out of the view of the camera in the first half; Carolina has struggled defending the slant pattern all year long. However, it might not have mattered anyway as Newton was the sharpest I have seen him all season. With his combination of talent and remaining schedule (at SD, vs. OAK), I can't think of another fantasy quarterback I would want in my lineup right now.
Ravens-Redskins

There are two teams that have effectively "contained" Robert Griffin III over the last two months – Pittsburgh and Baltimore. Since about the only characteristic both defenses share is the same division, I am going to assume the Ravens' coaches watched the Steelers' film and came to the same conclusion I did after I watched the same game – crash down on RG3 consistently on the zone-read play and let Alfred Morris try to win the game. Griffin did have marginal success running the ball (37 yards), but most of that was on passing plays where he left the pocket – which will happen no matter how much a team schemes to stop it. The Ravens' defensive plan was actually working until they inexplicably decided to relax their coverage on the final drive and continued to do so even after RG3 was clearly hobbled – when it would have made a ton of sense to blitz an injured quarterback – and backup Kirk Cousins entered the game.
It seems odd – and sets a bad precedent – for a team likely to win its division to dismiss its offensive coordinator with three games left in the season, but that is exactly where Baltimore stands at this very moment. QB coach Jim Caldwell, who hasn't called plays since his final days as a college coach with Wake Forest over a decade ago, will replace the fired Cam Cameron. It is nearly impossible to predict if he will play it close to the vest and run a conservative offense or if all the years around the combination of former OC Tom Moore and Peyton Manning in Indianapolis has turned him into an aggressive play-caller. Here's former NFL scout Bucky Brooks' take on what Caldwell needs to do. What seems certain, however, is that he will allow the Ravens to use more no-huddle and let Joe Flacco call more of the game at the line after Cameron reportedly had little use for it as the season progressed.
Fantasy implications: For many reasons, defenses and/or defensive coordinators tend to get caught up in trying to stop every play and often lose sight of the main goal during the course of the game – making the offense win the game with their secondary players and not their best players. If that sounds like it is out of the Bill Parcells/Bill Belichick book, it is because it is. Washington is a big-play team and Griffin and Pierre Garcon are the big-play "artists". While Morris can break a big run, he is more grinder than big-play back. Caldwell's impact on this offense will have a significant impact on which direction this season goes with the Broncos, Giants and Bengals remaining on the schedule. Baltimore will likely need 20+ points to win each game, so it will be interesting what direction he takes this offense, to say the least. I'd like to think that Ray Rice will be given all the work he can handle, but that really is only a guess.
Eagles-Bucs

Don't be fooled into believing that Nick Foles is on the verge of joining the surprise rookie quarterbacks discussion. To a degree, Foles' performance was predictable in the sense that any play-caller that essentially abandoned the run and relied on the pass (sound like an Andy Reid offense?) in a game against the Bucs' pass defense has found a great deal of success. Unlike many other times, however, the lack of offensive balance can be defended and should be applauded. It was clear from the start Bryce Brown wasn't going to have any room to run inside and the Tampa Bay defense also crashed down on any outside runs, which helped Foles get about as many easy looks as he is going to get this season.
Fantasy implications: Even though this wasn't Foles' breakout game (at least not yet), he has made substantial progress over the last two weeks alone. The coaching staff loves his ability to process information and has to be thrilled with his third straight game with zero interceptions. Although Brown had his worst day by far as a starter, owners – those fortunate enough to skate by his small fantasy number this past week – should not hesitate to plug him in against Cincinnati on Thursday night. While the Bengals have actually been better than average against opposing RBs in recent weeks, Philly will do everything in its power to avoid exposing Foles to Cincinnati's incredibly-talented defensive line, which ignites the Bengals' league-leading sack attack.
Rams-Bills

In a prime example of how teams can change over the course of the season, the Bills – who were routinely getting gashed by opposing running games early on – held their fourth straight opponent under 90 yards rushing. Likewise, the Rams have also experienced a drastic improvement since the first month of the season, allowing 97.3 yards per game since Week 4 (as opposed to 135.3 over the first four weeks). Neither defense has been the most consistent along the way, but considering how awful both were, it is a sign that progress is being made. While Buffalo's improvement is likely just a matter of DE Mario Williams getting healthy, the continued underrated play of Kyle Williams and a better understanding of DC Dave Wannstedt's scheme, it probably is no coincidence that St. Louis' improved play coincided with the recovery of rookie DT Michael Brockers.
Fantasy implications: Fantasy owners – especially at this point of the season – tend to get too caught up in the overall rankings when playing the matchups and overlook recent improvements. While St. Louis and Buffalo haven't exactly been top-10 run defenses, both teams are no longer pushovers in that regard anymore. Once teams can fix one "fatal flaw" of their defense, typically, the other part(s) improve as a result. For the Bills, rookie Stephon Gilmore has quickly become a trusted cover-corner, which means Wannstedt can bring a safety up against the run more often. For the Rams, being able to get Brockers in the lineup and keep him healthy – as well as being able to count on the CB duo of Cortland Finnegan and Janoris Jenkins – has gone a long way in making them a vastly-improved defense as the season has progressed.
Bears-Vikings

There's no crime in surrendering 100+ yards to Adrian Peterson. Minnesota is run blocking with a purpose and AD is taking advantage of every opportunity. But for a team like Chicago to get trampled so easily when the running game is the only part of the Vikings' offense that can beat it is unforgivable. Again, take nothing away from Peterson or Minnesota, but Michael Jenkins and Jerome Simpson are not going to win very many battles against Tim Jennings and Charles Tillman and Christian Ponder isn't playing at a high enough level to take advantage of the few opportunities he gets in the passing game now anyway. How do I know this was the Bears' fault and not just another example of the greatness of Peterson? Peterson routinely got on the perimeter of the defense – on the first or second level – which is a big no-no for any Cover-2 defense that features good-tackling CBs and veteran OLBs whose job is to force everything inside. Additionally, the Bears didn't string out any of those perimeter runs until after the first quarter. If Peterson had gained all his yards as a result of missed tackles due to the absence of MLB Brian Urlacher, that would have been another story. But Chicago rarely even had a defender in a position to square him up.
Fantasy implications: Give the Vikings credit, they showed up to win while the Bears just showed up in the first quarter. Out of his 154 yards, 107 came in the first 15 minutes of the game. And the reduced yardage over the final three quarters wasn't just a matter of Minnesota easing up on Chicago, Peterson simply didn't have driveway-sized running lanes to run through anymore. With Percy Harvin out the remainder of the year, no one from the passing game can be trusted in fantasy for the rest of this season, not even Kyle Rudolph. The offense will continue to go through AD regardless of matchup over the final three weeks, so his fantasy-point totals should continue to be among the best at his position. The Bears' defense will have its work cut out for it against Green Bay in Week 15, but has a shot to reward its owners once again – like it did on a weekly basis during the first half of the season – when it plays at Arizona in Week 16.
Cowboys-Bengals

It was obvious from the get-go that Dallas was determined to not let Cincinnati's talented defensive line become a factor with more quick passes and running plays than I can recall at any point this season. While the Bengals still generated three sacks, it could have been much worse, so mission accomplished. But the question remains: why did Dallas unveil the novel approach this week as opposed to ten weeks ago when the entire coaching staff had to know the offensive line was going to be an issue? Whether or not the Cowboys choose to continue to use this approach on a more regular basis, they may have to do so without Dez Bryant, who fractured his left index finger in the win. While the decision to play the rest of the season has been left to Bryant, a receiver with a splinted finger on either hand is not exactly great news for this offense.
Shortly after suffering a MCL tear on the opening kickoff of Week 7, OC Jay Gruden confirmed that Marvin Jones was in line for a lot of playing time and that he had been "featured all week" in practice. In a later interview, Gruden stated Jones was "coming on like gangbusters". Fast forward to this week and it wasn't hard to see just what Gruden was talking about. Jones' 37-yard end-around displayed awfully impressive speed and quickness. On his three catches, he gained almost ridiculous separation – beating Morris Claiborne and Brandon Carr each one time. I'm sure I don't have to remind you that one game does not a year or career make, but Jones' football speed – as opposed to his timed speed – looked pretty good to me.

Fantasy implications: I've spent more than enough time on Dallas' tempo and offensive line in recent weeks, so let's focus more on the Bryant injury. Even though he scored a pivotal touchdown in this game after suffering the injury, I would have to imagine the Cowboys will not press the issue with him in terms of making him catch hard-thrown short passes. Owners would be wise to lower their expectations for him over these final weeks of the fantasy playoffs and increase their expectations for Jason Witten, Miles Austin and DeMarco Murray in the passing game, particularly if Dallas continues using the short-passing game. All Cowboys' passing game members should have a solid close to the season with matchups against the Ike Taylor-less Steelers and Saints over the final two weeks. As for Jones, he's not going to warrant a bench spot this season, but based on my observations of him, owners would be wise to stash him or trade for him in dynasty leagues.
Dolphins-Niners

In retrospect, it shouldn't be overly surprising that a power back like Daniel Thomas saw his role significantly reduced against San Francisco's run defense. But the fact that he saw just 13 snaps against the Niners tells me he is not in a true committee with Reggie Bush no matter what the team or the stats suggest. However, the most surprising nugget to come out of this game may have been when the CBS broadcast team mentioned that HC Joe Philbin was going to make a "concerted effort" to get Bush more involved in the passing game. If that comes as a surprise to you, it should. That "realization" shouldn't be a new one; Bush is still the most dynamic receiver the Dolphins have, but somewhere in between the coach sending a message to his back for his fumbling problems and trying to install his system, Bush has somehow posted only four games with 3+ receptions.
It's hard to find fault with a coach who has been as successful as Jim Harbaugh, but let's talk about three areas that seem worthy of discussion: 1) wasting Brandon Jacobs' time, 2) not activating LaMichael James the minute Kendall Hunter was lost for the season and 3) the complete removal of Vernon Davis from the gameplan. Jacobs was a questionable signing to begin with since the team had a younger and better power back in Anthony Dixon already on the roster. But one look at James makes me question why it took so long to get him active in the first place. The biggest travesty, however, is Davis. His only good game since the middle of October was against the Bears' Cover 2. He has become an afterthought in this offense and it is hard to understand why since he offers more big-play potential than any other player in the passing game and will almost always have the best matchup in a given week.
Fantasy implications: Let's just say that Philbin has had his moments – both extremely good and bad – this season, with his curious use of Bush belonging in the latter category. Much like Darren Sproles, there really isn't a good reason why Bush shouldn't be able to catch 4-5 passes at least every game. And it's not just good from a fantasy perspective; it also causes defenses to think twice about loading the box and dictates personnel. James looked to be almost a carbon copy of Hunter, so unless the rookie was struggling with learning the offense, I can't imagine why Harbaugh opted to activate Jacobs, if even for a week or two. It would be one thing if Davis was a terrible blocker that needed to come out of the game on early downs, but he's one of the best in the league at his position in that facet of the game as well. I have my doubts that Davis excelled against Chicago simply because the Bears played more zone than any of the Niners' other opponents since Colin Kaepernick took over, but until we see another good game from Davis, that may have to be the assumption we have to work under. Unfortunately, none of San Francisco's final opponents play a great deal of Cover 2.
Saints-Giants

It's hard to say any offense is back when it has the benefit of 287 kick return yards, 91 interception return yards and starts nearly ever drive around midfield against a bad defense. For all the points scored in this game, the quarterbacks were hardly at their best, especially Eli Manning, who threw two bad interceptions and probably should have been picked off a third time. However, it was the developments in the running game of both teams that caught my eye. The first shoe that fell was the emergence of rookie David Wilson (about 10 weeks too late, in my opinion). The Saints never had a prayer to stop him on many of his kick returns or, as it turned out, catching him when he got to the perimeter of the defense. This is the kind of special talent that many people – myself included – thought needed to be on the field in some way, shape or form all season long – even if he was limited to strictly running downs. Even more encouraging was that New York was calling inside runs late in the game to run out the clock and Wilson was seeing and exploding through the hole just the way a coach would want him to in that situation.
The overuse of Darren Sproles should be the problem, not the underuse. Yet, this is the first time since his three-week injury absence that he recorded a single rush attempt. Sproles is not a volume back and the Saints have been smart to manage his workload since signing him, but – as the team's most dynamic runner and receiver out of the backfield – failing to use him at least 10-12 times per game is simply limiting the offense's potential. Against teams that can effectively take away many of the matchup advantages New Orleans typically have against an opposing defense, Sproles is the one player that no team can defend regularly with any kind of success. His two scoring plays – a delay run in the red zone and a play-action rollout pass to him in the flat – are just the type of "space plays" the Saints need to make a priority each week.
Fantasy implications: Many running backs have overcome early-career fumbling concerns and I expect Wilson to be no different. While I respect the hardline stance that HC Tom Coughlin took with his ball-security issues earlier in the season, it is a bit of shame that it took a season-ending injury to Andre Brown and predictable injury to Ahmad Bradshaw to give him his chance in a more substantial role. If Bradshaw sits this week, next week or both, Wilson is a top 10 fantasy play against the Falcons and Ravens. I've discussed Sproles plenty in this space, so suffice it to say he should remain a decent RB2 in standard leagues and high-upside RB2 in PPR formats.
Cardinals-Seahawks

Any time the defense and special teams forces eight turnovers, it is noteworthy. Most NFL teams have at least one game per season where they bottom out and, unfortunately for Arizona, it came against a team in Seattle that believes it is invincible at home and has the speed and tenacity to take advantage of a team looking for a sliver of hope or confidence like the Cardinals. For what it is worth, I didn't get the sense that Arizona felt like the wheels were coming off the wagon until Patrick Peterson's muff of a punt resulted in a touchdown for Seattle and a 31-0 lead. The Cardinals have been languishing against the run for some time now, so the fact the Seahawks gouged them on the ground was no surprise. But the worst thing for a team like Arizona - against a defense like Seattle's, especially when it is playing at home – is to fall behind significantly because the Seahawks possess the size and speed just about everywhere to feast on a wounded offense, be it due to the sack-strip or jumping routes because they know Arizona can't run the ball and has to throw quickly.
So you were hoping John Skelton was going to reignite this offense or get the ball to Larry Fitzgerald a bit more frequently? Look, I understand that no one on Arizona's current roster is going to turn this offense around this season, but perhaps a check-down artist (as some have called him) like rookie Ryan Lindley isn't such a bad option after all. And how much credit does Kevin Kolb – although there is a very small chance he returns to the team in 2013 – deserve now for going 4-1 with an 8:3 TD-to-INT ratio in his five full starts? Yes, I understand that Arizona's offensive line (which was a weak spot entering the season) wasn't in the dreadful shape it is right now, but still. It's hard to believe these Cardinals actually defeated Seattle in the first week of the season.
Fantasy implications: The Seahawks should have a great deal of success against Buffalo's injury-ravaged offensive line this week, but it is highly doubtful they'll score half the 40 fantasy points they recorded against Arizona over the next two games combined. While I do expect a bounce-back effort of sorts from the Cardinals' offense next week (whether that means six or 13 points is another story), they have obviously become the team to target for opposing fantasy defenses, so Detroit's defense is a top play this week. As far as using a Cardinals' offensive player in fantasy, save yourself the headache and forget about it for the rest of the season.
Lions-Packers

Detroit has spent most of the season attempting to balance its offense, but one has to wonder how committed the Lions are to it. The first two drives –both of which ended with touchdowns – were just what a coach would want in an early December game: nine runs and three passes (with two completions called back due to penalty) on the first drive and six runs and five passes on the second. Over the remaining nine drives, Detroit ran the ball just 17 more times and threw it 37 despite the fact the Lions didn't trail by any more than three points until the 10:45 mark of the fourth quarter and actually held the lead (or were tied) for the better part of 2 ½ quarters. The devotion to the passing game is understandable given the obvious strengths of the offense – Matthew Stafford and Calvin Johnson – but an effective ground game in the wind and snow that goes a long way in getting a team an early 14-point lead is not something that should be abandoned. What makes the play selection even more questionable is the fact TE Tony Scheffler, who became the obvious second option in the passing game after Brandon Pettigrew was ruled out, was the team's second-best receiving option.
While I do understand that down and distance plays a big role in determining run-pass balance, it wasn't an issue when the Lions weren't breaking big runs on every play on the first two drives; they weren't. Therefore, it becomes hard to understand how a team rushes for 85 yards on two deliberate, time-consuming drives and then fails to stick with it, full well knowing that more possessions for an offense led by Aaron Rodgers means more opportunities for the Packers to score. Their next opponent – Arizona – does not present the same dilemma, so it will be interesting to see how Detroit attacks this week.
Fantasy implications: With all their defensive injuries (DT Corey Williams, DT Nick Fairley, S Louis Delmas, CB Chris Houston and CB Jacob Lacey, to name a few), it wouldn't be the least surprising to me if the Lions found a way to keep Arizona in the game. Still, the obvious plays for Detroit remain the same in Week 15. Scheffler – depending on Pettigrew's status for this week – could be a very serviceable option for owners of Vernon Davis, for example. Likewise, Detroit's defense is a solid play this week considering Arizona has yielded double-digit fantasy point totals to nine of its last 10 opponents.
Texans-Patriots

As much as Monday night revealed about Houston's injury-plagued secondary, it also provided a blueprint of what not to do against the Patriots' offense: play consistent man coverage. When New England's offense is completely healthy, it has three players which are matchup nightmares (Wes Welker, Aaron Hernandez and Rob Gronkowski). A completely healthy Texans' secondary would have trouble with this offense, but two factors played heavily in Houston's demise: 1) nickel CB Brice McCain is easily the best matchup the team has for Welker, but he's on the IR/designated for return list and 2) DC Wade Phillips chose to use linebackers to defend Hernandez about a third of the time. It was a particular poor strategy when you consider the Texans' ILBs in this game – Darryl Sharpton, Barrett Ruud and Tim Dobbins – are not nearly as well equipped to guard a player like Hernandez as a player like S Glover Quin (a converted CB) is. While Welker and Tom Brady appeared to be a bit out of synch in this game, Hernandez and Brady were clicking. Obviously, formation (lining Hernandez up in the backfield) on his first score and tempo (Pats receiving the snap before the safety could find Hernandez out wide) on the second TD helped Hernandez to his big night. But it's hard to justify not shadowing Hernandez with a safety in the first place, even if it makes a defense a bit more susceptible to the run.
While it would be foolish to me to suggest I know how to stop the Patriots offense, let me suggest a general philosophy that defenses might consider: make New England run the ball. Defense is not all that dissimilar from offense in that personnel can dictate a play call. The great quarterbacks of the NFL – especially the ones that frequently change plays at the line of scrimmage – do a fine job of checking into runs as often as they do passes. What dictates when a quarterback audibles to a run or to a pass? Generally speaking: 1) anticipated coverage, 2) the likelihood of a blitz, particularly when the current call doesn't account for all the likely rushers and 3) a matchup – usually a receiver on a safety or tight end on a slow-footed linebacker. But even before we get to that, an offensive coordinator will often make his play call based on the number of defensive backs on the field. Without going into significantly more detail, OCs will almost always run against a dime defense. Can a defense play dime defense all game? No. But I would argue that if a defense can "force" an offense with the passing-game weapons to pass even 10 fewer times per game strictly because of personnel, it has already won a small fight.
Fantasy implications: Jacksonville doesn't stand much of a chance against New England in Week 16 – outside of the fact the Jags play a lot of Cover 2 and tend to keep the play in front of them – so let's focus on Week 15 vs. the Niners. Carlos Rogers, who usually guards the slot, is a poor bet to keep up with Welker, so a bounce-back is likely. The Niners, however, possess about as much speed in their back seven as any team, so Hernandez could be in for a much more difficult day should San Francisco elect to use a linebacker (like Patrick Willis) to guard him like Houston did most of the game. In regards to making the Patriots, I am not implying that New England cannot run the ball or that it won't pass the ball against dime personnel. But if personnel alone prevents Brady from throwing as often, isn't that a good thing for the defense?

Suggestions, comments, musings about the article or fantasy football in general? E-mail me or follow me on Twitter.

---
Doug Orth has written for FF Today since 2006, appeared in USA Today's Fantasy Football Preview magazine in each of the last two seasons and served as a weekly fantasy football analyst for 106.7 The Fan (WJFK – Washington, D.C). He is also a member of the Fantasy Sports Writers Association.