Second-half Awakenings
7/8/10

Note: This article also appears in USA Today's 2010 fantasy football magazine.
"Life must be lived forward, but it can only be understood backward."
- Soren Kierkegaard

In the world of fantasy football, there are very few constants. One phenomenon that we can count on staying the same year after year, however, is the emergence of multiple second-half surprises – players that emerge from part-time roles or relative obscurity early in the season to leave their indelible mark on countless fantasy football championship teams.
While I will do my best at helping fantasy owners live life going forward with my "Preseason Schedule Analysis" and "The All-Out Blitz" series on FFToday coming later this year, let's turn back the clock a few months to review five of last year's most pleasant surprises and their chances for success in 2010.
All fantasy draft projections are based on 12-team PPR leagues.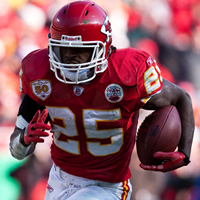 Charles: First player to rush for more than 1,100 yards on less than 200 carries.
Jamaal Charles, RB Kansas City
2009 Recap: Charles became the first player in NFL history to rush for more than 1,100 yards on less than 200 carries, which should really sum up just how extraordinary he was after taking over for Larry Johnson at midseason. He was so impressive that HC Todd Haley remarked shortly after the season how Charles reminded him of the Tennessee Titans' Chris Johnson and forced the team to think about him as something more than a "15-carry guy".
Changes: On the surface, it would seem the signing of Thomas Jones deals a significant blow to the rapidly-rising fantasy stock of Charles. Kansas City also added a plethora of offensive linemen – including third-round G Jon Asamoah – in the offseason to address an offensive line in dire need of a talent infusion. Initially, 2010 second-round pick Dexter McCluster appeared to be another obstacle, but look for Kansas City to use him mostly in a Percy Harvin-type role.
2010 Outlook: The addition of Jones will likely curb some owners from using a top-five pick on Charles in fantasy drafts this summer, but he should still be a late first-round or early second-round pick at worst. Why? The Chiefs' line – which paved the way for Charles to run at a 6.0 yard-per-carry clip after being named the starter – will be better this season with another year in the system and the addition of players such as Asamoah and former Colts G Ryan Diem. While Jones will probably steal a handful of rushing touchdowns from him, Charles should make up much of that fantasy point production back with his ability to contribute in the passing game.
2009 Recap: Few, if any players, created such exhilarating highs and depressing lows in 2009, most of which weren't even his fault. In an effort to save time and space, let's pick up his story at the point when starting RB Jamal Lewis was lost for the season (Week 12). Following a two-touchdown performance the next week, HC Eric Mangini benched Harrison early on in Week 14, just when fantasy owners hoped they had discovered a late-season waiver wire gem. Naturally, the very next week, Harrison exploded for the third-best rushing day in NFL history, gashing the Chiefs for 286 yards and three scores – the first of three straight 30-carry games to close the season. Not surprisingly, Harrison finished as the sixth-most productive player during the fantasy playoffs.
Changes: Along with new team president Mike Holmgren's personnel acumen, the Browns have adopted his West Coast offense. Lewis was let go, but Cleveland added ex-Bronco RB Peyton Hillis in the Brady Quinn trade. While Hillis can serve as a power rusher in a one-back set, look for the Browns to use him in more of a pass-catching FB role. Despite lighting up the preseason last summer, it appears 2009 rookie James Davis will need a lot of luck on his side not to lose his roster spot to second-round selection Montario Hardesty, who the new regime feels can soon become a feature back.
2010 Outlook: It's funny how the 5-9, 205-pound Harrison is still considered too small to carry the full load while the 5-11, 199-pound Jamaal Charles has proven to Kansas City he is up to the task. Be that as it may, the Browns seem almost resigned to the notion that Harrison needs to share the load. With Hardesty on board, Harrison's chances at 15-18 touches on a weekly basis look bleak unless the rookie suffers an early injury. Despite entering the offseason with a decent chance at being a RB2 in fantasy, Harrison is probably a flex play at best at this point.
Jermichael Finley, TE Green Bay
2009 Recap: After dropping hints of his incredible potential throughout the preseason, Finley announced his presence on the national stage in a Week 4 Monday Night Football loss to the Vikings. Unfortunately, he succumbed to a knee sprain early in a Week 6 contest that rendered him useless in fantasy until Week 10. While his absence must have seemed like an eternity for the Packers and his fantasy owners, the numbers he provided his owners – real and fantasy – upon his return made the wait worth it. From Weeks 11-16, only four TEs outperformed Finley a fantasy-point-per-game basis.
Changes: Finley has been named the unquestioned starter at TE after putting aside questions about his work ethic and pushing his predecessor, Donald Lee, to the sideline. Furthermore, the 6-5, 247-pound athletic marvel took it upon himself to train with professional boxer Brian Vera this offseason.
2010 Outlook: Considering how QB Aaron Rodgers practically gushes every time he is asked about Finley, it is hard to believe the TE will be a one-hit wonder. Furthermore, HC Mike McCarthy is a creative offensive mind who will not hesitate to move his TE all over the field to create the best matchup, so with weapons like Greg Jennings, Donald Driver and James Jones all demanding attention, it makes it nearly impossible to roll coverage in Finley's direction. Outside of injury concerns, Finley has too much going for him to not be considered a top-six fantasy TE in 2010.
Robert Meachem, WR New Orleans
2009 Recap: After just 12 catches for 289 yards in his first two seasons in the league, many were quick to suggest Meachem was a waste of a 2007 first-round selection. Despite playing in the Saints' high-octane passing offense directed by Drew Brees, patience was starting to wear thin. Then, just as another nondescript season was passing him by, Meachem started to gain his QB's trust with a two-TD outburst in Week 11. From that point on until Week 16, the New Orleans' deep threat was the eighth-best fantasy WR, based mostly on the strength of 29 catches (on 35 targets) for 387 yards and five TDs.
Changes: None of note.
2010 Outlook: For Meachem, it is quite possible that his second half is a sign of things to come – primarily because he is just one of many weapons Saints' opponents have to prepare for – but don't overlook how the Saints have made a habit of breaking out a new receiver every year. (Lance Moore, 2008; David Patten, 2007 and Marques Colston, 2006.) To this point, only Colston's stock has stayed strong. In other words, caution is advised. Meachem should be expected to surpass last year's numbers but not by so much that he should be considered as anything more than a high-upside WR3.
2009 Recap: Widely considered to be just another "first-round draft bust" after four largely unspectacular years, Smith was summoned by HC Mike Singletary to ignite the offense during an eventual Week 7 loss to Houston. And spark it he did, as the Niners' offense underwent a complete midseason metamorphosis from a power-running team to a high-volume passing team. Although he only led San Francisco to a 5-5 record in his 10 starts, Smith's 18 passing TDs were the best from a Niners' QB since Jeff Garcia in 2003.
Changes: Former starter Shaun Hill was traded in the offseason, leaving Smith with little reason to look over his shoulder anymore. Smith will get to enjoy playing in the same offensive system with the same play-caller as the previous season for the first time since he came into the league. San Francisco also wisely added a deep threat – former Dolphins WR Ted Ginn, Jr. – for a fifth-round pick in April.
2010 Outlook: Expect the stability Smith will have for the first time in his NFL career to pay off big-time. It has become vogue to pin blame on a QB for a failure to develop when, quite often, factors outside of his control have let him down. It's nearly impossible for any player – especially a QB – to thrive when his OC and playbook keeps changing. With one or more legitimate playmakers at every skill position and a full offseason to enhance his rapport with Michael Crabtree, Smith is finally in a position to become a top 10-12 fantasy QB if he can bring down his INT rate (12 picks in 372 attempts).


e-mail me with any questions/comments.