We all know that each fantasy football season brings with it the obligatory Hype Machine, where certain players are touted to one degree or another as 'Must Have' options for our team. But like everything else about fantasy football, that 'Must Have' list is a hit-or-miss proposition. Some players pan out the way most so-called experts predicted, while others disappoint their fantasy owners with performances that don't match their preseason hysteria.

Before going any further, though, I'd like to be clear about something. "Overhyped" in this context should not be misconstrued necessarily as a "bust." The players listed below, I believe, will give their owners some level of production; I am simply of the belief that the preseason buzz and analyses about their production level for 2014 probably won't match where they will be drafted.

With that clarification, here are my five overhyped players heading into 2014.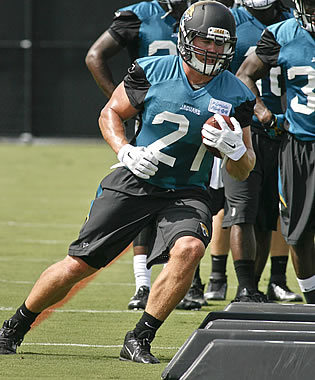 Toby Gerhart's ADP has skyrocketed since June 1st.
Toby Gerhart, RB JAC – I'm sure Toby Gerhart is a fine, upstanding, law-abiding American—not to mention a fairly solid NFL running back. But I have seen cheat sheets recently (specifically, on this site) that have the fifth year Stanford product ranked as high as the 10th fantasy RB heading into 2014. Going from a back-up role in Minnesota to being the main man in Jacksonville certainly has a lot to do with that. I get it. But his ranking as a low-end RB1 in some people's mind is absurd.
I wonder if those that think so highly of Gerhart have taken a gander at the supporting cast in Jacksonville. The stable of quarterbacks is populated by youth (Blake Bortles) and average, never-has-beens (Chad Henne). And while Cecil Shorts has been a relative surprise at WR (10 TD catches the last two years), the other receivers aren't going to induce shivers from opposing defenses. As a result, can you imagine the defensive fronts Gerhart will face? Eight, nine in the box? He's not the fleetest of foot, so maneuvering around that congestion near the line of scrimmage will prove a daunting task indeed. No way I'm jumping on the Gerhart bandwagon at his suggested retail price. No way.
Giovani Bernard, RB CIN – By any measure, Giovanni Bernard had a pretty solid rookie season. Used as a complementary piece to BenJarvus Green-Ellis, Bernard showed tremendous burst at times, and even displayed a solid skill set as a pass-catching option out of the backfield. Those usually translate into stellar fantasy production, especially when coupled with another year of experience.
Here's my apprehension with using a mid second-round pick on the youngster (currently a 2.07 ADP). As long as he shares time with BJGE, Bernard's stock will suffer. The Law Firm is a beast around the goaline, having scored 42 rushing TDs in his six-year career. It's a fairly safe bet that Bernard will lose those valuable scoring chances to Green-Ellis. And further clouding Bernard's chances of building on what he did in his rookie season is Cincy selecting LSU's Jeremy Hill in the second-round of this year's draft. Hill is no slouch. He ran for 1,401 yards and 16 TDs in the rugged SEC last year. So while Bernard demonstrated a skill set last year that's suited for fantasy stardom, his opportunities to do so will be limited based on the potential of a three-headed attack in Cincinnati. That's too big a risk for a second-round pick.
Danny Woodhead, RB SD – The price paid for Danny Woodhead going into the 2014 season is not a steep one. His current 9.11 ADP is proof of that. But those selecting the diminutive running back with expectations of him mirroring his production from 2013 may be in for a bit of disappointment. Woodhead was a waiver wire gem last year, helping solidify many fantasy teams. His damage was done primarily through the passing game. Woodhead's 76 receptions in 2013 was one less than Antonio Gates for the team lead. And to put his catches in perspective, Woodhead had only 92 receptions the previous three seasons combined.
Last year's offensive coordinator Ken Whisenhunt left for the head coaching post in Tennessee. Replacing Whisenhunt is first-time offensive coordinator Frank Reich. No one knows how the offense will look in 2014 under Reich, or what role Woodhead will have in it. One thing is certain: expecting an otherwise marginal NFL player to repeat a career-best performance is asking a lot. Sure, draft him. But be careful about where you do so, and temper those expectations.
Rob Gronkowski, TE NE – Rob Gronkowski's brilliance is undisputed. He's arguably been the league's best tight end since his debut in 2010. Over his four-year career, he's scored 42 TDs and has made life miserable for defenses in the process. After missing the first half of last season, he immediately paid dividends—catching eight passes for 114 yards against the New York Jets in Week 7. The operative phrase in the preceding sentence is 'after missing the first half of last season…' That's been Gronk's issue. His presence on this list has zero to do with his ability. It is strictly about his recent proneness to injury.
Gronk has missed 14 games over the last two seasons, and has racked up eight surgeries during his first four years in the league. Playing such a physically demanding position, those bumps, bruises, aches and pains will at some point begin robbing the two-time Pro Bowler of his natural ability. There's also little question that Tom Brady will once again rely on Gronk as a result of the team lacking a consistent threat on the outside. Can Gronk hold up? Can he delay the inevitable erosion to his skill set courtesy of the mounting physical challenges he's had over the years? For those of you interested in adhering to Gronk's 3.07 ADP, these questions—and more—must be asked.
Cam Newton, QB CAR – Having played fantasy football since 1996, I consider myself fairly knowledgeable about which players play for what team. But honestly, I had to look up Carolina's roster to see whom they currently had as wide receivers. It's as if the front office is playing a practical joke on Newton, stripping away his receiving options while replacing them with fringe players. "Okay, Cam," they seem to be saying. "Let's see what you can do with THIS."
The most intriguing aspect of Cam's potential tumble down the fantasy relevance meter is NOT his almost universal ranking as a top-15 fantasy QB. That may or may not be accurate. Here's what's interesting. While fantasy experts—based on his preseason ranking—seem to expect Newton to have a productive season, the most ironic component of that mindset is those same experts don't have any of his receiving options ranked in the top 50 of their wide receiver rankings. Who is Newton going to throw to, himself? And while he remains a running threat, he could be less inclined to do so, considering his offseason ankle surgery. So it's difficult to assume he can—or will—supplement his passing numbers with production on the ground. Cam is ultra talented, we know that. But with a roster that's devoid of any discernable and predictable receiving threat, Cam may be in for a season that's not so Cam-like.